Finder is committed to editorial independence. While we receive compensation when you click links to partners, they do not influence our opinions or reviews. Learn how we make money.
Travel insurance reviews
Find unbiased reviews on travel insurance brands and find a provider you can trust.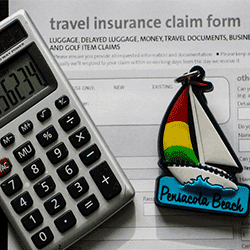 With literally hundreds of different travel insurance policies available, sorting through all the noise to find something affordable, trustworthy and coverage you actually need can be overwhelming. We'll provide tips on what to look for when reading travel insurance reviews online to help you make an informed decision on both the policy and provider you choose. If you're ready to compare quotes from travel insurance brands, simply enter your trip details in the form below.
Make sure you're covered in case your planned trip unexpectedly goes awry.
What to consider when comparing travel insurance reviews on providers
Starting to read reviews on different policies but not exactly sure what to look out for? Here are some key points to look at when comparing policies:
Compare travel insurance plans
Back to top
What to look for when reading the reviews on brands
In addition to checking out the suitability of particular travel insurance plans, you might also take the time to browse and compare different travel insurance brands. Again, you'll be able to access a range of consumer reviews about the different travel insurance brands to help determine the suitability and reputation of the ones you may be considering. Some of the factors you may want to look into when it comes to checking travel insurance brands include:
Choice of policies available. The choice of travel insurance plans available from different providers can vary, so if you want to boost your chances of finding a suitable plan at a competitive price it is worth checking the choice of plans available from different providers. For example, some providers will offer policies that may be more suitable for senior travelers or people heading away on winter sports trips.
Who is the insurer underwritten by? Is is likely that you will find insurance providers that are backed by larger brands such as BCS Insurance, Old Republic or Transamerica Causality Insurance who are the actual underwriters of the insurance and back the smaller brand providing the policy. It's worth ensuring the underwriter of the policy is a known insurer.
Emergency assistance provider. It can be important to ensure that your provider works with an emergency assistance company that provides 24/7 support anywhere in the world.
The ease of claiming. Some reviewers may find the claims process lengthy and frustrating. It can be worth checking with individual providers to see how the general claims experience may vary between insurers. You can also look at travel insurance reviews to find out more about how efficient the claims process may be, and whether other consumers have experienced issues in the past.
Flexibility in adjusting policy. It's often normal to make adjustments to your policy following changes to your trip — like changes to your destination or the dates of your travel. For these situations it can be helpful to go with an insurer that allows amendments to your policy, or has a reputation for helpful customer service.
The level of customer service. It is important to have good customer service from a travel insurance provider, as you may need to contact them while you're away so a prompt and efficient service can be important. Therefore, it can be well worth looking at travel insurance reviews to see what other consumers thought about the customer service levels offered by the insurance provider or providers that you may be considering. It's typical for many insurers to have a 24 hour emergency hotline available that can be reached from most places seven days a week.
Deals and special offers to help you save. It's not uncommon to find deals offering premium discounts and other bonus incentives. It can be worth seeing if there are any special promotion codes that can be used to cut the cost of your insurance package.
Four traps to watch out for
Looking for the cheapest policy. Cheap often means a reduced level of protection. While it might be sufficient for some, you may find it is not nearly enough for what you are after. Also, you may want to check the deductible, as policies with lower premiums may have a higher deductibles.
Only getting coverage from your credit card. Credit card travel insurance may offer sufficient protection for some travelers but it is definitely not the ideal cover for everyone. You might only be covered for what was purchased on your credit card, or there might be no cover provided for domestic trips. Also, the cover levels are often far more basic than what is available with standalone policies
Not keeping receipts. Most policies will have a list of what is required for claims for lost or stolen items to be honored. This may be valuation documents and statements from transport officials and police. This may vary so it can be helpful to know exactly what you will need to provide in the event of a claim.
Not being aware of what you'll actually be paid out. It is important to know the maximum amount you will be paid for lost items. Policies will often apply a sub-limit (amount paid for each item) and a total limit (maximum that will be paid for all items). If you are taking expensive items with you, it can be a good idea to know exactly what you stand to receive in a claim.
What to be careful of when reading travel insurance reviews
While reviews can provide some value in finding out about the coverage options available from different insurers, ideally one shouldn't base a decision on a single review. Here are a few reasons why;
Disgruntled customers. There are many customer reviews available online from disgruntled customers berating certain providers because the customer was not eligible to a benefit payment following a claim. Often these people were unaware of the exclusions on their policy and the actual conditions for claim payment. You might receive more value from reviews that discuss a successful claims processing experience and the level of customer service received. It is worth noting that it is relatively uncommon for people take the time and effort to write a positive report after a great experience with their travel insurance provider.
Reviews found on insurers website. Though they may provide some value in learning about the different cover features on the plan, reviews from previous customers on a provider's website might only include positive reports of the customer's experience working with the insurer.
Watch out for sites with company ratings. Company ratings on consumer sites might only be one industry body's opinion of a provider or package. The decision on which provider to choose should ideally not be based off one rating only. It can be worth taking the time to read reviews from accredited organisations that are certified to review travel insurance brands.
The writer of the review. If it is a review written from an "industry professional" you might want to check whether the review has relevant qualifications to help them provide insightful reviews of travel insurance products.
Fake reviews. There may be instances where fake reviews have been written to give a biased opinion of an insurer and their products. As stated previously, it's important to try and verify the source of the review and make your own assessment of whether it's giving an unbiased overview of the product's features and benefits.
Positive experience that may not be relevant. It is not uncommon for there to be an extremely positive review from a customer that has been able to take advantage of an exclusive deal or bonus offer from the insurer. This may not be as relevant to your situation as other reviews if you are trying to get an idea of the actual policy features and experience with the insurer. Hunting for bargains can help deliver more value for money, but it's also important to know you will be adequately looked after in the event of a claim.
Forum comments. Forums can often be a place where old customers vent about their poor claims experience with insurers and not actually offer any real insight into the quality of the coverage. Forums can also attract fake reviews, which may be especially likely on ones with little moderation, with the sole intent of promoting a specific provider.
Four ways to benefit from reviews
It can be helpful to find out more about a product from a variety of different sources before making a purchase. Here are some quick tips that might help you get value from reading online reviews.
1. Know what you want.
It can be helpful to first have an idea of what you actually want to find out about the insurer and their product. You might try thinking about product features offered, exclusions, customer service experiences of previous customers and the insurer's claims process.
2. Find reviews from a variety of sources.
If you're interested in finding consumer reviews, you might try to access a range of different reviews located on a variety of different websites to help find different perspectives, rather than simply reading a single review from one disgruntled customer and dismissing an insurer entirely based on that.
3. Make your own assessment.
Don't be afraid to make your own assessment of a product while making your own comparisons. While it may be tedious, taking the time to read through the product disclosure statement and actually get a clear understanding of the features offered and the conditions can make it easier to find affordable packages that still offer adequate protection.
4. Confirm what you have read with the insurer.
If there are any points that you are unsure about, you may want to verify them with the insurer or the product disclosure statement.
Back to top
More guides on Finder