Finder is committed to editorial independence. While we receive compensation when you click links to partners, they do not influence our opinions or reviews. Learn how we make money.
Student Travel Insurance Finder
Do you need travel insurance for studying, working and traveling abroad? A guide to travel insurance for students.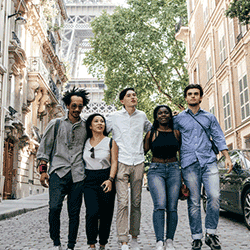 You may be eligible for free travel insurance through your university, but it may not cover you for personal travel outside of your study period or your personal needs. The right travel insurance can give you peace of mind against the risks that arise when you're spending time abroad. Protect your finances agains incidents such as:
Overseas medical expenses. This includes emergency rooms, daily hospital stays, dental treatments and emergency ambulance fees.
Loss or damage to luggage and personal items. Whether you're moving through different countries or staying in a college dorm protect your personal belongings if they're lost, damaged or stolen.
Trip cancellations. If you have to cancel pre-paid travel arrangements due to unforeseen circumstances, you'll be covered for the costs.
Travel money losses. If you lose your credit card, cash or money order, you could be reimbursed.
Personal liability claims. If you become liable for bodily injury or property damage to another person, travel insurance can help with costs.
Unexpected returns home. If you have to cut your stay short, wither for death of a loved one or an illness, you'll be covered.
Read on for an overview of what to look for in your student travel insurance policy, or compare policies below.
Compare travel insurance plans for students

What is the minimum insurance I need to study abroad?
1. Default health insurance from your destination school
In most cases, if you're studying overseas, your destination university will require you to use its own health insurance plan to cover any medical costs. This generally includes coverage for medical repatriation and personal liability.
2. Additional travel insurance
The main advantage of getting your own travel insurance plan is that its coverage can be extended past your semester of study and to any extra trips you take. Combining the two insurance plans gives you coverage will give you the coverage you need for an extended travel.
| Typical benefits | Destination school's health insurance | Travel insurance |
| --- | --- | --- |
| Meets the health cover requirements of your destination school | | |
| Cover for the duration of your semester | | |
| Cover for any travel afterwards | | |
| Medical emergencies and hospital | | |
| Personal Liability | | |
| Lost and damaged luggage | | |
| Trip cancellations | | |
| Personal items and theft | | |
Is low-cost travel insurance cover enough?
In some cases, yes. Basic policies are generally much cheaper and will usually provide coverage for:
Overseas medical expenses.
Loss, damage or theft of luggage and personal items.
Trip cancellation or lost deposits.
What level of coverage should I get?
While comprehensive plans will be more expensive compared to a basic plan, they will offer a higher level of coverage. Be careful not to pay for too much coverage — you don't want to pay for features you won't use. Taking the time to compare different student travel insurance options can help you find coverage that is not only affordable, but also gives you just the right amount of coverage.
Back to top
Does travel insurance apply to me if I am a student athlete?
Travel insurance can be a useful asset for student athletes
While travel insurance will only protect you for non-competitive sports medical expenses, it is a useful asset to have as an athlete in case you encounter:
Travel delays on your trips for competition.
Cancellations.
The medical expenses that arise from collegiate and amateur sports participation are generally covered by an athlete's health insurance plan from the overseas university.
Are there any exclusions I should know about?
It's important to review the exclusions to your travel insurance policy before signing on. Some common student travel insurance exclusions include:
Dangerous sports and activities. Not all sports and activities are covered, so check to see what sports are excluded from coverage.
Drugs and alcohol. STUDENTS BEWARE! Claims arising from incidents where the policyholder is under the influence of drugs or alcohol will generally not be covered.
Negligent behavior. Loss or damage to belongings that could have been avoided will generally not be covered. For example, leaving your laptop bag sitting on the park bench will not be covered if it's stolen.
Motorcycles and scooters. Looking to rent a moped? If you get into an accident while driving a motorcycle or scooter, and you don't have a valid license, you won't be covered.
No proof? No refund. In order to pay claims for lost, stolen or damaged personal items, most insurers require some form of proof for the claim to be eligible. Such evidence may include:
Receipt.
Valuation document.
Photos.
Policy report following theft.
Report from an transport or accommodation official.
What other factors affect the cost?
There's no quick answer of how much your student travel insurance policy will cost. It will come down to your travel plans and coverage you choose. Travel insurance quotes are based on:
Range of benefits.
Additional coverage options.
Single or annual trip policy.
Age. The older the traveler, the more expensive the policy.
Pre-existing medical conditions. Any pre-existing medical conditions will generally increase the cost of the coverage.
These factors combined will determine how much you'll eventually pay for your coverage.
Sample quote for a student traveler
Destination: Europe
Age: 21
Dates: November 14, 2017 – November 13, 2018 (12 months)
Preliminary Quote
Without deductible and registration of $1200 snowboard

Comprehensive plan: $895
Basic plan: $655

Comprehensive plan: $1,000
Basic plan: $680
This is a guide and is not an actual quote. Pricing may change significantly based on the insurer and any pre-existing medical conditions of the policyholder. Please use the travel insurance quote engine below for the most accurate pricing.
How can I save money on my policy?
If you're a traveling student, you likely looking to save money. Though price should not be the only factor to consider when taking out a travel policy, it's still important to find a policy that's affordable.
Tips to find affordable student travel insurance
How much protection am I actually going to need? You may not require the same benefit payment as a middle-aged businessman traveling with his spouse. Cheaper policies will generally provide reduced benefit payments that may still be sufficient for your situation. However, it's important to be aware of the deductibles and other costs. In addition, you may not need a comprehensive policy, and that a basic plan is just enough.
What other coverage might I already have in place? Assess the coverage you already have in place through your school, credit cards or personal health insurance policy.
Should I get my policy through my travel agent? Most often you'll pay more for coverage through a travel agent, mainly because you'll pay a commission fee the travel agent.
Should I look for deals online? The competitive nature of the travel insurance industry means providers are constantly offering exclusive promotions for premium discounts and other great incentives. Keep an eye out for these promotions and save as much as 20% on your policy.
What's the difference between annual and single trip?
If you're planning to travel abroad you'll be given the option of taking out single or annual multi trip coverage. It will depend on what your travel plans are.
Single-trip travel insurance
Provides cover for a single trip usually for a maximum of 12–18 months.
Policy can be tailored to account for any special coverage requirements that the student may have e.g. dangerous sports or coverage for pre-existing conditions.
Coverage can generally be extended if you notify the provider at least seven days before your policy expires.
What type of student is this policy for?
Single-trip policies are more suitable to those students looking to work or study abroad.
Annual travel insurance
Provides coverage for an unlimited number of trips in a 12-month window.
Trips can usually be between 30, 60 and 90 days.
One certificate of insurance provided, no need to purchase a separate policy for each trip.
Cover is generally more economical than a single trip policy more more than three trips.
What type of student is this policy for?
An annual multi-trip policy can be more suitable to students that are looking to take multiple and separate trips over a year.
Frequently asked questions
Back to top