Finder is committed to editorial independence. While we receive compensation when you click links to partners, they do not influence our opinions or reviews. Learn how we make money.
Domestic Travel Insurance Finder
Do I really need travel insurance for domestic trips within US?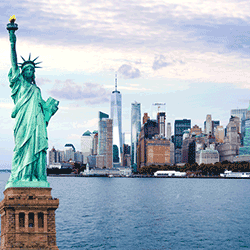 Seeing the beauty that the US has to offer is undeniably exciting. But regardless of whether you're venturing into New York City or relaxing on the beaches of southern California, you may run into trouble. Consider adding domestic travel insurance before you travel within the US.
Compare domestic travel insurance plans
What's the point of getting insurance if I'm only traveling domestically?
Domestic cover provides affordable protection for the many other financial losses that you may experience while traveling such as flight cancellations, car rental excess charges and stolen luggage.
Cover from your airline will usually only cover cancelled flights and loss of luggage and has quite low cover levels. Car rental coverage can be upwards of $15 a day…quite a shock when you consider most domestic policies go for between $30–$50 for a two week period.
Sometimes domestic travel can be covered with credit card travel insurance, however you'll typically need to purchase your trip with your credit card with a minimum purchase. You'll also need to pay a larger deductible if you have to claim.
10 mishaps that can occur when traveling in the US
| Feature | How could travel insurance help you? |
| --- | --- |
| 1. Cancellations | You're covered for cancellation fees and lost deposits for events outside of your control. This includes injuries, strikes, collisions, natural disasters, retrenchment and more. |
| 2. Rental excess | You're covered for excesses that are charged if vehicle is damaged or even stolen while on vacation. |
| 3. Lost and stolen items | You're covered for accidental loss, theft and damage to items and even cash. Most policies apply a daily allowance to buy essentials if your luggage is lost. |
| 4. Additional expenses | Additional expense coverage provides a benefit payment to reimburse the costs of any additional accommodation, food, telephone and traveling expenses if your trip is disrupted. |
| 5. Travel delays | Travel delay coverage provides a benefit payment for accommodation and food expenses if your transport carrier delays you. |
| 6. Special events | You're covered for the additional cost of transportation to a wedding or conference if your trip is delayed. |
| 7. Accidental death | You are provided with a benefit payment to your spouse or dependent children. Cover includes loss as a result of an accident or terrorist attack or due to the disappearance of transport carrier on your trip. |
| 8. Accidental disability | Provides cover for accidents caused by violent, external and visible means that results in permanent loss of sight in one or two eyes and the use of one or more limbs within 12 months of the policy being taken out. |
| 9. Travel service provider insolvency | Reimbursement for reasonable costs if your travel services provider financially defaults. |
| 10. Hijacking | Provides your family members or dependents with financial cover for each day you are held captive. |
Traps to watch out for when choosing a domestic policy
Every year there are stories of people left devastated after learning their domestic travel insurance policy was unable to provide a benefit for their claim because it fell outside of what was covered in their policy. Here are some key tips to avoid when taking out insurance that leaves you exposed in the event of a loss.
Cheapest isn't always best. While it is important to find a competitively priced policy, basing your purchase purely on price may leave you drastically under protected. Research the policy features on offer and know what you are covered for. Cheaper cover will often have higher excess charges and greatly reduced benefits.
Watch out for credit card insurance. If you are relying on insurance provided from your credit card make sure you know what you stand to receive in the event of the claim. While this may be an affordable option, credit card travel cover will often include a range of exclusions that you may need coverage for.
Per-item limits. It's crucial to know the conditions for payments for lost luggage and expensive items. While the policy may state "up to $5,000 cover for lost items", there may only be a benefit of $600 per item provided. These sub-limits are often applied to expensive items.
Read the fine print. While it may be tedious, it is crucial to carefully read through the policy terms and conditions to know when a benefit will and won't be paid.
Keep proof of purchase. It's not uncommon for travel insurance brands to require policy owners to provide proof of purchase on expensive items before making a benefit payment. It is important to be clear on what your insurer requires in order to make a successful claim. For some, a photo of the item may be enough, but others will require a copy of the receipt.
Cover for the activities you plan to do on your trip. If you're participating in sports or activities on your trip it is important to find out whether or not they'll be covered.
Successful claim. In the event that you need to make a claim on your domestic travel insurance, it is essential you follow the requirements of the policy as closely as possible. While it may be tedious, doing this will ensure the full claim is paid and there is no delay for the payment.
Back to top
Six tricks to finding better travel insurance deals
There's an old saying in the insurance industry that if you can't afford travel insurance, you can't afford to travel. While the decision on what cover to take out should never be based purely on price, it is important to take the necessary steps to avoid overpaying for cover not tailored to your needs. Many people are surprised at how affordable domestic travel cover can be if they take the right steps to consider what they actually need cover for and weigh up the different options available.
1. Assess what other cover you already have in place. It's worth reviewing what other types of insurance you have in place to help you in the event of problem while traveling. For example, your current car insurance policy may provide cover for rental vehicle excess or your home and contents insurance may provide cover for loss of valuable items and luggage. Similarly, you may be entitled to compensation from your transport for losses that have occurred during transit. The discovery of this additional cover may lead you to take out a more affordable basic form of cover.
2. Compare basic and comprehensive options. Most insurers will offer both basic and comprehensive domestic travel insurance options. It is worth reviewing both to see what is more suitable for your situation. The reduced selection of benefits on a basic plan may still be suitable for your situation.
3. Compare pricing from different providers. While this may be an obvious one, the majority of people will still take out cover with the first provider they come across or one that they have heard of. It's essential to review different pricing from a number of providers and take the time to ensure you are receiving an adequate level of cover.
4. Go online. Domestic travel cover provided by insurance agents or airlines is generally more expensive because they earn commission on the sale of the cover. Taking the time to go online and hunt out a policy yourself may save you a significant amount of money.
5. Annual or single-trip. If you are a frequent traveler you may benefit from taking out an annual policy to provide cover for multiple trips under a single policy. This option is usually only suitable for people that travel three or more times per year.
6. Review expensive items. Before taking out extra cover for expensive items, it's important to review if the items you're looking to cover aren't under the cover threshold already provided. As an example, some insurance plans will provide cover for items that have a value of up to $750 with laptops, handheld computers, cameras and computers covered up to $5,000.
Will I be paid if I cancel my trip?
Domestic travel insurance offers a cancellation coverage to cover a range of pre-booked expenses in the event that you need to cancel your trip due to unforeseen circumstances.
What cancellations will you usually be covered for?
Travel expenses
Accommodation expenses
Pre-paid meal expenses
Excursions
Tours
Activities
Cancellation for flights and accommodation
Under what circumstances can a trip be canceled?
Unforeseeable death, injury or illness of relative that resides in the US.
You have to go to court or have jury duty.
Accident in vehicle you were planning to use on a road trip a week before you planned to travel.
You're a member of the armed forces, police, fire, nursing or ambulance services and are required for duty.
You've been laid off from your job and can collect unemployment payments.
You need to stay home due to flood, fire, storm or burglary in your place of residence a certain period of time before you planned to leave.
I travel often. What are my options?
If you are someone that travels regularly each year, it might be worth looking into annual multi-trip insurance to cover you for multiple trips over a 12-month period. Most insurers will offer both single-trip and annual cover for frequent travelers.
What are the benefits of taking out an annual policy? An annual policy can offer both convenience and great savings, as you'll only need to apply for cover once and have the peace of mind that you are covered for all domestic journeys you take in any 12-month period. This option can be much more economic than applying for multiple policies over the course of a year.
Who should consider an annual domestic travel insurance policy? An annual policy is only really suitable for people that travel three or more times per year. If you only need cover for one or two trips, it's probably more economic for you to take out a single-trip policy. Most insurers will not provide annual policies to travelers older than 60 old, as they need to assess any health risks that they may present. Annual policies are also a great option for people that need to travel last minute for business.
Can I get an annual policy to cover both international and domestic trips? Yes, it is possible to get an annual policy that will cover both trips within the US and overseas. This could be a good option if you're looking to take a cruise but stopping off at US ports, your work see's you regularly travel both interstate and abroad or if you just love to getaway both within the US and overseas. It's important to note that not all insurers will cover both domestic and international trips so make sure you check the terms and conditions.
Common questions when it comes to domestic travel insurance
Back to top
More guides on Finder