Finder is committed to editorial independence. While we receive compensation when you click links to partners, they do not influence our opinions or reviews. Learn how we make money.
Travel insurance for Germany
Protect yourself and your belongings on your German adventure.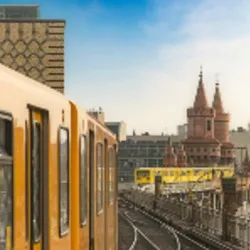 From the Black Forest to the Berlin Wall to the beer halls of Bavaria, there's so much to experience in Germany. Before you pack your bags, take a few minutes to lock in your travel insurance policy so you can relax knowing that it's got your back.
Compare travel insurance plans
What does travel insurance cover?
Although coverage varies depending on the insurer and the policy, comprehensive travel insurance typically covers:
Overseas emergency medical and hospital expenses.
Cancellation fees and lost deposits when unforeseen circumstances force you to cancel your trip.
Lost or stolen luggage and travel documents.
Luggage and travel delays.
Personal liability expenses when you cause injury or property damage to someone else.
Theft of cash from your person.
Rental vehicle insurance deductibles if your rental car is stolen or damaged.
What doesn't travel insurance cover?
You're expected to act sensibly while abroad and be honest with your insurer. If you don't, your claim can be denied:
Leaving your luggage unattended in public.
Getting hospitalized due to a pre-existing medical condition that you didn't disclose to your insurer.
Hurting yourself or someone else while drunk or on drugs not prescribed by a doctor.
What travel risks should I be aware of in Germany?
While Germany is generally a very safe country, there are some travel risks you should be aware of:
Terrorism. Terrorism is a threat across Germany and much of Europe in general. It's a good idea to buy travel insurance when you buy your plane ticket so that you're reimbursed if a threat causes you to cancel your trip.
Pickpocketing and theft. While the level of overall crime is quite low in Germany, pickpocketing and theft account for roughly 40% of all crime cases there. Due to a rise in pickpocketing in recent years, German police have warned visitors to Mitte, Friedrichshain-Kreuzberg and Charlottenburg-Wilmersdorf to take particular care of their valuables.
Drink spiking. If you're going to nightclubs or some of Germany's famed Christmas markets, keep your drink in sight and buy a new one if you lose it. If you start to feel off, visit a doctor or call your insurer's 24/7 helpline.
Road conditions. The older roads of Eastern Germany can be dangerous. If you're planning on renting a car, make sure it's insured.

Protests. Anti-migrant protests have been on the rise in much of Europe, including Germany. Be aware that protests can occasionally disrupt travel plans.
Sandy's stolen bag
Sandy went to Europe to have a white Christmas in Berlin. While she was walking back to her hotel from the Christmas markets, her bag was snatched by a thief. Not only did the bag contain Sandy's wallet and credit cards, but it also contained her passport and travel documents.
Luckily, Sandy had taken out comprehensive travel insurance and was reimbursed for the $250 cash that was stolen, plus all costs associated with replacing her passport, credit cards and travel documents.
What activities should I add as extras in Germany?
Germany has some amazing experiences to offer, but they aren't always covered by a basic policy and may require you to purchase additional coverage:
Pan Germania. This German motorcycle route stretches over 6,000 miles around the country.
Scuba diving in Lake Constance. This freshwater lake is over 800 feet deep and is a favorite diving location for tourists and Germans alike.
Hiking in the Black Forest or the Bavarian Alps. High altitude, exhaustion and sudden changes in weather may leave you in need of medical attention, so be cautious and pay attention to your body.
Cycling the Elberadweg. This cycling route runs across multiple European countries, including Germany.
Skiing and snowboarding. Germany has some amazing mountains for skiing and snowboarding, but their inherent safety risks may require additional coverage.
Back to top
Will travel insurance cover me at Oktoberfest?
Not if you're drinking. While Oktoberfest is a time a of celebration and one of the world's biggest festivals, it's also an event where belongings tend to go missing. Travel insurance won't cover any losses that happen when you've been drinking, so if you plan to have a few beers in Munich, follow these tips to avoid a sticky situation:
Leave your belongings at the hotel. The alcohol-induced festivities make it easy to lose and misplace items, and the large crowds can invite petty thieves.
Hydrate. The tents can get very hot and sweaty inside, and beer is hardly known for its hydrating qualities. Sip on a stein of water every now and then to avoid dehydration.
Bring a friendly attitude. Unfortunately, the combination of alcohol and large crowds can often escalate into conflicts. Enter Oktoberfest with the right mindset to avoid getting yourself in the middle of them.
Have an exit strategy. Bring money for a cab or ridesharing service. It's also a good idea to write down the address of your hotel so you can get there safely after the event.
If something goes wrong, how do I make a claim?
If an event or incident occurs that could lead to a claim, contact your insurer as soon as possible. You'll need to fill out a claim form, and the insurer will also request some supporting documentation. This may include:
Police or medical reports.
An admission of fault from your airline if they have misplaced your baggage.
Receipts for emergency items purchased while your luggage has been delayed.
Proof of ownership of valuable items that have been lost or stolen. It's a good idea to take a photo of everything you're packing before you leave home.
Who do I contact in an emergency?
In the event that something goes wrong during your trip to Germany, knowing who to call is a good idea.
Your travel insurer. Most insurers operate 24/7 emergency assistance lines that you can call from anywhere in the world. They can help you find a medical provider, report stolen goods and find the assistance you need far from home.
Friends and family. In certain circumstances — if you lose your wallet, for example — you may be better off contacting family and friends and having them wire you emergency funds that you can claim back from your insurer later.
German emergency services. If you need help from the German emergency services, the national emergency numbers are 110 for police and 112 for fire and ambulance.
A US embassy or consulate. If you lose your passport, get into legal trouble or if there's a countrywide emergency, contact the nearest US embassy or consulate.
5 questions to consider when selecting travel insurance for Germany
The best place to buy an insurance policy is online. This lets you avoid the fees charged by travel agents and take your time researching policies. When comparing policies, ask yourself:
How long are you planning on being away? Decide whether you need insurance for a single trip or an annual policy for multiple returns.
What are you doing during your trip? Make sure all of your activities will be covered.
Are you taking any valuable items? If you plan on taking your GoPro, for instance, make sure the limit on your policy is high enough to replace it.
Do you have any pre-existing medical conditions? Declare them early to find out if and to what extent a policy will cover them.
Are any travel risks specific to your destination? Germany is known for poor road conditions in some areas and has had protests in Munich in the past. Make sure you assess the travel risks for the area you're visiting.
Bottom line
Germany is home to some of the most beautiful sights and thrilling activities in all of Europe. But, as with any travel destination, it's not exempt from problems. From canceled flights to stolen items, avoid excess costs on your German adventure by making sure you've got the right travel insurance coverage.
Frequently asked questions
Back to top
Picture: Shutterstock