Finder is committed to editorial independence. While we receive compensation when you click links to partners, they do not influence our opinions or reviews. Learn how we make money.
Travel insurance for Costa Rica
Protect yourself from stress on your next Costa Rican adventure.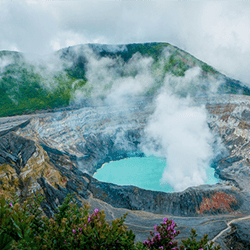 Costa Rica is a natural wonder full of beautiful beaches, delicious food and stunning hikes. It's known as the home of pura vida, or the "pure life," given its simple and stress-free atmosphere. So let yourself relax with a comprehensive travel insurance policy that covers you against misadventures on your journey.
Compare travel insurance plans
What does travel insurance cover?
Travel insurance can cover you for a wide range of mishaps on your adventure:
Medical care. If you get sick or injured while in Costa Rica, insurance can pay for your hospital stay, medications and any resulting costs such as extending your trip.
Lost or stolen luggage. If your luggage is lost or stolen, travel insurance can reimburse you.
Flight delays or cancellations. If your flight is canceled or delayed, your insurer can get you on a new flight and reimburse you for extra accommodations and lost deposits.
What doesn't travel insurance cover?
Exclusions are conditions that your travel insurance policy may not pay out for. Common exclusions to watch out for include:
Reckless or irresponsible behavior. If you think an insurer could successfully argue that your behavior was unreasonable, irresponsible or put yourself or someone else in danger intentionally, then they may reserve the right to not pay out.
Pre-existing conditions. If you get sick due to an illness or condition you didn't clear with your insurer, you may not be covered.
Failure to take precautions. If you failed to secure your stolen property or choose not to follow road signs, your insurer can refuse to pay out your policy.
Top travel concerns in Costa Rica
Find a travel insurance policy to protect yourself from potential hazards while seeing Costa Rica:
Crime. Petty theft and more serious crimes are prevalent, particularly at night. Take sensible precautions with your belongings and avoid traveling alone when possible, even if you're driving. Watch for "express kidnappings," where people are abducted and forced to withdraw money from an ATM to secure their release.
Driving hazards. Poorly-maintained roads and vehicles, inadequate signage, landslides, potholes and inconsistent local driving practices can pose numerous risks. Travelers are advised to drive with the doors closed, windows locked and valuables out of sight. In an accident, you're required to stay with your vehicle and not move it until traffic police arrive.
Dangerous waters. Strong coastal currents on the Caribbean and Pacific coasts of Costa Rica mean swimming can be dangerous. Lifeguards are not common on public beaches, and you shouldn't take the absence of warning signs as an indication of safety.
Seismic activity. Volcanic events can result in airport closures and flight delays. Costa Rica is also subject to earthquakes and tsunamis that could delay, or even cancel, your trip.
Weather events. The rainy season in Costa Rica is generally from May to November but extends even further, while peak hurricane season is from June to November. Monitor local media for warnings, and follow the instructions of local authorities in the event of an emergency.
Back to top
Adventures to get extra coverage for
River and whitewater boating. River trips in Costa Rica can be languid, scenic or adrenaline-pumping whitewater expeditions, depending on your tastes. Take note of any exclusions on your insurance policy — you may be required to hire a licensed guide.
Hiking and mountain climbing. I

f you plan on challenging the peaks and cliffs of Costa Rica, you may need to take out evacuation coverage, in case you're injured and need to be helicoptered out.

Photographing the wildlife. Costa Rica is a favorite spot for photographers. And with good reason — it's home to as much as 5% of the world's plant and animal species. If you're bringing an expensive camera, make sure the limit on your policy is high enough to reimburse you if it's lost or stolen.
Scuba diving. Costa Rica is home to beautiful waters, and diving is a popular sport. Some policies don't cover diving injuries, so check with your insurer before you rent any equipment.
What happens if I have a medical emergency in Costa Rica?
Costa Rica's healthcare system is well developed, and its residents enjoy a higher standard of public medical treatment than most other countries in the region.
Only Costa Rican citizens and permanent residents get universal healthcare, leaving visitors to rely on travel health insurance.
Find a travel insurance policy that pays up front for medical expenses. A doctor or hospital in Costa Rica may refuse to treat you without upfront payment or an arrangement with your insurer.
Pharmacies play a more important role in Costa Rica than they do in America. For non-emergencies, go to a pharmacist first. They can accurately treat and diagnose many conditions and refer you to a hospital, if needed.
Prescriptions aren't required for many medications in Costa Rica. But you should still find out how your travel insurance covers prescription medication.
Who do I contact in an emergency?
Hopefully your vacation goes off without a hitch. If it doesn't, keep a list of who to call in your phone:
Tourist police. 911.
Your travel insurer. Find a 24/7 helpline on your policy documents.
A US embassy or consulate. If you lose your passport or there's a countrywide emergency, contact the nearest US embassy or consulate.
Bottom line
Adventure-filled trip full of hiking, climbing and diving or afternoons in a hammock on the beach — the pure life awaits you in Costa Rica.
Before you leave, take out a travel insurance policy so that a bad meal or a hiking mishap doesn't ruin your pura vida memories.
Frequently asked questions
Back to top