Finder is committed to editorial independence. While we receive compensation when you click links to partners, they do not influence our opinions or reviews. Learn how we make money.
TIAA Bank Yield Pledge Money Market review
New customers enjoy a one-year introductory APY of 0.75%. Standard rates range from 0.5% to 0.7%.
TIAA Bank's money market account falls under its Yield Pledge Banner. In a nutshell, this means the rates stay competitive. You'll need $500 to open an account and the best rates are reserved for first-time customers.
$500
Minimum deposit to open
Details
APY
0.70% on balances of $100,000 to $10,000,000
0.65% on balances of $50,000 to $99,999.99
0.60% on balances of $25,000 to $49,999.99
Fee
$0
Minimum deposit to open
$500
Intro or bonus offer
0.75% one-year introductory APY available to first-time money market clients on balances up to $250,000. Ongoing APYs otherwise apply.
Interest compounding
Daily
Monthly transaction limit
6
Fee per transaction over the limit
$10
More Info
Expert review
Review by
katia.iervasi@finder.com
---
Katia Iervasi is a staff writer who hails from Australia and now calls New York home. Her writing and analysis has been featured on sites like Forbes, Best Company and Financial Advisor around the world. Armed with a BA in Communication and a journalistic eye for detail, she navigates insurance and finance topics for Finder, so you can splash your cash smartly (and be a pro when the subject pops up at dinner parties).
Expert review
TIAA Bank Money Market account is best for individuals who have at least $500 for an opening deposit. It has decent interest rates with the highest 0.75% APY being reserved for new customers. The bank stamps the account with its Yield Pledge Guarantee, which ensures its rates are in the top 5% of competitive accounts.

But the initial rate only lasts a year. You'll also want to avoid the potentially expensive fees for outgoing transfers, nonsufficient fees, excess transfers and other penalties that can arise.
What are the benefits of a Money Market account with TIAA Bank?
This FDIC-insured account comes with a Visa debit card, convenient customer service, a nationwide ATM network and the following benefits:
Minimal fees. You'll pay nothing in opening, maintenance, monthly, ATM, BillPay or online/mobile check deposit fees. If you maintain a minimum balance of $5,000, TIAA will reimburse you for ATM fees other banks charge to your account. Otherwise, they'll reimburse up to $15 in ATM fees each month.
Check-writing privileges. The Money Market account supports checks, and you'll receive your first 20 checks free when you sign up.
Introductory rate. TIAA offers a 0.75% APY for new customers. The promotional rate lasts for 12 months and applies to balances up to $250,000. This offer only applies to accounts that are funded by transfers from an outside institution.
Yield Pledge promise. TIAA guarantees that its yields are always in the top 5% of competitive accounts nationwide. It analyzes BankRate's National Average survey data and adjusts its rates if needed.
Decent interest rates. After the first year, the interest rate drops to 0.50% for balances under $10,000, 0.55% for $10,000 to $24,999.99, 0.6% for $25,000 to $49,999.99, 0.65% for $50,000 to $99,999.99 and 0.7% for balances between $100,000 and $10,000,000. Although competitive, you'll find better rates elsewhere.
Web Safety Guarantee. 100% protection for funds lost due to unauthorized online use or errors by TIAA Bank.
What should I look out for?
The Money Market account has a handful of potential drawbacks, including:
Opening deposit. You'll need at least $500 to open this account, which is on par with other money market accounts.
Expensive wires. While it's free to wire funds into your TIAA account, it costs $25 to send domestic wires and $35 to transfer US dollars to an international bank. If you want to wire foreign currency internationally, you'll pay between $30 and $65.
Overdraft fees. TIAA charges a $30 fee for non-sufficient funds. There's a limit of two fees per day, per account.
Other fees. You'll be charged $10 for excess transactions, $10 for cashier's checks, $10 for returned deposit items and $25 to stop payment for up to six months.
Limited branch locations. TIAA Bank only has a physical presence in Florida, which rules out cash deposits for customers outside the state.
Yield Pledge fine print. The Yield Pledge guarantees that TIAA Bank's rates will stay in the highest 5% of "Competitive Accounts." But the data only considers rates at the largest banks, which tend to be lower than other online banks.
Compare your options with our guide to money market accounts if the benefits don't outweigh the drawbacks for you or you want to get a full scope of what's available.
Compare with similar savings and money market accounts
How do I open an account?
If you prefer to do your banking over the phone, call 866-755-9143 Monday to Friday from 8 a.m.–6 p.m. ET.
Otherwise, the online application takes about 10 minutes. These are the steps:
Go to the TIAA Bank website.
On the top right corner of the homepage, press Open an Account.
Hover over Banking and select Yield Pledge Money Market. Click Continue.
You'll be asked if you have a bank account or home loan with TIAA. Let's say you're a newbie. Press No, then Continue.
Enter your Opening Deposit Amount. Click Continue.
Specify your account type: Joint or Individual. Enter your Social Security number and personal, contact, citizenship and employment details.
Create a Security Code. Press Continue.
Fund the account via a mobile deposit or online transfer, or by mailing a check.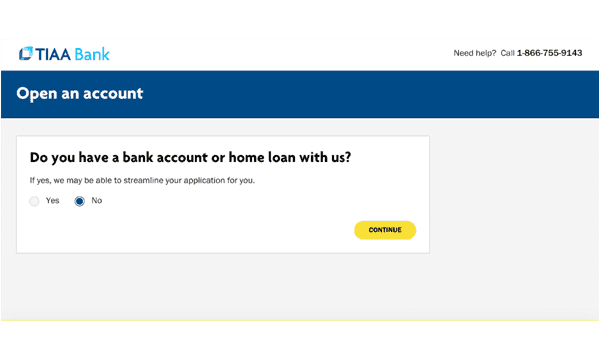 Eligibility
To apply for a Money Market account, you must be:
A US citizen or resident alien with a physical address, Social Security number or Individual Tax ID number, and a driver's license or state-issued ID.
At least 18 years old.
Able to contribute at least $500 for the opening deposit.
Required information
For a smooth application process, have this information handy:
A valid driver's license or state ID
Your Social Security number or Individual Tax Identification number
The details for the bank account you're using to fund your initial depositIf you're sending a check, mail it to:TIAA Bank11 Oval Drive, Suite 107
Islandia, NY 11749
How do I deposit and withdraw money?
The Yield Pledge Money Market account offers flexible access to your funds when you need them. You can move your money around in the following ways:
Direct deposit. Set up direct deposit and a portion of your paycheck will land in your account.
Internal transfers. Transfer funds to and from an existing TIAA account for free.
Wires. Send US dollars or foreign currency via domestic or international wires. Inbound wires to your TIAA account are free, but you'll pay between $25 and $65 for outbound wires.
BillPay. Securely pay your bills by logging into online banking.
Cash. Dip your debit card in AllPoint or MoneyPass ATMs across the country, or deposit cash at one of TIAA's financial centers.
Checks. Write your own checks and deposit mobile checks online or on the app. You can also mail paper checks to:TIAA Bank11 Oval Drive, Suite 107
Islandia, NY 11749
How can I get in touch with customer service?
Questions? There are a few ways to reach the customer service team:
Phone. Call 866-755-9143 Monday to Friday from 8 a.m.–6 p.m. ET, or 888-882-3837 at any time.
Outside the US? Dial 631-234-8815 during business hours.
Email. Send a message via the Contact Us page to request an email or call back.
Twitter. Tweet your questions to @TIAABankHelp.
Mail. Address snail mail to:TIAA Bank11 Oval Drive, Suite 107
Islandia, NY 11749
In person. TIAA Bank has four Florida-based financial centers. They're open Monday to Thursday from 9 a.m.–4.30 p.m. and Friday from 9 a.m.–5 p.m. ET.

501 Riverside Avenue
7749 Normandy Boulevard, Suite 155
10400 San Jose Boulevard
104 New Berlin Road
Frequently asked questions