Improve your credit score
Find out how your credit score is calculated and pick up some tips to improve it.
A credit score is a rating based on the information on your credit report. When you apply for credit, whether it's a credit card, personal loan or home loan, your ability to manage those accounts is recorded on your credit report. Lenders use your credit report and credit score to assess your application when you request a new line of credit. If your credit score is low, you're less likely to receive approval for such loans. However, there are ways you can improve your credit score.
You can use this guide to understand what is considered a low credit score and the steps you can follow to improve it.
What is a good credit score?
Each credit bureau determines your credit score differently. For example, your credit score from Credit Bureau Singapore (CBS) will be a number between 1,000 and 2,000. The higher your score, the better your credit history is. From weak to excellent, you can look at the credit scores and risk grade chat used by CBS below: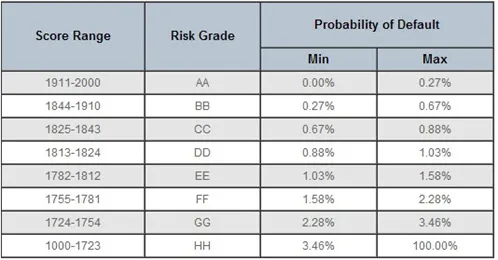 Source: Credit Bureau Singapore
How to improve your credit score in 5 steps
If your credit score is low, these are the steps you can follow to improve it and get your credit history back in shape:
1. Get your credit score and credit report
You can order both your credit score and your report for free when you meet the listed CBS prerequisites. When you receive your score, check which risk grade you fall into (AA to HH) and review your credit report to get a more in-depth understanding of your financial position. Once you do this, you can make a game plan to get your finances back in order.
2. Check your report for high-risk listings
If your score is low, review your report and look out for negative listings. This could include multiple credit enquiries in a short space of time, credit cards with high limits, multiple loan accounts and black marks such as late payments, defaults, serious credit infringements and bankruptcies. Defaults can last on your credit report for 3 years, while serious credit infringements and bankruptcies will stay on your report for 5 years. You can only remove any negative listings from your account if they're incorrect.
These can last on your credit report for 3 to 5 years depending on the listing and can only be removed if they're incorrect. You can see our guide to removing invalid black marks and defaults from your credit report for more information.
3. Remove any incorrect information
If you've found any incorrect listings on your account, you can contact your creditor or the credit reporting bureau that you ordered your report through to have them removed. You can also seek professional help from a credit repair agency. This will cost a fee, but they know what to look for and who to contact to remove these listings. However, it's still worth weighing up the benefits and the costs before you go through an agency. It's important to remember that they can only remove illegitimate negative listings from your account.
4. Identify listings that you can improve
If all of the listings on your credit report are valid, there are still steps you can take to improve your finances. For instance, if you have a high credit limit that you aren't using, you can contact your bank to lower it. If you have multiple personal loans or credit card debt, you can consolidate them under one product with a promotional 0% interest rate and pay it off with no interest. You should also make sure you're paying all of your bills on time and create a budget to repay any existing debts.
If you have any overdue accounts on your account, pay them off as soon as possible. If they're overdue on your account for more than 90 days, they'll be considered a default and will remain on your account for three years. After this, they could be considered a serious credit infringement, which will remain on your account for five years. You can learn more about the difference between defaults and serious credit infringements and the impact they'll have on your credit score in this detailed guide.
If you're struggling to repay your accounts, contact your creditor to discuss an alternative repayment plan to avoid defaulting on your payment.
5. Keep an eye on your score and your credit
As you work to improve your finances, keep an eye on your credit score. If you notice an incorrect or suspicious listing on your report, contact the credit bureau reporting agency as soon as possible.
How is my score calculated?
Your credit score is determined by the information that's included in your credit report. If you're determined to improve your credit history, keep in mind that the following information impacts your score:
Your personal information. Your age, how long you've been employed and the time you've been at your current address is used to calculate your risk.
Age of your credit report. The length of time your credit report has been active also impacts your credit score.
Type of credit providers. The types of credit and providers you've applied for and held accounts with will also impact your score. For instance, if you've held an account with a bank it will carry a different level of risk than a store finance provider.
What credit you've held and the credit limit. Your score will largely be determined by the risk associated with the type of credit requested in your loan application. The credit limit or loan amount you request will also determine your credit risk index and affect your final score.
The number of credit enquiries listed on your report. Any time you make an application for a loan, credit card or utility account, it will be added to your credit report. Frequent applications for credit raise your risk index and lower your credit score.
The pattern of your credit enquiries and shopping over time. Many credit enquiries within a short period of time may be a red flag to lenders. Defaults and other serious infringements in your credit history also affect your score negatively.
Default information. If you have overdue debts, serious credit infringements or clearouts it will negatively impact your credit score.
Court writs and judgements. Any listing indicating a court writ or default judgement will decrease your credit score as it's an indicator of increased risk.
Checking your credit score and report are the first steps to getting your finances back on track. If you do have a low score, there are some simple steps that you can follow to improve it. It's important to do this and build up your credit before you apply for any new loans or credit products, otherwise any rejected applications will further hurt your score.
Picture: Shutterstock
Back to top