The World Health Organisation has recently changed its advice on whether or not people should wear masks. The advice now is that masks should be worn in public where social distancing is not possible to help stop the spread of coronavirus.
The Ministry of Health in Singapore also states that it's mandatory for people to wear a mask outside their home that completely covers both their nose and mouth.
Shop online for masks
Singapore face mask statistics
76% of Singaporean adults – the equivalent of 3,526,400 people – say that they currently own either a cloth, surgical, homemade, medical-grade or fashionable face mask or a face shield, according to Finder data.
A Google survey of 1,201 Singaporean adults reveals that blue surgical masks are the most popular, with 44% saying that they currently own one. The next most popular type of face mask is the cloth mask (35%) followed by a medical-grade mask (15%).
| Ranking | Mask type | Ownership % |
| --- | --- | --- |
| 1 | Blue surgical mask | 44% |
| 2 | Cloth mask | 35% |
| 3 | Medical-grade mask (N95, KN95, etc) | 15% |
| 4 | Homemade mask | 7% |
| 4 | Face shield | 7% |
| 6 | Fashionable or branded mask | 6% |
The data reveals that women are more likely to have a specified face mask than men (84% compared to 74%), and that among age groups, the 55-64 age bracket has the highest rate of mask ownership (89%) and the 25-34 age bracket has the lowest (75%).
Compared to 14 other countries, Singapore ranks 11th for face mask adoption, tied with Hong Kong and Brazil. That's behind the UK (97%), South Africa (90%), the Philippines (87%) and Mexico (85%). Singapore is ahead of only New Zealand (71%) and Australia (58%).
All countries bar the Philippines favour either a cloth face mask or a blue surgical face mask. Cloth face masks are most prevalent in the USA, Ireland, Mexico, Brazil, South Africa, Canada and the UK, while blue surgical face masks are most prevalent in Singapore, Hong Kong, France, Italy, Spain, New Zealand and Australia. Meanwhile, Filipinos are most likely to own a face shield.
Homemade masks are least popular in Hong Kong (5%), Italy and Singapore (7% each), while they are most popular in the US (25%), Brazil (24%) and the UK (22%).
Quickly compare face masks by type
| Mask type | Reusable | Disposable | Filters air? | Readily available? |
| --- | --- | --- | --- | --- |
| P2 masks | | | | |
| N95 masks | | | | |
| KN95 masks | | | | |
| Cloth masks | | | | |
| Surgical mask | | | | |
Learn more about the different types of face masks available.
Featured products
Why should you consider wearing (or not wearing) a face mask?
While mask regulations are set by your local, state or national government, two of the biggest health authorities in the world, the World Health Organization (WHO) and the Centers for Disease Control and Prevention (CDC), have slightly different views on whether we should all be wearing face masks.
The World Health Organization recommends only people who are health care workers, are sick themselves sick or are caring for someone who is sick should wear either a medical face mask. However, if you live in an area where COVID-19 is quickly spreading and physical distancing is difficult, it's also recommended that those 60 years or older or have underlying health conditions, it's also recommended to wear a mask.
Fabric masks are also recommended by the WHO for anyone, regardless of whether you're a carer or have symptoms, living in areas where the virus is wide-spread and physical distancing is difficult. They highlight this is the case for anyone working in a close-contact job, such as cashiers or servers in restaurants, or when taking public transport.
The Centers for Disease Control and Prevention (CDC) suggests anyone should wear a face covering in public or when with people who don't live in the same household as you are visiting (or you're visiting them), even if you don't feel sick. The CDC doesn't recommend face masks for children younger than two years old, if you have trouble breathing or if you're unconscious.
Where the WHO and CDC differ, is that the CDC recommends you don't wear that's meant for medical use – including surgical masks and N95 masks – as they are in low supplies for those who need it.
How to make your own face mask
If P2 or N95 masks are hard to find or out of stock online, consider sewing your own. Guides like this one from The New York Times outlined the steps that can have you wearing a cloth mask in an hour or two. If you have a small swatch of fabric about the size of a napkin, shoelaces, scissors, and a needle and thread, you can make a mask without additional supplies.
Types of face masks: What's the difference?
There's various types of masks on the market and the best face mask for your needs could vary depending on a variety of factors, like your age, whether you're a medical worker or already sick.
Cloth masks
Cloth masks prevent large droplets released by the wearer from reaching the environment. They do not filter bacteria or viruses. Cloth masks minimise the risk of transmission by people who don't have symptoms through talking, coughing or sneezing.
Is it reusable? Yes
Is it disposable? No
Does it filter air? No
---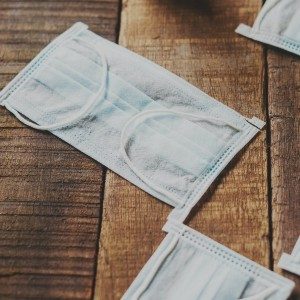 Surgical masks/disposable masks
Large droplets released by the individual wearing the mask do not reach the environment. Large droplets and splashes, which contain bacteria or viruses, are also prevented from reaching the wearer. Surgical masks are able to filter 95% of bacteria.
Is it reusable? No
Is it disposable? Yes
Does it filter air? No
---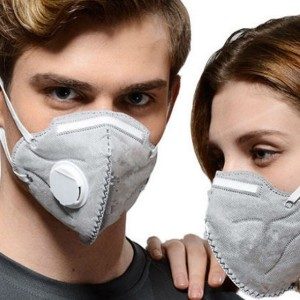 P2 masks and N95 respirators
They block out both large and small droplets from reaching your mouth and nose. N95 masks also filter out 95% of particles (including particles as small as 0.3 microns). N95 masks are tight fitting and are ideal for healthcare professionals as they can be fitted properly. These masks shouldn't be used for extended periods.
Is it reusable? No
Is it disposable? Yes
Does it filter air? Yes
---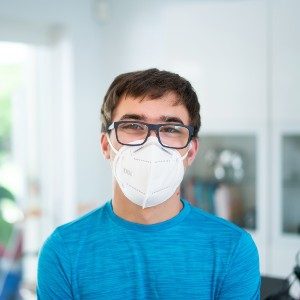 KN95 masks
These masks filter 95% of bacteria and are the Chinese standard for the N95 mask. They can block out both small and large droplets, filter air particles and help stop the spread of the virus.
Is it reusable? No
Is it disposable? Yes
Does it filter air? Yes
---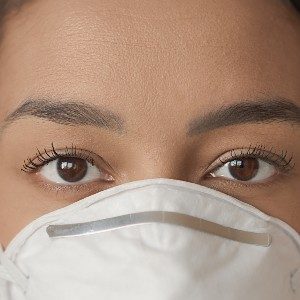 DS2 and DL2 masks
These are Japanese standard masks for protection against dust. They can filter 95% of airborne particles. They offer the same level of protection as P2 masks.
Is it reusable? No
Is it disposable? Yes
Does it filter air? Yes
What's the difference between a surgical mask and an N95 mask?
Surgical masks and N95/P2 masks are some of the most popular options for people to buy as PPE.
We've compared the two for fit, the blocking of particles and protection.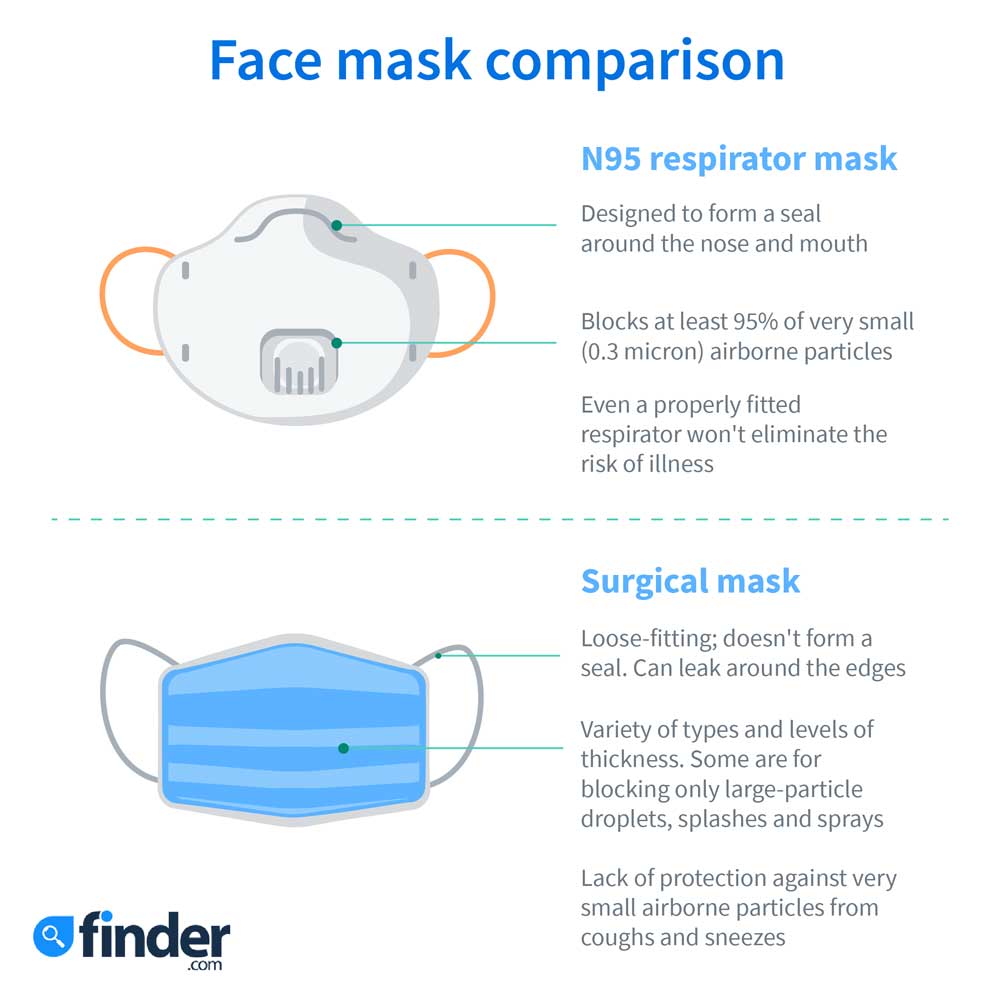 Learn more about mask performance specifications
Depending on your location, different face mask types are more widely used. For example, in the United States and Canada, N95 are common; in Australia and New Zealand, you'll see P2 masks more often; in China, KN95 is the standard. Mask manufacturer 3M, which specialises in filtering facepiece respirator (FFR) masks, offers the following explanation of the main differences between each mask type.
| Certification/Class | N95 | FFP2 | KN95 | P2 | Korea 1st Class | DS |
| --- | --- | --- | --- | --- | --- | --- |
| Filter performance | ≥ 95% | ≥ 95% | ≥ 95% | ≥ 94% | ≥ 94% | ≥ 95% |
| Test agent | NaCl | NaCl and paraffin oil | NaCl | NaCl | NaCl and paraffin oil | NaCl |
| Flow rate | 85 L/min | 95 L/min | 85 L/min | 95 L/min | 95 L/min | 85 L/min |
| Total inward leakage (TIL) | N/A | ≤ 8% leakage | ≤ 8% leakage | ≤ 8% leakage | ≤ 8% leakage | Inward Leakage measured and included in User Instructions |
| Inhalation resistance | ≤ 343 Pa | ≤ 70 Pa (at 30L/min)≤ 240 Pa (at 95 L/min)≤ 500 Pa (clogging) | ≤ 350 Pa | ≤ 70 Pa (at 30L/min)≤ 240 Pa (at 95L/min) | ≤ 70 Pa (at 30L/min)≤ 240 Pa (at 95L/min) | ≤ 70 Pa (w/valve)≤ 50 Pa (no valve) |
| Flow rate | 85L/min | Varied – seeabove | 85L/min | Varied – seeabove | Varied – seeabove | 40L/min |
| Exhalation resistance | ≤ 245 Pa | ≤ 300 Pa | ≤ 250 Pa | ≤ 120 Pa | ≤ 300 Pa | ≤ 70 Pa (w/valve) ≤ 50 Pa (no valve) |
| Flow rate | 85L/min | 160L/min | 85L/min | 85L/min | 160L/min | 40L/min |
| Exhalation valve leakage requirement | Leak rate ≤ 30mL/min | N/A | Depressurization to 0 Pa ≥ 20 sec | Leak rate ≤ 30mL/min | Visual inspection after 300L /min for 30 sec | Depressurization to 0 Pa ≥ 15sec |
| Force applied | -245 Pa | N/A | -1180 Pa | -250 Pa | N/A | -1,470 Pa |
| CO2 clearance requirement | N/A | ≤ 1% | ≤ 1% | ≤ 1% | ≤ 1% | ≤ 1% |
Source: 3M
Your face mask questions answered
Do I have to wear a mask?
Yes. As of 1 June 2020, the Ministry of Health in Singapore has made it mandatory for Singaporeans to wear a mask that covers both the nose and mouth when outside their homes.
Is a face mask effective?
According to the Center for Disease Control and Prevention, when worn in a community setting, a face mask is effective in slowing down the spread of the virus. However, it is not a measure that should be taken instead of social distancing, frequent hand cleaning and other preventive measures put in place. A face mask is most effective when it is used in conjunction with preventive measures. Like a flu vaccine, masks help reduce your chance of spreading the virus, but there is no guarantee that you will be safe.
What face mask should I buy?
If you are a healthcare worker, you should use an N95 or P2 mask. If you are unwell, you should use a surgical mask.
If you've not tested positive for coronavirus and don't have any symptoms, you can also wear a cloth mask.
Read our guide on the best face masks to compare options and get the right fit for your needs.
How effective are disposable masks?
Disposable masks or surgical masks are not as effective as N95 or P2 masks. However, if you are a healthcare worker, or have flu-like symptoms, you should use one. The best way to use a disposable mask is to not touch your face, nose or eyes while you have the mask on. Don't touch the mask and use the elastic to remove it. Dispose of the mask after one use and wash your hands after disposing of it. Following these precautionary steps can increase the effectiveness of disposable masks.
How long can I wear a disposable surgical mask for?
Surgical masks aren't designed to be re-used and should be changed regularly. These masks can easily be contaminated and it's recommended to avoid touching the mask while you're wearing it or removing it to talk to someone and then putting it back on.
The WHO recommends you don't wear a mask that's damp, ripped or been within reach of others.
How often should I buy a new face mask?
It depends on the type you are using. If you're using a cloth face mask, you should wash it after every use. However, if you are using a disposable mask, it should be disposed of straight after each use.
Some re-usable face masks are only suitable for wearing a designated number of times before they're no longer effective, so if you do purchase a reusable face mask, make sure you check to see how many times you can wash it and still be protected before you need to purchase a new mask.
Will a cloth face mask keep me from getting sick?
No. Some masks are made using special materials like polypropylene (a type of plastic) and processes such as melt-blowing that make it difficult for particles to penetrate the materials and enter the wearer's body. Fabric masks like cotton masks are not similarly made and provide very limited protection against respiratory droplets entering the body.
While not all masks provide the same level of protectiveness, covering your mouth and nose can help prevent moisture from breathing and coughing from travelling too far in the air.
In addition to being much cheaper and more readily available than industry-standard masks, homemade and cloth masks can serve as a constant reminder to avoid touching your face in accordance with governmental and medical advisories.
If you can find a quality mask at an affordable price, it's always the better option. However, if you can't find any in stock or can't afford to pay inflated prices, a homemade version could be a good alternative.
Will a mask protect me from COVID-19?
Wearing a face mask is not a guaranteed source of protection against the virus; however, it can assist in slowing the spread and should be worn in conjunction with physical distancing and frequent hand-washing (or sanitising).
Face masks are a great precautionary step to take, especially if you have symptoms of COVID-19 (such as a cold, coughing or sneezing, fever and shortness of breath). Wearing a mask will help avoid spreading germs.
Health tips for wearing face masks
The WHO has various tips for wearing face masks. These include the following:
Wear a face mask if you are sick
Wear a mask if you are taking care of someone who has the virus or is demonstrating virus-like symptoms
Wear a mask if you are a frontline worker
Wash your hands before and after wearing a mask
Disposable masks should be disposed of in closed bins after every use
Do not keep touching the mask; if you touch it, wash or sanitise your hands straight after
Do not share masks
How to fit your mask properly
When putting on a mask, a tight seal should be created against your nose and mouth. Use the instructions provided with your mask for the correct fit. You should test that a seal has been created by exhaling heavily. Air should not escape through any cracks. If a seal hasn't been created, re-fit and test again.
How to remove your mask properly
First, be sure to wash your hands thoroughly before putting on your mask. When you're ready to take it off, do not touch the front of the mask – it could be contaminated. Instead, remove it by pulling the bottom strap over the back of your head, followed by the top strap. Discard the mask and then wash your hands.
If masks are useful in protecting us against the virus, why are we being told to not buy them?
Like washing your hands properly and practising social distancing, masks can slow the spread of COVID-19. However, they are not in abundance. Currently, there is a shortage of masks in supply, which means they need to be rationed and given to those who are working on the frontline or showing symptoms of the virus. When there is an increase in the supply of masks, they need to be first made available to those who are at a higher risk and then to the general public.
Should I share a mask with my family?
No. The bottom line is that you shouldn't be sharing a mask with anyone. Even if it is your partner or child and you live in the same household, this is something you shouldn't do. As the virus is spreading so rapidly, extra measures need to be taken and good hygiene practices need to be adopted. Sharing a mask will reduce the effectiveness of this preventative measure.