Finder is committed to editorial independence. While we receive compensation when you click links to partners, they do not influence our opinions or reviews. Learn how we make money.
PayPal Working Capital business loans review
Lightning-fast financing for your online business — with no credit check.
Best for new retailers that rely on PayPal payments.
Pick something else if your business just meets the revenue requirements.
Details
| | |
| --- | --- |
| Product Name | PayPal Working Capital |
| Min. Amount | $1,000 |
| Max. Amount | $300,000 |
| Requirements | Have a PayPal Premier or Business account for 3+ months and your business should make from $15,000 to $20 million in PayPal sales. |
First, do I qualify?
You're eligible for PayPal Working Capital if:
You've held a PayPal Premier or Business account for at least three months.
Your business makes from $15,000 to $20 million in PayPal sales.
What is PayPal Working Capital?
PayPal Working Capital is type of short-term loan that gives e-commerce businesses an advance on future PayPal sales. Though it's technically a loan, in reality it's a lot closer to a merchant cash advance that offers financing based on future transactions.
First-timers can take out a loan worth up to 30% of their yearly PayPal sales or $300,000. You pay it back plus a fixed fee by allowing PayPal to take a percentage of your daily sales until the loan is repaid.
You can choose what percentage of sales you want to repay, but be warned: The lower the percentage, the higher your fee will be. PayPal also requires all borrowers to pay back at least 10% of their balance every 90 days, so you can't get away without making repayments just because sales were slow.
You can estimate the total cost of your loan by using PayPal's sample fee calculator. As an example, here's how costs break down for a company that makes $100,000 annually looking for a $10,000 loan. Costs are based on which percentage of sales you choose to repay.
| Percentage of sales | Fee | Total cost of loan |
| --- | --- | --- |
| 10% | $1,529 | $11,529 |
| 20% | $639 | $10,639 |
| 30% | $449 | $10,449 |
What makes PayPal Working Capital unique?
PayPal is an unconventional way for online businesses to get funding quickly. And we mean really quick — you can get approved within a minute.
When approving your loan, PayPal considers your PayPal sales history only, so applicants with bad or no credit are welcome. You won't pay late fees or annual maintenance fees — just one fixed amount that you pay as a fee. Your fixed amount is determined by your loan amount, your PayPal sales history and the percentage of each sale you're willing to let PayPal take as repayment. That's it.
What are the benefits of using PayPal Working Capital?
No credit check. PayPal looks at your PayPal sales history, rather than your credit score.
Quick funding. You can get your funds incredibly fast — sometimes less than a minute after you're approved.
No prepayment penalties. You aren't penalized for getting out of debt early. But it also won't save you money, because you pay a fixed fee instead of interest.
What to watch out for
PayPal Working Capital is relatively straightforward, but with a few flaws. Here are some of the drawbacks of getting a PayPal Working Capital loan.
Repayment with each sale. PayPal markets this as a benefit, but automatic repayments on each of your sales can hurt a lot when your cash flow is low.
May exclude seasonal businesses. You might have trouble with approval if your business is subject to an off-season.
Limited customer support. A top user complaint is that it's difficult to reach a PayPal rep if something goes wrong.
Prepaying is complicated. Because everything is automated, anything out of the ordinary — like prepayments — can be challenging.
Compare more online business loan options
Is a business loan from PayPal safe?

Yes. PayPal has been accredited with the Better Business Bureau since 2001, which gives it an A rating. Although PayPal gets a low 1.2 out of 10 from customers on Trustpilot, few specific complaints are about its Working Capital business loans. Most negative Working Capital reviews are from people who were denied a loan, not actual borrowers.
You can't qualify unless you already use PayPal. And if you already use PayPal, you probably know its security strengths and weakness better than anyone.
What do borrowers say?
Customer reviews of PayPal Working Capital itself are generally mixed. Some were happy with the repayment method, saying they hardly noticed the deduction from sales. Others said the whole process was unusual for a loan.
The main drawback of borrowing from PayPal is that its system is totally automated. While automation speeds things up, customer services representatives often can't explain rejections. Some borrowers also report having trouble getting approved after they experienced a significant increase or drop in sales.
Am I eligible?
Unlike most business financing, PayPal doesn't enforce any credit requirements. And it doesn't care about your personal or business credit score. Instead, it considers factors related specifically to your PayPal account.
To qualify for a PayPal Working Capital business loan, you must:
Hold a PayPal Premier or Business account. This account must also be at least three months old.
Bring in annual revenue within your account's required range. Ranges are between $20,000 and $20 million for Premier accounts. Those with Business accounts need a minimum annual revenue of $15,000.
Carry no existing PayPal Working Capital debt. You can owe only one Working Capital loan at a time.
How do I apply?
Login to Paypal and go to PayPal's Working Capital site. Click Apply Now.
PayPal will run your information through an automatic system to tell you if you're eligible to apply.
If PayPal gives you the OK, confirm your contact information and PayPal sales information from the past 12 months.
Choose how much you want to take out and the percentage of your sales you're willing to let PayPal take for your loan.
Carefully read and agree to your loan's terms.
PayPal immediately deposits funds into your account on approval.
I got approved for PayPal Working Capital. Now what?
Once your funds are disbursed, PayPal deducts a percentage of your sales amount each time you make a sale. If your sales are higher than you expected, consider paying off the loan to free up your cash flow.
I didn't get approved. What can I do?
PayPal's Working Capital program has specific requirements about minimum sales required to be eligible: at least $20,000 if you have a Premier account and at least $15,000 if you have a Business account. If you've business for less than a year, you still need to meet those minimum sales requirements in the time you've been using PayPal.
You may want to look into merchant cash advances or loans for startups if your business hasn't crossed those revenue marks yet.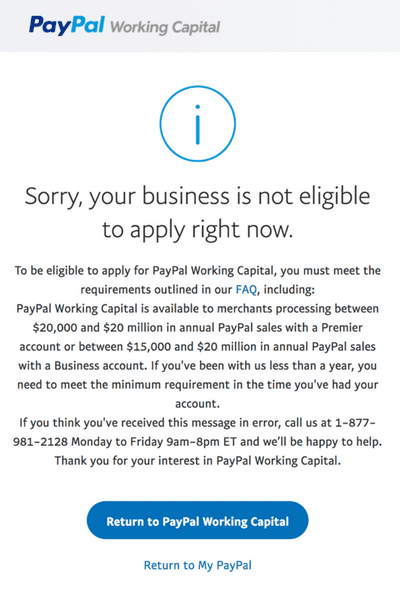 Bottom line
PayPal Working Capital business loans could be a resource for e-commerce businesses that need quick funding for business-related expenses or for strong online businesses with owners that have poor or no credit. Other businesses might want to keep looking for better terms, however — including lenders like PayPal Working Capital.
Even if PayPal Working Capital sounds perfect to you, you may want to compare your options before deciding on a loan so you can be sure you're making the best decision for your business.
Frequently asked questions
Picture: PayPal.com