Finder is committed to editorial independence. While we receive compensation when you click links to partners, they do not influence our opinions or reviews. Learn how we make money.
How does peer to peer insurance work?
Instead of paying a for-profit insurance company, you and your peers share costs for damages after a car accident.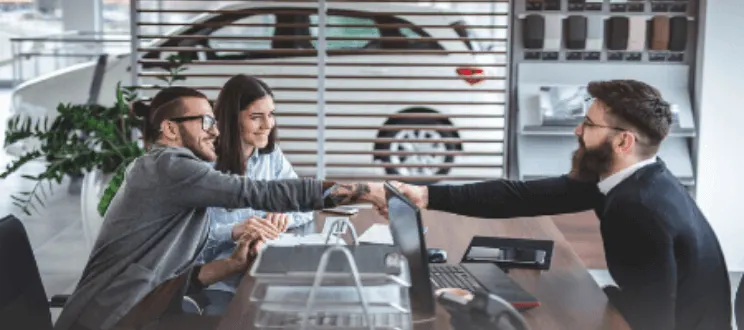 Peer to peer car insurance, also referred to as P2P insurance, is a relatively new model that bypasses many business costs and involves almost no interest in the company growing from profits. As a result, policyholders can benefit from low premiums, unused premium refunds and quick claims approval in most cases. But it's not easy to find P2P companies in the US yet.
What is peer to peer insurance?
Peer to peer insurance is an insurance model that allows a group of likeminded people to pool money together to protect against a common risk. This type of insurance is sometimes called social insurance.
Historically, insurance began with similar sharing or risk distribution models. However, modern peer-to-peer models emerged in Germany in 2010, and few US car insurance companies have adopted similar models.
How does peer to peer insurance work for auto insurance?
Policyholders using P2P car insurance will pay a premium to the insurance company. Since the company manages the funds, it may charge a flat fee to cover overhead costs. The rest of the premium goes in an account that pools the funds together.
When you get into a car accident, file a claim and use funds from the risk pool to pay for damage. If the damage costs more than the amount in reserves, a reinsurance company typically steps in to pay.
If some of the funds go unused, the insurance company distributes the unused premiums back to policyholders typically at the end of the year. In some cases, the company and policyholder agrees to give the excess amount to charity. In some models, only a portion of the premium is shared in a risk pool, while the other amount goes toward a traditional insurance company — a hybrid of traditional and P2P models.
Which companies offer P2P insurance?
You won't find many P2P companies in the US yet. However, pioneering P2P companies like Friendsurance and Riovic in Germany and the United Kingdom have piqued some interest in the US for this model.
A few companies in the US that use some form of cost-sharing model include:
1.Lemonade
This home and renters insurance company was the first to use the peer-to-peer model for insurance in the US. Pay premiums as you normally would, and Lemonade charges a flat fee for overhead costs like paying its reinsurance company. Each year, the company gives unused premiums to the charity of your choice.
2.SafetyNest by Branch
Branch car insurance customers pay a portion of their premium into a pooled fund for uninsured or underinsured drivers. Underinsured drivers who have experienced an accident can apply for financial aid through this program.
3.Teambrella
With this company, you can pick a team that insures against a specific risk, like pet injuries or car accidents. When an accident happens, the member chats with the team about the situation and estimated costs.
The team then votes on how much coverage to provide, if any. Once approved, each member releases funds from their account to the team member in need. Members can also vote for others as a proxy voter and earn money for doing so.
How does P2P lending work?
LendingClub is one of the largest peer-to-peer lending companies worldwide. LendingClub offers financing for personal, business and medical expenses and auto refinancing, using this peer-funding model. However, its current model only supports investing in loans, not insurance.
Is a mutual company the same as peer to peer?
No, but mutual insurance companies have many similarities to P2P companies. Mutual insurance companies can receive their initial funding from policyholders, similar to peer-to-peer insurance. However, mutual companies often borrow money to get started and repay the amount using the company's profits.
In either funding scenario, the mutual company is owned by its policyholders. When premium funds exceed the amount for car accident claims, mutual insurance companies can save that money to grow the company, pay the excess to members as dividends or lower premiums. In peer-to-peer models, all excess funds would get paid to policyholders minus office fees.
Pros and cons of peer to peer insurance
Pros
Lower premiums. Each member is motivated to stay claims-free, which often means lower risks to insure or more money repaid. Plus, this model requires fewer overhead expenses, especially if the company goes digital. The overall cost tends to stay lower than traditional car insurance.
Quick claims process. Members don't share an interest in growing the business off of profits. This often leads to fewer restrictions, negotiations and paperwork to get your claim paid.
Control over insurance spending. You pay less for office and business costs. Also, depending on the company, you may have a say in which claims get paid or what charities receive your unused premiums.
Shared interests. Companies or groups tend to pool together under a common interest, such as insuring areas not covered by traditional insurers or passion for a common charity.
Cons
New business model. Your policy might not have as much financial stability as traditional insurance, depending on the company. Modern peer-to-peer insurance is new and models vary by company.
Coverage may depend on member agreement. Some companies rely on members agreeing to cover an injury or damage. This could leave you paying out of pocket if members deny coverage or only cover a portion of expenses.
Not all types of insurance are covered. You won't find the same lengthy list of insurance products under peer-to-peer models. So you might need policies from multiple companies to cover your needs.
Bottom line
You won't find many peer to peer companies covering car insurance in the US just yet. If you'd like to benefit from this model, keep an eye out for new companies on the horizon. Or you might compare car insurance options with dividend payments to find a policy that fits your needs.
Frequently asked questions about P2P insurance
More guides on Finder