My DeFi Pet play to earn guide
A play to earn pet monster metaverse with battle and adventure.
Free to try
Complete daily quests
Earn crypto & trade card NFTs
Runs on HIVE blockchain
Go to site
Disclaimer: This page is not financial advice or an endorsement of digital assets, providers or services. Digital assets are volatile and risky, and past performance is no guarantee of future results. Potential regulations or policies can affect their availability and services provided. Talk with a financial professional before making a decision. Finder or the author may own cryptocurrency discussed on this page.
What is My DeFi Pet?
My DeFi Pet is a cryptocurrency pet game based on Binance Chain and KardiaChain. The game combines the concept of DeFi, NFT collectibles and players' personality to create something that is pet-friendly for the masses.
The game activities are collecting, breeding, evolving, battling pets, trading and socializing. Although there is a range of activities for users, the dominant activities for players is breeding and trading their pets.
Launched in May 2021, the game is quite popular, having won the Super Hackathon award. Even before its launch, My DeFi Pet had bagged 150,000+ token holders, 3 million plus transactions and more than 2 million eggs purchased.
What are NFTs on My DeFi Pet?
Non-fungible tokens (NFTs) are tokens that are provably unique. In the case of My DeFi Pets, NFTs are the pets and items. The pets can be bred in order to make new unique pets, and the item can be given to the pets to make them stronger in battle. The pets are not interchangeable with one another as all of the NFT pets are distinct. Players can buy, auction and trade their NFT monsters and make profit.
Compare NFT marketplaces
How does play to earn work within My DeFi Pet?
There are 3 ways to earn money from playing My DeFi Pet.
Playing the game
Playing the game involves completing in-game missions and participating in events. By doing so, players earn DPET tokens rewards in the form of NFTs. DPET tokens can be traded on exchanges, and the NFTs can be sold on secondary NFT marketplaces.
Auctioning monsters
You can breed new pets and auction them to other players. Monsters can be bred by combining 2 other monsters, resulting in an entirely new monster. A new pet will be created with its own set of statistics. Pets with higher stats or rarity typically sell for more.
Season rewards
You can earn money from participating in the game season rewards. Season rewards involve the player completing a list of tasks and meeting certain requirements. Once they are done, you will be rewarded from a pool of prizes.
Silver
Silver is an in-game currency, but not a cryptocurrency. It is used to buy lands, eggs, cages and pets. Each of these things can boost the production of resources, such as food boxes to feed your pets.
What is the DPET token?
The platform features the DPET token. DPET is the platform's in-game currency and it has a number of uses, such as:
Allows participants to take part in governance
Can be used to purchase items
Can be staked to earn more DPET
The DPET token is the core token of My DeFi Pet universe. The idea of the token is to provide a secure mode of settlement among people that interact with the My DeFi Pet ecosystem. DPET tokens are available and tradable on both Binance Smart Chain and KardiaChain.
Users can earn DPET tokens by playing My DeFi Pet and completing tasks. They can use tokens to breed tokens, summon new eggs and gain access to special events. Participating in governance, which involves voting for new game features, also earns you special awards. You gain voting power by staking in DPET tokens. The more tokens locked, the more the voting power and the higher your chances to win special rewards.
How to buy DPET tokens
You can buy DPET tokens from exchanges like gate.io, PancakeSwap and Kucoin. However, you'll need to start by getting BTC or ETH, we've highlighted a popular ETH exchange.
Compatible exchange: Crypto.com App
Priorities security with a $750 million insurance fund
User-friendly user interface
Long list of features such as lending, borrowing, staking and crypto debit cards
Poorly rated customer service
Certain cryptocurrency support is geographically restricted
High withdrawal fees
Crypto.com supports a wide range of cryptocurrencies and features. Its user-friendly interface makes it a good choice for both inexperienced and experienced users.
Fees for trading are competitive, though can be high when withdrawing to an external wallet from the exchange.
There is a detailed knowledge base available on how features work, as well as Crypto.com university that teaches about various assets.
The company prioritizes security, marketing and design, but reviews suggest that customer service is lacking.
Deposit Methods

Credit card
Cryptocurrency
PayPal
TransferWise
SEPA


Deposit Fees

None

Withdrawal Fees

Cryptocurrency: Fees vary

Trading Fees

Maker: 0.04-0.20%
Taker: 0.10-0.20%
How to play My DeFi Pet
To start playing My DeFi Pet, you need a Binance Smart Chain wallet. Follow these steps to connect your wallet:
Get some BNB tokens
Transfer your BNB tokens to your MetaMask wallet
Proceed to the My DeFi Pet site and tap "Connect" under Binance Smart Chain
Connect MetaMask then click "Refresh"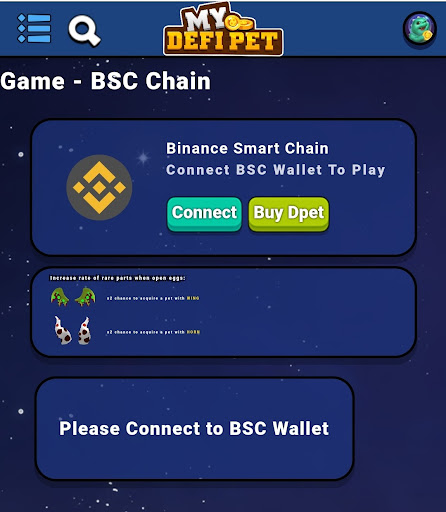 To proceed, you need to purchase at least 1 pet which goes for 3 DPET tokens. You don't need to install an app to play My DeFi Pet as the game is supported on browsers, including on mobile.
Collect
Players can obtain a pet in either of 2 ways: summoning and auctioning. Summoning allows you to get a random egg after spending 3 DPET tokens. It also creates a new first generation pet and automatically lists it on auction. Auctioning involves a new pet being born every hour and the bidding process happens for 24 hours. Unclaimed pets remain on the "Altar" to be dealt with later.
Breed
You can breed new pets if you already have 2 other pets. Combining the pets will automatically produce a new monster that inherits its parents' genes. To breed a new monster, you need to pay 5 DPET tokens. Breeding happens in the happy forest.
Evolve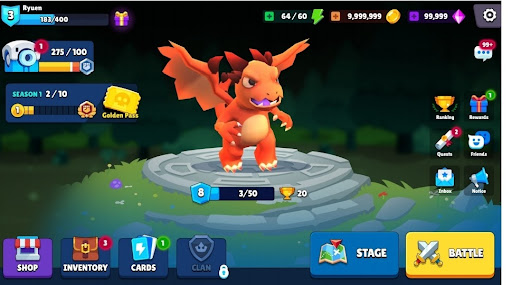 Depending on their rarity, pets feature certain evolution levels and capabilities. You can evolve your pet by feeding them DPET tokens. Evolution leads to a new appearance for your pet and better stats for battle.
Seasons and events
Players need to max out Legendary monsters in order to stand a chance to win monetary prizes. By participating in seasons and events, you can claim up to 100,000 USDT in prizes, which is locked by the My DeFi Pet team. You can claim it by discovering the pets with the exact features in the smart contract and sending them to claim a reward. To win a prize, you need at least 10 Legendary pets with a maxed out level.
Battle
At the time of writing, My DeFi Pet has stated they are yet to roll out the battle system. However, it's expected that pets will battle it out in tournaments and players win special prizes. Additionally, players can form clans and fight against other teams.
Trading, ranking and social features
My DeFi Pet implements an auction marketplace where players can trade their pets and other valuables.My DeFi Pet is supported on all major browsers, and trading on My DeFi Pet boosts your collection. Within the game's social features, you can showcase your pet army and socialize with other players in private or on a global channel. You can also compete with other players and friends.
My DeFi Pet frequently asked questions