Finder makes money from featured partners, but editorial opinions are our own.

Advertiser disclosure
Holiday Safety Tips
Keep your holiday safe and snug from hanging lights to planning your travels.
A little holiday cheer like putting up your Christmas tree or hanging strings of lights can put you in harm's way if you're not careful. Learn a few safety habits to keep your holiday merry and bright instead.
14 safety tips to deck the halls accident-free
1. Hang lights with clips, stakes and cord protectors.
You can buy specially made clips perfect for hanging holiday lights on your roofline. These clips are designed to prevent the pinching and puncturing caused by stapling the lights into place, which can prevent a frayed wire from causing a fire.
Along the same lines, ground stakes raise cords off the ground and cord protectors can keep the lights dry. For example, these work well if you're lining an outdoor walkway or are worried about the rain or snow drenching your connections.
2. Avoid overloading electrical outlets.
Overloading your electrical outlets with lights and decor is a common cause of fire over the holiday season. Avoid plugging too many electrical cords into one outlet, and stick to only one high-wattage appliance in an outlet at a time.
3. Extinguish candles and fireplace or fire pit fires before going to bed.
A crackling fireplace or your favorite candle scent can add cozy holiday vibes to your home, but they also bring the danger of a free-roaming house fire. Before turning in each night, make your rounds to check for candles or fires still lit.
Then you can snuff out candles, douse wood-burning fires with water and make sure gas or electric fireplaces are switched off.
4. Water your conifer to prevent a Christmas tree fire.
The evergreen conifer is the traditional Christmas tree. An estimated 44.72% of American households are projected to purchase Christmas trees in 2020. Of those trees, 29 million are estimated to be real, while 28.6 million will be artificial. A dry Christmas tree not only looks drab and sheds its needles, but creates more flammable fuel for a Christmas tree fire. To prevent a fire, water your live tree daily or every other day and keep plenty of water in your tree's stand.
5. Secure your tree's base to keep it from tipping.
Small hands or paws lead to many Christmas tree falls, and live trees can adjust their balance as you unwrap, decorate and water them. People use different methods for securing their tree, including using a heavy, wide base or fastening the tree to the wall.
6. Avoid decorations that are unsafe for kids or pets.
Holiday decorations aren't always made with parents in mind. You may need to keep some decorations out of reach or opt for something safer for kids and pets. Keep these decor dangers in mind:
Live plants that are poisonous to kids or pets, such as live poinsettias
Small, removable parts that pose a choking hazard
Breakable or flammable decorations that should stay out of reach
Plugged-in decorations that may need covers or furniture placed in front to prevent curious play
Battery-powered decorations, especially those with button batteries that pets or kids might swallow
7. Think about transportation cleanliness and personal contact — or consider staying home.
As coronavirus cases continue to climb, you may want to stay home or be mindful of your personal interactions, says the Centers for Disease Control and Prevention (CDC) in its updated "Holiday Celebrations and Small Gatherings" recommendations. If you choose to travel, plan your trip with as few stops and as little close contact with other people as possible.
You also can look up cleaning procedures that transportation or lodging companies are following. Many companies have posted their coronavirus cleaning procedures on their websites.
8. Wash your hands frequently.
The CDC recommends washing your hands with soap and water for at least 20 seconds, especially if you've been in a public area. If you can't get to soap and water, use a hand sanitizer that contains at least 60% alcohol.
9. If you're traveling, check COVID-19 cases at your destination.
Search online for the latest coronavirus cases around your destination, says the CDC's holiday celebrations advisory. If cases have spiked at your destination or where you live, consider staying home to prevent spreading the virus.
10. Check for road conditions and modify your plans as needed.
During the Christmas and New Year's Day holiday periods in 2018 alone, there were more drunk-driving-related fatalities (285) than during any other holiday period that year according to sources.
Consider driving the speed limit and keeping a keen eye on the road if there are overcast skies or wet, snowy or icy roads. Also, watch for road patches with a glossy sheen or that have a different color than the rest of the road. These patches could mean black ice, so you'll want to let off the gas and focus on steering when driving over it.
11. Set a timer for when you put food in the oven.
Getting ready for a holiday cooking frenzy or cookie bake-off? Almost half (49%) of residential fires in the US can be traced back to the kitchen. Stave off a kitchen fire by setting a timer to remind you that food's in the oven. Then, remember to set the timer again if you find that your culinary special needs a few extra minutes. Make sure you have house fire insurance that meets your needs just in case.
12. Cook food thoroughly.
In a recent observational study conducted by the USDA's Food Safety and Inspection Service, 66% of participants did not use a food thermometer while preparing turkey burgers during the study. Whether it's a whole holiday bird or a turkey burger, cook your food fully to lower the risk of food poisoning.
13. Use bows instead of ribbon for gift-wrapping.
Cats or dogs may like nibbling a gift wrapped with traditional ribbon, and swallowing the ribbon could lead to major tummy problems or a trip to the vet. Neither are fun scenarios, even if you have pet insurance to cover the emergency.
Also, kids might get curious about pulling off the ribbon and wrapping it around their bodies. Using large bows without any dangling ribbon can help to keep little ones in your house safe.
14. Cut off those tiny plastic tags on toys.
Like the ribbon, these plastic tags are a choking hazard for babies and fur-babies alike. Before wrapping toys, snip off the tags and make sure you find both ends of the plastic. You'll also want to trash them in a way that makes it hard for pets to find or eat, like taking the trash out right away.
Bottom line
It's easy to lose yourself in holiday spirit, but the fun can lead to safety hazards if you're not careful. Keep safety in mind when you're lighting fires, baking all things sugar and spice, putting up your Christmas decorations and wrapping all your loved one's gifts.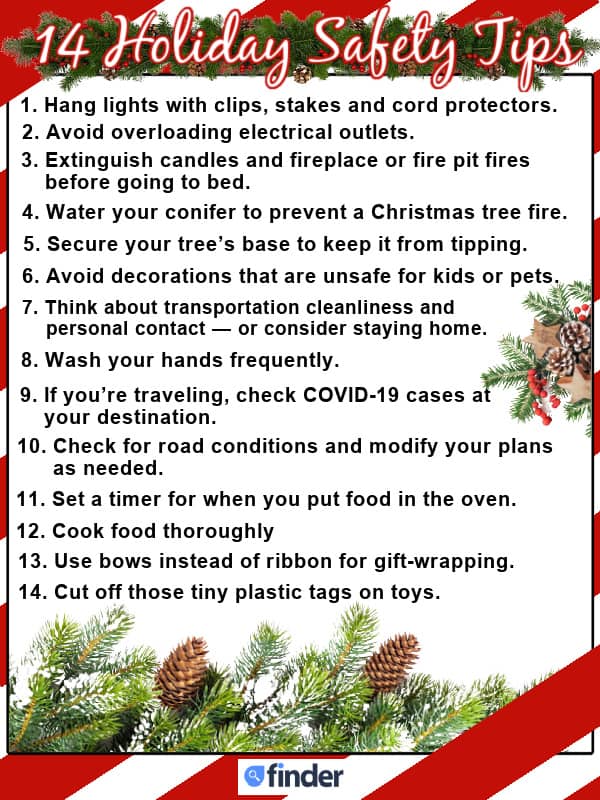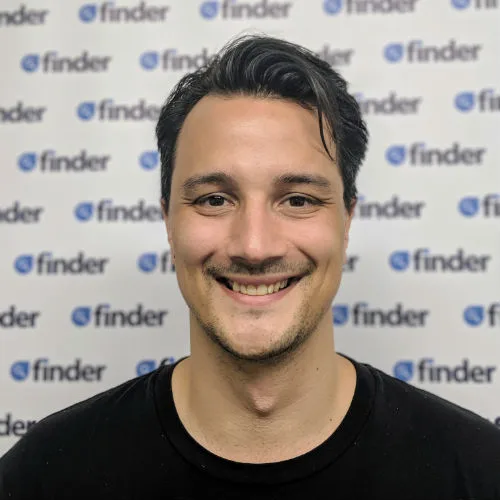 For all media inquiries, please contact:
Richard Laycock, Senior content manager & insights editor