eBay NFTs review and guide
You can buy almost anything on eBay, including digital assets.
Disclaimer: This page is not financial advice or an endorsement of digital assets, providers or services. Digital assets are volatile and risky, and past performance is no guarantee of future results. Potential regulations or policies can affect their availability and services provided. Talk with a financial professional before making a decision. Finder or the author may own cryptocurrency discussed on this page.
eBay is one of the most successful online marketplaces, processing millions of transactions each day. The platform began in 1995 and has blossomed into a hub for buying new and secondhand goods from all around the world. eBay has partnered with a number of major brands over the years, allowing retailers to sell products directly through its marketplace.
Given the breadth and popularity of eBay, users can purchase just about anything they can think of from the marketplace — and that now includes NFTs.
Pros and cons of eBay NFTs
Pros
Accepts fiat currency. Most NFT marketplaces do not accept payment methods such as PayPal and credit card, which may turn away inexperienced users. eBay makes it easy to buy NFTs using traditional finance methods.
Trusted sellers. Only trusted vendors that have gone through a vetting process can sell NFTs on eBay's platform, meaning that you are at much less risk of being scammed with replicas.
Cons
Limited range. eBay has an extremely limited range of NFTs on offer, especially compared to other NFT marketplaces like OpenSea and Rarible. Investors who want a diverse collection of NFTs may want to use another platform.
Money back guarantee not for NFTs. While eBay has a policy to protect most transactions on the platform, this guarantee doesn't include NFTs, so stay vigilant.
Inconvenience. eBay lacks a crypto hub which makes the purchase process more convoluted. Users have to search sub-categories to find listed assets. Furthermore, eBay doesn't have native NFT support, meaning that you will need to create a third-party wallet or account to actually receive your digital token.
Inability to create or sell NFTs. At the time of writing, everyday customers cannot mint nor sell NFTs on the eBay platform. Users looking for this functionality will have to use a different marketplace for now.
Our take on eBay's NFT marketplace
NFTs really burst into the public eye in 2021. Nonfungible tokens (NFTs) are unique digital tokens that are used to represent ownership of a digital asset. This item can be nearly anything, from computer-generated artwork, music, trading cards and even physical memorabilia such as clothing. To learn more about NFTs, you can read our comprehensive guide here.
In May 2021, eBay announced it would join the growing NFT market. Saying the NFT market is large is an understatement — OpenSea sold $2.4 million in NFTs in January 2022, reported by Fool.
As this new endeavor rolls out, eBay will allow "trusted sellers" to list authentic NFTs on its platform in specific categories like music and trading cards. As it becomes more comfortable with the asset type, eBay plans to relax company policy on the sale of NFTs to allow a broader range of products going forward.
Perhaps the most eye-catching element of eBay's venture into NFTs is that it only accepts fiat currency — predominantly through PayPal or credit cards. While specific NFT marketplaces do accept local currencies, the vast majority only allow payments in cryptocurrencies such as Ethereum (ETH) and Binance Coin (BNB).
eBay has been around for nearly three decades, and in that time has built up a lot of trust in its brand name. However, as a buyer, you must be vigilant for scammers in any peer-to-peer marketplace.
It's true that eBay has a Money Back Guarantee — which covers the vast majority of transactions on the marketplace — but NFTs are explicitly not included in this guarantee.
About eBay's NFT marketplace
Buying an NFT via eBay is a little more complicated compared to eBay's normal purchase process. For example, simply typing "NFT" into the eBay search bar doesn't come up with any actual NFTs, only books on cryptocurrency and toy tractors.
To get started, you will need to create an eBay account. Head over to the Register tab on the main page and input your details.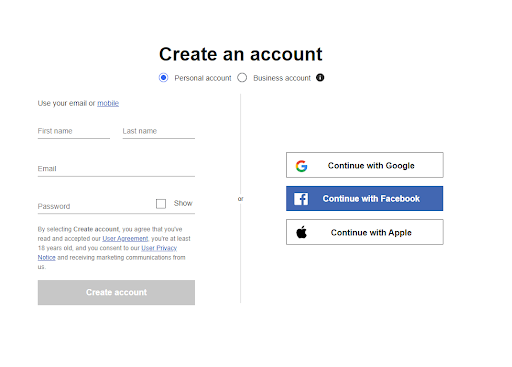 Once your account is up and running, you will need to browse the various NFTs available. At the time of writing, eBay doesn't have a central hub for NFTs and they can only be accessed as "sub-categories." To find the actual NFTs being sold, you have to first decide what category of NFT you wish to purchase, and then head to the corresponding umbrella category on eBay.
For example, if you would like to purchase NFT Art, select the Art category in the dropdown menu next to the search bar, then hit Search.

This will bring you to the landing page for the Art category. On the left, you will see the sub-category called Art NFTs. Select it to access the various NFTs eBay has to offer.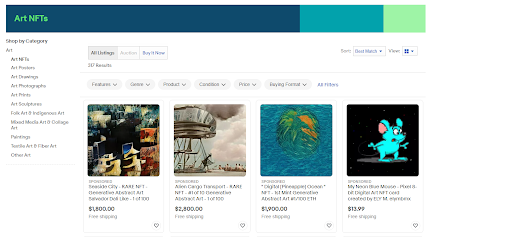 From this point, you can proceed with purchasing an NFT as you would any other product on eBay.
eBay blockchain and currency
The eBay NFT marketplace isn't built on blockchain technology, and it requires fiat currency for NFT purchases, just like any other purchase on the platform. Accepted methods include:
PayPal
PayPal Credit
Credit card
You can buy an NFT as a guest on the site or use your eBay account.
What types of NFTs are available on eBay's NFT marketplace
eBay currently has a limited list of categories for NFT sales, mostly art and trading cards. While there are plans to expand this list, for now, users will only be able to choose between a tightly curated selection of assets.
Crypto art
Crypto Art encompasses any form of digital artwork that is pegged to a unique token. These can range from abstract, psychedelic GIFs to pixel art. Popular examples of Crypto Art are the CryptoPunks characters and Beeple's $69 million collage "Everydays: The First 5000 Days" — though these major collections and pieces are often available on auction sites such as Christie's or OpenSea.
Music
Music can be purchased as an NFT, usually in the form of an MP3 or MP4 file. It's worth noting that purchasing a music NFT doesn't give you ownership of the actual song, but a representation of it. They can be listened to or displayed as part of your NFT collection on a platform like OpenSea or in your crypto wallet.
Trading cards
Trading cards and NFTs are a logical pair, as rarity and value can easily be determined by the representative NFT, kind of like a card's serial number.
NBA Top Shot is one of the most popular digital trading card platforms, selling sport highlight clips mainly, and you can read more about the marketplace here.
How to buy NFTs on eBay
If you plan to buy an NFT using the eBay marketplace you MUST read the description on the item listing. Since they are digital products, their method of delivery will vary.
Most will require you to create a custom Ethereum wallet and inform the seller of the wallet's delivery address. For a full guide and comparison of popular cryptocurrency wallets, click here.
Other sellers may require you to create an account on a blockchain-based NFT marketplace such as OpenSea.
How to sell NFTs on eBay
At the time of writing, eBay's NFT policy does not allow everyone to sell an NFT on the platform. It is currently only accepting "trusted sellers" that have a history of selling on other platforms and have been approved through a vetting process. It's not clear how to get on the safelist of sellers, though it appears to be an application process.
In the future, eBay plans to allow more vendors to list their NFTs the same way they would any other product.
Learn more about NFT marketplaces that let you create custom NFTs and sell them with this guide.
eBay NFTs fees
Although most people can't sell NFTs on eBay, there's a seller fee, like everything else sold on eBay.
NFT sales have a flat fee that is equivalent to 5% of the total sale amount. The seller fee on eBay depends on the items you're selling — shoes, for example, range from 8% to 12.9%, depending on the gender and price — so it's nice to know that NFTs have a flat fee of 5%.
For purchasing NFTs, eBay does not charge any fees, though there may be a local sales tax added onto the final price depending on your region.
How the eBay app works
eBay does have a mobile app, available for free download on Google Play and the Apple App Store. You can use it to buy and sell items, and it has decent ratings.
The Google Play app has an overall 4.7-star rating (with over 4.3 million reviews) and over 100 million downloads. The iOS app has an overall 4.4-star rating (out of 89 reviews).
The majority of reviews for the app at 5-star, citing great user experience, but many people state the app doesn't have the same functionality as the traditional eBay site.
Is the eBay NFT marketplace legit?
Yes, eBay's NFT listings can be legitimate. However, purchases can get messy, since blockchain transactions aren't actually processed on eBay — it's not built on blockchain tech, unlike the majority of NFT platforms like OpenSea or Nifty Gateway.
And while eBay does have a money-back guarantee, it doesn't apply to NFTs. This isn't a deal-breaker, though, since the vast majority of NFT marketplaces don't offer refunds on NFT purchases either, but it's still something to keep in mind.
Individual eBay accounts are also hacked on a daily basis, as they are with most online platforms. eBay's last sitewide attack was in 2014 — a long list of usernames and passwords were compromised.
Other marketplaces to buy NFTs
Bottom line
eBay has been the premier online marketplace to sell your secondhand items or collectibles, but we wouldn't say it's the best place to list your NFTs. Sellers can pick their own preferred selling method, navigating the NFT listings on the platform isn't easy, and it isn't built on blockchain tech so purchases aren't a "one-click" away situation.
On top of that, the NFT genres available are limited to art, music and trading cards. And not everyone can sell NFTs yet. The selling fee for NFTs is also set at 5%, which is higher than most platforms. Many other NFT marketplaces set their marketplace fee at 2.5%, such as OpenSea, EnjinX and Rarible.
If you've got some old ski boots or furniture to sell, eBay is a great fit — but for NFTs, it just isn't up to par with other existing NFT marketplaces to date.