Finder is committed to editorial independence. While we receive compensation when you click links to partners, they do not influence our opinions or reviews. Learn how we make money.
BBVA Compass home equity loans review
finder.com's rating: 2.8 / 5.0
★★★★★
Use the equity you've built in your home to finance a big purchase or consolidate debt with competitive rates.
With 700 locations across seven states, BBVA is among the nation's 25 largest banks. If you live in an area it services, BBVA could be an option to fund home improvements, go on that trip you've been eyeing or pull together your debts at a lower rate using your home's equity.
Details
| | |
| --- | --- |
| Name | BBVA |
| Description | BBVA is among the 25 largest banks in the US but they are only licensed to offer mortgages in Alabama, Arizona, Arkansas, California, Colorado, Florida, Georgia, Idaho, Kansas, Louisiana, Massachusetts, Nevada, New Mexico, Ohio, Oklahoma, Oregon, Pennsylvania, Tennessee, Texas, Virginia and Washington. |
| Minimum credit | 620 |
| Origination fee | N/A |
| Other fees | N/A |
Pros
Big-name institution
Multiple loan types available
Home Ownership Made Easy program
Flexible payment plans
Cons
Limited states served
Mixed customer reviews
BBVA Compass is not an accredited business with the Better Business Bureau. It receives a BBB rating of B- for failing to respond to four complaints.

Generally, BBVA customers praise its friendly in-person customer service and the speed and ease of its online platform.

However, some complain of miscommunications between BBVA loan officers hindering the loan application process. Some BBVA customers had to repeatedly call to follow up on the status of their loan and criticized BBVA's disorganized approach to the loan closing process.
How does a BBVA Compass home equity loan work?
With BBVA Compass home equity loan, you could borrow from $10,000 to upward of $500,000 based on how much you own in your home, which is used as collateral. Pay it back at competitive fixed rates of 3.74% to 6.49% over five to 30 years, depending on your location and loan amount.
Product details
| | |
| --- | --- |
| Product name | BBVA Compass Home Equity Loan |
| Interest rate | 4.09%–7.09%, depending on terms and residence area |
| Repayment type | Fixed rate |
| Minimum loan | $10,000 |
| Maximum loan | $500,000 |
| Maximum term | 30 years |
| Application fee | $0 |
| States available | Alabama, Arizona, California, Colorado, Florida, New Mexico and Texas |
What are the benefits of a BBVA Compass home equity loan?
Big-name bank. BBVA is among the 25 largest banks in the US, with operations well outside its Sunbelt headquarters. It offers many banking products and a range of loan types.
Variable terms and fixed rates. Choose a term of five to 15 years, or extend it to 20, 25 or 30 years for bigger loans, with a dependable interest rate over the life of your loan.
Payment options. Pay by phone, autopay, online banking, at a BBVA Banking Center or by mailed check.
Payment assistance. If you find yourself unable to make a payment, speak to a client specialist 800-266-7277 about working out a possible alternative.
Drawbacks
Limited service availability. BBVA loans are available in Alabama, Arizona, California, Colorado, Florida, New Mexico or Texas only.
You borrow — and pay interest on — the full amount. Borrowing more than you need could cost you. As opposed to a home equity line of credit (HELOC), you pay interest on the lump sum you receive even if it's more than you need.
Default could result in loss of your home. Rates are low because the loan is secured by your house. If you default, the bank could potentially take your house.
Could be costly for smaller loans.

BBVA Compass home equity loans get you the money you need for big expenditures or debt consolidation, but rates could be higher for smaller loans. Speak to a mortgage banker to discuss specific requirements and additional features available in your state.
Compare home equity loans vs. personal loans
Am I eligible for a BBVA Compass home equity loan?
To be approved for home equity loan with BBVA, you must:
Be at least 18 years old and a US citizen.
Live in one of the seven states where BBVA offers loans: Alabama, Arizona, California, Colorado, Florida, New Mexico or Texas.
What do I need to apply?
To apply for a BBVA Compass home equity loan, be ready to supply:
Your personal contact information.
Employment and financial information.
Property and collateral information.
1. Visit BBVA online and click the Lending tab.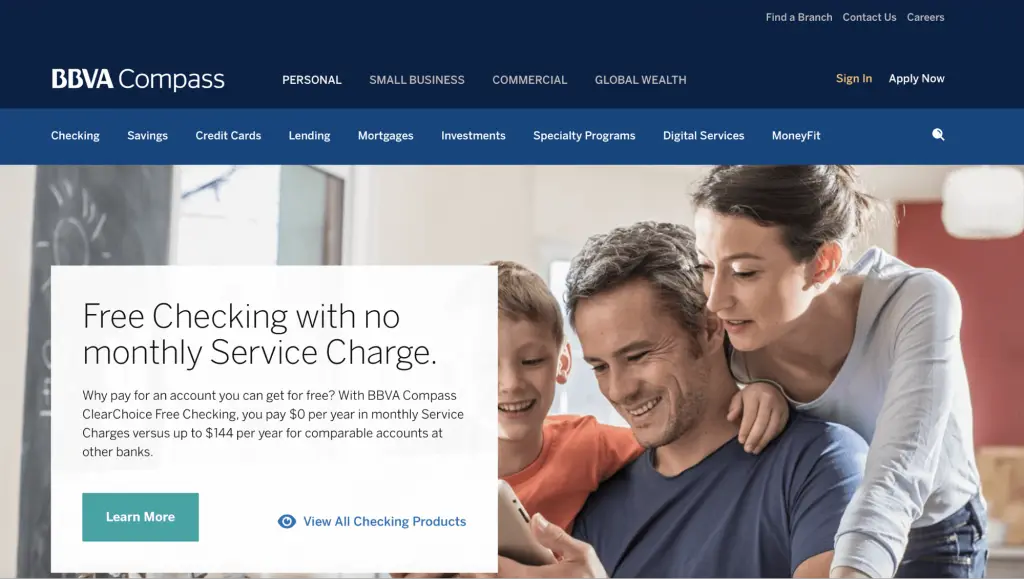 2. Click Home Equity Loans to customize the rates by your state of residence. Click Apply Now to get started with your application.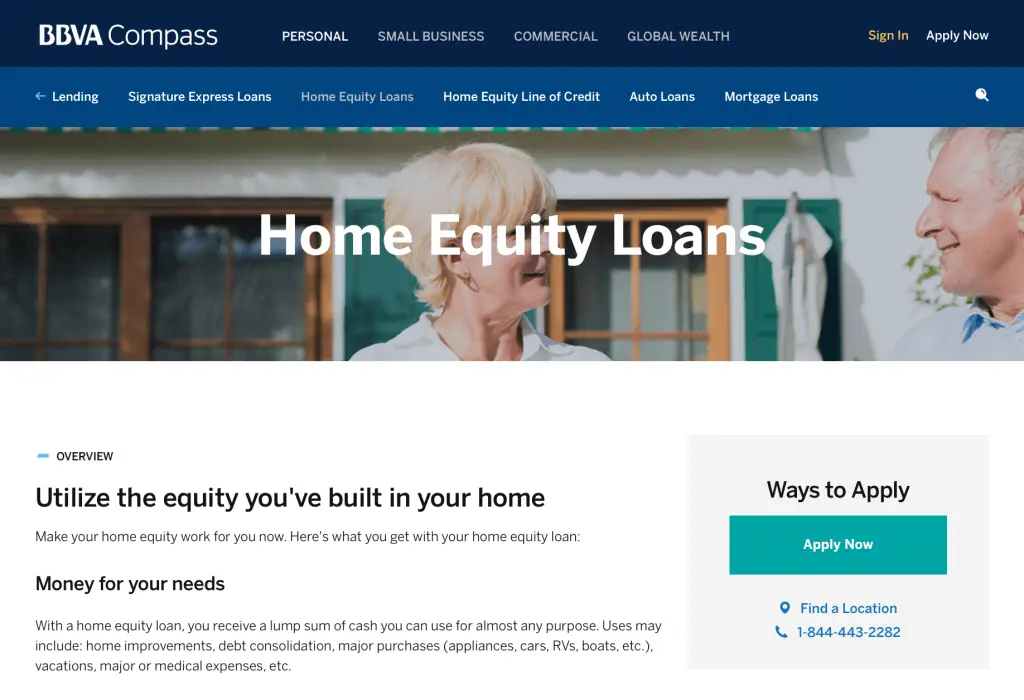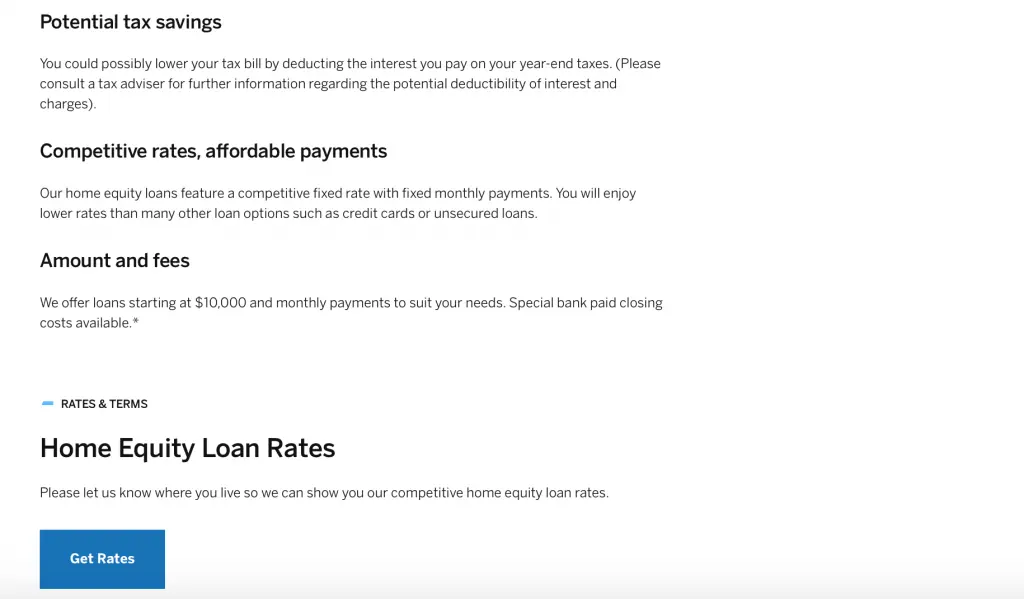 I got a BBVA Compass home equity loan. Now what?
Once you have your BBVA Compass home equity loan, keep up with monthly payments to avoid unnecessary penalties.
Set up autopay. Avoid late payment fees by setting up automatic withdrawals from a BBVA bank account.
Customer service. If you need support, call BBVA loan support at 800-239-1996, send a secure form online or request for customer service contact you online. Connect on Facebook at BBVACompass or on Twitter @BBVACompass.
Frequently asked questions about BBVA
Home loans ratings
★★★★★ — Excellent
★★★★★ — Good
★★★★★ — Average
★★★★★ — Subpar
★★★★★ — Poor
We analyze top home loan providers and rate them one to five stars based on factors that are most important to you. These factors include: rates and fees, product selection and borrower experience.
Read the full methodology of how we rate home loan providers.
Expert review
Review by
aliyyah.camp@finder.com
---
Aliyyah Camp is a writer and personal finance blogger who helps readers compare personal, student, car and business loans. Aliyyah earned a BA in communication from the University of Pennsylvania and is based in New York, where she enjoys movies and running outdoors.
Expert review
BBVA is big-name bank, offering a range of banking products and is for those who like to keep their banking all in one place. But its home equity loans are only available in Alabama, Arizona, California, Colorado, Florida, New Mexico and Texas. If you're outside of this service area, compare lenders that offer home equity loans.