BattlBox was among the early contenders in the survival gear space, and it continues to send its subscribers fun, mission-themed boxes with items to fit any prepper's inventory.
It looks like we don't have any coupons at the moment.
What's in a box? BattlBox sent me a box for free so I could try it out. Regardless, you're getting my honest, unbiased opinion.
Mary Brown
How do I use my coupon code?
What is BattlBox?
BattlBox is a tiered monthly subscription service geared (pun on purpose) to giving preppers, survivalists, outdoorsy types and even regular joes looking to step up their "readiness" a fun way to build and supplement existing supplies. BattlBox prides itself on shipping actual full-size products — no wimpy trial sizes here.
BattlBox has about 36 monthly themed boxes under its belt — that's three years of being in the biz.
What can I buy at BattlBox?
At BattlBox, you choose from four options — from Basic to Pro Plus. After you've subscribed, you can upgrade (or even downgrade) your tier selection at any time.
| Tier | What you get | Monthly price | Best for |
| --- | --- | --- | --- |
| Basic | 3–7 items — think emergency supplies, basic outdoor tools and survival gear | $24.99 + shipping | Super newbies to the scene. |
| Advanced | Basic items + up to 3 higher-value products — EDC gear, camping essentials and bushcraft | $49.99 + shipping | Those looking to just test the waters. |
| Pro | Basic + Advanced + up to 2 top-tier items — sleeping bags, tents, watches or backpacks | $99.99 + shipping | Anyone who's serious about their outdoors, prepper and survivalist gear. |
| Pro Plus | Basic + Advanced + Pro + 1 knife — brands like Tops, Gerber, Kershaw | $149.99 + shipping | Everyone who fits Pro but who's also a knife fanatic. |
Payment options
Pay for your subscription with a credit card. BattlBox accepts Visa, Mastercard, American Express, Discover, Diner's Club International and JCB.
Note that with your first order, you're signing up for recurring payments monthly until you cancel your subscription directly with BattlBox.
Is there free shipping?
No. Unlike other companies in the extensive subscription box world, BattlBox does not offer the convenience of free shipping to its customers.
Shipping costs
BattlBox's shipping charge varies monthly based on where you live and the size and weight of that month's subscription box.
Shipping to my location in New York, for example, requires an additional $17.18 in shipping and handling.
What is BattlBox's return policy?
If you've just opened your box and find something broken within it, BattlBox requires that you let them know within 15 days of receipt. They'll send a replacement item or something of similar value.
If you receive an electronic item that doesn't work, you may have to contact the original manufacturer for the factory warranty. Which is not convenient.
If you simply don't like what you've received, you're out of luck: No returns or refunds.
For help with a return, email questions@BattlBox.com with your name and email address associated with your active subscription.
How do I cancel my subscription?
Once you sign up for BattlBox, you're charged monthly for the subscription tier level you selected.
To cancel, log in to your online Battlebox account. View your subscription and look for the Edit button. After clicking, you should see Cancel Subscription.
All cancellations are effective the next month, because BattlBox processes payments on the 15th of each month.
What sets BattlBox apart?
BattlBox assigns "missions" to each of its monthly boxes, carefully choosing items that make sense for that theme. Past missions have included Jungle Survival, Self-Defense, Urban Survival and Outdoor Weather Protection. See my BattlBox review on Mission 36: Active Shooter/Mass Casualty Response.
BattlBox also created its own user forum for subscribers to chat about box contents and share knowledge on outdoor, EDC and other tactical gear. There's a section where you can set up trades with other users, in case you receive in your cache an item you already own. And you can browse BattlBox articles, videos and a "Man Stuff" podcast.
What are other people saying online about BattlBox?
You'll find a lot of older reviews — circa 2015, 2016 — online, so make sure what you're reading is recent. That said, people don't sound too crazy about BattlBox's offerings, complaining about quality and value. Still, many others claim they're fully satisfied, saying the boxes are worth the money.
---
My review of Mission 36: Active Shooter/Mass Casualty Response Pro Plus box
To start, if you have an issue with me — a woman — reviewing a tactical box, take a look at a calendar.
It's 2018. Girls prep, use gear, hike, shoot and like knives too.
First Impressions
My sample BattlBox included a card that explained the reasoning behind the theme and how they selected each item. I had actually just gone through the three or four first-aid kits I own for a supply check, so I liked this theme. (If you have basic first aid, kudos. Now upgrade it.)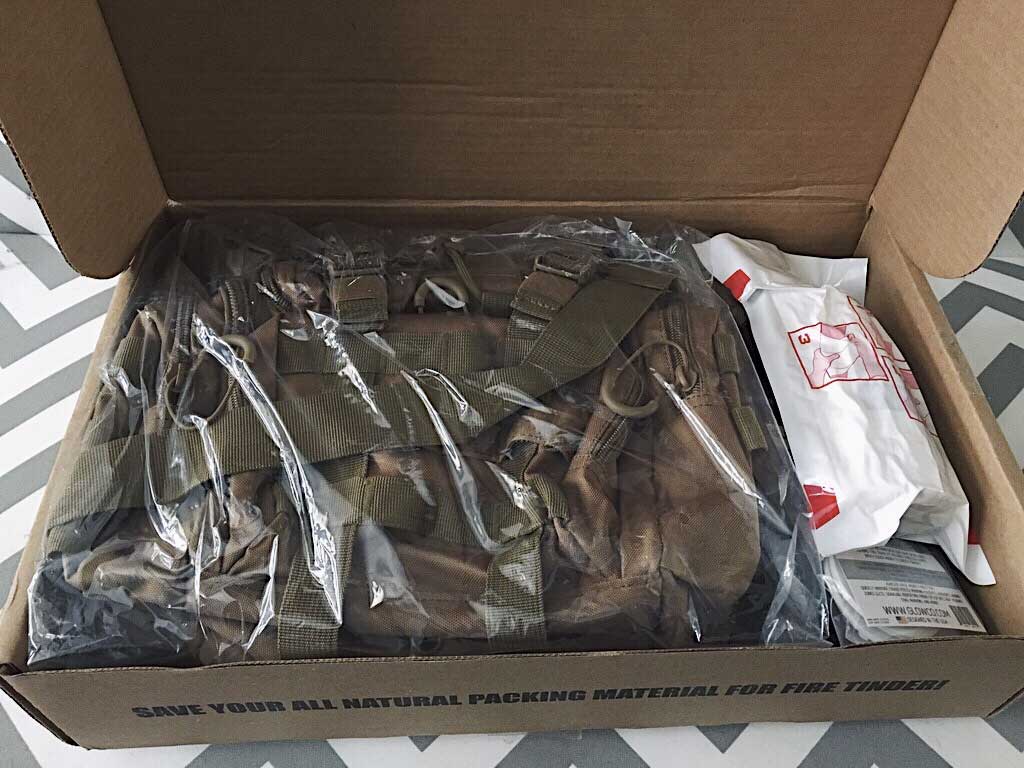 Breaking this box down
Basic tier
Trauma dressing. Yes, I already have trauma dressing. But can you really have too much?
Molle glove dispenser with nitrile gloves. OK, this is actually pretty cool. I like that I can attach it to pretty much any of my bags and have an easy way to grab gloves in a hurry. Plus the gloves are nitrile (which are more puncture resistant than latex).
Tourniquet and shear pouch. Because it's Molle compatible, I'm a fan. No TQ included in this box, though.
Trauma shears. At first, I said, "Eh." Then I realized these have a blunt tip and bullnose guides meant to slide under and cut away clothing without injuring the patient.
Triage light three-pack. Little colored glow lights. A million ways to use these, really.
Advanced tier
Halo chest seals. This item really meshed with the Active Shooter Response box theme. These seals are a definitive upgrade to my first-aid kit.
Rescue litter. Definitely didn't already have this, and it's going in my hiking bag. Could also double as an emergency ground tarp.
Pro tier
Combat medic bag (TCCC kit, med tape, triage bands and blood type patch set). Found this to be a nice bag, sturdily constructed. The Molle styling is a perk — easy to attach items (like the tourniquet pouch and glove dispenser) to it. If you didn't already have a car kit, this bag would make a good start.
Pro Plus
Fox knives FX-213. It's bright orange. But for an emergency knife, you want to be able to find it quickly, and the color helps. Has a 3-inch blade of N690 steel, a serrated blade, a glass breaker, a Philips and flathead, a bottle opener … and it came with a fiberglass sheath with Molle clip.
In a nutshell, the Pro Plus costs $149.99, and this particular box is valued at $298.75. So essentially, it's like buying the knife and getting a bunch of other goodies packed with it.
How can I contact customer support?
Try chatting with a customer service rep while on BattlBox's website, or shoot an email to customer service. At this time, it doesn't appear that BattlBox offers a phone number to call.
BattlBox on social media
BattlBox is on Facebook (over 250,000 followers), tweeting as @BattlBox, on Instagram (over 35,000 followers) and on YouTube, where you can watch all the box breakdowns by user Currin1776.
Pros and Cons
Pros
A large BattlBox community available for everything from gear advice to just joking around.
You can see the value of Pro and Pro Plus boxes. Your box is full when you open it — and, really, that's all part of the subscription box experience.
Themed mission boxes are fun. Not every month's theme will float your boat, but items are solid pieces for anyone's collection anyway.
Cons
Very man-focused website. Understandably it's a male demographic for a tactical box, but girls are preppers too. You can have your "Man Stuff" podcast, but it wouldn't hurt to be more inclusive in the overall tone.
The basic tier is just that: basic. If you really want value for your money, you're better off starting at Advanced.
No free shipping included with your subscription.
Bottom line
If you enjoy the anticipation of a mystery box by mail and you're the outdoorsy survivalist type, BattlBox might be a good fit. But if you're a hard-nosed gear-head purist, it might not be the right way for prepping.
Unless you just love knives. And who doesn't love a new knife every month?
Frequently asked questions