Finder is committed to editorial independence. While we receive compensation when you click links to partners, they do not influence our opinions or reviews. Learn how we make money.
Compare Regions Bank products: Savings, Checking, and CDs
Account options are plentiful but only residents inside the branch network can apply.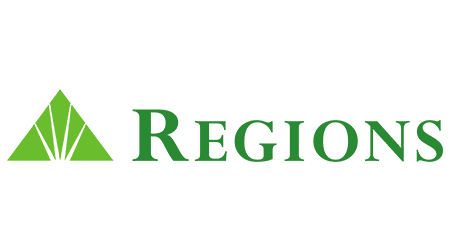 From interest-bearing checking to business CDs, Regions Bank offers a broad selection of accounts with online and mobile-friendly banking options. But you'll need to live within its branch network to apply.
What banking products does Regions Bank offer?
How does Regions Bank compare to other banks and services?
Regions Bank is one of the nation's largest full-service providers headquartered in Birmingham, Alabama. It offers commercial and consumer banking products, wealth management services, trusts, brokerage services and mortgages. The bank serves customers across the South, Midwest and Texas and has about 1,500 branches and 1,900 ATMs.
Checking accounts
Pros
Rewards programs. Earn cashback rewards for using your Regions Bank debit card at select retailers. Plus, earn relationship rewards when you open more than one Regions Bank account or sign up for online banking.
Regions LockIt. Should you misplace your Regions Bank card, you can block transactions right from the Regions Bank mobile app.
Specialized accounts. Regions Bank has a range of accounts, including interest-bearing options and those for students, seniors over age 62 and business owners.
Cons
$50 opening deposit. You'll need at least $50 to open most accounts — whereas other banks let you get started with as little as $0.
Monthly fees. Aside from Student Checking, every account has a monthly fee ranging from $5 to $18. But you can avoid most feesmost fees can be waived when you meet certain direct deposit or minimum balance requirements.
Expensive ATM fees. Expect to pay $3 each time you use a domestic non-network ATM and $5 each time you use an international ATM. This doesn't include potential ATM operator fees you may pay.
Savings accounts
Pros
Promotional rates. The Regions LifeGreen Savings account comes with a 1% annual savings bonus, which you earn when you set up monthly automated savings transfers from a Regions checking account.
No monthly fees. Most personal savings accounts don't have monthly fees, so you can save even more money each month.
Accountholder perks. Regions Bank savings account holders get a 30% to 50% discount on safe deposit boxes.
Cons
Tiered rates. Most interest rates with this provider are tiered and vary by state, which means you'll need to talk to a representative to find out what you qualify for.
Minimum opening deposit. You'll need at least $50 to open a personal savings account, $100 to open a personal money market or business savings account and $1,000 to open a business money market account.
Excessive transaction fee. If you make more than six outgoing transactions a month, expect to pay a $3 fee if you have a savings account or $15 if you have a money market account.
CDs
Pros
Promotional rates. Earn a higher relationship APY when you link your Regions Bank checking account to your CD.
Wide term ranges. Regions Bank offers CD terms ranging from one week to six years, making it easy to find a term that's right for you.
Interest disbursements. Have your CD earnings automatically transferred to another Regions account at any time without penalty.
Cons
Varying deposit requirements. Regions Bank requires a $2,500 minimum deposit for CDs with terms less than 90 days and $500 for CDs with terms of 90 days or more.
Unclear interest rates. Interest rates vary by state, so you'll need to contact a representative to find out how much you can expect to earn on a CD.
Can't open online. You can only open Regions Bank CDs at a local branch. You can't complete the application process online.
Overall banking
Pros
Impressive account suite. Regions Bank offers a comprehensive selection of both personal and business banking products.
Convenient customer service. Reach out to a Regions Bank representative by phone, email, Twitter, Facebook or in person at a local branch.
Cons
Limited availability. Regions Bank's products are limited to residents in 16 states: Alabama, Arkansas, Florida, Georgia, Illinois, Indiana, Iowa, Kentucky, Louisiana, Mississippi, Missouri, North Carolina, South Carolina, Tennessee, Texas and Virginia.
Limited ATM network. Straying outside Regions 1,900 ATM network could result in ATM fees.
Compare Regions Bank to the competition
Regions Bank's customer service
There are five ways to get in touch with a Regions Bank representative:
Phone. Call 800-734-4667, weekdays from 7 a.m. to 7 p.m. and Saturdays, 8 a.m. to 2 p.m., CT.
Online form. Regions customers can log in to the website and complete a secure online form for a reply from customer service.
Live chat. Chat with a representative on Region's website, weekdays from 7 a.m. to 7 p.m. and Saturdays, 8 a.m. to 2 p.m., CT.
Social media. Keep up with all things Regions Bank on Twitter, Facebook, Foursquare and LinkedIn.
In person. Visit a Regions branch during business hours.
Bottom line
With such a broad selection of accounts, Regions Bank caters to a range of personal and business banking needs. But you'll need to live within its 16 state branch network to open an account.
If you're not sure Regions Bank is for you, explore your account options with other providers.
Frequently asked questions
Read more on this topic