Finder is committed to editorial independence. While we receive compensation when you click links to partners, they do not influence our opinions or reviews. Learn how we make money.
Wells Fargo HELOC review
finder.com's rating: 3.3 / 5.0
★★★★★
Eligible borrowers can rebuild equity faster and reduce interest by paying down their principal first.
Wells Fargo has faced a few hiccups over recent years, but it's still a lending giant. One of its best products is the home equity line of credit (HELOC). Unlike many lenders, Wells Fargo offers principal-reducing payments during the draw period. But the ways you can access your credit varies between states.
Details
| | |
| --- | --- |
| Loan types | Purchase, Refinance, Jumbo, Fixed, Adjustable, FHA, VA, USDA |
| Minimum credit | 620 |
| Other minimum credits | 620 |
| Origination fee | N/A |
| Other fees | Wells Fargo covers the closing costs for eligible customers. It charges nothing in annual or prepayment fees either, so there's no penalty if you pay off your loan early. |
Wells Fargo is recovering from a few years of government actions and scandals. During this time, the bank was accused of opening fake accounts to meet sales targets, and mistakenly foreclosing on homeowners.

These incidents have clearly damaged consumer trust. Despite being in business for 167 years, the bank is not accredited with the Better Business Bureau. It has a one-star customer rating based on 478 reviews, and the BBB has pressed pause on its rating while Wells Fargo responds to complaints.

On TrustPilot, Wells Fargo has a one-star rating based on 116 reviews.

It's worth noting that these comments and reviews reflect the bank as a whole, and not just its home loans division.

What makes Wells Fargo unique?
Wells Fargo is more adaptable than most HELOC lenders. It stands out for these reasons:
Principal-reducing payments
Eligible customers can pay down the principal during the draw period, which reduces the total amount of interest you'll pay. Other lenders usually allocate payments towards the interest during the draw period — meaning more interest accrues on the remaining principal.
Interest rate caps
Your variable interest rate won't increase by more than 2% annually, and you'll never pay more than 7% over the life of the loan. You can also opt to convert all or part of your balance to a fixed-rate during the draw period.
Customer discounts and no closing costs
The best rates are reserved for customers who set up automatic payments from their Wells Fargo checking account. The lender also covers the closing costs, and charges no annual or early payment fees.
Do I qualify for a loan with Wells Fargo?
Wells Fargo lays out the eligibility requirements on its website. To take out a home equity line of credit, you'll need good to excellent credit of 700 or better. The lender said it considers people with fair credit, but charge more expensive rates.
Credit aside, Wells Fargo accepts a debt-to-income ratio of 43% or less, and a loan-to-value ratio up to 85%.
For example, if your home is worth $100,000 and your mortgage balance is $60,000, that means you have $40,000 in home equity. You may be able to borrow up to $34,000 of that equity.
What are the benefits of taking out a HELOC with Wells Fargo?
Wells Fargo is a lending giant that opens HELOCS between $25,000 and $500,000 for eligible borrowers. It offers these benefits to borrowers:
No closing costs. Wells Fargo takes care of the closing costs, and you won't need to bring cash to the table.
Payments to reduce principal. You can pay down the principal during the draw period, which means you'll rebuild equity faster and pay less interest over the course of the credit line.
Low interest rate caps. Choose this lender, and your variable interest rate will never increase more than 2% annually, or more than 7% over the life of the loan.
Flexibility with fixed-rate advances. During the draw period, you can convert all or part of your variable-rate balance to a fixed rate.
Customer discounts. If you set up automatic payments from your Wells Fargo checking account, you may qualify for a relationship discount.
Live chat. Wells Fargo offers real-time help online. When we tested the live chat feature, we were connected to a rep within two minutes.
Savvy online tools. You can apply for a loan online, and then sign into yourLoanTracker to monitor your application, upload statements, and e-sign documents. The site also has a handy rate calculator and eligibility checklist.
What to watch out for
These drawbacks may matter to you:
No physical presence in Vermont. Wells Fargo has loan officers in 1,000 branches across all states except Vermont.
High draws in Texas. The minimum draw in almost all states is $300. In Texas, it's $4,000 for lines attached to homestead properties.
Limitations on accessing credit. Texas customers can't use checks, and the Enhanced Visa credit card isn't available in Connecticut, New York or Texas.
Poor customer reviews. In recent years, the bank has been dealing with government actions and scandals that have directly affected customers.
How do I get started?
The quickest way to apply is online. Follow these steps:
Go to the Wells Fargo website.
Hover over Personal. Click Loans and Credit > Home Equity Lines.
Tap Apply Now.
Scan the credit, home equity and debt-to-income requirements to make sure you're eligible for a loan. Click Continue Online.
Choose between an Individual or Joint Loan, and check the box if you're a Wells Fargo customer. Click Continue.
Enter your personal and contact details, income, financial assets, property type and value, and how much you're hoping to borrow.
Submit your application. A home loan officer will then review it, verify your identity and confirm your home's value via a drive-by or a professional appraisal.
If everything checks out, they'll open your home equity account. You should be able to access your funds three days after closing.
To apply over the phone, call 800-777-9888 on Monday to Friday, 7 a.m. to 9 p.m. or Saturday, 8 a.m. to 6 p.m. CT. Otherwise, you can fill out the contact form on the website to have a loan officer contact you.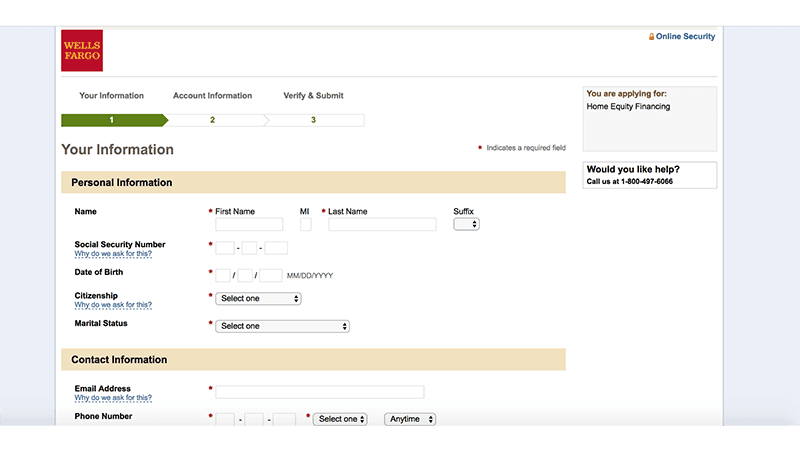 Required documentation
The lender will request the following:
Social Security number for you and your coborrower, if you have one
Details about your income and financial assets
Debt obligations, such as child support
Property type and location
Estimated value of the property
Mortgage balance
Driver's license or government-issued photo ID
I got the HELOC. Now what?
Manage your HELOC with these tips:
Monitor your loan. Once you've applied for a HELOC, register for yourLoanTracker. The online portal works as a bridge between you and your mortgage consultant. You can review disclosures, sign documents, and work your way through your part of the to-do list.
Access your credit. There are a few ways to tap into your credit:
Online transfers. Sign into your Wells Fargo account to make instant transfers at any time.
Over the phone. Call 866-820-9199 to access your account. Any advances made outside business hours will be available the next business day.
Home equity line of credit checks. Unless you live in Texas, you can use the checks you received when you opened the account.
Enhanced Access Visa credit card. Withdraw your available credit anywhere that accepts Visa. This option isn't available in Connecticut, New York or Texas.
Contact customer service. Questions? You can reach the home equity team by:
Phone. Dial 866-820-9199 from Monday to Friday, 7 a.m. to 10 p.m. or Saturday 8 a.m. to 2 p.m. CT.
Online form. Request a callback by filling in the contact form.
In person. Go the Wells Fargo website, and click Locator > Mortgage Branch Locations. From there, you can search for a loan officer near you.
Live chat. Speak to a Wells Fargo rep online during business hours. Know that you may be redirected to someone who specializes in HELOCs.
Frequently asked questions
Home loans ratings
★★★★★ — Excellent
★★★★★ — Good
★★★★★ — Average
★★★★★ — Subpar
★★★★★ — Poor
We analyze top home loan providers and rate them one to five stars based on factors that are most important to you. These factors include: rates and fees, product selection and borrower experience.
Read the full methodology of how we rate home loan providers.
Expert review
Review by
katia.iervasi@finder.com
---
Katia Iervasi is a staff writer who hails from Australia and now calls New York home. Her writing and analysis has been featured on sites like Forbes, Best Company and Financial Advisor around the world. Armed with a BA in Communication and a journalistic eye for detail, she navigates insurance and finance topics for Finder, so you can splash your cash smartly (and be a pro when the subject pops up at dinner parties).
Expert review
A HELOC from Wells Fargo is best for those with credit 700 or better to get the best rates. It also looks for DTI of 43% or less. You can still apply with a credit score as low as 620, but rates can get expensive.