Thinkorswim review
Sophisticated research tools make this online platform suitable for advanced traders.
Thinkorswim is an online trading platform owned and operated by TD Ameritrade. It's one of the few platforms that allows you to trade in paper money and doesn't require a minimum deposit to start. But you'll need to have a TD Ameritrade brokerage account to use it.
Choose Thinkorswim if you're an experienced investor or a day trader.
Consider something else if you need a beginner-friendly platform or you want to trade crypto.
Details
Option trade fee
$0 + $0.65/contract
or $25/contract, if broker-assisted
Asset types
Stocks, Bonds, Options, Mutual funds, ETFs
Account types
Brokerage, Retirement
Minimum deposit
$0
What we think of Thinkorswim
Thinkorswim — offered by TD Ameritrade — is one of the most advanced trading platforms you can get, making it an excellent choice for day traders and experienced investors. Beginners can also use the platform but they may not get the full value out of each feature, such as:
Highly customizable price charts, a stocks scanner and a host of other tools to help you make the right trading decision.
Live news within the platform, which you can read or watch.
Fundamental analysis tools, trade probability analysis tools and more.
Trading stocks and ETFs, as well as options, futures and even forex.
3 Thinkorswim platforms
You can access Thinkorswim via three distinct platforms: desktop, mobile and web. Each platform allows you to execute trades but offers a unique blend of tools and functionality.
Desktop platform — PC or Mac
Offers a dedicated trade desk, customizable testing algorithms and high-grade charting tools with over 400 technical studies.
Web platform — any internet browser
Provides a streamlined version of its trading platform with an inventory of charts and technical studies and access to the futures and forex markets.
Mobile platform — Apple and Google devices
Operates on your mobile device, tablet or Apple Watch and seamlessly syncs with preferences and settings set in the Thinkorswim desktop platform.
Thinkorswim is best for day traders
Thinkorswim is a sophisticated platform with a comprehensive suite of technical and fundamental analysis features. With customizable price charts, scanner tools and complex trading instruments — such as multi-leg options — day traders and experienced investors will get the highest value out of the platform.
Thinkorswim is expensive for high-volume options traders
With a $0.65 per contract fee, Thinkorswim may be expensive for those who often swap multiple contracts per trade. For comparison, EOption charges $0.10 per contract plus $1.99 per trade.
To put this in context, suppose you purchase 50 contracts in a single trade. With Thinkorswim, you'll pay $32.5 for the trade, while EOption would only cost $6.99.
Thinkorswim offers 7 tradable securities
Thinkorswim's offerings are tied to that of its parent brokerage, TD Ameritrade. It offers access to just about every asset on the market, excluding cryptocurrency.
Stocks
Bonds
Options
Futures
What research and tools does it provide?
Thinkorswim offers a comprehensive suite of research and analytics tools:
Economic data. Access over 400,000 economic data points from six continents to better assess the US and global economies.
Custom alerts. Create custom alerts by selecting from a pre-populated list of events or by using your own personalized criteria.
Social sentiment. Gauge social media sentiment for stocks you follow with Thinkorswim's social data graphs.
Charting tools. Utilize over 400 technical studies across 20 drawings, including eight Fibonacci tools.
Options statistics. View implied and historical volatility and compare the current day's option volume to the past five-day average.
Company profiles. Explore key revenue drivers by company division for projected revenues.
Live media. Track market movement with newsfeeds from CNBC and the TD Ameritrade Network.
Strategy roller. Create covered call strategies that automatically roll forward monthly.
Market Marker Move (MMM). Measure the projected magnitude of price movement by market volatility to anticipate stock movement.
While TD Thinkorswim offers a wealth of digital research tools, new users or passive investors may find it overwhelming. Most of these are best for experienced day traders and active investors.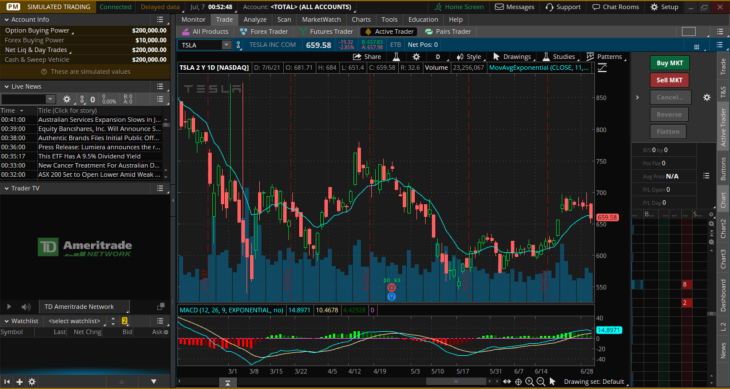 Thinkorswim isn't the easiest to navigate
Thinkorswim is a well-equipped platform, but that robust functionality comes with a clear tradeoff; it's not the most user-friendly software on the market.
We turned to Reddit for a deep dive into Thinkorswim's interface and discovered that traders are quick to praise the platform's charting capabilities. But many report that the platform is slow and clunky to navigate. Some warn that Thinkorswim is intimidating — but that with practice, the platform can operate as a powerful tool.
Pros and cons
Pros
Advanced tools. Expect a professional-grade trading platform, complete with advanced charting tools, analysis, data points and options statistics.
Paper money. Trading in a virtual stock exchange lets you try new strategies without putting real money at risk — and it's a feature many competitors lack.
Mobile features. Thinkorswim's mobile app includes live chat and nearly all of the features found on its desktop platform.
No minimum investment amount. Thinkorswim is free for TD Ameritrade account holders.
Educational resources. TD Ameritrade provides countless educational tools, such as videos and articles, covering general investing tips and how to get the best out of Thinkorswim.
Low fees. As of January 2021, the platform charges $0 commissions with a $0.65 contract fee for options.
Cons
Steep learning curve. Thinkorswim's extensive offerings and sophisticated tools may be difficult to navigate for new traders.
No direct access to foreign stocks. Some international stocks are available over-the-counter, but there's no direct access to foreign markets.
No fractional shares. If you were hoping to nab a fractional slice of expensive stock, you'll need to look elsewhere.
Compare with other stock trading platforms
Explore your options by fees, asset types and signup bonus. Select the Go to site button for more information about a particular service.
*Signup bonus information updated weekly.
Disclaimer: The value of any investment can go up or down depending on news, trends and market conditions. We are not investment advisers, so do your own due diligence to understand the risks before you invest.
Thinkorswim reviews are mostly positive
Overall, Thinkorswim is well-received by investors. But its Better Business Bureau (BBB) and Trustpilot pages have very little feedback to go on. Thinkorswim has an A+ rating with the BBB but isn't accredited and has no reviews. On Trustpilot, the platform has only three customer reviews. Luckily, Redditors have plenty to say.
Redditors rave about the platform's robust research tools, solid customer support and paper trading service. The most common complaint? Slow fill times.
The trading platform's dedicated mobile app receives overwhelmingly positive reviews across both app stores. As of February 2022, it earns 4.7 out of 5 stars in the Apple App Store after more than 263,000 ratings and 3.9 out of 5 stars in Google Play after more than 11,000 ratings. Satisfied Apple and Android users love the app's real-time charting tools and workstation setup. Dissatisfied customers complain that the app is buggy, glitchy and slow.
| | |
| --- | --- |
| BBB rating | A+ |
| BBB accredited | No |
| BBB customer rating | N/A |
| Trustpilot score | 3.4/5 stars based on 3 customer reviews |
| Google Play app | 3.9/5 stars based on 11,039 reviews |
| Apple app store | 4.7/5 stars based on 263,353 reviews |
| Customer reviews verified as of | February 2022 |
Reach Thinkorswim by phone, live chat or in person
Thinkorswim's customer service is available 24/7.
Phone

For new accounts, call 800-454-9272.
For existing accounts, call 800-669-3900.

Live chat: Text 898832 or speak with a representative through Facebook or Twitter.
In person: TD Ameritrade has over 360 branch locations across the US.
Bottom line
Thinkorswim by TD Ameritrade targets active traders seeking a high-grade platform with sophisticated research tools and three unique trading interfaces. But beginners may find the wealth of features overwhelming and tricky to navigate.
Before making a final decision, compare other trading platforms to find the best fit for your trading needs.