Finder is committed to editorial independence. While we receive compensation when you click links to partners, they do not influence our opinions or reviews. Learn how we make money.
Ria money transfer review
Send money to more than 160 countries, but a $2,999 daily limit means it's not an option for large transfers.
finder.com's rating: 3.0 / 5.0
★★★★★
Fees and rates: 2.0 / 5.0
Speed: 5.0 / 5.0
Services: 3.0 / 5.0
User experience: 2.0 / 5.0
$2,999
Max. Transfer Amount
Details
Product Name
Ria Money Transfer
Min. Transfer Amount
$1
Max. Transfer Amount
$2,999
Transfer Methods
Online, Phone, Agent, Bank Account to Bank Account, Cash Transfer
Transfer Speed

Minimum transfer time

Same day
Customer Service
Phone, Email, Branch
Available Currencies
AED, ALL, ARS, AUD, BAM, BDT, BGN, BHD, BIF, BND, BOB, BRL, BSD, BTN, CAD, CHF, CLP, CNY, COP, CRC, CVE, CZK, DJF, DKK, DOP, EGP, ERN, ETB, EUR, FJD, GBP, GHS, GMD, GNF, GTQ, GYD, HNL, HRK, HTG, HUF, IDR, ILS, INR, JMD, JOD, KES, KMF, KRW, KWD, LAK, LBP, LKR, MAD, MMK, MNT, MUR, MWK, MXN, MYR, MZN, NGN, NOK, NPR, NZD, OMR, PEN, PHP, PKR, PLN, PYG, QAR, RON, RSD, RUB, RWF, SAR, SCR, SEK, SLL, THB, TND, TOP, TRY, TTD, TZS, UGX, USD, UYU, VND, XAF, XCD, XOF, ZMW
| | |
| --- | --- |
| Exchange Rate Updates | Daily |
Expert review
Review by
zak.killermann@findercrew.com
---
Zak Killermann is a writer at Finder. He's ghostwritten hundreds of articles on fintech, finding his love for publication at St. Cloud State University. Traveling internationally for nearly half his life — and getting burned once by an OTC money exchange — Zak's vowed not to settle for anything short of the mid-market rate again.
Expert review
Ria is a convenient option for those looking to send money worldwide as a bank transfer or cash pickup. It limits daily transfers to $2,999, but agent locations in over 160 countries make it one of the largest providers in the industry. Apart from this, Ria doesn't stand out from the crowd.
Considering Ria doesn't use the mid-market rate for transfers, expect to see weaker exchange rates than those offered by many international competitors. To send money in the US, however, Ria is paired with Walmart to offer convenient services through 4,500+ stores in the US, including Puerto Rico.
Although Ria won't always be your cheapest option, it's one of few options that supports economically small countries worldwide, such as Tonga and Mauritania.
By default we are always referring to Ria online transfers, unless otherwise noted. When specifically discussing Ria agent locations, we mean the physical, in-person locations found around the world. Keep in mind that Ria agent locations are able to set their own limits, transfer destinations and fee schedule, all of which may not align with what you see online.
Why should I consider Ria?
Fast transfers. It can take as little as 15 minutes for the money to be ready for cash pickup. This option can get money quickly to a loved one in an emergency, but check that hours of operation for the location you're sending to work for your recipient.
Multiple payment options. Pay with a debit card, credit card or bank account for online transfers. Or pay with cash at a Ria agent location. Because different payment methods attract different fees, weigh the benefits of each for the best deal.
Diverse delivery options. Send money to a bank account, for pick up at an agent location or, in some markets, for home or work delivery.
Worldwide transfer network. With a network of more than 435,000 agent locations in over 160 countries, Ria is the third-largest provider of international money transfers worldwide.
Bank-beating rates. Using Ria to transfer money internationally is not only often faster than your bank, but lower fees means more money for your recipient.
What to be aware of with Ria
Maximum daily limits. Online transfers are limited to $2,999.99 daily or $7,999 monthly — lower than many digital competitors. Ria agent location limits may impose further limitations.
High fees for card payments. Fees vary depending on your transaction, but credit cards typically attract the highest fees. And agent locations fees may differ from what you see online.
No hedging options. Unlike some of its competitors, Ria does not offer forward contracts, limit orders or any of the other tools you'll find to lock in strong rates on future transfers. Hedging tools can help you save money when used appropriately to lock in an exchange rate for future transfers.
Inconsistent markups. Exchange rates with Ria vary depending on the country you're sending to — anywhere from 0.25% to 3.5% on top of the mid-market rate.
Ria's exchange rates and fees explained
Ria's fees vary between online and agent locations. But for online transfers, fees depend on:
Location. Fees depend on where you're sending from and where you're sending to.
Amount. Different fees are charged based on how much you're sending.
Payment. Paying by bank is typically the cheapest option, while paying by credit card tends to come with the highest fees.
Delivery. To send cash, fees are generally higher, while receiving money to a bank account can be less expensive.
Unlike many competitors, Ria offers the same exchange rate no matter how much you send.
Sending $500 from the USA to India
As of September 30, 2020, the cheapest option to send money to India is a bank-to-bank transfer with $1 in fees. The most expensive option is paying with a credit card for delivery as a cash pickup, which costs $20 in fees.
| | Bank | Credit | Debit | Cash |
| --- | --- | --- | --- | --- |
| Cash | $3 | $20 | $7 | $6 |
| Bank | $1 | $15 | $4 | $4 |
When we checked, Ria's margin markup for USD to INR was 0.5%.
Sending $500 from the USA to Mexico
As of September 30, 2020, the cheapest option through Ria for sending money to Mexico is initiating your transfer online and then paying in cash at a Ria agent location. You won't pay any fees to send cash to a bank account with this method. The most expensive option is paying with a credit card for cash pickup, which costs $14 in fees.
| | Bank | Credit | Debit | Cash |
| --- | --- | --- | --- | --- |
| Cash | $3 | $14 | $4 | $5 |
| Bank | $2 | $13 | $2 | $0 |
When we checked, Ria's margin markup for USD to MXN was 1.6%.
Sending $500 from the USA to the Philippines
Home delivery is available for transfers to the Philippines, though it typically costs more than other transfer options. As of September 30, 2020, the cheapest option is sending from a bank account for either cash pickup or bank-to-bank delivery — you'll pay $0 in fees. The most expensive option is paying with a credit card for home delivery, which costs $9 in fees.
| | Bank | Credit | Debit | Cash |
| --- | --- | --- | --- | --- |
| Cash | $0 | $12 | $4 | $3 |
| Bank | $0 | $12 | $3 | $5 |
| Home delivery | $3 | $12 | $5 | $5 |
When we checked, Ria's margin markup for USD to PHP was 2.4%.
Calculate how much your transfer with Ria could cost
Choose your currency and desired transfer amount. Exchange rates change frequently, so visit Ria's site for a final quote.

Disclaimer: Exchange rates change often. Confirm the total cost with the provider before transferring money.
How long does a Ria money transfer take?
Turnaround depends on how quickly you need your money delivered and how much you want to pay.
Fastest option — as little as 15 minutes

Pay for your transfer with a credit or debit card. When using a credit or debit card, you'll typically pay more in fees, but your money arrives in as little as 15 minutes. Your credit card might charge you an additional cash advance fee, further increasing the cost of your total transfer.

Cheapest option — up to 4 business days

Using a bank account to pay for your transfer is typically the cheapest way to send money, but it's nearly always the slowest. For your first transfer through Ria, you may have to verify your account, which can take four or more business days. After verification, your delivery can take an additional four business days.
Where can I use Ria?
Ria is available in more than 160 countries through over 435,000 agent locations. See our complete list of available currencies above.
Ria offices are available in:
Australia
Belgium
Canada
Chile
Denmark
Finland
France
Germany
India
Ireland
Italy
Kosovo
Luxembourg
Malaysia
Netherlands
New Zealand
Norway
Poland
Puerto Rico
Senegal
Spain
Switzerland
Sweden
Ukraine
United Kingdom
United States
Online transfers are available to residents sending from:
Australia
Canada
Spain
United Arab Emirates
United Kingdom
United States
Ria money transfer reviews
Most online complaints we saw target the customer service and wait times on the phone. Other complaints discussed the fees charged at Ria agent locations that differ from prices quoted online. Ria lists this possibility on its website, but you can easily miss this note while getting a price quote. You can find answers to other questions in Ria's extensive FAQ section, or contact the company by email, phone or social media.
Reviews accurate as of October 13, 2020.
| | |
| --- | --- |
| CompareRemit | 2.7 out of 5 — based on 679 customer reviews |
| BBB rating | A+ — based on BBB's internal rating system |
| Monito | 5.8 out of 10 — based on staff reviews |
| NerdWallet | 4 out of 5 — based on staff reviews |
| Finder.com | 3 out of 5 — based on staff reviews |
A subsidiary of Euronet Worldwide, Ria is the third-largest money transfer service in the world. Ria is headquartered in Buena Park, California, and sends money throughout North and Latin America, Asia, Africa and Europe. In 2014, the company paired with Walmart to launch Walmart-2-Walmart for domestic in-person transfers.
Ria Money Transfer

user reviews
How does Ria keep my money safe?
Ria Money Transfer has been in operation since 1987 and is a global company that serves millions of customers. It partners with large brands like Walmart, and it uses many security features to keep your data and money safe:
Identity verification. Suspicious activity such as logging in from various IP addresses and sending money to many diverse locations may trigger flags to help protect your account.
24/7 Security Experts. A security team works around the clock to monitor transactions for suspicious activity.
Only storing the necessary data. Ria doesn't store credit or debit card information on its servers, which means your card information can't be stolen if Ria is hacked.
How do I send money through Ria?
Six steps to sending money online:
Specify how much you'd like to send and where you'd like to transfer your funds to.
Select whether you'll pay for your transfer by debit card, credit card or bank account.
Confirm the transaction summary that details the exchange rate and fees that apply to your transfer.
Enter your recipient's full name, email address and phone number.
Select how you'd like your money delivered: bank deposit, cash pickup or courier delivery, if available in your recipient's country.
Transfer your funds around the world.
What's needed to transfer cash online through Ria
To transfer cash online through Ria, you'll need:
A Ria account. Create a free account as you're setting up your transaction for an online transfer.
Valid payment. Ria accepts payment by bank account, debit card and credit card.
Valid ID. A government-issued ID may be required while creating your account or sending a transfer at a Ria agent location.
Recipient's name and contact information. The name on the transfer must match their government-issued ID.
Recipient's bank account information. If you're transferring money to their bank account, you'll need both their account and routing numbers.
Your contact and banking information. That includes the account or card number and security information for the account you're transferring from.
How to track a Ria money transfer
Go to the Ria tracking page to confirm the progress of your transfer. Here you'll enter your order number, PIN or reference number. You'll also enter the sender's date of birth and the recipient's country. You can track online and at Ria agent location money transfers this way.
Ria's tracking number is 12 digits and is called the Order Pin.
Does Ria have a mobile app?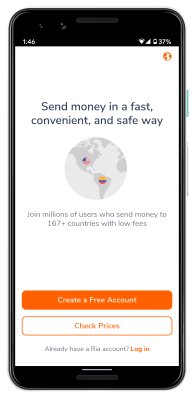 Ria Money Transfers has an app on both Google Play and the App Store. The app makes it possible to:
Send again. Repeat a previous transfer by selecting it from your activity list in the app.
Log in using biometrics. Both face and fingerprint recognition can be used to log in.
Share order details. Sending key order information like the tracking PIN number to your recipient can be done with just a few taps.
Find an agent location. Use the in-app map to find agent locations based on your GPS or around the world.
| Reviews accurate as of September 30, 2020 | |
| --- | --- |
| Google Play Store | 4.1 out of 5 — based on 2,624 customer reviews |
| Apple App Store | 3.5 out of 5 — based on 742 customer reviews |
Bottom line
Ria is a straightforward option to send money all over the world. It offers clear fees, decently low markups on the mid-market rate and secure transfers to its customers. Digital competitors like XE and OFX often offer lower fees and stronger rates, but those specialists may not offer cash pickup at more than 435,000 locations.
Frequently asked questions
What are Ria's customer service hours?
Ria's customer service team is available at 1 (877) 443-1399 on weekdays from 5 a.m. to 6 p.m. PT and weekends from 6 a.m. and 6 p.m. PT.
Other ways to contact Ria include:
Social media
Through an online form
Email
At an agent location
Does Ria offer refer-a-friend promotions?
Yes. Refer a friend through email or social media. After they've signed up and completed their first paid money transfer, you earn a referral bonus which in the past has been a $20 Amazon gift card.
There's no limit to the number of people you can refer for a bonus.
Why is my Ria account locked?
You may have entered the incorrect password for your account too many times.
Ria also locks accounts that have suspicious activity, requiring you to call the customer service team to unlock your account.
Why is Ria reviewing my transfer?
Ria reviews all money transfers for compliance with know-your-customer (KYC) and anti–money laundering (AML) industry protocols, which involve knowing the identity of its customers, their financial activities and any risks they pose to Ria's business. Ria typically reviews transfers within a day, contacting you if it detects any problems.
What are my rights when canceling a transfer?
Federal laws protect you when sending a money transfer, allotting you a minimum of 30 minutes from the time of transfer to cancel your order. Ria's makes this easy by allowing you to cancel using the Cancel Order button found under the details of your order after logging in to your Ria account.
How long will a refund take if I cancel my transaction?
Typically 2 to 10 business days. Refunds depend on how you paid and any problems with your transfer.
How does Ria compare to other services?
Disclaimer: Exchange rates change often. Confirm the total cost with the provider before transferring money.
Looking for an alternative? Compare services like Ria to get the best rates and fees.