QuickBooks now offering a business bank account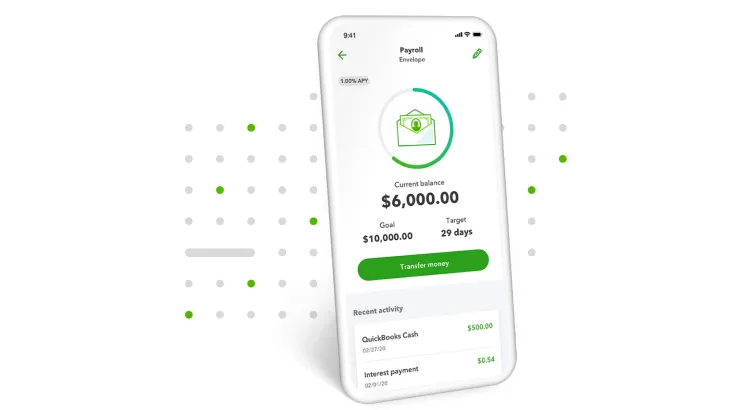 No fees, 1% interest and automatic accounting. But you have to pay for QuickBooks Online to use it.
The popular small business accounting software can now streamline your banking too, with the new QuickBooks Cash account launched this week. Featuring a 1% APY, no fees and touchless integration with QuickBooks software and other services, it's a benefit-packed offering that rivals most other business banking options for existing QuickBooks users. But if you're not already subscribed to QuickBooks Online, you'll have to weigh the pros against the monthly cost of the accounting service.
At a glance
Name: QuickBooks Cash
Features: 1% interest, automatic integration with accounting, free instant deposit for QuickBooks Payments received, bill pay through QuickBooks Online, cashflow planning tool, Envelopes for budgeting
Fees: No monthly fee, no minimum balance, no overdraft fees, fee-free ATM withdrawals on the 55,000-ATM Allpoint network or $3 for out-of-network ATM and bank teller transactions, plus any fees charged by the ATM owner
Limitations: Available to QuickBooks Online subscribers only
Because QuickBooks Cash is inherently integrated with QuickBooks Online for accounting, payments and payroll, users get a streamlined workflow. And all that data is further enhanced with the service's new machine-learning Cash Flow Planner tool that provides 90-day cashflow projections for your business.
"Small businesses need an all-in-one banking platform that helps them holistically manage and plan their finances, affordably and efficiently," said QuickBooks Capital and Payments Senior Vice President Rania Succar in announcing the new account. "QuickBooks Cash delivers what current business accounts don't — a banking experience that enables small businesses to accept payments, pay teams and vendors — with automatic reconciliation for easy financial management. Combining QuickBooks Cash with the powerful insights and financial management platform powered by QuickBooks, we are building a tool that accelerates the growth of small businesses. Companies that have more working capital can take advantage of more opportunities."
The account also features Envelopes, which are buckets within the digital account that serve to set aside money for specific planned or unexpected business expenditures. Envelopes enable easy budgeting or cashflow planning by directly diverting funds into categories like taxes, employee bonuses, inventory, supplies or materials.
All funds in your QuickBooks Cash account earn interest and are insured by the FDIC through Green Dot Bank.
How to open a QuickBooks Cash account
You'll first need a QuickBooks Online account to start using QuickBooks Cash banking and payments. Plans start at a promotional rate of $7.50 per month (regularly $15) for freelancers or $12.50 per month (regularly $25) for small businesses.
Once subscribed and logged in, you need to confirm some basic business and personal information, and QuickBooks claims that approved customers can get all set up in three steps.
QuickBooks Cash compared
The bank account is most similar to the new crop of no-fee digital business bank accounts like Novo or Axos Bank Basic Business Checking. But you'd normally have to pay a monthly fee in order to earn interest on your balance — and APYs are typically a fraction of 1% elsewhere.
It doesn't offer a signup bonus like the Chase Business Checking Account or Nova, though, and a few others give you even broader access to ATMs without having to pay a fee.
What this account does do better than the rest is integrate with other critical business services like accounting. If you aren't already a QuickBooks user, though, Wave Accounting also offers an integrated bank account, but it doesn't pay interest on your balance.
So depending on what you're looking for in a business bank account, you've got options. And QuickBooks Cash may be a good fit.
Photo: Intuit Quickbooks