Fee

$0 per month

APY

N/A

Minimum deposit to open

$150
Our verdict
A credit-building debit card for students with no credit check or annual fees.
Fizz is a fintech company offering a unique, credit-building debit card designed by and for college students — but anyone 18 and older can sign up. Although Fizz calls it a debit card, it functions like a secured credit card and it's an unsecured line of credit. Unlike most credit cards, you'll enjoy no interest charges, late fees, annual fees or foreign transaction fees. You can also earn cashback rewards, and your payments are reported to all three credit bureaus. Getting the Fizz card does require linking an existing bank account with at least $150 but there's no credit check. But if you need a large credit line, look elsewhere, because you can't borrow more than what's in your linked bank account.
Best for: College students who want to start building a credit history securely.
Pros
No interest charges

No monthly, annual or late fees

No hard credit check

Cashback rewards

Reports to all three credit bureaus
Cons
No physical branches

Not suited for emergencies

Not FDIC insured
Who is Fizz best for?
Without a doubt, Fizz is best suited for college students. It's designed to help young adults establish a credit history without the risk of taking on debt. When you sign up for the app, the app states that ".edu" emails are preferred and asks where you go to school. The app is also available on both Apple and Android devices.
Fizz card's cashback rewards are also mostly merchants located around college campuses — advertising daily rates of 25% and flash rates of up to 100%. But the places you can earn cashback changes often, so you'll have to check the app for current offers.
If you already have a good credit history and prefer a large line of credit, this likely isn't the card for you. You can only spend what's in your linked bank account, so it isn't made for covering purchases when you're strapped for cash.
How the Fizz card works
The Fizz card works by connecting to an external bank account, which acts as your account balance and sets your spending limit, which adjusts daily. You can't spend more than what you have in your linked account, helping you avoid overspending. With autopay on, Fizz automatically debits the amount you spent with the card at the end of the day and reports the payments to all three credit bureaus to help build credit.
What we like about Fizz
There's a lot to like about the Fizz card. For starters, you won't have to worry about interest charges. Most secured credit cards charge high APR, annual fees and late fees — all things you won't have to worry about with the Fizz card. There are also no ATM or foreign transaction fees.
The card is a Mastercard, so it's accepted anywhere Mastercard is accepted.
Limits overspending with autopay
The Fizz card is funded by an external bank account, so your spend limit will change daily. This also means you can't actually spend more than you can afford. If you have autopay enabled, all purchases you make throughout the day are automatically debited from your linked bank account at the end of the day. If you don't use autopay, payment is due at the end of each month.
You also have the option to enable a safety feature called SafeFreeze, which automatically declines any transactions you make with your card if you miss a daily payment. While that can be slightly inconvenient if you forget one payment and want to use your Fizz card, this helps prevent you from overspending, and you can toggle the SafeFreeze feature on and off whenever.
Reports to all three credit bureaus
Fizz reports all your Fizz card payments to Experian, Equifax and TransUnion. For a card that claims to help you build a better credit history, we're glad to see Fizz actually reports to all three. This gives Fizz a leg up against other top credit-building debit cards on the market, such as the Current Build card, which currently only reports to TransUnion.
Cashback rewards
The Fizz card advertises cashback rewards of up to 25% daily, which was, admittedly, hard to believe at first glance. Fizz's site states that they occasionally offer flash cashback rates between 75% to 100%, which is unheard of among even the best reward credit cards. Also, rewards aren't separated into categories, such as 1% on gas or 3% on travel expenses, like we usually see.
The cashback program is points-based: 1 point is equal to 1 cent. You can redeem points for cash and directly add it to your linked external bank account.
Fizz's cashback reward offers change monthly, so you'll have to refer to the app to see current offers, and most places you can earn cashback points are commonly found around college campuses. Some popular stores that often have cashback offers with Fizz include:
Auntie Anne's
Chick-fil-A
Einstein Bros. Bagels
Gap
Jamba Juice
Outback Steakhouse
Petsmart
Starbucks
Where Fizz falls short
Fizz lacks where most fintechs lack compared to traditional banks — there are no physical branches for in-person support. However, it offers in-app, phone and email support, and the chat support is a real person.
Not suited for emergency situations
Many people use credit cards for unexpected things that crop up, such as unplanned medical expenses, car problems and so on. But with the Fizz card, you won't have access to a credit line that's higher than what you have available in your linked bank account. So if you couldn't already afford a purchase or bill with your own cash, Fizz won't help you cover it. You also can't request higher credit limits, since the money is technically yours.
To be fair, this is exactly how the Fizz card is designed — it's made to help you avoid overspending and excessive debt that often comes with credit cards. But for those in need of a traditional credit line for the sheer convenience of covering emergencies, a traditional credit card may be a better route.
Fizz's fees and access
Type of fee
Fee details
Monthly service
$0
APR
0%
Late fee
$0
Opening deposit
$150
ATMs

Domestic: $0, operator fees may apply
International: Not supported

Debit card fees

Cash withdrawals: $0, operator fees may apply
Foreign transactions: 0%
Card replacement: $0 for standard delivery, $30 for expedited

Overdraft or nonsufficient funds
$0
Other fees

Inactivity fee: $0
First card expedited delivery: $15
Compare Fizz to other credit-building cards
Narrow down top credit-building cards by fees, APR and requirements. To compare products side by side, select the Compare box.
How to open the Fizz card
You must be at least 18 years old and a resident of the US to apply. To get started, download the Fizz app on an Apple device with iOS 13.0 or later, and Fizz is also now available on Android devices.
There's no hard credit pull, but Fizz asks for your name, address, social security number and contact information.
Once you sign up, connect an external bank account to the Fizz card. The account you link to Fizz must be in your name and have a balance of at least $150.
Customer experience
Fizz does well in the realm of customer feedback, but there isn't much, which isn't surprising, considering the card just launched in January 2023. It earns a 4.6-star rating out of about 20 reviews on Trustpilot, and all reviews are at least 4 stars.
Customers are happy with the product, with many praising Fizz's customer service and the autopay feature that helps them stay on top of payments and avoid negative marks. Many also specifically call out that it's a great card for college students.
On the Apple Store, Fizz has a little over 100 customer ratings, holding a strong 4.4-star rating. Reviews are similar to Trustpilot, with many college students loving the cashback rewards, how their credit has improved and frequently point out the lack of fees and interest charges.
Frequently asked questions
Is Fizz a bank?
Fizz isn't a bank. It's a fintech company that offers a credit-building debit card through its bank partners Patriot Bank and Lead Bank. The Fizz card isn't FDIC-insured since it's not a true deposit account but rather a line of credit.
Do I have to be a student to get Fizz?
No, you don't have to be a college student to get the Fizz card. The card is heavily geared toward college students, but as long as you're at least 18 years old and meet the eligibility requirements, you can qualify for the card.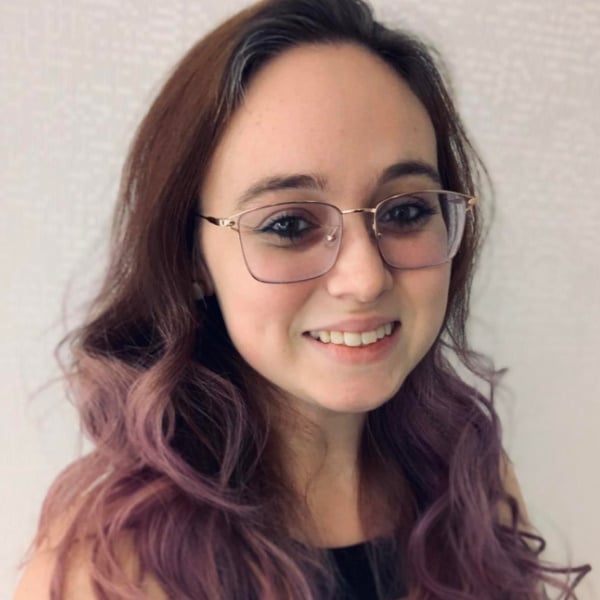 Bethany Finder
Writer, Banking and Loans
You are about to post a question on finder.com:
Do not enter personal information (eg. surname, phone number, bank details) as your question will be made public

finder.com

is a financial comparison and information service, not a bank or product provider
We cannot provide you with personal advice or recommendations
Your answer might already be waiting – check previous questions below to see if yours has already been asked
Accept and continue