How to play Decentraland
Decentraland is one of the fastest-growing role-playing games in the metaverse.
Free to try
Complete daily quests
Earn crypto & trade card NFTs
Runs on HIVE blockchain
Go to site
Disclaimer: This page is not financial advice or an endorsement of digital assets, providers or services. Digital assets are volatile and risky, and past performance is no guarantee of future results. Potential regulations or policies can affect their availability and services provided. Talk with a financial professional before making a decision. Finder or the author may own cryptocurrency discussed on this page.
Decentraland, which debuted in 2015, is the fastest-growing role-playing metaverse. You can construct your own sceneries and programs, explore the habitats of other users and even exchange some of your possessions for enormous earnings. The Ethereum blockchain links Decentraland's economy with fungible tokens known as MANA, which serve as the game's money. To generate money in this metaverse, you must invest these tokens properly and build your properties.
The emergence of augmented reality, blockchain technology and virtual reality gadgets has accelerated metaverse development in the last few years. Additionally, the remarkable expansion of advanced technologies in the gaming industry has enabled immersive gameplay experiences that give us a peek at how the metaverse can appear and suggest that we are closer than ever to experiencing our own virtual world.
Decentraland is one such project that has already laid the foundation for the next metaverse. The platform with a distinct value as software built on Ethereum symbolizes a worldwide community of people in a virtual sharing environment.
What is Decentraland?
Decentraland was formed in 2017 by Esteban Ordano and Ariel Meilich in conjunction with the introduction of the Decentraland official website. Decentraland is a virtual reality ecosystem built on the Ethereum network where users can purchase LAND, a non-fungible token that represents a portion of the virtual map.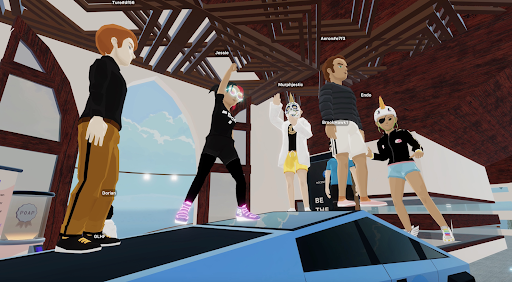 The platform rewards its users for operating a shared virtual reality. While LAND denotes ownership of a piece of the Decentraland virtual world, MANA serves as the system's native currency, which community members may use to purchase LAND on the marketplace. The Decentraland program provides a unique experience for users, allowing them to engage with one another and make use of features like in-world payments, gaming and virtual content consumption.
Decentraland is the first virtual platform of its type with a decentralized governance structure that puts the authority in the hands of users and token holders.
What are NFTs in Decentraland?
A non-fungible token (NFT) is a certificate of ownership over a physical or digital good. In the case of Decentraland, NFTs refer to the land throughout the metaverse. NFTs behave similarly to cryptographic tokens but are neither interchangeable nor fungible, unlike cryptocurrencies such as Bitcoin. Simultaneously, while all cryptocurrencies are identical, each NFT represents a distinct underlying asset and thus has a unique value.
NFTs are generated when blockchains link earlier records of cryptographic hashes, a collection of characters that uniquely identify a chunk of data, generating a chain of identifiable data blocks. By generating a digital signature, this cryptographic transaction approach confirms the ownership of each digital file. As a result, NFTs become a one-of-a-kind and precious resource.
What makes Decentraland unique?
Decentraland is designed for content creators, enterprises and individuals looking for a new artistic medium, entrepreneurial prospects or source of amusement. The planet of Decentraland is split into 90,601 distinct parcels of LAND, each represented by an NFT.
Each LAND is 16 square meters (virtually) in size and is located in the metaverse at a certain position. LAND owners have complete freedom to develop their plots, while most of the metaverse is split into several districts of varying sizes and themes.
These districts were created by individual MANA token crowd sales. MANA holders propose and vote on policy modifications, LAND auction details and the sorts of material permitted in the metaverse. Many Decentraland users earn money by leasing and promoting their LAND, while others produce and sell goods in exchange for MANA tokens.
What is MANA, Decentraland's token?
MANA is the cryptocurrency coin used by Decentraland. It is an ERC20 token that can be used to acquire LAND plots and in-world products and services.
When you acquire LAND, Decentraland burns the MANA you paid for it. Initially, the Decentraland team sold each piece of LAND for 1,000 MANA. However, now that there is a secondary market, LAND values fluctuate.
At the moment, the cheapest piece of LAND is 11,750 MANA, while more popular regions sell for millions. In March 2018, the most expensive plot sold for 2,000,000 MANA, or $175,578. This was a substantial sum for a fictitious block of property, and the vendor made a tidy profit. For more on MANA, and its current price, read our guide.
Read review
Compatible exchange: Gemini Cryptocurrency Exchange
Wide range of exchangeable currencies
User friendly
Newcomer incentives
Insurance on currency balances up to $250k
Balances can earn interest
High fees on mobile app
Missing some notable top 20 currencies
No linked debit cards available
Gemini is a cryptocurrency exchange with a simple UI that's user-friendly and accommodating to newcomers and experienced traders.
Gemini's strongest point is its Gemini Earn program, which allows users to earn up to 7.4% interest on specified cryptocurrency balances.
Gemini has a wide selection of cryptos available for exchange on the platform. However, some notable entries from the top 20 by market cap are missing, such as Cardano and Solana.
Deposit Methods

Bank transfer (ACH)
Cryptocurrency
Debit card
PayPal
Apple Pay
Google Pay
SWIFT


Deposit Fees

Cryptocurrency: None
Bank transfer (ACH): None, bank fees may apply
Wire Transfer: Determined by your bank
Debit Card: 3.49% + Trading Fees
Paypal: 2.50% of total deposit amount + Trading Fees

Withdrawal Fees

Cryptocurrency: None (for 10 withdrawals and below per month)
Others: None (for 10 withdrawals and below per month)

Trading Fees

≤ $10.00: $0.99
> $10.00 but ≤ $25.00: $1.49
> $25.00 but ≤ $50.00: $1.99
> $50.00 but ≤ $200.00: $2.99
> $200.00: 1.49% of your Web Order value
How does Decentraland work?
Marketplace
Decentraland has a unique marketplace that is considered the central location for trading and managing all of your on-chain Decentraland assets.
You may use the marketplace to:
Sell land tracts and estates, as well as wearables and one-of-a-kind names. You may define your pricing and expiration date for the offer
Purchase tracts and estates, wearables and unique names
Transfer the ownership of your plots and estates to another user
Through a map, discover who owns what, what wearables exist and whose names are claimed
Give your plots and estates a public name and description
Grant other people the ability to change the parcels you own
LAND
Decentraland consists of LAND, which is a non-fungible token based on Ethereum. LAND is segmented into parcels that are uniquely identified by their x,y cartesian coordinates. Each LAND token contains information about the land's location, owner and a link to a content description file or parcel manifest that explains and encodes the material the land's owner desires to provide.
LAND is similar to CryptoKitties and CryptoPunks. To maintain the value of LAND parcels, the quantity of LAND in Decentraland is set to the entire amount of MANA. The platform maintains LAND scarcity because many parcels will likely be abandoned without it, lowering the quality of content and significantly hurting the user experience in Decentraland.
Avatars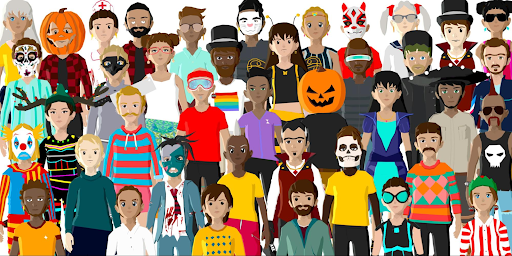 A Decentraland avatar is a fully customizable figure that serves as your representation in the virtual world. In essence, having an avatar is similar to registering for a username/account on a certain website.
Scenes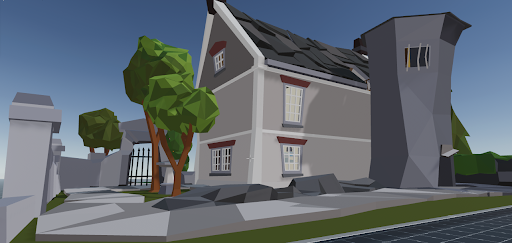 A scene is the type of content that you deliver to your LAND. A scene is a dynamic program that produces material; it might be a game, an interactive experience or an art exhibition. Scenes are deployed to Decentraland's virtual LAND.
Names
Decentraland names are tradable ERC721 tokens that are completely incorporated into the Ethereum Name System (ENS). These distinct human-readable names enable users to send and receive tokens across memorable addresses, for example, 'anirudh.dcl.eth'.
Wearables
Wearables are the various pieces of clothing, accessories and bodily characteristics that may be used to alter a Decentraland avatar's look. While the basic wearables are freely accessible to all avatars, Decentraland also permits the development and usage of bespoke wearables represented by non-fungible tokens. This enables the creation of a finite number of unique wearables on the blockchain, similar to the LAND.
By default, Decentraland wearables are coined on the Polygon/Matic sidechain, which enables users to mint, purchase, trade and transfer goods without incurring gas fees.
Compare marketplaces to buy game NFTs
Decentraland overview
Decentraland is a virtual reality platform on which land may be purchased. By appealing to the imaginations of gamers and businesses worldwide, you may accomplish virtually anything with the land you acquire.
This is a one-of-a-kind endeavor in a mostly unexplored market. While the popularity of "alternative life" games is encouraging, it's unclear if this trend will extend to the 3D and blockchain spaces. However, if Decentraland achieves the widespread acceptance that its advocates anticipate, we may witness the birth of an altogether new ecosystem of enterprises and experiences.
Decentraland frequently asked questions