States with the highest (& lowest) Christmas spirit
Iowa is America's most Christmassy state for 2021. North Dakota has the least Christmas cheer.
If you're wanting to get into the spirit of the season, look no further than Iowa! It's the state with the highest Christmas spirit according to analysis by Finder.com. States trailing just behind the Hawkeye state are West Virginia in second and last year's winner, Utah, in third spot.
At the other end of the spectrum falls North Dakota as the Scroogiest state in the union, followed by Hawaii and New York.
How did we come up with these results? We ranked charitable donations — both how much people were giving and the number of people making donations — Google trends around what people were buying, whether or not they were searching for Christmas songs and the anticipated amount the state is expected to spend on Christmas in 2021. You can read the full methodology at the end of the article.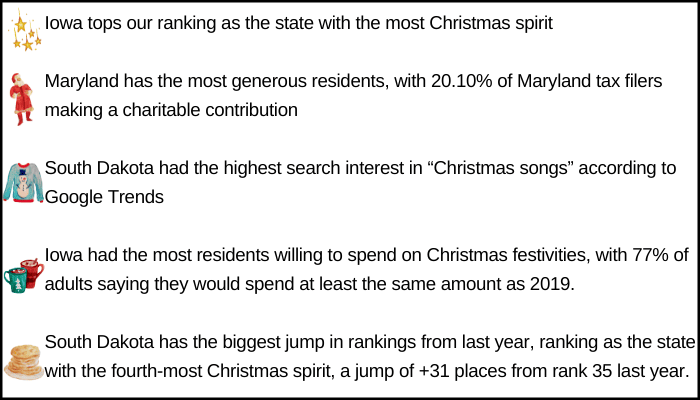 Which states are most excited for Christmas?
If you live below the Mason-Dixon line, there's a good chance you're looking forward to the holiday season. Five of the states in the top 10 for most Christmas spirit are in the south, namely: West Virginia, Delaware, Mississippi, Virginia and Maryland.
Your geography may have something to do with your being a grinch, too. Those with the least holiday spirit are scattered across the West side of the map. Five of the 10 states with the least Christmas spirit are in the West: Hawaii, Nevada, Colorado, Arizona and Wyoming.
Most charitable states
If we look at the size of those donations as a barometer for Christmas spirit, Utah comes out on top with an average donation of $12,740. Massachusetts filers give the least on average at only $4,261.
Who else is getting in the Christmas spirit?
While West Virginia may be last in the number of people making charitable donations, it's fourth in regards to the number of people searching for Christmas songs, with New Mexico at the other end of the Christmas carol list.
If you're in Iowa, 77% of adults said they would spend at least the same amount in 2020 as 2019.. And if you're from North Dakota, prepare for some disappointment — 77% say they plan to spend less on Christmas in 2020 compared to 2019.
Methodology
Our analysis was determined by:
Charitable giving (30 points total)

Percentage of tax filers in each state that made charitable contributions (15 points)
Average charitable contribution per capita (15 points)

Google Shopping trends for "Christmas decorations", "Christmas gifts" and "Christmas tree" (20 points)
Google search trends for "Christmas songs" (10 points)
Anticipated Christmas spending in 2020 for each state (40 points)
Charitable giving data was sourced from Individual Income and Tax Data for 2018 by the Internal Revenue Service (IRS). We excluded tax filers that had an income of $500,000 or greater to avoid skewing average calculations of charitable contributions. Tax filers that had an income of less than $500,000 accounted for 98.93% of filers.
Google Shopping and search trends were for the 30 days period from October 18, 2021 to November 11, 2021.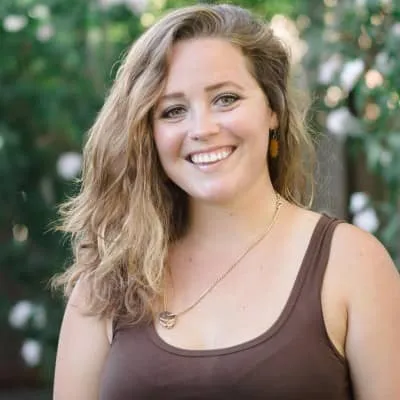 For all media inquiries, please contact:
Chelsea Wells-Barrett, PR, Media Relations and Communications