ZenGo wallet review
The ZenGo crypto wallet offers a non-custodial, secure and uncomplicated place to store funds.
Good for those looking for a balance between crypto custody and convenient access
Not so good for a wide range of cryptocurrency support
Disclaimer: This page is not financial advice or an endorsement of digital assets, providers or services. Digital assets are volatile and risky, and past performance is no guarantee of future results. Potential regulations or policies can affect their availability and services provided. Talk with a financial professional before making a decision. Finder or the author may own cryptocurrency discussed on this page.
Verdict
ZenGo is an excellent option for crypto investors who are looking for a balance between retaining custody and enjoying convenience. The innovative 2 key share system ensures users can enjoy both, safe in the knowledge that cryptocurrency holdings remain secure. The company also implements some of the highest levels of security when compared across the range of other cryptocurrency wallets.
On top of the excellent security, ZenGo is a featureful platform that allows users to manage their cryptocurrency portfolios from a single dashboard. With options to purchase, sell, trade and earn interest, ZenGo goes beyond the traditional storage capabilities of a crypto wallet.
Pros and cons
Pros
Price. The ZenGo app is completely free to use. Users can store, send and receive cryptocurrencies free of charge.
Features. Alongside secure storage, users are offered the opportunity to purchase, sell, trade and earn interest on cryptocurrency holdings.
Wide range of cryptocurrencies. The wallet supports a wide range of cryptocurrencies and is constantly improving to add more.
User interface. The interface of the mobile application is beginner-friendly and easy to navigate.
Security. The wallet offers high non-custodial security while removing the need to remember private keys or seed phrases.
Cons
Confusing technology. While the technology is innovative, truly understanding the benefits and understanding the 2 key share systems may be slightly intimidating for beginners.
Geographic limitations. Not all features are accessible to everyone globally.
App connectivity. There is currently no option to connect the wallet to other third-party applications – such as those within the DeFi ecosystem.
What is ZenGo?
ZenGo is a mobile cryptocurrency wallet focused on bridging the gap between digital asset control and convenient access. Thanks to an innovative system it is one of the first wallet applications to offer a non-custodial, secure and uncomplicated place to store funds, without users needing to remember a password or seed phrase for back-up.
Built as a mobile application, the ZenGo app can be downloaded on both iOS and Android devices. It is able to host a wide range of different cryptocurrencies, including popular coins such as Bitcoin and Ethereum.
Alongside the ability to securely store funds, ZenGo offers users a range of different features including the ability to buy and sell directly, trade and earn interest. In the future, the platform intends to release a ZenGo credit card that will also allow users to leverage the buying power of their cryptocurrency holdings.
Features of ZenGo
Convenience and custody
While most cryptocurrency wallets make users choose between custody and convenience, one of the best features of the ZenGo mobile application is that it offers both.
Usually, a cryptocurrency wallet is either non-custodial or convenient. Non-custodial wallets allow users to remain in full control of cryptocurrency assets. However, they are usually more cumbersome to set up. On the other hand, wallets that focus on convenience allow users to access crypto funds extremely quickly. But this usually means handing custody to a third-party wallet provider.
ZenGo manages to solve this problem by implementing multi-party computation and threshold signatures. Unlike most wallets that create a private key, ZenGo creates what they call a pair of encrypted secret key shares. One is held by the user. The other is held on ZenGo's servers.
To complete a transaction, both secret shares are required. This means ZenGo can never have full control of a user's funds but users can still enjoy convenient mobile access to cryptocurrency holdings. The innovative key share mechanism also means there is not a single point of failure. Unlike a private key, if one secret key share is hacked or stolen, cryptocurrencies remain protected.
No seed phrase
In addition to its innovative key share system, ZenGo implements 3D biometric facial recognition software as a failsafe for account access. Upon account creation, ZenGo scans a user's face and encrypts the data on its servers. If the device is ever lost or the wallet is ever deleted, the 3D biometric data is used to restore the application. The scanning technology removes the need for a long 24-word back-up seed phrase that is provided by many other competitors.
Buy and sell crypto
On the platform, users are treated with the ability to purchase cryptocurrencies directly. The exchange capabilities provide an all-in-one experience for users and provide ZenGo with a revenue stream. Any cryptocurrencies purchased can be stored instantly within the ZenGo wallet.
As a service powered by MoonPay and Coinmama, users are currently allowed to buy cryptocurrencies in 188 countries and sell in 28 countries globally.
ZenGo savings
If the ability to buy and sell cryptocurrencies wasn't enough, ZenGo now also offers users the ability to earn interest on cryptocurrency holdings. Holdings secured by the ZenGo wallet can be transferred into a ZenGo savings account. These cryptocurrencies are then lent to other third parties to generate a yield – the APY for BTC is currently 5%. There is no lock-up period required and assets can be withdrawn from the scheme at any time.
How to install ZenGo
ZenGo is available on the Google Play Store for Android devices and on the App Store for those using iOS. Alternatively, a user can head click on the button below.
Step 1: Download application
. Using the applicable links or store, download the ZenGo application to your mobile device. Once downloaded, open up the app.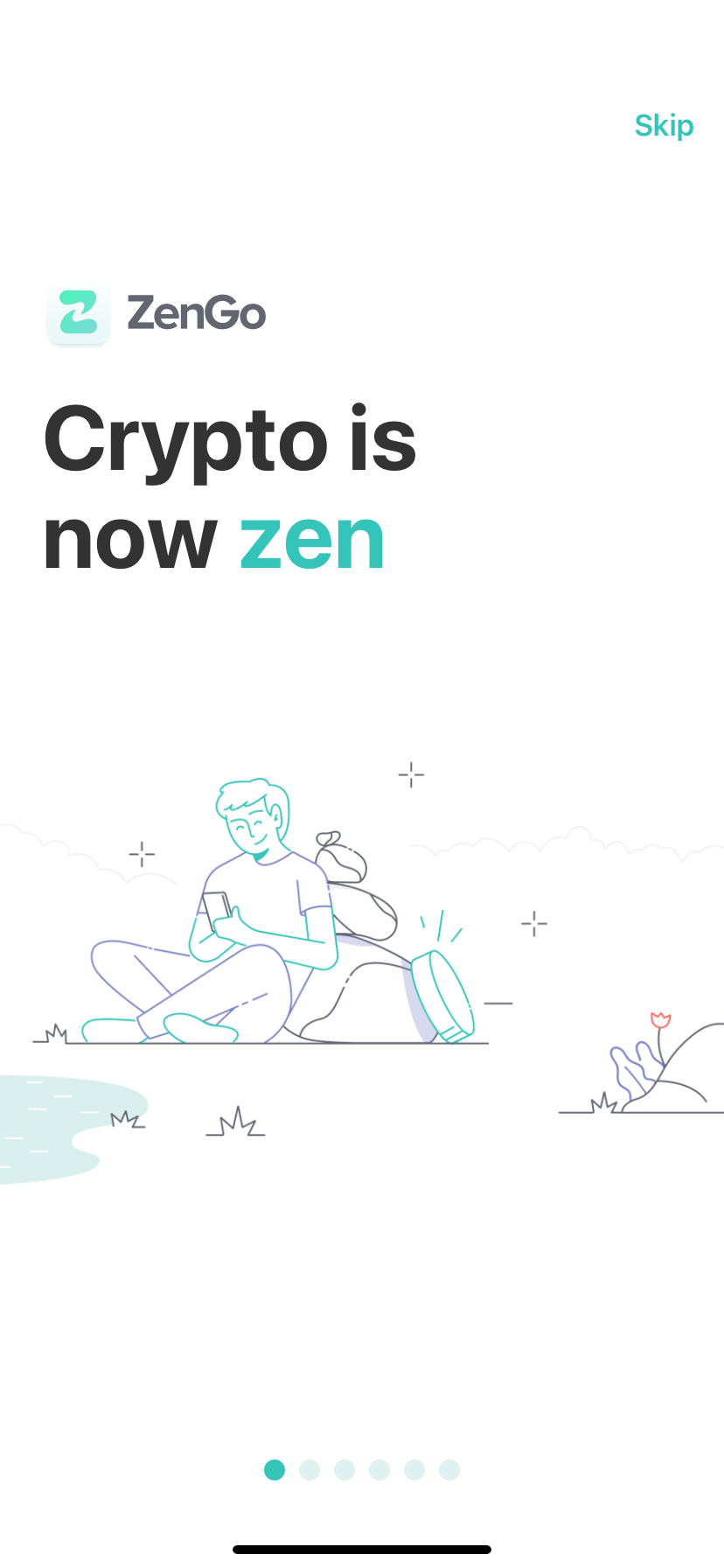 Step 2: Sign up
. Once the application is open you will be faced with some slides outlining some of the features of the app. Press "skip" in the top right corner of the screen. On the next screen enter your email address.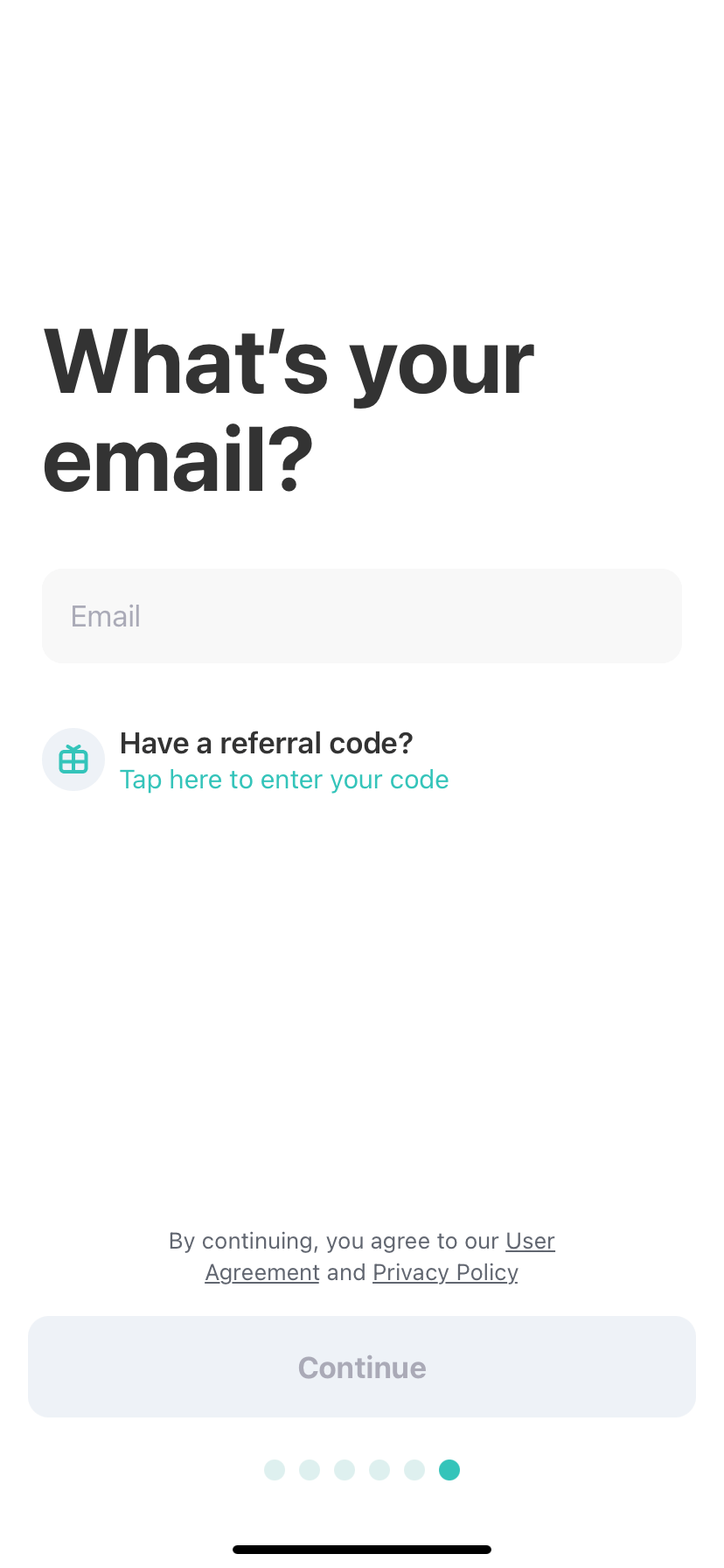 Step 3: Verify
. A verification email will be sent to the email address provided. Follow the prompts on the screen to open up your email app. On your mobile device, click the "Tap to Confirm" button within the email. After clicking the confirmation button the ZenGo app should reopen, where you will be granted the choice of "Import crypto", "Buy crypto" or "Explore the app". We will choose to "Explore the app".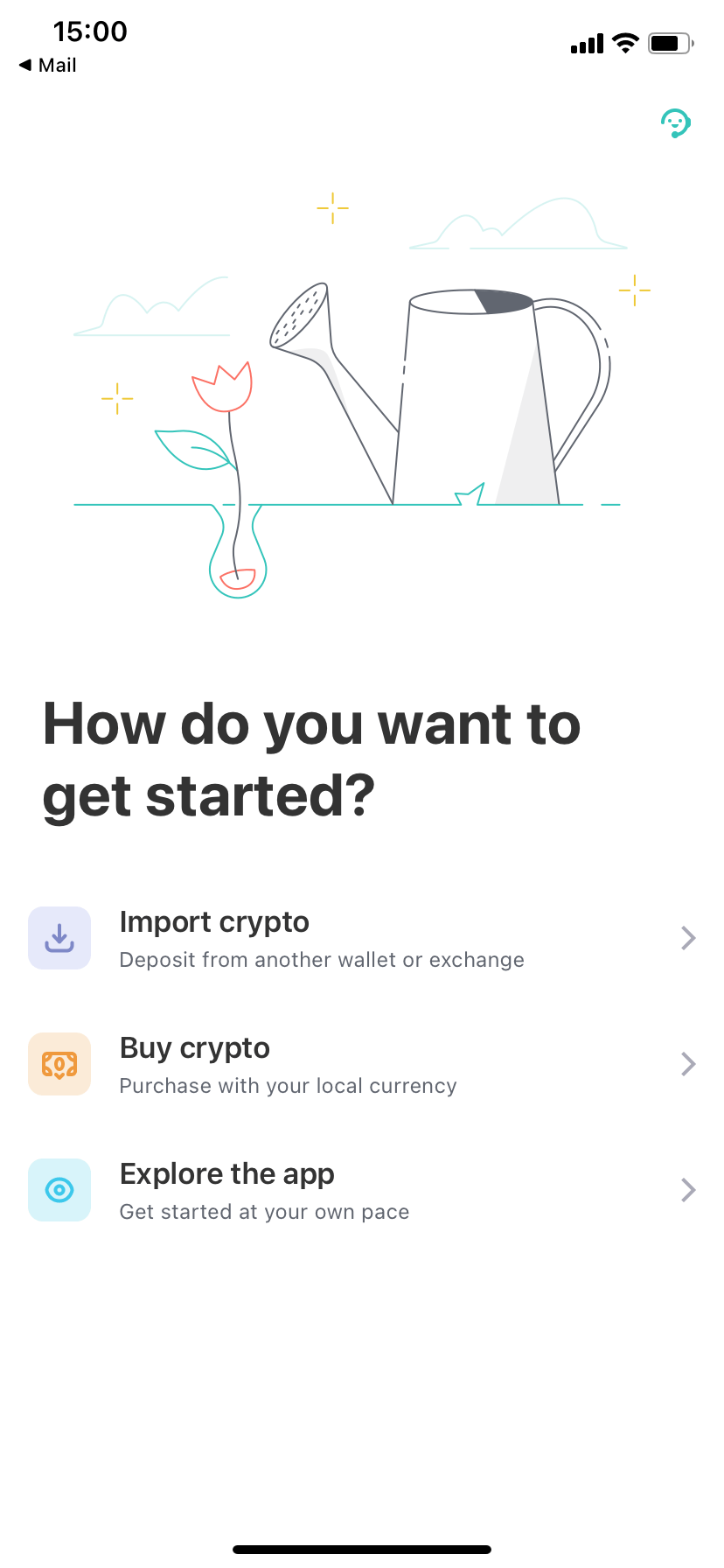 Step 4: Confirm phone passcode
. On the next screen, you will be prompted to enter your iPhone passcode. This is one of the many security procedures to stop anyone that holds your phone from accessing the ZenGo app.
Step 5: Complete set-up
. You should now have full access to the ZenGo app. From here you can transfer and store digital assets, buy, sell and even earn interest.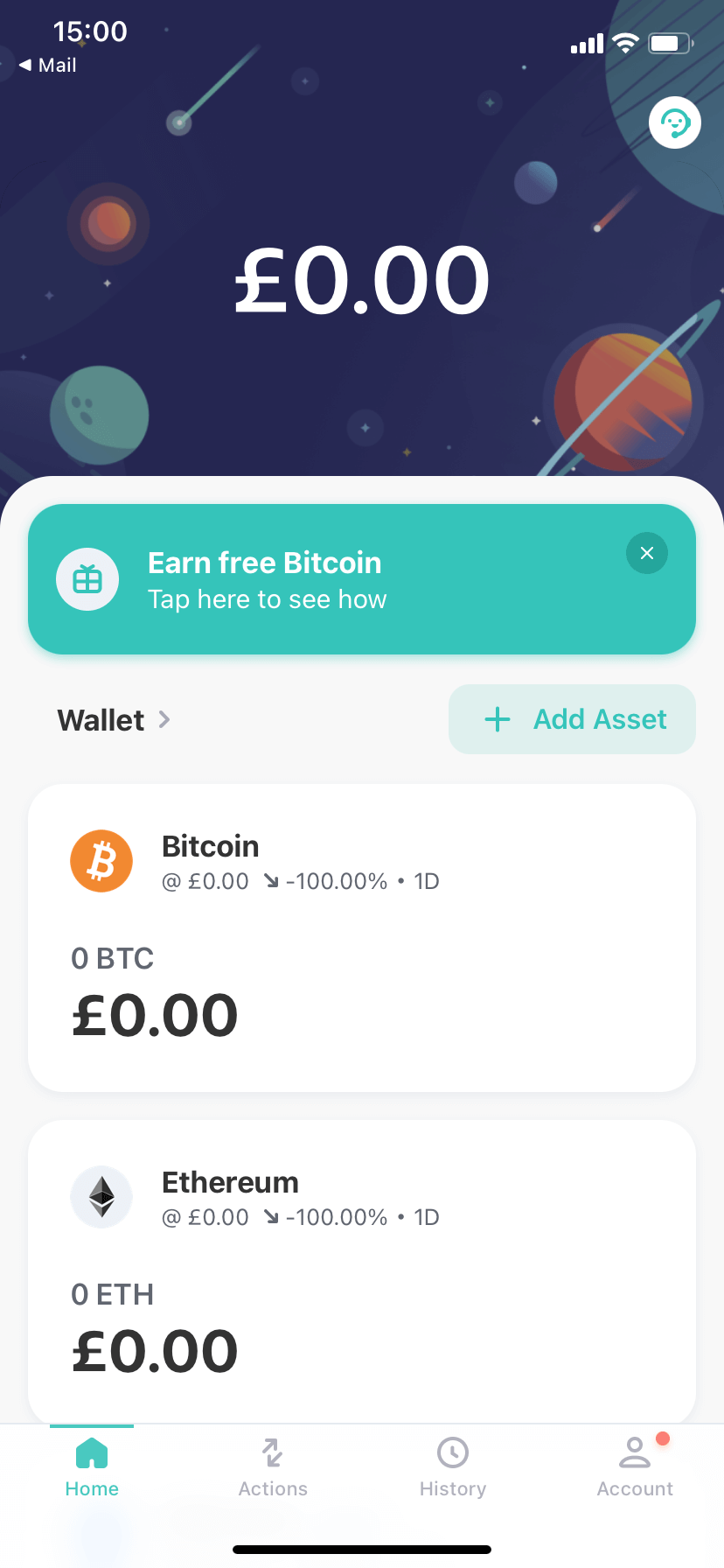 Step 6: Keyless back-up
. For extra security and to access the full range of features on ZenGo, we recommend heading over to your "Account" tab and creating a keyless back-up. Click the "Back Up Now" button and follow the on-screen prompts to submit your 3D biometric data. This keyless back-up will be used if your phone is ever stolen or you accidentally delete the app.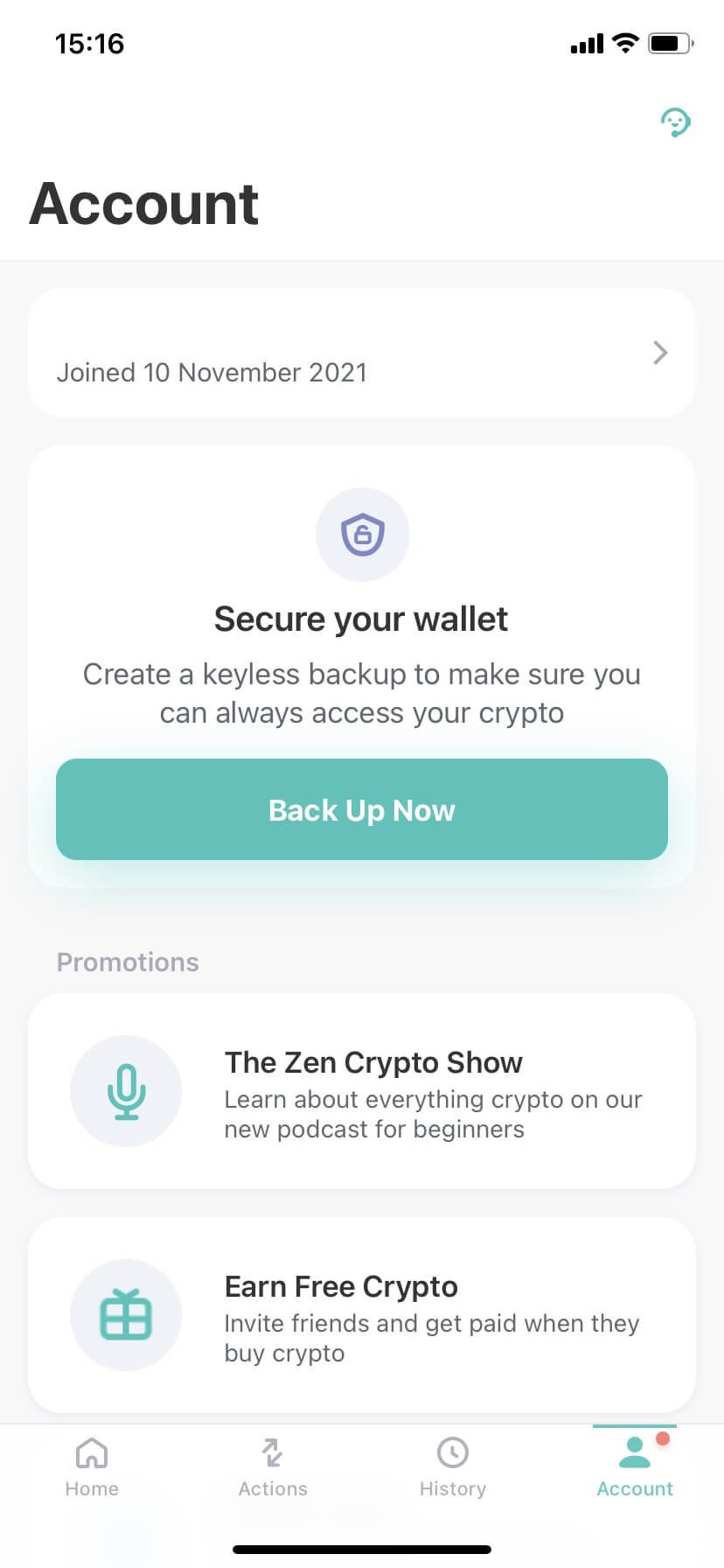 How to add cryptocurrencies to ZenGo
Adding cryptocurrencies to your ZenGo crypto wallet should be a straightforward process. All ZenGo users have 2 options. You can either send cryptocurrencies from another cryptocurrency wallet or, alternatively, you can purchase cryptocurrencies directly on the ZenGo app.
For this guide, we will go through how to send cryptocurrencies from an external cryptocurrency wallet.
Step 1: Receive funds
. From the homepage of the application, click the "Actions" tab. Within the "Actions" tab click the "Receive" icon.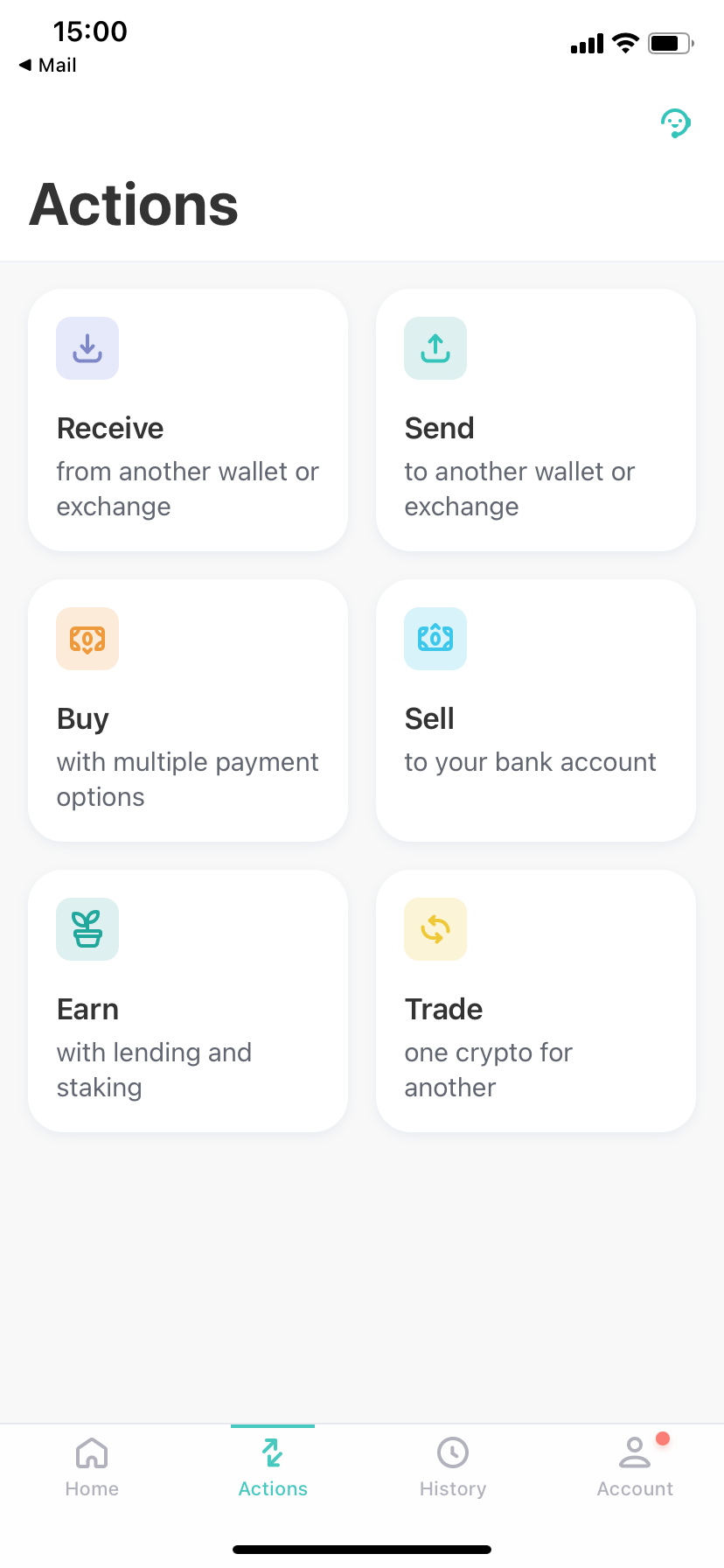 Step 2: Copy public address
. Once inside the "Receive" tab, select the cryptocurrency that you wish to transfer to your ZenGo wallet. After selecting the cryptocurrency, look for an option to copy the corresponding public address. The address will be needed on the platform that you are sending cryptocurrencies from.
Step 3: Send from an external wallet
. Now open up the platform or cryptocurrency wallet that is holding your digital assets. Click on the cryptocurrency that you have copied the address for.
Look for an option to "Send" the cryptocurrency. Paste in the public address copied from your ZenGo wallet. Double-check the address to make sure it is correct and also check the associated transaction costs. When happy, click the confirm or send button to execute the transaction.
Once the blockchain has processed the transaction your cryptocurrencies will be transferred to ZenGo.
How to send cryptocurrencies from ZenGo
Sending funds that are stored on the ZenGo app is just as straightforward.
Step 1: Send funds
. In the ZenGo application click the "Actions" tab. Within the "Actions" tab then click the option to "Send". On the next page, select the cryptocurrency you would like to send.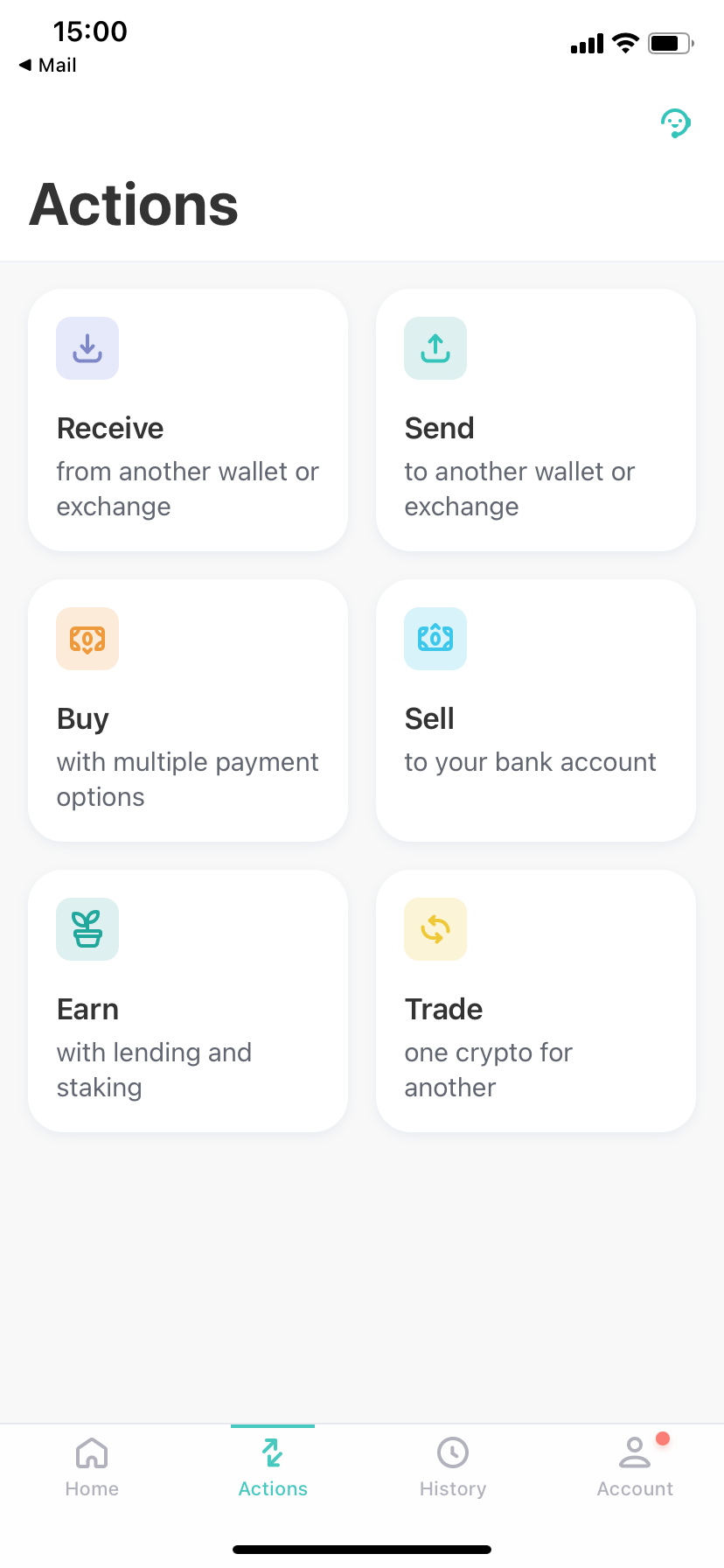 Step 2: Select amount and paste address
. After selecting the cryptocurrency you wish to send, enter the amount that you would like to transfer to a recipient address. Once you have defined how much you would like to send, paste the recipient's address in the address field.
Step 3: Confirm with biometrics
. Before executing the transaction ZenGo will ask you to confirm the transaction using your biometric key share data. Follow the on-screen prompts.
Once verified, click "Confirm" to complete the transaction.
Fees and limits
The ZenGo crypto wallet is completely free for users. Users can securely store, send and receive cryptocurrencies at any time. However, other features on the platform do incur some charges.
The fees below are accurate as of 10 November 2021
.
Deposit and withdrawal fees
Deposit fees
| | |
| --- | --- |
| Crypto deposit fee | No processing fee – a transaction fee will be applied by the associated blockchain. |
Withdrawal fees
| | |
| --- | --- |
| Crypto withdrawal fee | No processing fee – a transaction fee will be applied by the associated blockchain. |
ZenGo buy and sell fees
| | |
| --- | --- |
| Purchase crypto with debit/credit card (min. $100) | 5.99% |
| Purchase or sell crypto with bank transfer (min. $100) | 1.99% |
ZenGo trading fees
| | |
| --- | --- |
| Crypto to crypto trade | 0.75% |
Is ZenGo safe to use?
The ZenGo wallet is an extremely safe wallet to use. Firstly, by creating 2 encrypted key shares, any malicious hackers need to acquire both before attempting to access a user's cryptocurrency funds. This makes any hacking attempt almost futile. To prove ZenGo's security, earlier in the year, the company held a hacking challenge with a reward of 1 BTC. By the end of the challenge, no one was able to bypass the systems in place.
In addition, ZenGo also has a secondary mechanism in place if its native servers go down. As both key shares are required for any transaction – one held by the user and the second by ZenGo – if ZenGo servers are offline it may mean users cannot access funds. However, if ZenGo servers are completely inactive, ZenGo can implement its Chill Storage recovery protocol. A law office has been placed in charge of a master decryption key which can be used if ZenGo ever goes offline. The recovery system guarantees access to all cryptocurrency assets.
Finally, ZenGo's biometric scanning feature, which secures access to the ZenGo mobile app, implements Zoom's facial recognition software. The facial recognition software cannot be outsmarted by simply using a picture of a user's face. It must be held in front of the correct person. This is an extremely important piece of functionality that would otherwise render the biometric scanning features redundant.
ZenGo alternatives
Frequently asked questions
Disclaimer: Cryptocurrencies are speculative, complex and involve significant risks – they are highly volatile and sensitive to secondary activity. Performance is unpredictable and past performance is no guarantee of future performance. Consider your own circumstances, and obtain your own advice, before relying on this information. You should also verify the nature of any product or service (including its legal status and relevant regulatory requirements) and consult the relevant Regulators' websites before making any decision. Finder, or the author, may have holdings in the cryptocurrencies discussed.