Finder is committed to editorial independence. While we receive compensation when you click links to partners, they do not influence our opinions or reviews. Learn how we make money.
XE Money Transfer review
A secure, fee-free way to send money overseas.
finder.com's rating: 4.1 / 5.0
★★★★★
Fees & rates: 4.0 / 5.0
Speed: 3.5 / 5.0
Services: 4.0 / 5.0
User experience: 5.0 / 5.0
XE allows you to transfer money to over 130 countries in 60 currencies — but no cash pickup option means your recipient needs to have a bank account to get the funds.
No limit
Max. Transfer Amount
Details
Product Name
XE Money Transfer
Min. Transfer Amount
$1
Max. Transfer Amount
No limit
Transfer Methods
Online, Phone, Bank Account to Bank Account
Transfer Options
One off payments, Market orders, Forward contracts
Transfer Speed

Minimum transfer time

Same day
Customer Service
Phone, Email
Available Currencies
AED, AFN, ALL, AMD, ANG, AOA, ARS, AUD, AWG, AZN, BAM, BBD, BDT, BGN, BHD, BIF, BMD, BND, BOB, BRL, BSD, BTN, BWP, BYN, BZD, CAD, CDF, CHF, CLP, CNY, COP, CRC, CUC, CVE, CZK, DJF, DKK, DOP, DZD, EGP, ERN, ETB, EUR, FJD, FKP, GBP, GEL, GGP, GHS, GIP, GMD, GNF, GTQ, GYD, HKD, HNL, HRK, HTG, HUF, IDR, ILS, IMP, INR, IQD, IRR, ISK, JEP, JMD, JOD, JPY, KES, KGS, KHR, KMF, KPW, KRW, KWD, KYD, KZT, LAK, LBP, LKR, LRD, LSL, LYD, MAD, MDL, MGA, MKD, MMK, MNT, MOP, MUR, MVR, MWK, MXN, MYR, MZN, NAD, NGN, NIO, NOK, NPR, NZD, OMR, PAB, PGK, PHP, PKR, PLN, PYG, QAR, RON, RSD, RUB, RWF, SAR, SBD, SCR, SDG, SEK, SGD, SHP, SLL, SOS, SPL, SRD, SVC, SYP, SZL, THB, TJS, TMT, TND, TOP, TRY, TTD, TVD, TWD, TZS, UAH, UGX, USD, UYU, UZS, VEF, VND, VUV, WST, XAF, XCD, XDR, XOF, XPF, YER, ZAR, ZMW, ZWD
| | |
| --- | --- |
| Online Transfer Fee | $0 |
| Exchange Rate Updates | Real time |
Expert review
Review by
zak.killermann@findercrew.com
---
Zak Killermann is a writer at Finder. He's ghostwritten hundreds of articles on fintech, finding his love for publication at St. Cloud State University. Traveling internationally for nearly half his life — and getting burned once by an OTC money exchange — Zak's vowed not to settle for anything short of the mid-market rate again.
Expert review
XE's fee-free transfers offer a solid way to send money abroad. Just make sure the exchange rate you're being offered is competitive against the rates offered by other companies. With an easy signup process, a straightforward app and one of the world's leading forex pricing websites, XE has a lot to offer to new customers.
However, when sending large amounts of money, XE's mid-market margin may chip away at the total amount received by your family or friends. Of course, no money transfer service is going to be the perfect solution for every customer and every transfer, which is why it's important to compare XE against competitors before sending money.
Why should I consider XE Money Transfer?
XE has many pros, including:
No fees. XE doesn't charge any transaction fees, commissions or ongoing fees.
No sending limit. Transfers placed over the phone have no limit, but online transfers are limited to $500,000 per transaction.
Custom alerts. Create currency pair alerts by email to receive notifications when your desired mid-market rate is met.
Worldwide network. Send money to more than 130 countries from six different regions around the world.
Competitive rates. XE will almost always beat the rate offered by your bank and even the rates offered by many other money transfer companies. Compare XE's rates to see how they stack up.
What to be aware of with
XE has a few cons, including:
Restricted payment options. XE doesn't allow you to pay for international money transfers with a credit card or with cash.
No cash pickup. Transfers through XE must be sent to your recipient's bank account. There are no options for cash pickup, mobile wallet delivery or transfers to a debit card.
No mid-market rate. XE transfers do not use the mid-market rate, so customers must pay attention to the transfer rate they're being offered when sending money.
How much will I pay to send money with XE Money Transfer?
XE doesn't charge any fees or commissions on international money transfers. Instead, it turns a profit on the spread, which is the difference between the price you receive for a transfer and the price it actually costs XE to complete it. When sending a money transfer with XE, you'll pay:
Mid-market markup. XE'x exchange rates vary, but are typically between 0.5% and 2%.
Third-party charges. In rare cases you may incur a third-party charge, such as bank fees for receiving wire transfers.
How does XE make money?
The exchange rate you receive when making a transaction with XE is different from the mid-market rate. It's common practice for money transfer services to use a similar spread, and it's how XE makes a profit.
XE specializes in a wide range of foreign currency solutions, and allows customers access to live exchange rates that reflect market conditions. These rates change regularly throughout the day to keep pace with any fluctuations in the market, and are typically better than the rates offered by major banks.
See how much your XE money transfer could cost
Use this table by entering the amount you want to send, selecting the destination country and clicking calculate.

Disclaimer: Exchange rates change often. Confirm the total cost with the provider before transferring money.
XE money transfer reviews
Overall, XE money transfer reviews are positive. On Trustpilot, XE's ratings were 86% Excellent when we checked, with only 2% of reviews rating the service as Bad. Users on Reddit remarked on how XE felt a bit misleading since it offers both exchange rate information and money transfers, but just because XE has currency exchange rate information doesn't mean it can send to that currency.
XE Money Transfer reviews are accurate as of October 14, 2020.
| | |
| --- | --- |
| SiteJabber | 1.9 out of 5 — based on 99 customer reviews |
| Monito | 7.5 out of 10 — based on staff reviews |
| Finder.com | 4.1 out of 5 — based on staff reviews |
Is XE safe to use?
XE Money Transfer is operated by XE, a large and well-known international foreign exchange rate provider. XE is licensed and registered with:
Department of Financial Services of the State of New York
The Financial Transactions and Reports Analysis Centre of Canada (FINTRAC)
XE is part of Euronet, alongside Ria Money Transfers. Euronet is one of the largest money transfer businesses in the world and has partnerships with hundreds of global companies, including Visa, MasterCard, PayPal, Google and more.
What types of personal transfers does XE support?
You can send your transfer from your linked bank account via the following methods:
Wire transfer
Automated Clearing House (ACH)
The funds will then be deposited into your recipient's bank account — they don't need to hold an XE account in order to access the money you send. Cash isn't currently an option to send or receive using XE.
How do I send money through XE Money Transfer?
To sign up for an account with XE:
Go to the XE Money Transfer website.
Select Get started.
Sign up for an account. Provide the country you live in, your email address and select Continue.
Fill out your title and name, then select Continue.
Finish creating the online account. Create a password and security question, then select Next: Your details.
Provide further details. You'll need to give your address, phone number, date of birth, Social Security number and occupation.
Wait for your account to be approved.
Steps to send money through XE Money Transfer
After your account is approved, you'll typically receive an email. To send money after approval:
Sign in to your XE account.
Enter payment details.
Select the amount you want to send.
Select the currency you want to transfer to and enter your recipient information.
Review all the details and click Send.
Processing times vary depending on where you're sending the funds and the transfer method you select. For example, while wire transfers take one to three days to complete, electronic funds transfers typically take two to four days.
Where can I use XE Money Transfer?
You can send money to more than 130 countries when doing so from the United States. Popular destination countries include:
Australia
Canada
France
Germany
Hong Kong
India
Italy
Japan
New Zealand
South Africa
Spain
United Kingdom
XE Money Transfer mobile app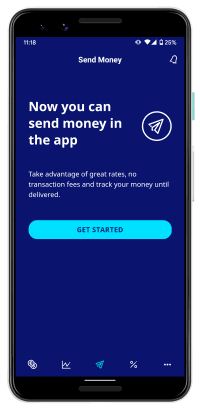 The XE app is available on both Google Play and the App Store. The app makes it possible to:
Track your transaction. Quickly see your transfer's expected arrival time and be notified of any delays..
Log in using biometrics. Both face and fingerprint recognition can be used to log in.
Check exchange rates on the go. Current currency exchange rates can be found in the app.
Monitor numerous currencies. Track up to 10 currencies with alerts available when target mid-market rates are hit.
Read currency news. Frequently updated news stories can be found in the app that relate to your preferred countries and currencies.
| Reviews accurate as of September 30, 2020 | |
| --- | --- |
| Google Play Store | 4.4 out of 5, based on 92,715 customer reviews |
| Apple App Store | 4.6 out of 5, based on 4,574 customer reviews |
More on the best money transfer apps
Tracking and canceling a transfer
XE alerts customers by email and text when funds are sent, but you'll wait one to four business days for payments to arrive. To check on the status of a transfer or cancel it, call XE Money Transfer at 877-932-6640.
What other products does XE offer?
Currency converter. Want to know current exchange rates? This easy-to-use tool can help.
Currency charts. View how two currencies have performed against each other for a period of up to 10 years.
XE currency data API. This product gives businesses around the world access to accurate exchange rates for more than 170 currencies.
IBAN calculator. Work out what any International Bank Account Number (IBAN) means with this handy calculator.
XE business transfers. With many of the same features that personal transfers have, XE Money Transfer for businesses allows you to take advantage of competitive rates to complete business transfers all around the world.
Bottom line
XE offers a competitive solution when you need to send money abroad. But before making a final decision, compare XE to other services to find a money transfer specialist that meets all of your needs.
Frequently asked questions about XE money transfers
Do I need to open a new bank account in order to send money with XE?
No, XE Money Transfer works with your existing bank account to allow you to send international money transfers.
When can I use XE Money Transfer?
XE Money Transfer can be quickly accessed online 24/7.
Can I pay for a transfer using my credit card?
No. XE does not offer this option because merchant fees charged by credit card companies would greatly increase the cost of your transaction.
How does XE compare to other services?
With zero fees, XE is often one of the most competitive exchange services for certain markets. Use our comparison table below to see the rates offered by XE's competitors for the currency and sending amount of your choice.

Disclaimer: Exchange rates change often. Confirm the total cost with the provider before transferring money.
XE vs WorldRemit
See how XE Money Transfer compares to WorldRemit and why XE may offer lower fees and stronger exchange rates — but transfer speeds may be slower.
XE vs OFX
These two popular services tend to be very similar in the fees and transfer speeds they offer, but XE often pulls ahead when it comes to favorable exchange rates.
XE vs TransferWise
Transferwise almost always offers better exchange rates, and these two services offer similar transfer speeds. But when it comes to low fees, XE may have the edge.