Finder Newsletters
Sign up to our email newsletters
Here at finder.com, we provide a huge variety of content on a massive range of topics. We try to teach as many people about as much as we can. But we also understand that not everyone is interested in the same things. That's why we tailor all of our newsletters to what you're most interested in. Here, you can view some of our newsletter content, see some examples of past newsletters we've sent and pick which ones you'd like to receive.
What are you most interested in?
Money: Tips, guides and news that'll help you save on your finances
Keeping up with reforms, new providers, product updates and rate changes can be tough. Not to mention understanding it all and using it to improve your finances. That's where our newsletter comes in. We'll send you an email packed with articles, guides and a selection of hand-picked products we think you can benefit from so you can make a decision that's right for you.
Cryptocurrency: Get breaking news, price alerts, and the latest reviews and product announcements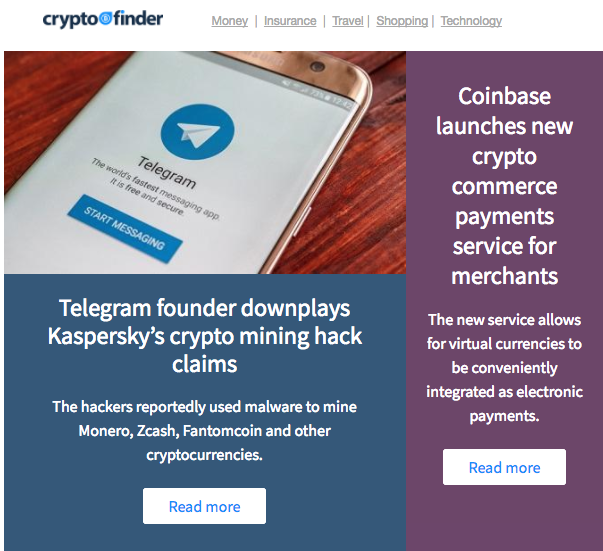 Shopping: Deals, discounts and sales from your favorite brands every week
In this day and age of online shopping, coupon codes, discounts and sales crop up all the time. We believe that no one should have to pay full-price for
anything
. With our weekly deals newsletter, you'll get sale reminders, discount alerts and coupon codes that can save you hundreds of dollars across categories such as:
Fashion & beauty products
Accessories
Home decor & appliances
Experiences & events
Electronics & home entertainment
Flights & hotels
Subscriptions & services
Hobby & sporting goods
And tons more. Sign up with your email and enjoy the discounts pouring into your inbox every week.
What else is new? Check out our latest articles:
More guides on Finder