Finder makes money from featured partners, but editorial opinions are our own.

Advertiser disclosure
Finder Awards 2022: NFT marketplaces
We put more than 30 marketplaces head-to-head in categories that include beginners, value and music to find this year's stars.
Our inaugural Finder Awards recognize the best NFT marketplaces available in the US when it comes to fees, genres, payment options and more.
See our 2022 gold award winners and silver finalists within more than 10 categories that include beginners, value and music.
Finder Awards: NFT Marketplaces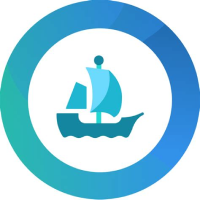 OpenSea is among the first NFT marketplaces in existence — and boasting millions of NFTs for sale, its the largest. It's partnered with dozens of other blockchain-based applications and features multiple genres, backed by fair fees and royalties.
Finalists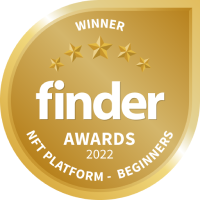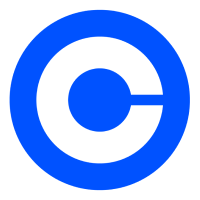 Coinbase NFT is newer among marketplaces, but its ecosystem is chock-full of education potential through guides, videos and walk-throughs. Learn how to use the marketplace, all about fees, the details of NFTs, and how to use the Coinbase exchange and wallet with the NFT marketplace. And as of August 2022, you won't pay marketplace fees.
Finalists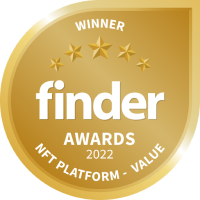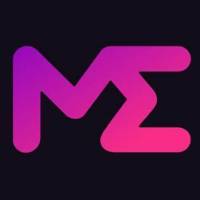 Value Award: Magic Eden
You may not know Magic Eden as well as other NFT marketplaces, but in terms of value, it takes the win. Most NFT marketplaces charge a fee of 2.5% to 5% per sale. Magic Eden requires a 2% marketplace fee — combined that with its deliciously varied marketplace, frequent drops and easy-to-use platform, it's a top marketplace.
Finalists
Editor's choice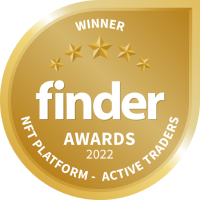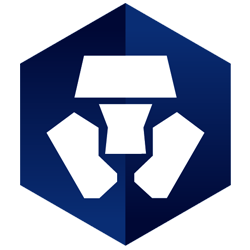 Active Traders Award: Crypto.com NFT marketplace
Crypto.com's NFT marketplace subsidizes gas fees on specific blockchains and no gas fees when you pay with the Crypto.com App. It also supports debit and credit card payments. You have 22 cryptocurrency options for payment depending on your wallet, and buyers don't pay marketplace fees.
Finalists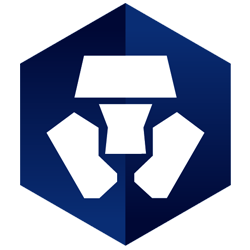 Crypto.com's NFT marketplace doesn't charge a fee for minting or require creators to pay gas fees when minting. There's a fixed 10% royalty on secondary sales, and creators need only watch out for a 15% primary listing fee.
Finalists
Rare Drops Award: Rarible
Rarible is known as an exclusive and curated NFT marketplace. It supports multiple cryptocurrencies and wallets, and it accepts fiat payments on certain assets. There's multichain support too, with the ability to buy NFTs from four blockchains: Ethereum, Flow, Solana and Polygon.
Finalists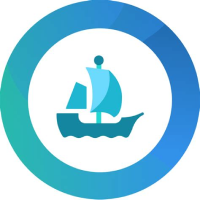 Sports NFTs Award: OpenSea
OpenSea works with many blockchain-based games, e-sports and sports-based platforms. It also features a dedicated genre featuring sports trading cards, Sorare, Silks, F1 Delta Time and many more.
Finalists
Editor's choice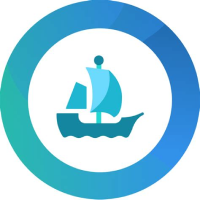 Music NFTs Award: OpenSea
A highly competitive category, OpenSea takes the win for its large and varied Music genre and support of MP3s and MP4s. It features top music collections such as omgkirby Genesis, Snoop Dogg, KINGSHIP and Dreamloops.
Finalists
Editor's choice
Celebrity-Minted Award: Rarible
Celebrity and curated art NFTs tend to go hand-in-hand, and Rarible is a hot NFT marketplace for both genres.
Finalists
Editor's choice
Finder Awards 2022 methodology: NFT marketplaces
Our editorial experts analyzed 33 NFT marketplaces available to US residents in August 2022. While many of the marketplaces are Finder partners, partnership status did not influence our methodology.
We evaluated each marketplace across 10 metrics to determine winners and finalists within 11 categories:
Marketplace fees. The percentage fee charged on primary sales.
Cryptocurrencies supported. The number of cryptocurrencies supported up to a maximum of 10. (Higher values are treated as 10.)
Wallet options. Whether the platform allows you to connect more than one wallet.
Fiat payment accepted. Whether the platform allows for fiat payments.
Explainer/hub videos. Whether the platform provides access to how-to videos or a learning hub.
Discord followers. The number of followers of the platform's Discord.
24/7 online support. Whether the platform offers 24-hour support.
Royalties offered. The percentage of royalties offered, up to a maximum of 10%. (Higher values are treated as 10%.)
# of NFT genres. The number of NFT genres available, up to a maximum of 10. (Higher values are treated as 10.)
Mobile app. The availability of a mobile app for iOS or Android.
We scored each metric out of 10 using Finder's dynamic scoring system. Binary — or yes/no — metrics received either a 10 or a 0.
Weighted criteria by category
We weighted metrics differently within award categories, using the total of all weighted scores as the final score for each marketplace winner and finalist.
What about Editor's Choice?
A marketplace doesn't need to nab an award for our editors to feel it's worth shouting out. Editor's Choice picks are just that: NFT marketplaces that shine within a particular category, supported by additional factors like ease of use, popularity and reputation among users.
See our editorial NFT marketplace best list for reigning top picks throughout the year as products change, disappear or emerge in the market.
Whether products shown are available to you is subject to individual provider sole approval and discretion in accordance with the eligibility criteria and T&Cs on the provider website.
Are you visiting from outside the US?