Finder is committed to editorial independence. While we receive compensation when you click links to partners, they do not influence our opinions or reviews. Learn how we make money.
Chase HELOC review
finder.com's rating: 3.8 / 5.0
★★★★★
Eligible customers can drive down their interest rate by 0.62%.
Chase can open lines of credit between $25,000 to $500,000. Backed by the resources of a big bank, it allows five rate locks per HELOC and reduces the interest rate for customers who meet a tidy list of requirements. But HELOCs aren't available in Alaska, Hawaii or South Carolina.
Details
Name
Chase
Description
A national bank with solid rates and lower than average origination fees.
Minimum credit
680
Origination fee
$50
Other fees
Chase charges a $50 origination fee, which can be financed — unless you have a homestead property in Texas. The bank waives the fee for existing home equity customers.

You'll also have to pay a $50 annual maintenance fee after the first year. Chase takes care of this if you open a new Chase Premier, Chase Premier or Chase Sapphire checking account, or already have one.
Pros
Transparency
Rate discounts for Chase customers
Ability to switch to a fixed-rate
Sophisticated application
Large loan range
Cons
Not available in all states
High maximum APR
Some fees
Chase is one of the Big Four banks in the US, and it appears to struggle with serving that many customers.

Despite being in business for 195 years, the bank isn't accredited with the Better Business Bureau. It currently has an F rating due to its failure to respond to customer complaints. However, its mortgage lending division has an A- rating from the BBB. The BBB has recorded 263 complaints in the last three years, which is significantly less than the number of complaints for the bank as a whole.

On TrustPilot, Chase has a one-star rating based on 61 reviews. Customers commented on the lack of service, though some complimented the bank for its online tools and user experience. Again, this page refers to the bank as a whole, rather than simply mortgages.

What makes Chase unique?
Chase is an attractive choice for HELOCs for these reasons:
Interest rate discounts
Existing customers stand to save the most by opening a HELOC with Chase.
If you have an eligible Chase checking, savings or investment account, you may earn a rate discount of 0.25%. If you set up automatic payments from your checking account, you could slash another 0.12% off your interest rate.
And if you withdraw $30,000 from your home equity line at closing, or provide contracts or bids for a $30,000 home improvement project, you might score another 0.25% discount. (Remember, the minimum credit line is $25,000, or $10,000 in Michigan.) This discount isn't available to customers with more than three years left in their draw period.
In total, some customers can slash their variable interest rate significantly by 0.62%.
Fixed-rate option
During the draw period, Chase allows you to convert all or a portion of your line of credit from a variable rate to a fixed rate. You can have up to five separate locks on a single HELOC account.
Here's the fine print:
There's no fee to switch to a fixed rate, but if you cancel the lock after 45 days, you'll have to cough up a fee of 1% of the original loan amount.
The minimum lock amount is $1,000, and the maximum is up to 95% of the credit limit at closing — or 100% after closing.
The minimum term is 12 months, and the maximum term depends on the length of time you have left on your HELOC.
Do I qualify for a HELOC with Chase?
To open a HELOC with Chase, you need to meet these requirements:
A minimum credit score of 680
A credit history with at least three tradelines (such as credit cards, mortgages and car loans) from the past 24 months
A loan-to-value ratio that's less than 80%
A debt-to-income ratio of 43% or less, or 50% if you have a co-applicant
What are the benefits of taking out a HELOC with Chase?
With over 5,000 branches across the country, Chase is one of the biggest home equity lenders in the US. If you open a HELOC with this bank, you'll also unlock these benefits:
Transparency. Unlike many of its competitors, Chase is upfront about everything from fees to eligibility requirements.
Rate discounts for Chase customers. Eligible customers can shave up to 0.62% off the standard variable rate.
Ability to switch to a fixed-rate. If you'd prefer steady monthly payments, you can convert all or a portion of your line of credit to a fixed rate.
Sophisticated application. The online application is seamless and easy to navigate, and the site has handy tools such as an eligibility checklist, home value estimator and rate calculator.
Large loan range. The bank offers HELOCs ranging from $25,000 — or $10,000 in MI — to $500,000.
HELOCs on secondary residences. Chase is open to accepting secondary residences as collateral for some customers. Speak to a rep to learn more.
What to watch out for
These drawbacks may affect your decision:
Not available in all states. Residents in AK, HI and SC will have to look elsewhere.
High maximum APR. Chase says your APR won't exceed 21% over the life of the loan. To compare, Wells Fargo keeps lifetime interest rates under 7%.
Some fees. Many banks waive the closing costs and application fees, but Chase charges a $50 origination fee and $50 annual fee. Exceptions apply.
Compare Chase HELOC to other lenders
How do I get started?
The quickest way to apply is online. These are the steps:
Go to the Chase website.
On the left hand toolbar, select Home Equity.
Click Apply Now.
Fill out the form with details about the property as well as your employment, income, financial situation and how much you're hoping to borrow.
Submit your application. A HELOC specialist will contact you within two business days to walk you through the next steps.
To apply over the phone, call 888-342-4273 weekdays from 8 a.m. to 10 p.m., Saturday from 9 a.m. to 7 p.m., and Sunday from 10 a.m. to 4 p.m.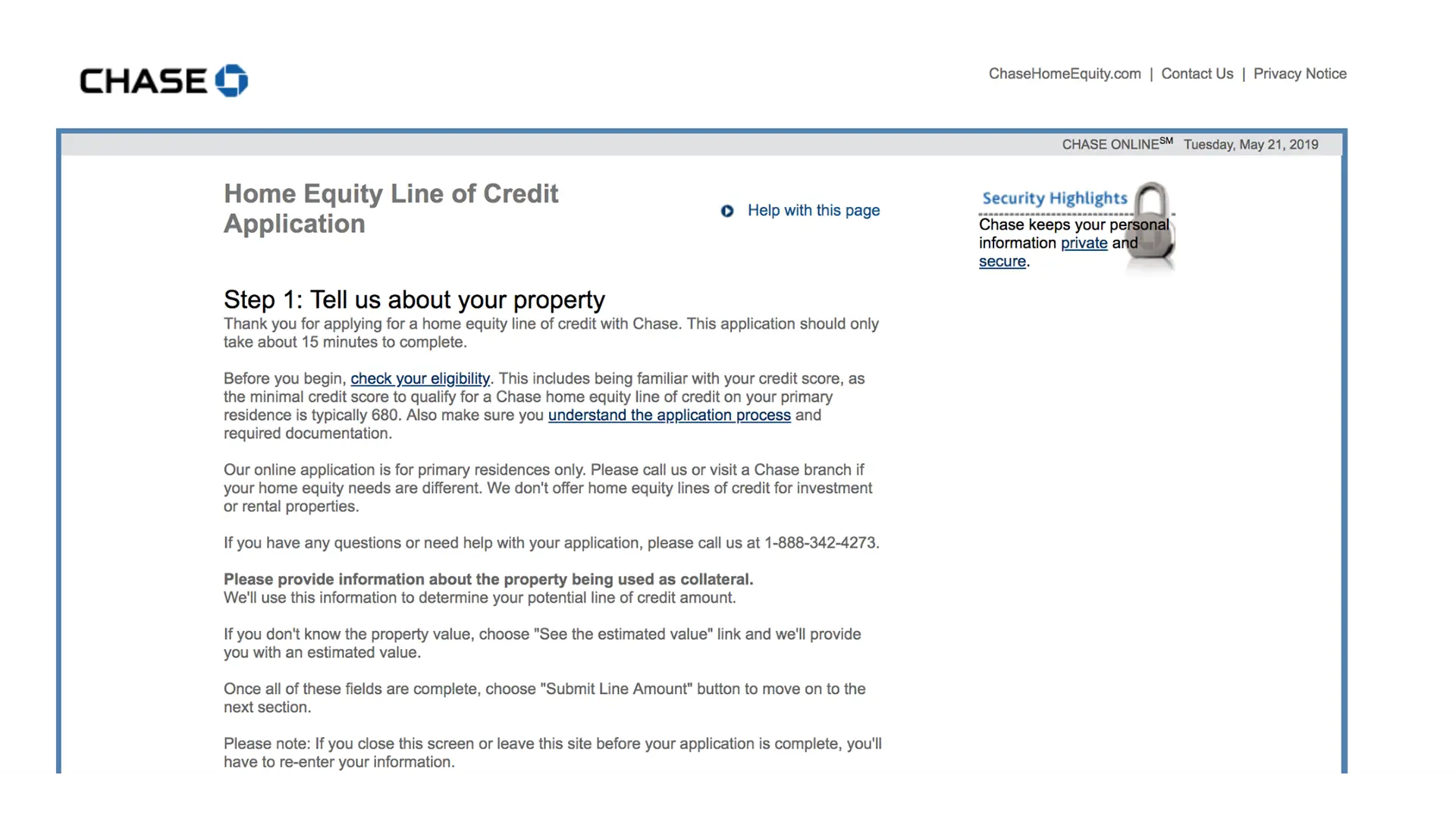 Required documentation
The bank requests the following information:
Property address, type, location and purchase price
Estimated value of the property
Employment and income information
Details about your debts and financial obligations, such as outstanding student loans or credit cards
Social Security number
Proof of hazard, homeowners or flood insurance, if applicable
I got the HELOC. Now what?
Keep tabs on your line of credit with these tips:
Access your credit. To tap into your funds:
Go online. Transfer money from your HELOC to your Chase checking account or an outside bank account.
Visit a Chase branch. To locate one, use the search function on the site.
Call 800-836-5656. The team will deposit cash into your Chase checking account.
Write a line of credit check. If your account has check access, you'll be able to use those checks to draw money from the account.
Switch to a fixed-rate. Set up predictable monthly payments with Chase's Fixed-Rate Lock Option. It allows you to lock in an interest rate on all or a portion of your outstanding balance during the draw period.
Contact customer service. When you have questions, reach out to the HELOC team.
Phone. Dial 800-836-5656 weekdays from 8 a.m. to midnight, and Saturday from 8 a.m. to 8 p.m. ET.
Email. Log into your online account and go to Customer Center > Send a New Message.
Social media. Tweet @ChaseSupport — be sure to leave out any personal or financial information.
Mail. Address snail mail to:

Chase, Attn: Home Equity Servicing, 3415 Vision Drive, Columbus, OH 43219
Adjust your limit. You could refinance to increase your line of credit. Speak to your HELOC consultant to explain your situation and find out if you're eligible.
Make timely payments. Choose between one-time or automatic payments. These are your payment options:
Bank transfers. Move funds via ACH transfers.
Phone. Call 833-729-2427 at any time.
In person. Head to a local branch to make a payment.
Checks and money orders. Send a check or money order to the address above five to seven days before your due date.
If you like, you can make additional principal payments to pay off your HELOC earlier.
Frequently asked questions
Home loans ratings
★★★★★ — Excellent
★★★★★ — Good
★★★★★ — Average
★★★★★ — Subpar
★★★★★ — Poor
We analyze top home loan providers and rate them one to five stars based on factors that are most important to you. These factors include: rates and fees, product selection and borrower experience.
Read the full methodology of how we rate home loan providers.
Expert review
Review by
katia.iervasi@finder.com
---
Katia Iervasi is a staff writer who hails from Australia and now calls New York home. Her writing and analysis has been featured on sites like Forbes, Best Company and Financial Advisor around the world. Armed with a BA in Communication and a journalistic eye for detail, she navigates insurance and finance topics for Finder, so you can splash your cash smartly (and be a pro when the subject pops up at dinner parties).
Expert review
Chase has a strong HELOC up to $500,000 as well as a rate discounts for Chase customers. It offers a fixed-rate option, but look out for the closing costs and maintenance fees. And if you live in Alaska, Hawaii or South Carolina, you won't be able to open a HELOC with Chase — so keep comparing lenders.