Money Transfer Finder: Compare international money transfer services
Let us help you track down the most competitive exchange rates and the lowest fees.
So you want to send money abroad but you don't want it to cost an arm and a leg? We're with you. You work hard for your money and want to find the service that gives you the most bang for your buck. Get started by comparing your options in the table below.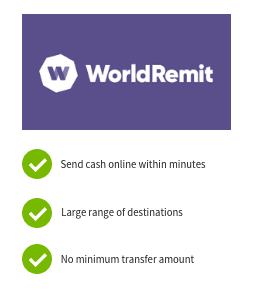 Send money internationally with WorldRemit

WorldRemit can help you get your money where it needs to go in minutes, with upfront exchange rates and low fees.
Use promo code FINDERCA on your first transfer and pay zero fees. T&Cs apply.
Transfers to 150+ countries
Send to bank account, cash pickup, mobile money, airtime top up
Pay with card, Interac or Apple/Android Pay
Compare some of the best money transfer services
Disclaimer: Exchange rates change often. Confirm the total cost with the provider before transferring money.
What's in this guide?
Why trust us? Our research team has spent thousands of hours meticulously researching every money transfer provider we compare (and many that we don't). Our editorial guidelines underpin all of our guides, and you can be sure that the information we present is accurate, unbiased and thoroughly vetted.
What are international money transfers?
In their simplest form, international money transfers consist of one transaction carried out between two people (a sender and a recipient) using an intermediary service like the bank or an online money transfer company. When you send funds through an intermediary, they typically mark up the exchange rate and charge a fee to exchange the funds into your desired currency and pass this along to your recipient.
Depending on your provider, you can typically pay for your transfer with cash, a credit/debit card, or by transferring funds directly from your bank account. For some services you can send funds in person or over the phone while others are limited to an online platform or mobile app. Funds can be deposited into your recipient's bank account or mobile wallet, or made available for cash pick up at an agent location. Delivery of the funds varies from provider to provider.
When you send money overseas using a money transfer company, you can expect to encounter the following steps:
Register for an account.

Sign up for an account online with the provider of your choice (you can get started right now by clicking 'Go to Site' next to a reputable service provider at the top of this page).
Provide personal details.

Input personal details, which include full name, contact information, proof of ID and bank account details for both you and your recipient.
Enter transaction details. Supply information about how much money you plan to send, to where and in what currency.
Confirm your transaction.

Review the details and cost of your transfer and confirm your transaction. Use the transaction reference number provided to monitor the progress of your funds.
If you choose to use a bank to do your transfer, the process is a little different:
Contact your bank. Make sure that your bank is able to send the currency of your choice, and find out about exchange rates and fees.
Collect information. Determine the address of your recipient's bank, along with their account details and SWIFT code (an international bank identification system), if applicable.
Send money. Send an international money order online to your home bank account or to a third party.
How much will a money transfer cost?
There are two ways that a provider can make money on your transfer: they can either charge a low fee but mark up the exchange rates or charge a high fee and offer competitive exchange rates. If your provider really wants to empty your pockets, they can charge both high fees and exorbitant exchange rates. Check out our 60-second video to find out more about how you can save big when you send money overseas.
Fees
Your bank or a money transfer service will typically charge a fee for facilitating a transfer, with money transfer services typically asking for much less than the banks. Most providers either charge a set fee per transaction or they charge a percentage of your total transfer amount. Fees can also vary greatly depending on the destination country, the amount being sent and the service provider, among other factors.
To save big on fees, keep an eye out for special deals. For example, World First charges a flat fee of $10 on transfers up to $10,000 and no fee on transfers over that amount. Requesting quotes from 3 – 4 providers, or comparing money transfer providers in our interactive comparison table at the top of this page, is a good first step to saving big on your next transaction.
Exchange Rate
An exchange rate is the rate at which your Canadian dollar will be transferred to your target currency. Exchange rates fluctuate according to market conditions, so it can pay to wait out the market and send money to your destination country at a time when the Canadian dollar is performing well on the forex or against your target currency.
Most transfer services will advertise the real exchange rate, or "mid-market rate" — the mid-point between the buy and sell prices of two currencies on the global market. When it comes time to make your transfer, you'll notice that you'll almost never get this rate. The provider will mark up the exchange rate — and pocket the difference. Requesting quotes from 3 – 4 providers, or comparing money transfer providers could save you hundreds on your next transaction.
Compare fees and exchange rates
The world is truly your oyster when it comes to sending money overseas from Canada. We've put together a table outlining the fees and exchange rates for a few of the money transfer service providers vying for your business. This should give you some idea of the diversity between providers, keeping in mind that the fees and rates can change based on currency (in this case, we're comparing USD) and other factors.
| Money Transfer Service | Transfer Fee (CAD) | Exchange Rate Markup | Total in US minus fees (from $1,000.00) |
| --- | --- | --- | --- |
| Canadian Forex | $15 | 0.7820 | $770.38 |
| Currency Solutions | $0 | 0.7823 | $782.25 |
| RationalFX | $7 | 0.7823 | $776.88 |
| TransferWise | $10 | 0.7820 | $774.25 |
| TorFX | $0 | 0.7823 | $782.30 |
| WorldFirst | $10 | 0.7820 | $774.25 |
| XE Money Transfer | $0 | 0.7823 | $782.36 |
Rates updated as of 16 May 2018 (subject to change) – you can visit many of these websites directly by clicking "Go to Site" on the interactive transfer comparison table at the top of the page.
There's no one best way to transfer funds overseas. It depends on how much you plan to send, how soon you need it to arrive in its destination and what the exchange rates are doing at the time. Below are a few tips you can use when sending money overseas.
Know the mid-market rate. The mid-market rate is the rate that comes up when you search "CAD to USD exchange rates" on Google (or any other variation of currency codes). Compare the rates on offer by your provider and make sure that they are as close to the mid-market rate as possible.
Send more money per transfer. Many services will discount the fees or waive them altogether when you send larger transfers. Check the minimum and maximum amounts for transfer, and aim for larger amounts where possible.
Use forward contracts and limit orders. A forward contract allows you to lock in a favourable exchange rate for transfers to be made at a later date. A limit order allows you to lock in your transfer when an agreed-upon rate is reached in the market.
Send same-currency transfers.

Depending on the transfer, it can be

cheaper to send CAD dollars to your recipient, which they can then change into their own currency. Consult with your chosen provider to explore your options.
Business or personal?
Businesses send money overseas for many different reasons, from managing import/export payments to processing foreign payroll to repatriating overseas earnings. If you're looking to send money for business purposes, you should try to find a service customized to meet your needs. Many online transfer services offer specialized business services for corporate customers.
For example, TorFX pairs business clients with a Corporate Trading Manager who automates regular payments and secures highly competitive exchange rates. Clients can also sign up for a Regular Overseas Payments service with TorFX, which allows businesses making regular transfers around £500 (around $800) to £10,000 (around $17,100) a month to pay minimal fees on transfers.
How does a business money transfer work?
Many money transfer providers allow you to send and receive cash almost instantly, which can be a real lifesaver in the event of an emergency. If you find yourself in a bit of a pickle or you need to send money overseas lightning fast, consider using a cash transfer agent.
Bank-to-bank transfers can take between one and five days to process, whereas cash transfers process in a matter of minutes. On top of that, cash transfer companies operate in almost every country in the world, with hundreds of thousands of agent locations worldwide.
Just make sure to read the small print before you sign on the dotted line, since cash transfers can often be much more expensive than bank-to-bank transfers.
How do I compare international money transfer providers?

The exchange rate is the rate at which your money will be converted to your target currency. Some companies charge a huge mark-up on the mid-market rate but offer low fees to hide the surcharge. Make sure to compare 3 – 4 services to find the lowest overall cost with exchange rates and fees combined.
---

Your bank or transfer provider will usually charge a fee for making a transfer. Fees typically come in the form of a flat fee (such as $5 for transfers up to $5,000) or a percentage of your transaction (such as 1% of your transfer amount). Try to pair low fees with competitive exchange rates, and opt for a flat fee rather than a percentage on large amounts.
---

Some companies will offer different options for transferring funds, including cash pickups, bank-to-bank transfers and even mobile wallet top-ups. If you want to send and receive cash in minutes, compare options like WorldRemit and Western Union. If you're not on a tight timeline, look into a bank-to-bank transfer service like TorFX or World First.
---

The best method for transferring money might depend on how much you want to send. Check the minimum and maximum amounts available for transfer. If you're making a transfer of five figures or more, you'll want to make sure you're getting the best exchange rate — especially since providers encourage large transfers by offering low fees.
---

Sending a one-time transfer differs from sending regular transfers. With a one-time transfer, you may put more weight on speed and flexibility in delivery, such as cash pickup. But if you're sending recurring payments, you'll want to set up regular transfers that can save you the most on rates and fees over the long term.
---

Banks have a reputation for taking a considerable amount of time to process transfers (some up to five business days). Money transfer services, on the other hand, can take around 1 – 3 days for a bank transfer with cash pick-ups processing in a matter of minutes.
---
How important is the exchange rate?
Finding a solid exchange rate is crucial to getting the best deal. More competitive exchange rates – even those that beat out competitors by only a couple of cents – can save you money in the long run, especially if you're transferring large amounts. You can save even more by scheduling payments ahead of time with a limit order or a forward contract to protect your transfer against market fluctuations. Services like OFX offer free limit orders for transfers of $35,000 and more.
Finding a competitive exchange rate can really pay off
Marie has been living in Vancouver for 10 years, but is ready to return home to Madrid so that she can live close to her elderly mother. After searching for months, she falls in love with a small villa in the Spanish countryside, and enlists a broker to purchase her new home. Before Maria takes possession of the house, she needs to send 500,000 euros to Spain to cover her down payment. The mid-market rate for dollars to euros is $1 =EUR 0.66. Maria decides to use a money transfer service to send the money overseas. She compares two online money transfer that are as close to the mid-market rate as possible.
| | Service A | Service B |
| --- | --- | --- |
| Exchange rate | CAD $1 = EUR 0.62 | CAD $1 = 0.64 EUR |
| Transfer speed | 2 – 5 days | 1 – 2 days |
| Options available | Bank-to-bank transfer | Bank-to-bank transfer |
| EUR 500,000 in CAD | $806,450 | $781,250 |
If Marie chooses to send money with Service B, she will not only save a whopping $25,200 in exchange rates, but her money will arrive a few days earlier.
What are the things to avoid when sending an international money transfer?
Watch out for the following issues when you send money overseas:
Hidden fees. Read the fine print to make sure you're aware of any fees that might apply to your transfer. Once you know the total cost of a transaction you can make an informed decision about whether or not you think the conditions are reasonable.
Mid-market rates. If you see a top-notch exchange rate advertised on a provider's website, make sure that the rate that you see is the rate you will actually receive. Some companies advertise the mid-market exchange rate, which is the rate at which banks purchase foreign exchange, rather than the rate they actually offer their customers.
Failing to do your research. If you want to save some money, compare several transfer providers before choosing the best provider to handle your transaction. Shop around for a company that offers reliable and affordable transfers, instead of just diving in head first.
Exchange rates from CAD to other currencies
Common questions about money transfers
Back to top
Ask an Expert
You must be logged in to post a comment.