Finder is committed to editorial independence. While we receive compensation when you click links to partners, they do not influence our content.
8 best crypto exchanges in Canada for 2022
Find the best crypto trading platform or app for low fees, beginners, trading features and more
Each year, we conduct an extensive review of the crypto exchanges and trading platforms available in Canada. To arrive at these picks, we evaluated more than 25 platforms on user experience, fees, payment methods, selection of coins and more.
When deciding on the best crypto trading platform for your needs, think about what you plan on using it for. It's quite common to use multiple exchanges to benefit from their different areas of specialty, like using one for its range of coins and another for access to NFTs or crypto savings accounts.
Read more about our "best for" selections below for a helpful head start.
Finder's best crypto exchanges and trading platforms in Canada
Disclaimer: This information should not be interpreted as an endorsement of cryptocurrency or any specific provider, service or offering. It is not a recommendation to trade.
1. Kraken – Best crypto exchange in Canada (overall)
Kraken Cryptocurrency Exchange
Kraken has been leading the way in the digital currency space since it was founded back in 2011. It's this track record and breadth of features that make it this year's best crypto exchange (overall) for Canada.
It has ample features that appeal to newbies and pros alike – including industry-leading security standards, deep liquidity and a sleek mobile app.
There are step-by-step guides to help beginners get started, while experienced investors will feel at home with Kraken Pro – a platform tailored to well-seasoned traders.
In addition to buying and selling cryptocurrency, you can stake your assets to earn yield.
Kraken's 24/7 customer support is there to help you if you run into any problems or need help getting started.
Pros
Provides guides and tutorials that are excellent for newbies
Can stake assets on the platform
Low trading fees
24/7 customer support including phone and web chat
Never been hacked and holds its assets in cold storage
Cons
Limited earning options
Higher transaction fees when purchasing crypto with a credit card
Fees and deposit Methods

Interac e-Transfer, Wire transfer, Cash or Debit at Canada Post, Apple Pay, Google Pay, SWIFT, Visa and Mastercard debit/credit card

Deposit Fees

Fees vary

Withdrawal Fees

Fees vary

Trading Fees

Maker: 0.00% - 0.20%
Taker: 0.00% - 0.26%
2. Wealthsimple – Best crypto broker
Wealthsimple Crypto
Wealthsimple was awarded best crypto broker because of its long and reputable track record, the broad range of coins it supports and the level of security it provides.
Established in 2014, Wealthsimple is Canada's first-ever regulated crypto trading platform. The brokerage is regulated by the Investment Industry Regulatory Organization of Canada (IIROC) and the Canadian Investor Protection Fund (CIPF).
It supports over 50 crypto coins and tokens, which is one of the broadest selections of digital assets for a Canada-based crypto broker.
To protect the digital assets it holds, Wealthsimple partnered with Gemini, an established crypto custodian with $200 million in insurance coverage for the digital assets on its balance sheet, to hold the private keys to Wealthsimple's coins in cold storage.
Wealthsimple also offers a suite of automated or in-person portfolio management tools if you're after an extra helping hand on your investment journey.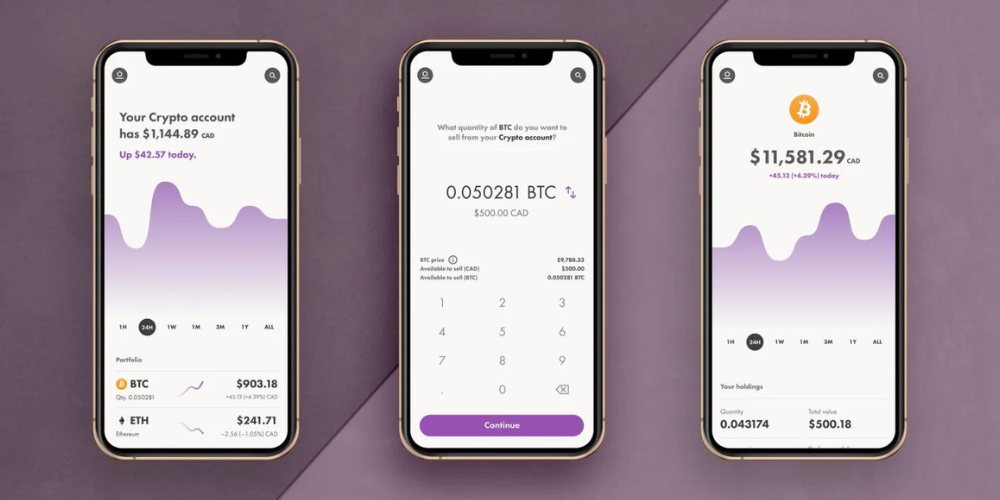 Pros
Long track record (Canada's first regulated crypto trading platform)
Partners with Gemini, a regulated and insured crypto custodian
Regulated by IIROC and CIPF
Offers 2-factor authentication (2FA)
Deposits and withdrawals are free
Cons
Higher fees than using a specialist crypto exchange
Advanced trading charts aren't available
| | |
| --- | --- |
| Fees and deposit Methods | Cryptocurrency, Interac e-Transfer, Linked bank account, Bank transfer (EFT), Online wallet, Debit/credit cards |
| Deposit Fees | None |
| Withdrawal Fees | None |
| Trading Fees | 1.5-2% |
3. Netcoins – Highly commended crypto broker
Read review
Netcoins Trading Platform
Netcoins earned its place among our highly commended Canadian crypto brokers because it makes investing in crypto easy for beginners, is properly regulated and operates under the umbrella of a reputable parent company.
Founded in 2014, Netcoins, which is the oldest crypto brokerage in Canada, has been making it easy for newcomers to dip their toes into the crypto waters for years now.
It's quick and straightforward to create an account on Netcoins. And with just a few clicks, you can purchase over 30 different digital assets.
Netcoins is registered with the Financial Transactions and Reports Analysis Centre of Canada (FINTRAC) and as a Money Service Business (MSB). It's also a subsidiary of BIGG Digital Assets, a publicly traded company in Canada.
You can deposit fiat currencies (CAD and USD) and crypto assets on Netcoins and withdraw funds for free using Interac e-Transfers.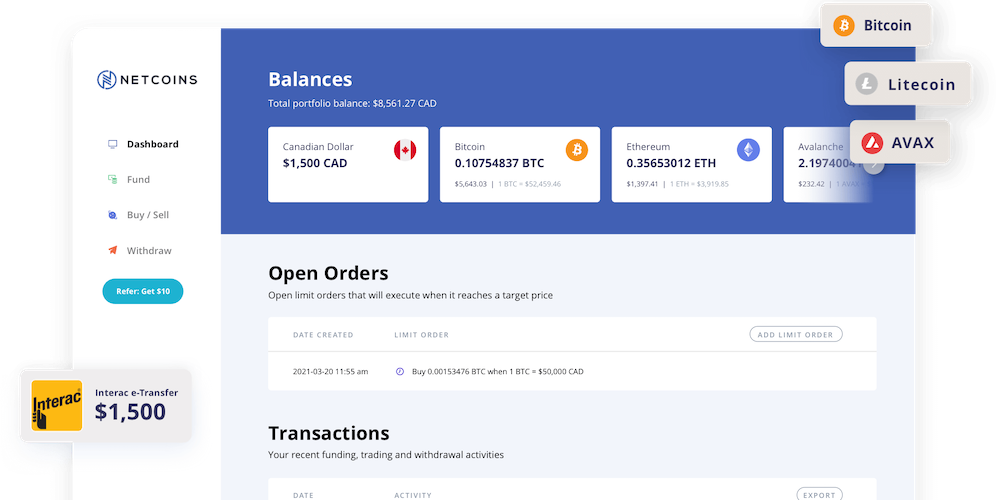 Pros
Long, reputable track record
Allows for fiat and crypto deposits
Flat broker fee of 0.5%
Registered with FINTRAC and as an MSB
24/7 customer service
Cons
Limited selection of digital assets relative to global exchanges
No charting tools available
Fees and deposit Methods

Cryptocurrency, Interac e-Transfer, Wire transfer

Deposit Fees

Interac e-Transfers: Free
Crypto deposits: Free
Bank wires: Free for deposits over $3,000 CAD or $2,000 USD

Withdrawal Fees

Interac e-Transfers: Free
Bank wires: Free for withdrawals over $25,000 CAD or $6,000 USD

Trading Fees

0.5%
4. NDAX – Best Canadian crypto exchange
NDAX Cryptocurrency Trading Platform
NDAX won our award for best homegrown Canadian crypto exchange because of its low trading fees, its security and its easy-to-use interface.
The trading fees on NDAX are among the lowest you'll find on a local crypto platform. You'll pay a flat fee of 0.2% for any trades that you make.
NDAX is registered with FINTRAC and as an MSB, and it keeps the fiat on its balance sheet in a 'Canadian crown-owned financial institution'. It stores the private keys to its crypto holdings in a multi-signature vault wallet built by Ledger – an industry leader in digital asset security.
NDAX is also designed to help crypto beginners. Its user interface is easy to navigate, but if you have any trouble finding what you need, the exchange offers 24/7 live chat support as well as phone and email customer support.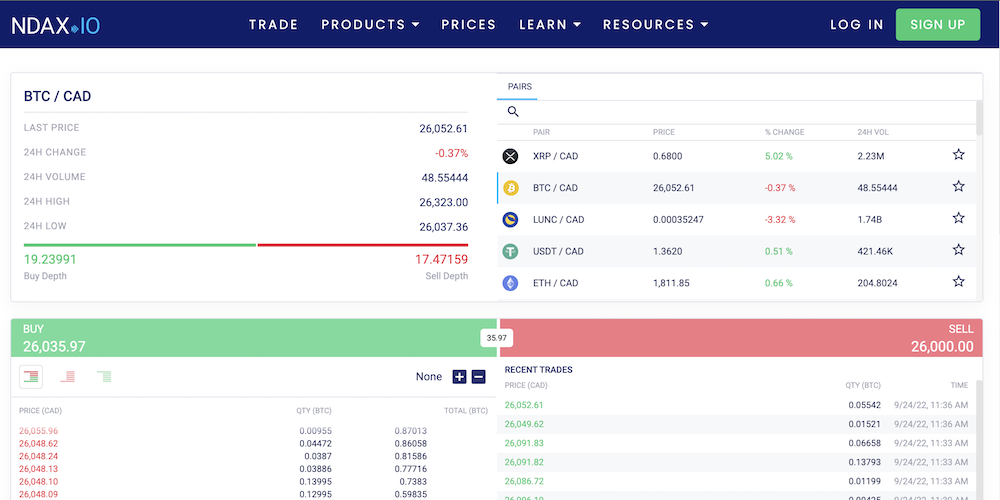 Pros
Supports 30+ crypto assets
Low trading fees (0.2% flat fee)
Cold storage for digital assets
Fiat stored in a federally regulated Canadian bank
24/7 live chat support as well as phone and email support
Cons
$25 fiat withdrawal fee via bank or wire transfer
No staking or earning features
Fees and deposit Methods

Cryptocurrency, Interac e-Transfer, Wire transfer, Bank draft

Deposit Fees

Interac e-Transfer: Free
Wire Transfer: Free
Bank Draft: Free
Cryptocurrency: Free

Withdrawal Fees

Wire Transfer: $4.99
Bank Direct: $4.99
Cryptocurrency: Fees vary

Trading Fees

0.2% for buying and selling cryptocurrency
5. Binance – Best exchange for staking rewards
Binance Cryptocurrency Exchange
Binance makes it easy for you to earn a yield by staking your cryptos, which is why it was our pick for the best exchange for staking.
Binance offers both locked staking and DeFi staking. Locked staking is a form of staking in which you earn a yield for helping to secure a blockchain network. DeFi staking includes lending assets to peers or to a decentralized exchange (DEX) to earn a yield.
You can stake over 100 coins through Binance's locked staking option and 5 coins through the DeFi staking option.
Using the locked staking option, stakers can choose from 15, 30, 60, 90 and 120 days to stake. Using the DeFi staking option, some coins offer a flexible option for how long you have to stake the coin.
Pros
Allows for staking without having to engage directly with DeFi apps
High annual percentage yields (APY) for staking certain coins
Large selection of coins to stake
Different lock-up periods
Cons
Added counterparty risk of DeFi staking
Binance is not available in Ontario
| | |
| --- | --- |
| Fees and deposit Methods | AdvCash, Cryptocurrency, Bank transfer (SEPA), P2P, Bank card |
| Deposit Fees | None |
| Withdrawal Fees | Fees vary |
| Trading Fees | 0-0.1% |
| Advanced Trading Features | Yes |
6. Bitbuy – Best asset protection options
Bitbuy Digital Currency Exchange
Bitbuy caught our eye as the top pick for asset protection because the exchange is properly regulated, keeps the majority of private keys to the digital assets it holds in cold storage and gives customers the option to add extra security to their account.
Bitbuy, one of the oldest Bitcoin exchanges in Canada, is registered with FINTRAC and as an MSB and is approved by the Ontario Securities Commission (OSC) as well.
The exchange keeps 99% of its digital assets in cold storage. Bitbuy users who opt to store their holdings in the exchange's vault can rest easy knowing that Bitbuy has a comprehensive insurance policy through BitGo, an institutional custodian for digital assets.
To secure your Bitbuy account, Bitbuy also encourages you to set up 2-factor authentication.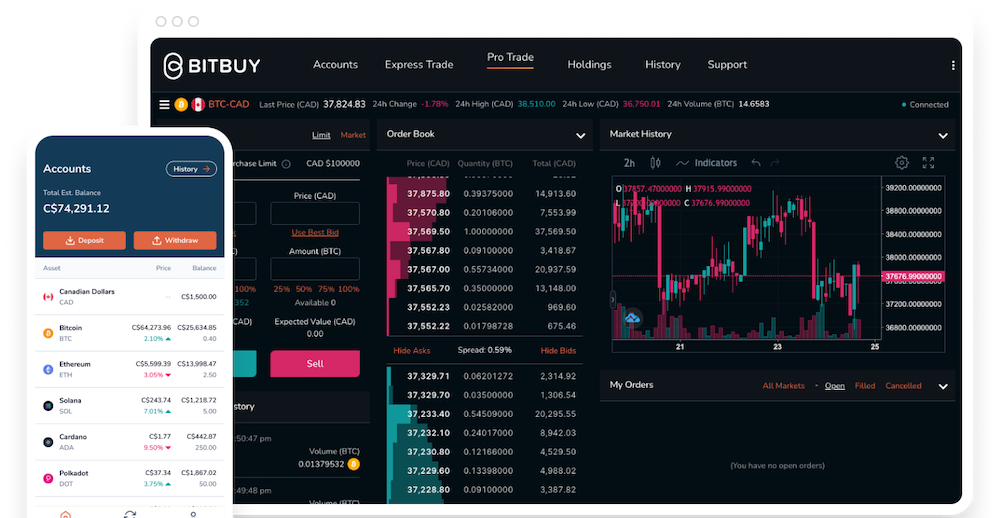 Pros
Registered with and approved by multiple authorities
99% of assets stored in cold storage
Uses BitGo to protect and insure the funds it holds
Allows for 2FA
Cons
Only supports 25 digital assets
Fees and deposit Methods

Cryptocurrency, Interac e-Transfer, Wire transfer

Deposit Fees

Interac e-Transfer: 0%
Wire transfer: 0%
Cryptocurrency: 0%

Withdrawal Fees

Interac e-Transfer: 1.5%
Wire transfer: 1.5%
Cryptocurrency: Mining fees only

Trading Fees

Express Trade: 0-1.5%
Pro Trade: 0-1.5%
7. KuCoin – Best for emerging altcoins
KuCoin Cryptocurrency Exchange
KuCoin offers an impressive selection of up-and-coming altcoins versus other centralized crypto exchanges, which is why it was our standout pick as the best exchange for emerging altcoins.
Usually, to buy lesser-known altcoins, you have to purchase them through a decentralized exchange (DEX) like Uniswap or PancakeSwap, which requires you to know how to use a Web3 wallet.
With KuCoin, all you have to do is create your account and, just like that, you have access to 700+ digital assets.
Keep in mind that many of these assets are brand new, untested and much more volatile in price than assets like BTC or ETH, so proceed with caution.
Pros
Provides access to 700+ digital assets
Know Your Customer (KYC) process is not required to use the exchange
Offers staking
Low trading fees
Cons
Numerous poor customer service reviews
Many of the assets listed on KuCoin are highly volatile in price
Fees and deposit Methods

Bank transfer, Cryptocurrency, PayPal, Debit/credit cards, Zelle

Deposit Fees

None

Withdrawal Fees

Cryptocurrency: Fees vary

Trading Fees

Maker: 0-0.1%
Taker: 0.025-0.1%

Advanced Trading Features

Yes
8. Crypto.com – Best exchange for NFTs
Crypto.com App
Crypto.com was our pick for the best exchange for NFTs because it simplifies the otherwise difficult process of purchasing NFTs.
To buy an NFT using Crypto.com, you create your Crypto.com account, search for an NFT you'd like to purchase in one of the many NFT galleries on the platform and then pay for the NFT using the Crypto.com Pay feature.
You can pay with traditional payment methods like a credit or debit card or you can pay with Bitcoin (BTC), Ether (ETH), Dogecoin (DOGE) or Crypto.com's native Cronos (CRO) token.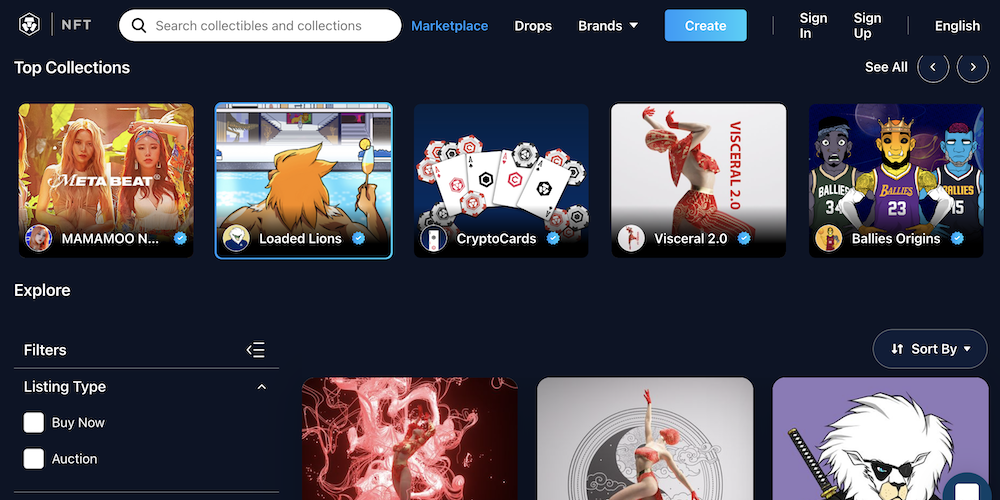 Pros
Streamlines the process of buying NFTs
Eliminates the need to use a Web3 wallet
Allows you to purchase NFTs via traditional payment methods and/or cryptocurrency
Cons
The keys to your NFT are custodied by Crypto.com until you move them to a self-custodial wallet
Limited amount of NFT collections featured on site as compared to a larger NFT marketplace like OpenSea
Fees and deposit Methods

Bank transfer, Cryptocurrency, PayPal, Wire transfer, SWIFT, Debit/credit cards

Deposit Fees

None

Withdrawal Fees

Cryptocurrency: Fees vary

Trading Fees

Maker: 0%
Taker: 0.04-0.06%
Best crypto exchanges in Ontario
With major international crypto exchanges like Binance no longer permitted to onboard users in Ontario following a ruling from the Ontario Securities Commission (OSC), you'll need to find an exchange that's been approved to operate in the province. Some of the OSC-registered local trading platforms include the following:
How to choose the best crypto exchange in Canada
It's important to research a wide range of crypto platforms and compare the pros and cons of each option. The best crypto exchange for you depends on what you're looking for, so consider the following:
Using FINTRAC-registered exchanges to buy cryptocurrency
There are plenty of places to buy crypto, including platforms founded here in Canada or based in locations all around the world. Exchanges headquartered locally are required to register with FINTRAC and comply with requirements that don't apply to global platforms. Depending on your goals, this may have some benefits or drawbacks.
Pros
Canada-based exchanges must comply with FINTRAC's Anti-money Laundering (AML) and Counter-terrorism Financing (CTF) reporting obligations.
You can usually buy crypto with CAD.
Exchanges in Canada typically support local payment methods.
You may be able to access local customer support.
Subject to local laws.
Cons
You'll need to provide your personal details and proof of ID – a disadvantage if you want to trade anonymously.
Overseas trading platforms may provide better liquidity.
CAD-to-crypto prices are sometimes slightly higher than USD-to-crypto prices, meaning you sometimes pay a premium for buying directly with Canadian dollars.
Some features are simply not available on FINTRAC-registered exchanges. For example, margin trading, DeFi features and some altcoins.
Compare more crypto exchanges in Canada
Use our table to compare crypto exchanges and platforms on fees, range of cryptos, deposit methods and more. Once you've found the right fit, select
Go to site
to get started.
How to use a cryptocurrency exchange
For the sake of our example, let's assume that you have $500 that you want to use to buy Bitcoin (BTC).
Compare cryptocurrency exchanges to find one that offers the right service for you.
Register for an account on the platform and provide any personal details and proof of ID required.
Navigate your way to the "Buy" screen.
Select BTC as the cryptocurrency you want to buy.
Select your payment currency, which in this case is CAD, and specify the amount you want to spend as $500.
Select your payment method, such as a credit card payment or bank transfer.
Enter your payment details, such as your account number if sending a bank transfer or your card number and CVV if paying by credit card.
Review the full details of your transaction, including the fees that will apply and the amount of BTC you are purchasing.
If you're happy to proceed, click "Buy BTC".
Once the transaction has been processed, the BTC will be deposited into your exchange wallet. However, please note that some brokers will automatically send your purchased BTC to an external wallet address that you nominate.
How to pay for your cryptocurrency in Canada
Crypto exchanges in Canada support a range of deposit methods, including the following:
Bank and wire transfers
PayPal and other payment apps
Cryptocurrency transfers
Neteller, Skrill and other online payment services
Interac e-Transfers
Apple Pay and Google Pay
Accepted payment methods vary between exchanges. Prior to signing up, it's worth checking that your preferred payment method is supported.
The different types of cryptocurrency exchanges
The term "exchange" may refer to a variety of cryptocurrency brokers, trading platforms and other services. Different types of exchange are often more geared toward beginners or experienced users.
Cryptocurrency brokers (suited to beginners). Buy directly from cryptocurrency dealers for simple and quick purchases. Many beginners use brokers for their first purchase. A broker will facilitate an instant purchase of the digital asset of your choosing and will not offer spot trading.
Cryptocurrency trading platforms (suited to beginner/intermediate users). Buy and sell cryptocurrency on an open market for competitive fees, a wide selection of cryptocurrencies and optional features like margin trading. Many exchanges now offer brokerage services to be more beginner-friendly.
Cryptocurrency derivatives platforms (suited to advanced users). These trading platforms don't sell cryptocurrency outright. Instead, they let you trade cryptocurrency derivatives. They're for advanced traders who want high speed, high leverage and deeply liquid platforms with a full range of features
Is it safe to store your cryptocurrency on an exchange?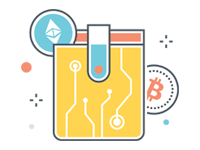 Securely store your crypto:
Cryptocurrency is held in digital wallets. Some exchanges will give you your own wallet that lets you hold cryptocurrency in your exchange account and then transfer it anywhere as desired.
However, once you have purchased what you consider to be a sizable amount of digital assets, you may want to consider transferring the private keys to those assets to a self-custodial wallet.
This is because the exchange controls the private key to your wallet, which means you don't have total control of your funds. And with exchanges sometimes falling victim to hackers, there is some degree of risk involved with leaving the private keys to your crypto in the hands of a centralised exchange.
Learn more about cryptocurrency wallets
Bottom line
Not all crypto exchanges are created equal and not all crypto buyers and sellers have the same trading needs. The best exchange or platform for one person might not necessarily be the right choice for someone else, so it's essential to do your own research.
Read our reviews of some of the most popular cryptocurrency exchanges in Canada and around the world before you decide which to use. Compare the features, fees and pros and cons of each platform and consider whether they align with your investment goals and budget.
FAQs
Which Canadian crypto exchange is safest?
The most secure exchanges are those that are registered with major financial regulatory bodies in Canada and protect assets with multiple layers of security. Some of these agencies include the Financial Transactions and Reports Analysis Centre of Canada (FINTRAC) and the Ontario Securities Commission (OSC).
Another sign that an exchange is legitimate is if it holds a Money Service Business (MSB) licence.
The safest exchanges should also offer 2-factor authentication (2FA) for their users, keep the majority of assets in cold storage as well as have an insurance fund for the digital assets they hold on their balance sheet.
Keep in mind that all centralized cryptocurrency exchanges are vulnerable to hacking and exploits, so consider using a hardware wallet for added security.
What are the largest crypto exchanges in Canada?
What is the best crypto app to use in Canada?
Trading and managing your crypto investments on the go is a must for many users, which is why most of the platforms we've listed above provide mobile apps for their users.
We found that NDAX, Bitbuy, Wealthsimple and Netcoins were all solid options for Canadians.
While each of these apps comes with varying levels of intuitiveness and features, the best mobile app for trading cryptos will ultimately come down to your needs, trading style and personal preference.
Why do some crypto exchanges ask me to verify my identity?
Exchanges in several countries are subject to anti-money laundering and counter-terrorism financing (AML/CTF) regulations. In order to comply with these regulations, exchange operators must gather certain details about their customers – which is why you may be asked to provide proof of ID. This process is typically referred to as "know your customer" or KYC.
How do major crypto exchanges in Canada compare?
Finder's crypto exchange reviews
Disclaimer: Cryptocurrencies are speculative, complex and involve significant risks – they are highly volatile and sensitive to secondary activity. Performance is unpredictable and past performance is no guarantee of future performance. Consider your own circumstances, and obtain your own advice, before relying on this information. You should also verify the nature of any product or service (including its legal status and relevant regulatory requirements) and consult the relevant Regulators' websites before making any decision. Finder, or the author, may have holdings in the cryptocurrencies discussed.
Read more on this topic
Ask an Expert
You must be logged in to post a comment.