Receiving an international money transfer from overseas
The ins and outs of receiving money sent from overseas.
This guide is designed to demystify the process of receiving money sent from overseas as either cash or a bank-to-bank transfer. Directly below is an interactive comparison table that provides a list of several reputable money transfer services in Canada. This is followed by an outline of how to receive money from an overseas sender quickly and easily. Whether you're on the receiving end of a transfer or are looking to provide information to the person who needs to send you money, you can find out more details below.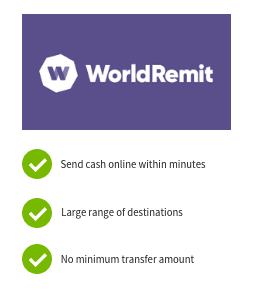 WorldRemit International Money Transfers

WorldRemit can help you get your money where it needs to go in minutes, with upfront exchange rates and low fees.
Use promo code FINDERCA on your first transfer and pay zero fees. T&Cs apply.
Transfers to 150+ countries
Send to bank account, cash pickup, mobile money, airtime top up
Pay with card, Interac or Apple/Android Pay
Compare services to receive money from overseas
Rates last updated April 9th, 2020
How does receiving money work?
Receiving money through your bank or a cash transfer service is relatively simple and straightforward, although the process will differ depending on what kind of money transfer you're receiving.
Bank-to-bank transfer.

You will need to supply the details of your Canadian bank account to your sender. This includes your contact information and your Swift Code (which is your bank's unique international identification number). You will also need to provide your bank branch, the bank transit code, your account number, your full name and your street address. You can contact your branch or find the codes for your bank online.

Cash transfer. Cash transfer services will require you to supply a

transaction reference number (which can be obtained from the sender). You will need to present this

alongside some form of identification (like a driver's licence or passport). You'll also typically be required to fill out a form to access your funds.
With online transfers, the funds are deposited into your account and you can proceed to withdraw them. You can also receive funds through a prepaid card or mobile wallet.
What are the different types of money transfers?
Online transfer.

You can use online payment services to transfer and receive funds. The funds are converted into the recipient's currency.

Money transfer.

There are various money transfer companies that you can find which simplify the process of sending and receiving funds. These companies have worldwide networks and you can receive the funds in cash form at your nearest agent, through your bank account, on a prepaid card or via mobile wallet.

Prepaid card.

Prepaid cards can be loaded with funds, where these funds can be easily accessed through ATMs.

Mobile wallet.

A mobile wallet allows you to send and receive funds directly from your smartphone, making it a highly convenient and efficient money transfer system.
How do I compare international money transfer services when receiving money?
Fees. This is one of the most essential considerations when comparing money transfer providers. Comparing fees allows you to find the most cost-effective option, but remember to find out about the fees that apply to both the sender and the receiver. Fees can sometimes only affect the sender, the receiver or both. Some service providers offer zero fees, so compare your options.
Accessibility.

Accessibility can be an issue since money transfer providers don't always have branches in every country or city. Find out if the funds are widely accessible in the necessary areas and via the pick-up methods you need.

Exchange rates. Since the funds are received in the recipient's currency, you need to determine which providers offer the best exchange rates. Poor exchange rates could greatly decrease the amount of money you receive.
Reputation.

You want your transfer to be handled by a reputable company. Since there are many money transfer companies online, the only way you can ensure that your funds are safe is by using a reputable and trusted provider. Look at each company's history and customer reviews before making a final decision.
What are the pros and cons to receiving money from an international money transfer service rather than a bank?
Pros
Simplicity.

Most money transfer systems offer simplicity when it comes to sending and receiving money. Many transfer companies can send the funds quickly so the recipient can receive funds almost immediately once they're transferred.

Variety.

Service providers offer a variety of different methods to receive money. This is a bonus because you are not forced to work with one service provider.

Security.

If you use a trusted money transfer provider, you can rest assured that your transaction is safe and secure.
Cons
Fees apply.

Many money transfer providers charge fees that could make their services costly. You must also be wary of exchange rates, since the currency will be converted into your local currency if you are the recipient.
Receiving money
In order to receive money from overseas, you'll need to give the sender the details of your Canadian bank account and your Swift Code which you can get from your bank. You will also need to provide your bank branch, the bank transit code, your account number, your full name and your street address. You can contact your branch or find the codes for your bank online.
Frequently asked questions
What is an IBAN?

IBAN stands for International Bank Account Number and this is often used overseas to identify bank accounts, especially in Europe. In Canada, accounts are identified by the Swift code, the bank name, transit code and branch (BSB).

What information is required to receive funds from overseas?

You will need a Swift Code, a BSB, a transit code, your account number, name and address.

What is a SWIFT message?

A SWIFT message is a communication structure used by financial institutions when transmitting payments.
Ask an Expert
You must be logged in to post a comment.