Blockchain technology is gaining traction as cryptocurrencies reach new highs and increase adoption. A way to get in on the action is by investing in blockchain stocks. We break down the benefits and risks of investing in them — and how to trade them.
What are blockchain stocks?
Blockchain stocks are shares in companies like IBM (NYSE: IBM) and Square (NYSE: SQ) that use blockchain technology in their applications. Blockchain stocks are limited in major exchanges, but you can find stocks from businesses involved in blockchain technology — crypto mining hardware startups, Bitcoin exchanges, supply chains and more.
Blockchain technology uses a decentralized public ledger that records transactions and payments. It's a peer-to-peer application — meaning no third parties — that paves the way for faster financial, medical and other transactions, each combined into timestamped blocks connected to one another in a never-ending chain.
With each passing year, it's become more common for businesses to get involved in this rising technology. Even Google Cloud inked a deal in 2020 with venture-backed blockchain company Theta Labs that allows Google Cloud to run nodes of Theta's blockchain network.
Why invest in blockchain stocks?
Blockchain is an emerging technology that can help companies conduct business more efficiently. Statista projects the size of the blockchain technology market to increase from $7 billion in 2021 to $39.7 billion by 2025.
Here are some ways blockchain can help companies grow their business and add value, which in turn could mean bigger profits for shareholders.
Security and privacy. The blockchain replaces sensitive data required to buy stocks, currencies, bonds and commodities with a secure token. That potential for stronger security and privacy makes it a highly sought-after technology for investors.
More efficient transactions. Blockchain helps companies settle transactions more quickly and efficiently than methods that rely on paperwork and processing of sensitive information. Records are encrypted and kept securely within a single digital ledger, saving time and money — and increasing value to investors.
Data security and privacy. Data on a blockchain ledger is signed, encrypted and cross-checked by the network. To hack into the ledger, you'd need access to each device holding a copy of the transaction history. By limiting the potential for data breaches, blockchain technology bolsters consumer — and investor — trust in a company over competitors.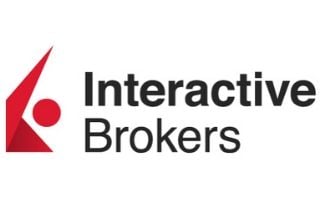 Finder Award
Interactive Brokers
---
Access to international stock exchanges
Low margin rates
Powerful research tools
Risks of investing in blockchain stocks
A look at the headlines can give any investor room to pause, what with spikes and dips that can vary by the hour, among other potential drawbacks.
Regulatory uncertainty. Governments around the globe are considering how to regulate cryptocurrencies in an effort to thwart their use in illegal transactions. Bitcoin and altcoins underlie blockchain technology, making its future unclear.
Volatile market. Based entirely on supply and demand, cryptocurrency is subject to rapid and unpredictable changes that make its value harder to predict than, say, currencies or stocks.
Blockchain stocks
Main stocks for you to invest in when putting your trust in the blockchain include:
Walmart (NYSE: WMT). Walmart and a number of other companies are working with IBM to develop a blockchain to manage global food distribution.
Mastercard (NYSE: MA). Mastercard recently announced it would begin accepted select cryptocurrencies on its network in 2021. The company has been developing blockchain technology for more than a decade and is consistently ranked as one of the top blockchain patent holders in the world, with over 1,800 patents granted and over 5,000 patents pending.
Square (NYSE: SQ). This merchant services company is a blockchain through its Cash App, helping users to more easily buy and sell Bitcoin. Square also has a team of bitcoin developers known as Square Crypto. More than $500 million in Bitcoin was sold on its platform in 2019.
IBM (NYSE: IBM). IBM Blockchain offers solutions for clients like Kroger (KR) in the form of ticket-authentication company True Tickets. This stock could become more relevant if blockchain solutions continue gaining in popularity.
HSBC (NYSE: HSBC). HSBC has conducted over $1 trillion worth of foreign exchange trades on its FX Everywhere platform, which is built using blockchain technology. The company uses blockchain software to speed up the time it takes to send letters of credit to global exporters, and it plans to use the same software to connect investors to private market assets.
Bank of America (NYSE: BAC). BofA has created a large number of blockchain patents — more than even Google or Microsoft.
Alibaba Group (NYSE: BABA). Alibaba has amassed more than 100 blockchain patents and uses blockchain in such subsidiaries as Lynx International.
What ETFs track blockchain stocks?
Some of the main ETFs that track blockchain stocks include:
Blockchain Technologies ETF (TSX: HBLK). As of March, 2021, this ETF has an expense ratio of 0.65% and a net asset value of 23.86 million. The price rose from a low of just under $5 in March, 2020, to just under $23 a year later. Its holdings include Akamai Technologies, DocuSign, Square, Mastercard, IBM and Oracle.
Amplify's Transformational Data Sharing ETF (NYSEARCA: BLOK). As of March, 2021, the BLOK ETF has an expense ratio of 0.71% and a net asset value of $53.88 million. The price has been climbing steadily over the past year from roughly $14 to over $52. It's an actively managed fund that's included such holdings as Square, Overstock (OSTK) and Taiwan Semiconductor (TSM).
Innovation Shares NextGen Protocol ETF (NYSEARCA: KOIN). This large-cap ETF invests in growth stocks and has Taiwan Semiconductor, Nvidia, and PayPal (PYPL) as its top 3 holdings. It has an expense ratio that's higher than others at 0.95%, and it has a net asset value of $39.52 million.
Compare trading platforms
To invest in stocks or ETFs, you'll need a brokerage account. Explore your platform options below. Check out our guide on how to buy stocks in a company for tips on how to get started.
Crypto trading platforms
Popular among investors, cryptocurrency is mined using blockchain technology. Top online platforms that let you trade cryptocurrency like Bitcoin include:
Bitbuy. Based in Toronto, Bitbuy is one of Canada's most popular crypto exchanges. The platform is good for both beginners and advanced traders and supports major cryptocurrencies like Bitcoin, Bitcoin Cash, Ethereum, Litecoin and EOS.
NDAX. Enjoy fees as low as 0% when you create orders and 0.2% when you fill orders using this Canadian exchange. There are no deposit fees, and you can trade 10 major cryptocurrencies. High-frequency traders will enjoy the wide range of orders they can place.
OKX. This China-based platform lets you trade over 250 cryptocurrencies and supports both fiat-to-crypto trades and futures trading. OKX accepts a wide range of payment methods including PayPal and bank transfers, and you can pay in 30+ currencies.
Wealthsimple Cryptocurrency Exchange is another platform that lets you trade Bitcoin and Ethereum, and there are no deposit or withdrawal fees. Wealthsimple also separately offers self-directed investing and robo-advisor investment services if you want to invest in stocks or ETFs.
The future of the blockchain industry
Worth $3 billion in 2021, the global blockchain technologies market is expected to reach $39 billion by 2025. Projections are supported by the fact that blockchain technology is beginning to mature, and companies are more confident they can use it to add value to their business.
A 2020 blockchain trends study from Deloitte found that 40% of businesses plan to invest more than $5 million in blockchain in 2021. Adopting this technology would mostly settle in data validation (43%), data access sharing (40%) and identity protection (39%). Today, more than 60% of blockchain's market value is concentrated in the financial sector.
This doesn't mean you should invest in blockchain stocks without due diligence. In fact, some companies have put "blockchain" in their names and saw share prices spike, without any clear evidence of whether it could add value to their business.
And keep in mind that the blockchain industry is young. A 2020 outlook study by Gartner notes that while it has the potential to transform industries and the overall economy, blockchain is expected to mature as it becomes more scalable and better integrates with, for example, AI and the Internet of Things.
Bottom line
Blockchain stocks can yield great results for those looking to invest in a disruptive, future-thinking technology. But don't overlook the risks inherent in these highly unregulated and volatile investments. Before you invest, compare stock trading platforms to find one that fits your needs.
Frequently asked questions
Disclaimer: This information should not be interpreted as an endorsement of futures, stocks, ETFs, CFDs, options or any specific provider, service or offering. It should not be relied upon as investment advice or construed as providing recommendations of any kind. Futures, stocks, ETFs and options trading involves substantial risk of loss and therefore are not appropriate for all investors. Trading CFDs and forex on leverage comes with a higher risk of losing money rapidly. Past performance is not an indication of future results. Consider your own circumstances, and obtain your own advice, before making any trades. Read the Product Disclosure Statement (PDS) and Target Market Determination (TMD) for the product on the provider's website.
More guides on Finder
Ask an Expert
You must be logged in to post a comment.