Finder is committed to editorial independence. While we receive compensation when you click links to partners, they do not influence our content.
ICICI Bank: Transfer funds overseas
Send fast and affordable money transfers to India with ICICI Bank.
As India's largest private sector bank, ICICI Bank offers a range of financial products and services to its customers. In addition to helping its customers transfer funds to over 195 countries overseas, ICICI also coordinates Money2India.com, which allows you to send an international money transfer from Canada to India within 24 hours.
Everything you need to know about Money2India
How much does it cost to transfer money with ICICI Bank?
Exchange rates.

When sending money to India, you have the choice to select between indicative rates and fixed rates. Fixed rates allow you to lock in a confirmed exchange rate for your transaction, while indicative transfers allow you to view an estimated exchange rate when you place a transfer request.

The exchange rates that apply to your transfer are updated regularly to keep place with fluctuations in the foreign exchange market.

Bank fees. Transferring money to other countries around the world will cost between $10 and $75, depending on the details of your transaction. If you're an ICICI bank member, your transactions to any bank account in the world will cost $10 (unless you have a hi-value plus account) while non-members will pay $20. Costs further increase if the outgoing money transfer doesn't involve a currency exchange. Sending less than $20,000 will incur a fee of $25, while transfers between $20,001 and $50,000 will incur a transfer fee of $50. Transfers over $50,001 come with a $75 price tag.
Remit2India fees.

Fees vary based on the type of exchange rate and the amount of money being sent, with most fees ranging between $0 and $4.
You can see the transfer fees for ICICI bank as of 26 August 2018 in the table below. Before taking an action, be sure to check the current fees and rates of exchange.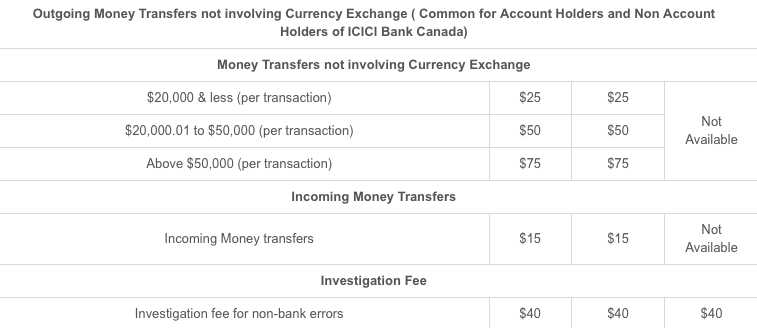 What types of transfers can you carry out with ICICI Bank?
ICICI Bank offers the following transfer options:
Money2India. As mentioned above, you can send up to $6,000 in a 24 hour period to India using the ICICI transfer services of Money2India.com.
Send money to Sri Lanka. You can now send money to over 1,600 bank branches in Sri Lanka, with services covering 24 different reputable banks across the country.
Send money to over 195 other countries worldwide. You can use the services of ICICI to send money to hundreds of other countries around the world, incurring minimal transfer fees while still getting competitive exchange rates.
The registration and transfer process
If you're sending money to countries worldwide (other than India) you don't need to be an ICICI bank member. You can become a member to get cheaper transfer fees, or you can simply use the services as a non-member to send funds for an additional $10.
Sending funds to india
To send funds to India, you'll need to be registered on Money2India.com. It's free to register online and you'll need to provide your name, date of birth, address, contact details and bank account information. You can then log in to your account and provide the details of your recipient, under the "Add a New Receiver" tab, which will include their full name, address, contact details and bank details. Once you've completed this step, your recipient will be registered within 24 hours, and afterwards you can lodge your transaction by clicking on the "Send Money Now" button.
What are the pros and cons of using ICICI Bank?
Pros
India specialists. The Money2India.com service is specially designed to offer a secure and affordable way to send money to any bank account in india.
Fast transfers. Your recipient will usually receive the funds you send within 24 hours.
Send money worldwide. You can send money to over 195 other countries worldwide.
Specialist services for Sri Lankan transfers. Send money to over 1,600 different branches across Sri Lanka.
Cons
Non-member fees. If you're not an ICICI bank member, you'll have to pay higher transfer fees.
Higher fees for non-India transfers. Transfers are slightly more expensive if you're sending money to a country other than India.
Compare ICICI Bank to other money transfer services
Our table below lets you compare services you can use to send money abroad. Compare fees, exchange rates and discounts from different money transfer services, and when you have made your choice, click Go to site.
Bottom line
ICICI Bank's Money2India service is an option well worth considering if you need to send funds to India from Canada. Conversely, you can use the services of ICICI to send money to 195 other countries worldwide, with minimal fees and competitive exchange rates.
Learn more in our detailed guide to sending an international money transfer.
Frequently Asked Questions about ICICI Bank
You may also be interested in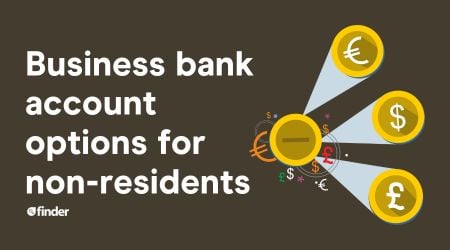 Foreign businesses can manage Canadian funds with a multicurrency spending account offered by an international transfer service.
Read more…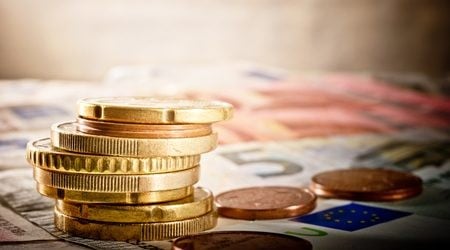 Wondering how to send large sums of money overseas? Compare bank transfers, money transfer services, peer-to-peer networks, bitcoin and more.
Read more…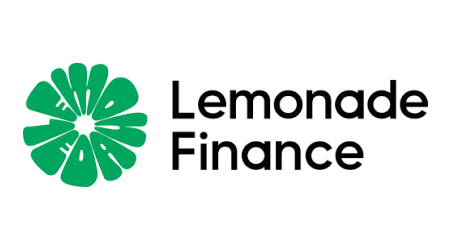 Your guide to the exchange rates, fees and processing times of Lemonade Finance international money transfers.
Read more…
More guides on Finder
Ask an Expert
You must be logged in to post a comment.