Compare mortgages for 2020
Open the door to your new home with financing that best fits your needs.
A mortgage is a big step toward homeownership – and the right one can save you lots of money in the long run. Take the time to learn how they work, the types of mortgages available, top interest rates and how to compare your options.
Compare mortgage lenders in Canada
What is a mortgage?
A mortgage is a loan designed to help you buy or refinance your primary residence, land, vacation house or any other type of investment property. When you take out a mortgage, you agree to repay the amount you borrow from the lender along with interest, which is rolled into your monthly payments.
In exchange for low interest rates, the lender secures your mortgage by using your property as collateral. This means if you find yourself unable to repay your mortgage on time, the lender can repossess your property and sell it to recoup the loss.
How does a mortgage work?
When you apply for a mortgage, lenders assess their risk in taking you on as a borrower. They usually consider your credit score, down payment, assets, debts and income. Your risk ultimately determines your approval and your mortgage's interest rate.
There are two parts to your mortgage: the principal amount and the interest. Your principal amount is the amount you borrow to purchase your house, while the interest is the money you're paying for the privilege of borrowing the principal amount. Your monthly payment includes both the principal amount and interest, and is based on an amortization schedule.
When you take out a mortgage, you agree to pay the principal amount as well as the interest over the life of the mortgage. Because your interest rate is applied to the balance, as you pay down your balance, the amount you pay in interest goes down. At the beginning of your mortgage, a hefty percentage of your payment is applied to interest. With each subsequent payment, you pay more toward the principal amount and less towards interest.
What is amortization?
The amortization period is the agreed number of years that it will take for you to pay off your mortgage in full. This includes both the principal amount and any interest. Amortization periods in Canada typically range from 5- to 35- years, with a 25- year amortization period being the most common.
An amortization period over 25- years is less common and is only available to those who put a 20% or higher down payment on their property. For those that have insured mortgages – which means a down payment of less than 20% – a 25-year amortization period is the longest possible mortgage length available.
Let's say you're repaying a 25-year mortgage of $320,000 at 3.5% interest. According to your mortgage's amortization schedule, your first payment is $1,598 a month. But amortization means that your first payment allocates $915.83 to interest and only $618.83 to the principal. By the time you make your last payment, you're paying only $29.66 in interest and $1,568 toward the principal amount.
Where can I get a mortgage from?
Mortgages are offered by:
Banks and financial institutions.
Credit unions.
Online mortgage lenders.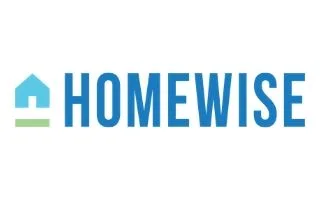 Homewise Mortgage
Compare rates from 30+ lenders
Safe and simple application
Referral bonus available
Homewise Mortgage
Apply today and compare rates from 30+ banks and lenders, with rates ranging from 2.54% - 4.99%.
APR range: 2.54% - 4.99%
Lender type: Broker
Loans offered: Fixed & Variable rate, HELOC, Bridge, Second
Fees: Homewise is a broker and the service is always free for prime mortgages.
Min. credit score: "A" lenders: 620+, "B" lenders: 450+
What types of mortgages are available?
Conventional or traditional mortgage. If you put down at least a 20% down payment on your home, you've got a conventional mortgage.
Insured or high-ratio mortgage. If you don't put at least 20% down, you'll need an insured mortgage. Mortgage insurance, also known as CMHC insurance, is an extra charge that's either lumped into your monthly repayments or paid in a lump sum. You'll also have to pay PST on the mortgage insurance at the time of closing.
Once you've dealt with your down payment amount, you can choose from:
An open mortgage. An open mortgage means you can repay your principal amount at any time without incurring penalties. Open mortgages usually have variable interest rates and rates tend to be slightly higher since lenders are looking to make up for any interest they'll miss out on should you pay off your mortgage faster.
A closed mortgage. A closed mortgage will charge you a penalty, known as a prepayment penalty, if you pay off your mortgage early. Rates are usually slightly lower than open mortgages and can be fixed or variable.
Other mortgage types you can choose from include:
A cash back mortgage. With this type of mortgage, your lender will typically advance you a cash back lump sum when your mortgage closes. While cash back rates vary between lenders, you can usually expect anywhere from 1-5% cash back.
A reverse mortgage. This involves getting a loan that allows you to access money from the equity in your home. You can typically borrow up to a certain percentage – usually a maximum of 80% – of the equity that you own in your home. With high interest rates, these types of mortgages are not recommended and come with a high risk. Since you have to be 55 years or older to qualify, you could eventually lose your house to the lender if you're unable to pay back the loan.
Back to top
What are the different types of mortgage rates?
You'll find two main types of interest rates when you're choosing a mortgage: fixed and variable. Fixed-rate mortgages offer a predictable payment each month, while variable rates fluctuate with the market.
Fixed-rate mortgages

Fixed interest rate mortgages are the most common in Canada. They allow you to lock in a rate for anywhere from six months to 10 years. Your rate and payments won't change over the term, giving you the security of consistent mortgage payments you can budget around. Once your term ends, you'll need to refinance your mortgage – either with your current lender or a new lender.
Who is a fixed-rate mortgage best for?
Those who like to budget. Your payments won't change for the life of the term, meaning you can rest easy knowing exactly how much you'll pay each month.
The risk averse. If you don't want to take a risk on fluctuating market rates, a fixed-rate can give you peace of mind.
Read more about fixed-rate mortgages
Variable rate mortgages

A variable rate mortgage comes with an interest rate that fluctuates with the market. Over the course of your mortgage, your payments will rise or fall depending on the prime rate. The prime rate is set by your lender, however most lenders change their prime rate when the Bank of Canada change their overnight lending rate. While there's a chance that you'll pay less than you would with a fixed-rate mortgage – especially for the first few years – your payments could rise later on to an amount you can't afford.
Who is a variable rate mortgage best for?
Those who can afford higher payments. Depending on market conditions, the prime rate could rise, and your lender could increase the interest rate that's attached to the prime. In any case, you'll want to budget for potential increased rates – especially if the market takes a turn.
Those looking to take a risk to try and save money. For the most part, variable mortgages can be much cheaper than fixed-rate mortgages – but again, this all depends on future markets.
Read more about variable rate mortgages
Less common types of mortgage interest rates
Back to top
What's the difference between the amortization period and the loan term?
The amortization period is the total number of years you have to pay off your mortgage. Amortization periods sit between 5- to 35- years, with 25- years being the most common length.
A loan term is the number of months or years you and your lender have agreed to fix your interest rate for. Lenders typically allow you to keep your interest rate fixed for six months to ten years. Once your loan term matures, you will need to refinance your mortgage. Your lender will typically send you a new interest rate offer and loan term length, which you can either agree to, try to negotiate or simply walk away and refinance your mortgage with a completely different lender.
First-time homebuyers
With increasing housing prices and a fast-moving marketplace, getting on the housing ladder these days is no easy task. However, the Government of Canada have created incentives to help get first-time homebuyers on the marketplace much faster and easier. Some of these incentives include:
Home Buyers Plan. You can now withdraw up to $35,000 from your RRSP and use it towards your down payment. You will, however, have to pay it back within 15 years of withdrawing.
First-Time Home Buyers (FTHB) tax credit. Claim up to $5,000 in tax credits on costs associated with purchasing your first home. Associated costs might include land transfer tax, legal fees or disbursements.
GST/HST New Housing Rebate. You can qualify for a rebate to recover part of your GST or HST payments that you paid on the purchase price, on the cost of renovating or adding additions, or on converting a non-residential property into a home.
First-Time Home Buyer Incentive. Eligible first-time homeowners who have a minimum down payment for an insured mortgage can apply to finance a small portion of their home through a shared equity mortgage with the Government of Canada.
How can I compare mortgages?
With so many different types of mortgages and interest rates, you'll need to compare a variety to determine which one will meet your needs, while providing the lowest rates and most competitive terms you're eligible for.
Decide on a mortgage type and interest rate. You'll need to choose between open, closed, variable rate, fixed rate, convertible, adjustable rate, hybrid mortgages and more.
Shop for a mortgage. Compare at least three different financial institutions and online lenders based on your chosen mortgage and interest rate type.

Compare APRs. Because it includes both your mortgage fees and interest rate, an APR can be a more accurate way to compare mortgages than fees or base rates alone.
Learn about rate locks. If you find a rate you like, ask about locking it in until you settle on your home to avoid an increased rate when you're ready to apply. Some lenders will allow you to lock in rates for up to 120 days.
Consider prepayment penalties. Paying more than your minimum payment can shave years off your mortgage. Opting for an open mortgage can avoid this, while a closed mortgage will see you incur big charges.

Ask for an interest rate estimate. Lenders can provide you with estimate monthly payments based on interest rates, amortization periods and terms, to help you understand how much you might pay over the life of your mortgage.
Repeat, if needed. You can ask for estimates from as many lenders as you'd like until you find a mortgage you're happy with.
Back to top
How can I get the best rate on my mortgage?
To land the best interest rate, consider the following:
Compare multiple lenders. Get quotes from at least three lenders for the type of mortgage and interest rate you're interested in.
Get your credit score in order. A credit score of 720 or higher can open the door to much more competitive interest rates, while you might find it difficult to get approved at all with a score under 650.
Save a down payment of at least 20%. If you don't have a down payment of at least 20%, you'll have to pay mortgage insurance. This is lumped into your monthly payments or paid as a single lump sum, but will increase the total cost of your mortgage by thousands of dollars.
Lower your debt-to-income ratio. Your total debt load affects the loans you qualify for. Try to pay down credit cards or other loan balances when you're shopping for the best mortgage rate.
Back to top
What fees will I pay on a mortgage?
You may incur more fees, however these are the most common:
Fee
Cost
Fee description
Land transfer tax
0.5% – 2%
This is to cover the costs of transferring the property to your name.
Legal fees
Minimum of $500
This fee covers the costs of signing and submitting documents via your lawyer.
Title insurance
$100 – $300
This protects against losses in the event of a property ownership dispute.
Home inspection fees
$200 – $400
A home inspection can help determine a fair price for the home and notify the potential buyer of any problems.
Property appraisal
$300 – $500
An appraisal will be done to determine the value of the property. Many lenders will cover this cost, so be sure to ask when comparing mortgage offers.
Disbursements
$500 – $1,200
Little expenses are included under this like title fees, registration fees and more.
Insurance
Varies depending on the price of your home.
You'll pay mortgage insurance if you put down less than a 20% down payment. PST on the mortgage insurance must be paid at the time of closing.

No matter your down payment, you'll need home insurance, which is a separate type of insurance that will protect your home in the case of fires, water damage and more.
Back to top
How to apply for a mortgage
Find a lender. Shop around until you find a lender and mortgage you're happy with.
Apply for your mortgage. Provide the required information for a lender to assess your risk, and wait for a mortgage officer to review your details. An underwriter will review your application and credit report, and then you'll be provided with an offer.
Schedule an appraisal. Your house is appraised and inspected to ensure it meets your lender's standards.
Review your mortgage estimate. Carefully consider the details in your estimate before signing on.
Close on your house. Before your closing meeting, you'll receive a document that lists the fees and costs you'll pay. Sign your documents — and get the keys to your new home. Oh, and then start paying your mortgage each month.
Who's involved in the purchase of your home?
While the players can overlap throughout the process, who you're dealing with generally depends on the stage of your home purchase.
When applying for a loan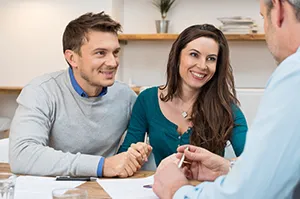 Mortgage officer. This person guides you through finding a mortgage, applying for your mortgage – and keeps you updated on its progress.
Mortgage processor. Collects your documents to support the application and checks necessary calculations for your mortgage offer.
Mortgage underwriter. Has the final say on your application's approval or rejection after a full evaluation.
Closing representative. Oversees and holds the closing meeting and transfers funds between parties.
When buying a property
Real estate agent. An agent is there to help you find a good home and negotiate with the seller for the best price.
Real estate appraiser. Your lender will likely require an appraisal to suss out the true value of your home against similar properties and recent sales.
Home inspector. While optional, a thorough inspection can unearth structural or safety issues you might deal with unexpectedly down the road. With an inspection report in hand, you can ask the seller to fix the problems to your satisfaction or take money off the selling price to compensate fixing them on your own.
Pest inspector. These experienced inspectors look for pests like termites that can destroy your home over time.
Bottom line
Buying a house is among the biggest investments most of us will make in our lifetimes. Set yourself up for long-term success by narrowing down the type of mortgage and interest rate that fits your needs, budget and lifestyle goals. A good interest rate and term can provide peace of mind and save you thousands of dollars over the life of your mortgage.
Frequently asked questions
More guides on Finder
Ask an Expert
You must be logged in to post a comment.