Finder makes money from featured partners, but editorial opinions are our own.
Fastest ways to make an emergency money transfer
If you or a loved one are in an emergency and need cash quickly, here are your best options.
Online money transfer services offer some of the fastest ways to transfer money to someone in cash or for direct deposit in an emergency – but which provider you should use depends on how much you're sending and how quickly you need it to arrive.
Compare the fastest international money transfers
Our table below lets you compare services you can use to send money abroad. Compare fees, exchange rates and discounts from different money transfer services, and when you have made your choice, click Go to site.
What is the fastest way to transfer money internationally?
There may be occasions where you need to get money to friends or family in an emergency. In most cases, the fastest way to send money internationally is by using an online money transfer company.
Some money transfer services allow you to send funds almost instantly, with the recipient able to collect in cash or via a bank deposit. Apart from the speed, another advantage of using online transfer services is that you can easily compare fees and exchange rates and choose the most favourable for your transaction. To learn more about how exchange rates are calculated, take a look at exchange rates explained.
Which are the fastest services to use when sending money abroad?
When there is an emergency, getting money out as quickly as possible is key. WorldRemit, MoneyGram and Western Union are the three providers with the fastest money transfer services.
WorldRemit
WorldRemit is entirely online, which means you can access it from the convenience of your computer or via its app. Your fastest option would be to use mobile money (if available) or cash pickup at a WorldRemit agent location. If you need to find a cash pickup location for WorldRemit you can check out our locations guide.
WorldRemit at a glance
Maximum transfer: $40,000
Minimum transfer: $0
Transfer speed: Within 1 hour
Transaction fee: $3.99
How can I send money quickly?
You'll need to sign up for a free account with WorldRemit. You'll also need to provide your personal information, the transaction details and your payment information.
What happens next?
WorldRemit will confirm the transaction with both you and your recipient by email or text and notify you when the funds are received or picked up. If you have any problems, you can contact customer service 24/7 at 888-772-7771 or online through live chat.
MoneyGram
MoneyGram is the second-largest provider of international money transfers in the world. It has an extensive network of 350,000 agent locations in more than 200 countries. Your fastest option is to pay with a credit or debit card (or with cash at an agent location) and choose the cash pickup option. In some countries, you could even use the mobile wallet option.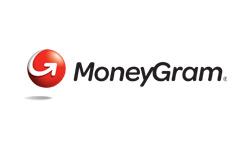 MoneyGram at a glance
Maximum transfer: $990
Minimum transfer: $1
Delivery speed: Within an hour
Transaction fee: Fees depend on destination and amount
How can I send money quickly?
Head to the MoneyGram site and start a transfer using your bank account, credit card or debit card.
Use MoneyGram's online locator tool or call to find a location near you.
What happens after?
Once the money transfer is complete, the receiver can visit their nearest MoneyGram location to collect it. Remind them to bring along their reference number (which is included in the confirmation emails for online transfer) and ID for pickup. If you have a problem, contact customer service through the site or toll-free at 800-666-3947.
Western Union
Western Union has 500,000 agent locations in 200 countries, making it the largest provider of international money transfers in the world. As with MoneyGram, your fastest option is to pay by debit or credit card for cash pickup.
Western Union at a glance
Maximum transfer: $7,500
Minimum transfer: $1
Transfer speed: In minutes if using a debit or credit card for cash pickup
Transaction fee: Typically around 5% of the transfer
How can I send money quickly?
Head to Western Union's website. You'll need your personal information, your recipient's details and a valid method of payment to make the transfer.
Visit a Western Union location near you with cash or a debit card.
What happens next?
You'll receive a unique Money Transfer Control Number with your confirmation. You can track your transfer online with this number. If you have any problem, contact customer service 24/7 at 800-325-6000 or through the online form on Western Union's site.
What factors affect the speed of a money transfer?
There are several factors that can affect how fast your intended recipient receives their transfer, and they are worth keeping in mind if you need to send money in an emergency.
Transfer destination. Where you are sending money to will impact the speed of your transfer. It's often faster to send money between countries where financial exchange is commonplace. Just remember that every transfer destination involves specific banking regulations and procedures, which could potentially delay transfers.
Payment method. How you choose to pay for your transfer will determine the processing speed. Typically paying by credit or debit card is your fastest option.
Receiving method. The form your intended recipient chooses to receive their funds will also affect the transfer time. You will find that a cash pickup can be done almost instantaneously.
Signing up to an account. If you are not already registered with a money transfer service, it can take time to apply for an account and provide the required supporting documents.
What do I need to look out for when sending cash quickly?
Fees for emergency transfers will vary among banks and money transfer services. Before you make your transfer, try to compare the following:
Exchange rates. Money transfer services make money by skewing exchange rates. You'll want to look for a rate that's as close to the mid-market rate as possible.
Transfer fees. Fees can range from flat fees of a few dollars to up to $80 or more, depending on how you're sending it or picking it up.
Transfer options. Can your recipient accept a bank account transfer, or do they need to pick up cash right away?
Security. For emergencies, you'll appreciate being able to track your transfer through to receipt.
Frequently asked questions
More guides on Finder
Ask an Expert
You must be logged in to post a comment.