Finder is committed to editorial independence. While we receive compensation when you click links to partners, they do not influence our content.
Teen debit cards and bank accounts
You can get a debit card and begin saving when you're under 18.
EQ Bank Savings Plus Account
Zero everyday banking fees
Free transactions
No minimum account balance
Go to site
Teen banking accounts are a secure way for you to stash your funds while still being able to access it when needed, and you can get a debit card to make it easier to spend your money.
What is a teen debit card?
A debit card linked to a teen account lets you make purchases online and in person and withdraw money from an ATM just like a normal bank account.
Teen or youth accounts often fall into the greater category of "kids banking" meaning banking for kids 18 and under. These accounts usually and have lower fees than their adult counterparts, and many banks offer accounts with no ongoing monthly fees at all — though you'll likely still need to pay if you use an out-of-network ATM.
Example: Josh's first job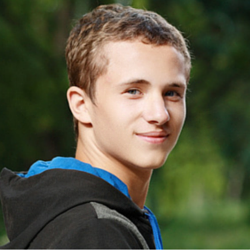 After his 16th birthday, Josh was able to get a part-time job at a local grocery store stocking shelves. He opened a youth account using his birth certificate and student ID so that his paycheques could be automatically deposited.
This means he doesn't have to take his paycheque to the bank each week and then wait for it to clear. Plus, since the account includes a debit card, he is able to withdraw that money immediately to have cash in his pocket, while transferring a portion into his savings account for his first car.
What's the difference between a debit card and a prepaid card?
A prepaid card lets you load money onto your card ahead of time, and it stops working when it runs out of money. It's like a gift card, but it works everywhere credit cards are accepted.
A debit card is linked to your bank account, so money comes out of your bank each time you use it. It offers more flexibility than a prepaid card, but it also comes with more responsibility. Because you can't decide ahead of time how much you want to send, you can quickly blow through your balance if you aren't careful.
How can a teen save money?
At most banks, teens are eligible to open savings accounts. Money in a savings account will gain interest over time, so the longer you go without touching it, the more you'll have.
Come up with a savings plan
One of the easiest ways to reach a goal, such as Josh's plan to buy a car, is with a savings plan.
Start by estimating how much you need to save and for how long. Then decide how much of your weekly earnings you can afford to stow away into a savings account.
When creating your budget, look for ways to spend less on daily expenses. Brown bag your lunch for school or split the cost of renting a movie with a few friends instead of going to a theater. If you have trouble finding ways to save more, check your transaction history for the last several weeks to find out where your money is going.
Online banking for teens
The internet makes banking easy by providing ways to view your account activity and manage your finances online or from an app on your phone. Some banks may have limited online features for minors or require a parent's permission to bank online — check with the financial institution you're interested in before signing up.
Security is an important feature to consider when banking online. Never share your bank password with your friends or post it online. For added protection you could also ask for a two-factor authentication, where a special code is texted to your smartphone every time you login to your online banking platform.
Starting your financial journey as a teen
A savings account isn't much use if you don't have any money in it. Finding a job is one way to gain financial independence and begin saving for your first car or other major expense.
Start by considering what skills you possess that an employer would consider beneficial, and then build a resume that emphasizes those as well as your positive experiences in school. If you get an interview, dress and act professionally. If it's your first interview, practicing with a friend or parent first can help you stay cool and collected.
Compare banking accounts
Bottom line
If you're starting to make your own money and set your own budget, it's probably a good idea to think about getting your own bank account. If you're ready to get started, compare youth accounts to find one that's the right fit.
Frequently asked questions
More guides on Finder
Ask an Expert
You must be logged in to post a comment.