Finder makes money from featured partners, but editorial opinions are our own.
Tangerine Bank review
Enjoy competitive interest rates and pay no monthly fees when you sign up for a number of financial products with the online Tangerine Bank.
Tangerine Bank is a filling online bank that has established itself as one of the leading forces of digital banking in Canada and is designed for customers who fully embrace online banking and don't mind foregoing in-person service at physical branches,
Tangerine's online bank is known for cutting down on fees and streamlining the banking process. It offers chequing and savings accounts, credit cards, mortgages, lines of credit, retirement savings accounts and investment accounts.
What does Tangerine Bank offer?
Tangerine Bank offers a wealth of financial products and services. All of Tangerine Bank account products come with no monthly fees.
Banking and investment accounts
Earn between 0.05% and 0.1%% interest depending on how much money you have in your account. You'll also get unlimited free transactions, including free Interac e-Transfers, debit card purchases, bill payments and withdrawals from over 3,500 Scotiabank ATMs across Canada. As of the time of writing, Tangerine does not offer business chequing accounts.
Tangerine Business savings accounts

Tangerine offers a number of accounts to help business owners save. These include a regular Savings Account, a US Dollar Savings Account, GICs and US Dollar GICs. All accounts come with a $0 monthly fee and no minimum balance, so it's easy to get stated. Interest rates range from 0.10% to 1.50%.
With a Tangerine TFSA, you can grow investment income tax-free. You don't pay income tax on contributions or withdrawals (up to your annual contribution limit as specified on your most recent tax Notice of Assessment). The Tangerine TFSA holds investments from one of Tangerine's professionally managed portfolios. Your portfolio is chosen based on you individual goals and risk tolerance. You can open an account with as little as $25.
Deposits into a Tangerine RSP are tax deductible. You only pay income tax when you withdraw funds in retirement. The Tangerine RSP holds investments from one of Tangerine's professionally managed portfolios. Your portfolio is chosen based on you individual goals and risk tolerance. On December 31 of the year you turn 71, your RSP will be converted into an RIF and you'll start receiving regular payments. You can open an RSP with as little as $25.
Tangerine Non-registered investment account

Tangerine also offers non-registered investment accounts, which allows you a greater level of flexibility in choosing your investments. Non-registered accounts may also be a good option if you've maxed out your annual RSP or TFSA contributions. You can withdraw funds whenever you want, and you can open an account with as little as $25.
Lock in your savings over a set term to earn an interest rate of 5.95% for 1 year. Rates vary depending on GIC term. The rate you'll earn will be based on how long you take your GIC out for. These investments can be held in cash, in US dollar accounts or as registered savings.
Tangerine Credit and loan products
Tangerine has steadily expanded its portfolio of products and services to include a wider range of credit options including mortgages, RSPs and lines of credit.
Tangerine Bank credit cards

Sign up for the Tangerine Money-Back Credit Card or the Tangerine World Mastercard to Earn 2% cash back in two categories of your choice (or three categories if you open a Tangerine Savings Account and directly deposit your cash back into the account), and 0.5% cash back on everything else..
Tangerine Line of Credit

Enjoy low rates on a fixed line of credit that you can access whenever you need an injection of funds. Pay it off at your own pace and with no annual fee. You can also borrow against the equity in your home if you need more money.
Tangerine HELOC (Home Equity Line of Credit)

Tangerine HELOCs offer 24/7 access to revolving credit backed by home equity. Borrow and repay from a fixed pool of funds as needed. Plus, Tangerine makes it easier to pay back your debt sooner with a low-rate, fixed payback plan.
Tangerine Registered Retirement Savings Plan (RRSP) loans

Borrow what you need to top up your Tangerine RRSP contributions and take advantage of the associated tax benefits. There are no fees with these loans.
Get a top-notch rate and a flexible mortgage repayment schedule that suits your needs. Tangerine Bank mortgages are also portable and allow for prepayment, which sets them apart from other mortgage providers.
How do I get a Tangerine debit card?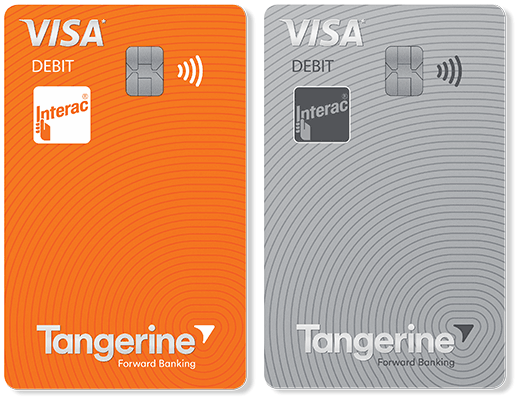 Customers who have a Tangerine No-Fee Daily Chequing Account will get a Visa Debit card that can be used to make debit in person and online.
Many online retailers accept Visa Debit cards in place of Visa credit cards as a form of payment if you don't have a credit card handy or prefer to spend money from your account instead of buying on credit.
Once you open a Tangerine No-Fee Daily Chequing Account, you should receive your Tangerine Visa debit card in the mail within 2 weeks. Tangerine Visa Debit cards are not issued with any other type of account. Customers are given a choice between a grey and orange card.
Your card will have an expiry date. Closer to this date, you'll receive a new card in the mail. The number and expiry date of your new card will be different. If you've given your card number to anyone to authorize future payments, make sure they have your updated information.
Note that a foreign currency conversion fee will be charged for debit transactions conducted in a foreign currency.
Tangerine Visa Debit Card review
Is Tangerine Bank safe?
Yes. Tangerine Bank has a number of security measures in place to protect customers' money and personal data. This includes 2-step authentication and identity verification procedures for accessing Mobile Banking or resetting your PIN online.
The Tangerine security guarantee provides protection against losses from unauthorized activity in any of your Tangerine Accounts, provided you notify the bank of any errors, irregularities, or unauthorized transactions immediately.
Tangerine debit cards are protected by SecureChip technology. Debit card purchases are further protected by either the Interac Zero Liability policy or the Visa Zero Liability policy, both of which help recover lost funds if your card is used to make unauthorized purchases.
All Tangerine Canadian and US savings accounts (including investment savings accounts like GICs, TFSAs and RSPs) are CDIC insured. This means that customers' deposits are protected up to $100,000 in the unlikely event the bank fails.
How does Tangerine Bank compare to other banks?
Tangerine Bank offers many competitive features like no monthly fees and better interest rates on savings than traditional banks. However, you may be able to get a Tangerine's rates tend to be lower than you can get with other digital banks.
That being said, lower rates are beneficial when it comes to credit products. Tangerine's interest rates on borrowed funds are very competitive compared to the rest of the market.
Why should I open an online account at Tangerine Bank?
There are a number of benefits that you can take advantage of when you sign up for one of Tangerine's accounts or other financial products:
Easy application. It's easy to open an account in less than 10 minutes using Tangerine Bank's simple online application.
No monthly fees. You won't have to pay fees for any of Tangerine's financial products.
Competitive interest rates. You'll get competitive interest rates with Tangerine's accounts, credit cards and loans.
Unlimited free transactions. Tangerine's bank accounts come with unlimited free transactions, including Interac e-Transfers and ATM withdrawals.
Many financial products. You can sign up for a number of financial products, including chequing and savings accounts, credit cards, lines of credit, mortgages and RRSP loans.
Deposit insurance. Any deposits you make will be protected up to $100,000 by the Canada Deposit Insurance Corporation (CDIC).
Mobile app. You can get easy and secure access to your banking at any time with Tangerine's mobile app.
What should I watch out for with a Tangerine bank account?
Aside from Tangerine Bank's many benefits, there are a handful of drawbacks you should be aware of before signing up:
Charges for certain ATMs. You'll be charged a small fee every time you withdraw cash from an ATM that isn't on the Scotiabank network.
Low rates for GICs. You'll get lower interest rates on GICs with Tangerine than you would with other digital banks.
No in-person service. You won't be able to visit a branch in person to get help with your account, except at a Tangerine Café in Toronto, Vancouver or Montreal.
NSF fees. You'll be charged a fee of $$45 every time you don't have enough money in your account to cover an automated withdrawal.
Questionable customer service. There are several complaints online about the level of customer service on offer from Tangerine Bank.
Poor reviews. There are a number of negative reviews indicating that Tangerine Bank has gone downhill since being taken over by Scotiabank.
Tangerine reviews and complaints
Tangerine Bank has relatively poor reviews online from its customers, though this is typical for most banks in Canada. For example, Tangerine has a rating of 1.4 out of 5 stars on Trustpilot and a rating of A- with the Better Business Bureau. Positive reviews praise the competitive interest rates, zero fees and ease of banking.
Negative reviews tend to focus on the general lack of customer service provided by the bank. Many customers indicate that they've experienced difficulty getting in touch with Tangerine. Others indicate that even when they do, customer service agents seem to have very little information about how to resolve customer issues.
How can I contact Tangerine Bank?
There are a number of options available for you to connect with Tangerine customer service:
By phone. You can call into Tangerine's toll-free number at any time of day or night.
By mail. Use snail mail to reach out to Tangerine's head office in Toronto.
By email. Contact Tangerine by sending an email to its general inbox.
In person. Visit a Tangerine Café if you live in Toronto, Vancouver or Montreal.
Bottom line
Tangerine Bank is a popular online bank in Canada that offers competitive rates and zero fees for its bank accounts and GICs. It also offers favourable rates for its mortgages and loan products. Learn what you need to become a member of this reputable digital bank and then simply apply online.
Tangerine Bank FAQs