Finder is committed to editorial independence. While we receive compensation when you click links to partners, they do not influence our content.
Charity credit cards: How to spend for a good cause
That plastic in your wallet can do a world of good — or at least help contribute to a good cause.
Your credit card isn't just useful for purchases – you can also use it to support your favourite charities. There are a few ways to do this including getting a credit card that donates a percentage of your spending to charity, donating your rewards points or even joining a bank that makes a positive impact on the world.
Here are the ways you can leverage a credit card to support great causes around the globe.
What are charity credit cards?
One of the easiest ways to deploy your spending for good is to get a charity credit card. Some providers allow you to donate your points toward charities, while others provide affinity credit cards. Affinity credit cards sponsor specific organizations and display charity logos front and centre. Examples of affinity credit cards in Canada include the BMO World Wildlife Fund credit card and many of the credit cards offered by MBNA.
How do charity credit cards work?
There are different ways charity credit cards work and it will usually depend on the type of credit card you have and the provider you choose.
Affinity credit card providers will donate a percentage of your spending to the charity.
Some providers, such as BMO, allow you to donate rewards points to a charity you select from their list.
Seasonal programs, such as the Give A Mile Flight Hero program, allow you to donate your Air Miles Rewards Miles. For a program like this, you typically don't need to be associated with any specific bank or card provider – as long as you collect Air Miles, you can usually participate.
So, is having a charity-specific credit card worth it?
It depends on the credit card and the provider in question. While some charity credit cards may not provide the same rewards point earn ratio, some credit card providers who allow you to donate your points directly to charity will match the charitable donation to the value of your points had you used them toward something else such as travelling or merchandise.
Aside from donating money to charity, these credit cards can be useful for generating buzz. For example, your friends might see you use your card, get curious about the sponsored charity and become members of the organization themselves. That could ultimately be worth more than a mere donation. It also helps if the card is eye-catching, like the WWF credit card, as it's more likely to start conversations.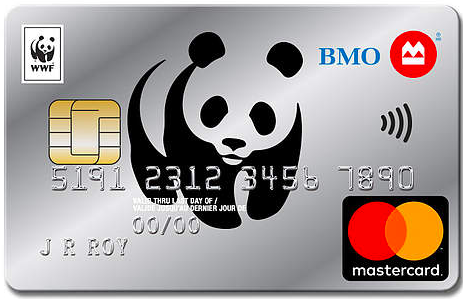 Screenshot: WWF Canada
Sometimes, a charity credit card is about more than just donations. It can offer a reason to talk about your charity, an easy way to recruit new members or simply a warm feeling each time you buy something.
Charitable programs
Keep in mind you don't have to get a charity credit card to make a donation. Some credit card providers allow you to donate points and miles through special programs. Select banks, credit card providers and department store cards let you donate miles and points to good causes, including:
BMO rewards. BMO allow you to donate your rewards points to a select number of charities. They will redeem your points for the same cash value.
MBNA rewards. Support causes like the Royal Canadian Legion with your spending, or donate your MBNA rewards points to charity.
Hudson's Bay. You can donate your points to three different charities including the Centre for Addiction and Mental Health, the Children's Aid Foundation and HBC's own foundation Headfirst.
WWF Canada. This affinity credit card donates directly to WWF and provides benefits for the cardholder.
These are just a few ways you can donate to charitable programs. Other banks and credit card providers may allow you to donate your points and miles to charity.
Triple-bottom-line banks
Affinity credit cards and charitable credit card programs get the lion's share of attention. However, there's another way you can support causes you care about: do business with a triple-bottom-line bank. Also referred to as a TBL, this framework consists of three parts: social, environmental and financial.
This type of bank, like every other financial institution, looks to turn a profit – but it's also committed to social and environmental responsibility — such as supporting sustainable environmental programs and fair labour.
Vancity, Canada's largest credit union, is a well-known triple-bottom-line financial institution.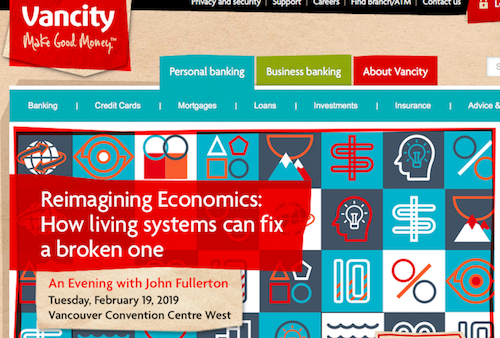 Screenshot: Vancity
When you apply for a credit card from a triple-bottom-line financial institution, you indirectly support its social and environmental causes. This could be a good option if you like the bank's mission and the financial products on offer.
Other factors to consider
If you're considering getting a charity credit card, it's important to compare your card options before applying for one. Consider these factors:
Interest rate. Make sure the card you apply for has a competitive interest rate. Most credit cards have purchase interest rates around 19.99%, however if you're looking for a low interest rate credit card, you'll want to compare rates around 8-12%.
Annual fees. If you're going to pay an annual fee for your credit card, you'll want to make sure the perks and rewards offered by the card cover the cost of the annual fee.
Grace period. Different cards have different interest-free grace periods. Typical cards come with grace periods between 21 to 44 days.
Rewards and perks. Does your credit card offer other rewards such as points per dollar spent, insurance coverage, cash back or access to airport lounges? Compare the rewards and decide which ones may benefit you.
Frequently asked questions