Finder is committed to editorial independence. While we receive compensation when you click links to partners, they do not influence our content.
How to find the best stock trading platform for online investing
Research and compare the best stock trading platforms to find the right one for your financial needs.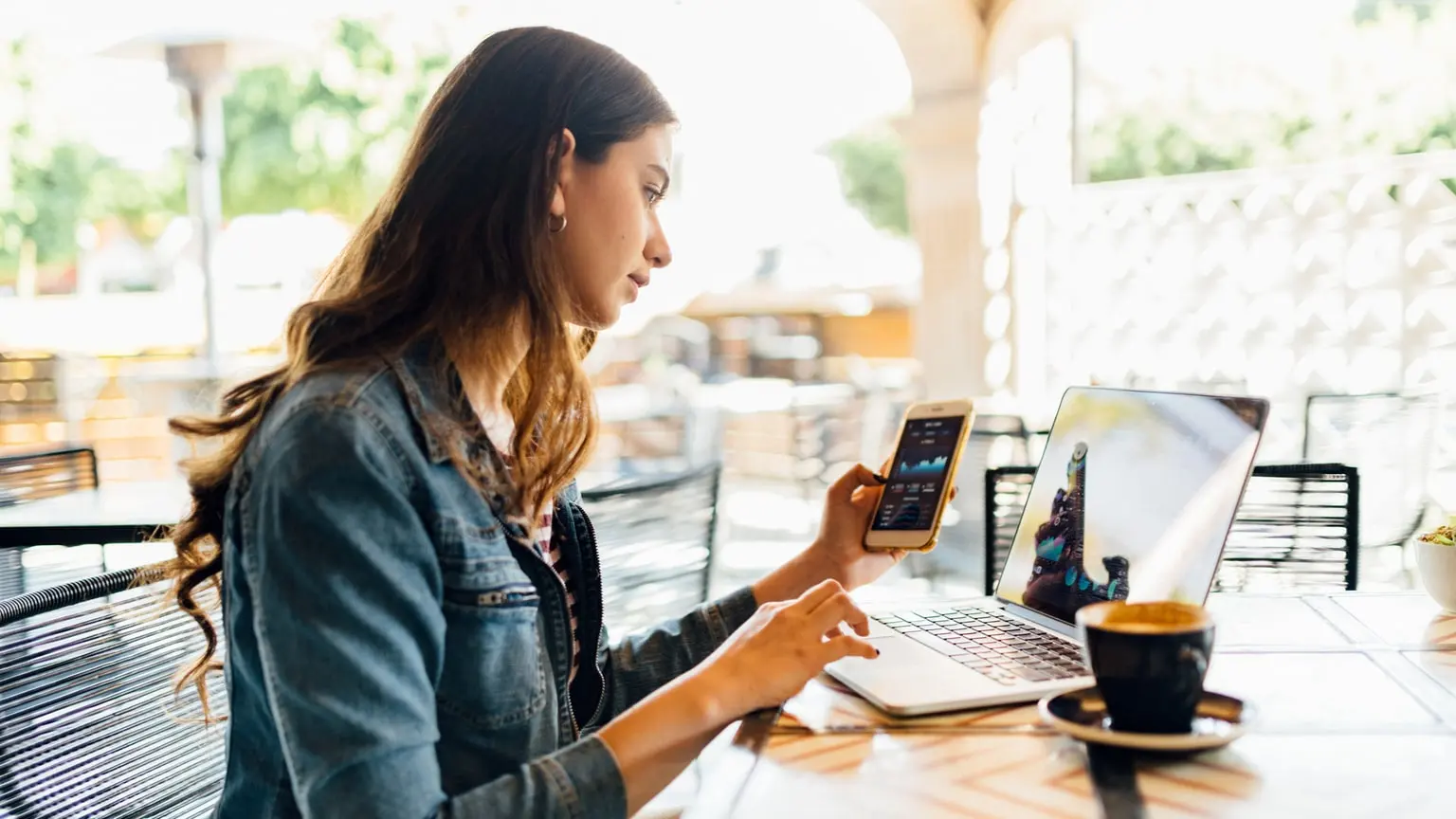 Wealthsimple Trade Stock Trading Account
Buy and sell thousands of US and Canadian stocks and ETFs commission-free. Get a $25 bonus when you open a Wealthsimple Trade account and deposit and trade at least $100.
Account fee: $0
Stock fee: $0
ETF cost: Free
Go to site
More info
We'll walk through how to compare the best online stock trading accounts in this guide to find the right one for your needs.
Getting started with trading stocks
The goal of stock trading is to generate wealth in one of the following ways:
Earn money from capital gains when the value of your stocks goes up
Earn income when a company pays its shareholders dividends after earning a profit
A combination of the above
As with any other investment, stocks can be risky. There's a chance you could lose your money, so be sure you've carefully weighed the benefits and the risks before you start trading.
How to find the best stock trading platform for your needs
Many people naturally start looking for the best stock trading platform by heading to their local bank. All of Canada's major banks — including TD, CIBC, RBC, BMO and Scotiabank — offer in-house online investing options that offer a range of securities and trading accounts.
For example, TD Direct Investing and RBC Direct Investing are both popular with Canadian investors who want flexible trading options and convenient access to their portfolios.
While it may be convenient to go with your bank, other platforms might offer lower fees or a more features. Consider the following points when comparing online investment services:
Trading fees. Most investment platforms charge a fee every time you buy or sell securities. However, this fees maybe waived if you maintain a certain account balance or conduct transactions on a regular basis. Fees can really add up if calculated as a percentage of the transaction.
Annual or monthly maintenance fee. Some companies may waive this fee if you maintain a minimum account balance or earn a certain amount of profit each quarter.
Management expense ratio or MER. This is charged for investments that are handled and maintained by professionals. Examples include many types of mutual funds and investments geared towards "set it and forget it" investors who don't want to actively monitor their portfolios.
What types of stocks can I trade?
Most online investing platforms give you access to domestic and international stocks, allowing you to trade shares of large well-known companies from around the world. Many platforms will also allow you to trade CFDs (contracts for difference), forex (foreign exchange), indices (such as the S&P 500, the Dow Jones and the NASDAQ) and much more.
Trading stocks can be complicated. Some types of investment strategies require quick responses to market changes. Look for a platform that facilitates fast and precise trades with little hassle.
If you're just a casual investor, do you really need an investment platform that offers a lot of bells and whistles? On the other hand, some platforms aimed at beginner traders may not have all the features an experienced investor needs.
A margin loan lets you borrow against the vale of your stocks to buy more stocks. You may be interested in this risky investment strategy if you want to expand your portfolio.
Access to market data, relevant reports and useful research
Your trading decisions will be partially based on market conditions at any given point in time, so check to see if your platform provides dynamic, real-time market updates and tools for predicting and interpreting economic trends.
Can trades only be submitted online, or can you also buy and sell over the phone? Are brokers available 24/7? How long are the wait times? It can be helpful to check out client reviews on sites like the Better Business Bureau or Trustpilot.ca.
Consider the options available when you are buying or selling shares. In addition to present-time trades, can you also hedge against risks by placing market orders, limit orders or stop orders?
Is 24/7 support available if you need help with a trade? Ideally, you'll have direct access to a dedicated account agent, but you should also look for online help centres, live chat options and phone support.
How-to guides and educational resources
Does the platform offer educational tools and resources like how-to guides and webinars to help you get more out of your trading account?
How secure is the platform, and what measures are in place to protect the safety of your funds? What processes are in place to prevent fraud?
Compare online stock trading platforms
How to find the best stock trading platform for you
When searching for the best stock trading platform for you, ask yourself the following questions:
What type of stock trader am I? Are you a casual trader, an active trader or an experienced investor? From the user-friendliness of a platform to the level of market research and educational tools that come with your account, it's important to find an investment service that works with your trading needs.
How often will I trade? If you buy or sell shares infrequently — say, 1-2 times per month or less — you're likely more of a casual investor. With a higher trading frequency comes the need for an online investing platform that offers an affordable tier structure and an extensive range of features.
What will I be trading? While stocks are a very commonly-traded security, you may also want to buy and sell other securities such as bonds, CFDs, currencies, options and futures. Also consider whether you want to trade domestic securities, international securities or a combination of the two.
What will it cost me? Besides ongoing management and account maintenance fees, consider trading fees and whether you can get these fees waived or reduced if you satisfy certain criteria.
Benefits of using an online stock trading platform
More control over your investments. Online investment brokers typically give you the ability to more actively and independently control your investments.
Convenience. Online stock trading platforms allow you to strengthen your investment portfolio and grow your net wealth from the comfort of home. You can take advantage of many ways of connecting with professional investors including phone, live chat, email and online help centres — none of which require you to schedule face-to-face appointments.
Lower upfront cost. Individual stocks don't cost a lot of money compared to other types of investments like buying investment properties. Many platforms aimed at beginner investors have low — or even no — minimum upfront investment amounts, making it fairly easy to get started.
Lower costs. More and more players are joining the online investment scene, which means better features and more competitive fees. The cost of buying and selling stocks online has noticeably dropped over the past couple of decades.
Information at your fingertips. Many stock trading platforms give you access to a wealth of market news and company information to help you make informed trading decisions.
Risks of using an online stock trading platform
Lack of knowledge. Getting to take more control over your investments means you have to rely a lot more on your own financial know-how and investing prowess. If you don't know what you're doing, you could lose a lot of money.
Greater temptation to make risky choices. When you're able to buy and sell shares in just a few quick clicks, it can be easy to forget that you're dealing with real money and not just playing a game. Remember, these are serious financial decisions you are making and all trading carries a degree of risk.
Possible errors. A simple misclick or a failure to thoroughly read through the terms of any transaction order before placing it could cost you a lot of money.
I've found the best stock trading platform for me. How do I apply?
Once you've found the best stock trading platform to make online investments, it's usually pretty easy to apply to open an account. If the platform is run by your bank and you can access online banking services, you can usually initiate or even complete the application process by logging into your online banking portal. If approved, you'll likely be able to access online investment services through this portal as well.
When applying for an account with an investment services provider, you'll typically need to provide the following:
Your name, address and contact details
Proof of identification (scanned and electronically sent to the investment company) such as a valid driver's license or passport
Proof of your income or the source of the funds that you plan to invest
Employment details like where you work, how much you earn and how to contact your employer
Proof that you have reached the age of majority in the province in which you live (either 18 or 19 years old)
Proof of any any prior financial trading experience (if required). Platforms geared towards more experienced investors may require you to prove that you know what you're doing, but many platforms are open to brand new investors.
Your bank account details to support transfers to and from your regular bank account and your investment account(s)
Once you've deposited funds into your account you're ready to start trading. Note that a minimum deposit amount may apply.
Glossary of stock trading terms and concepts
TSX: The Toronto Stock Exchange (TSX) is where stocks from many top, publicly-traded Canadian companies are bought and sold.
S&P/TSX Composite Index: The foremost investment index in Canada, the S&P/TSX Composite Index tracks the performance of around 250 companies listed on the TSX, which is about 70% of the total market capitalization on the TSX.
Bear (or "bearish") market: This term refers to a time period in which stock prices fall significantly due to pessimistic behaviour on the part of investors, an economic recession and/or weakened sectors or industries.
Brokerage fee: This is a fee you must pay to a stock trading platform when you buy or sell shares on its platform.
Bull (or "bullish") market: This term refers to a time period in which stock prices rise significantly due to optimistic behaviour on the part of investors, an economic upswing and/or strengthening sectors or industries.
Contract note: This confirms a buy or sell transaction and includes details such as the type of share, the price paid and the quantity traded.
Dividend: Companies can distribute profits or earnings to shareholders in the form of dividends. A dividend is calculated as payment amount per share, so the amount you'll receive is this amount multiplied by the number of shares you own.
Float: An amount of capital initially raised through public subscription to a security.
Fundamental analysis: An analysis of a business's financial statements to determine the company's value and financial strength.
Futures: Contracts to buy or sell an asset at a specified date in the future.
Limit order: When buying, a limit order places a predetermined ceiling on the amount being spent to acquire shares. When selling, a limit order triggers a sale when a minimum payment price is offered by a prospective buyer.
Listed company: A company that appears on a stock exchanges (like the TSX or NYSE), which happens when stocks of that company become available to be bought and sold by investors.
Live price: This is the real-time price of a share at this precise moment in time.
Market order: A market order is an order to buy or sell a share at its current market price
Short selling: This is when you borrow a security and sell it assuming it's price will go down. If it does, you buy back the shares and repay the original owner, pocketing the difference between what you paid to sell the shares and what you paid to buy them back. If you're wrong and the price of the shares rises, you end up losing money. Short selling is considered a very risky investment strategy and should only be attempted by experienced investors.
Volatility: This reflects the degree to which share prices fluctuate. Higher volatility means a higher risk of loss, while lower volatility means lower risk and a safer, more predictable return.
Warrant: This gives its holder the right to purchase a security at a certain price within a certain timeframe.
Yield: This is the return on your investment expressed as a percentage.
Frequently asked questions about stock trading
Disclaimer: This information should not be interpreted as an endorsement of futures, stocks, ETFs, CFDs, options or any specific provider, service or offering. It should not be relied upon as investment advice or construed as providing recommendations of any kind. Futures, stocks, ETFs and options trading involves substantial risk of loss and therefore are not appropriate for all investors. Trading CFDs and forex on leverage comes with a higher risk of losing money rapidly. Past performance is not an indication of future results. Consider your own circumstances, and obtain your own advice, before making any trades.
More guides on Finder
Ask an Expert
You must be logged in to post a comment.