Where to watch UFC 229 McGregor vs Khabib online in New Zealand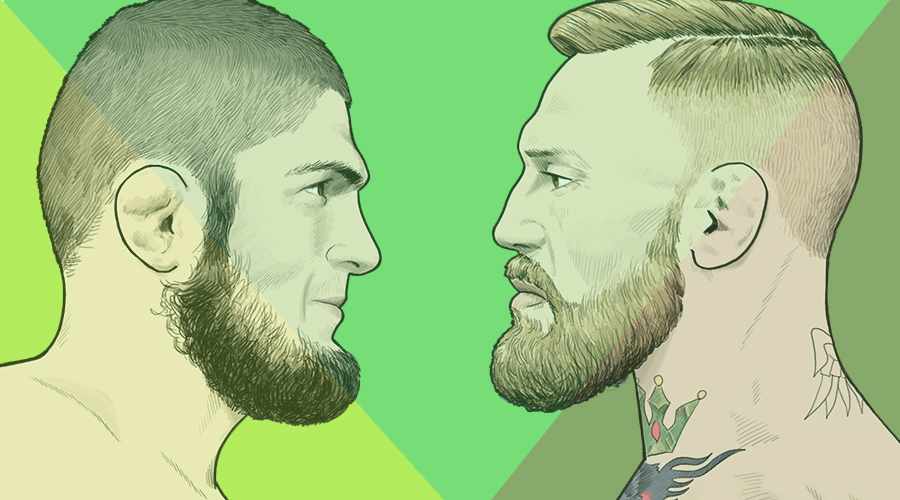 After some serious beef outside of the ring (and a healthy serve of poor sportsmanship), McGregor and Khabib will be mincing more than words this Sunday.
After months of heated anticipation since Conor McGregor's unhinged assault on a bus outside Brooklyn's Barclay Centre (that resulted in a US$50,000 bail bond), McGregor is finally stepping back into the octagon to either get his just desserts or feed his gluttonous ego with the lightweight title he was previously stripped of.
This Sunday, McGregor will come face to face with Khabib Nurmagomedov, one of the intended targets of his infamous trolley assault back in April. While the two have traded verbal blows in the lead up to the event, as is par for the course, April's violent and vitriolic run-in has made this one of the most anticipated UFC events in history.
The undefeated Russian, whose record stands at an incredible 26 wins and zero losses, had a dominant run to his first lightweight championship. With unrelenting wrestling skills and a near-unstoppable top game on the ground, he has decimated his competition thus far – but is yet to have faced "The Notorious" McGregor. The Irishman's strengths lie in his stand-up striking, recently underlined by his money-grabbing yet entertaining boxing bout with Floyd Mayweather, and his confidence both in and outside the octagon. It's sure to be a match-up of conflicting styles, with very few commentators seeing the fight going to a judge's decision.
Earlier today, the final press conference went ahead with the distinct lack of professionalism we've come to expect from McGregor. The Irish lad showed up incredibly late to the conference and Khabib was having none of it, leaving the scene after a 10-minute wait.
If nothing, this bad blood has the hearts of fans pumping with white-hot anticipation for Sunday's event.
Weigh in: 12:00PM

Time: 3:00PM AEST

Date: Sunday, 7 October 2018

Venue: T-Mobile Arena in Paradise, Nevada.
How to watch UFC 229 online in New Zealand
Sky subscribers can purchase the event via Sky Arena. Or, you can stream it online with UFC TV.
Option 1: Sky Arena
SKY Arena events are available to purchase for all SKY customers with at least the SKY Starter package and a SKY box in their home. To purchase the pay-per-view event simply text UFC229 to 4024 or call 0800759782. You can also buy it online – sign in to 'My Account' to book the PPV event on SKY Arena. It costs $34.95.
Option 2: UFC Fight Pass
Possibly the most tempting option for streaming this Sunday's match is the UFC's own Fight Pass.
While the single pay-per-view event will set you back USD$40.29 for an HD stream (more expensive than watching on Arena), you can score 50% off the 6-month UFC Fight Pass if you bundle it with this weekend's pay-per-view. For UFC 229 and a six-month subscription to Fight Pass, you will pay USD$67.26in total. Not a bad deal at all.
If you're happy to settle with standard definition, you can save some cash, paying USD$34.49 for the standalone event and USD$61.46 for the bundle.
For regular UFC matches, the online service can be accessed with a free 7-day trial. After that, it will set you back USD$9.99 per month on a month-to-month basis, USD$8.99 per month with a 6-month commitment or USD$7.99 per month with a 12-month commitment.
Not only is UFC Fight Pass the cheapest way to live stream all the action from the Octagon, but it also includes commentary, interviews and TV shows from the world of UFC.
UFC 229 Fight Preview
Image source: Shutterstock