Finder is committed to editorial independence. While we receive compensation when you click links to partners, they do not influence our content.
WeChat Pay review Canada
What started as a messaging service now lets you pay for anything from your dry-cleaning bill to your groceries.
WeChat's payment feature is a quick and easy way to split a dinner bill, pay a friend back or shop without a physical wallet. Read on to learn more about how WeChat Pay works in Canada, including a breakdown of its pros and cons.
Pros
Free service. Unlike PayPal, which makes money through a percentage of your transaction, WeChat's developer Tencent makes money selling other products. While WeChat Wallet is another way for Tencent to sell its products, the service is free to use.
Cons:
Potential for government prying. WeChat is governed by China's laws that allow the government to monitor your messages and personal info.
No specified delivery. WeChat doesn't advertise how long it takes for transfers to complete, which means you may need to look elsewhere for emergencies.
What are WeChat and WeChat Pay?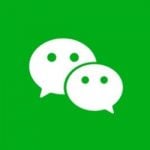 WeChat – backed by the tech giant Tencent – is a social media app that's become one of the most widely used in China. Because it's governed by China's strong censorship laws and messaging interception rules, the government can potentially review your messages and other data at any time. Given this, it's no surprise that WeChat's had a difficult time catching on internationally.
How does WeChat Pay work?
WeChat Pay works just like PayPal. It is a mobile payment and digital wallet service that allows you to link your card or bank account for top-up or withdrawal. You can store money, and send and receive money from other users. When you use the app to pay at a store, you do not need to pull out your card to pay but your phone instead. The staffer will scan the QR code in your app and the payment is done. It is very similar to other mobile payment services in Canada — like Apple Pay and Google Pay.
Can I use WeChat Pay in Canada?
While WeChat is available around the world, WeChat Pay is only available for those who have a bank account in China, Hong Kong or South Africa. If you are a Canadian resident with a bank account and phone number in mainland China, you will be able to set up an account.
WeChat Pay is sometimes accepted by merchants in Canada, especially in areas near Chinese banks and where tourists from China tend to frequent. You can check if a store offers it by looking out for the logo. 7-Eleven is one of the stores which accept WeChat Pay in Canada.
Can I pay bills with WeChat Pay in Canada?
While WeChat Pay is widely accepted in stores in Canada, you cannot use it to pay utility bills like electricity, gas and phone bills.
How can I top up my WeChat Pay wallet in Canada?
You can conveniently go to any 7-Eleven store in Canada to top up. All you need to do is let the staff scan the QR code in your phone and you pay for the amount you want to top up in cash or card.
You can also top up with your bank account. The list of banks includes HSBC, Citibank and Standard Chartered.
How do I request and send money with WeChat Pay?
What happens when someone sends me money?
The money you're sent on WeChat is automatically transferred into your WeChat Wallet — meaning you don't accept or deny payment. By reviewing your balance you can view and manage how much money is in your WeChat account.
Can I send money using WeChat Pay?
WeChat is not legally allowed to process international money transfers. Be aware that only wallets specific to the areas supported by WeChat — China, Hong Kong and South Africa — can send accessible money to each other.
What this is means is that if you're trying to send money from your wallet in China to someone in South Africa, the money will be sent, but now the recipient in South Africa will also have a Chinese wallet. Unless the user from South Africa heads to China, the money will be useless.
Is WeChat Pay safe?
WeChat encrypts your personal information, financial details and monetary transactions. However, WeChat doesn't provide much information on other digital safeguards. Additionally, because WeChat Wallet is based in China, it isn't required to comply with Canadian security standards.
It is advised that you only open the QR code right before you make a payment at the merchant when you're outside. It has been reported that someone can scan your QR code from behind you and "steal" your money when you don't notice.
Are there other ways I can send money overseas?
While WeChat doesn't have the ability yet to make an international money transfer, there are other providers that can in Canada. Learn more about them below. If you'd like the convenience of a mobile app, check out our review on some of the most popular money transfer apps.
Our table below lets you compare services you can use to send money abroad. Compare fees, exchange rates and discounts from different money transfer services, and when you have made your choice, click Go to site.
Back to top
More guides on Finder
Ask an Expert
You must be logged in to post a comment.