This article contains links to products or services from one or more of our advertisers or partners. We may receive a commission when you click or make a purchase using our site. Learn more about how we make money.
0% Balance transfer credit card offers
Repay your debt faster and save on interest costs with a balance transfer credit card with 0% APR for up to 10 months.
0% balance transfer credit cards let you move debt from an existing card to a new card with a different provider that offers no interest charges on the balance during the introductory period. With 0% interest on the debt, you can save more and pay off your credit card debt faster. Here, you'll find out more about 0% balance transfer cards, including how they work and how to compare them to take full advantage of these offers.
What you'll find in this guide
Follow the steps to learn, compare and apply for a balance transfer offer.
What is a 0% balance transfer credit card?
0% balance transfers let you transfer your existing credit card debt to a new credit card with a 0% interest rate for a promotional period. The interest-free promotional period will vary from card to card, but you can find cards in Canada with no interest on balance transfers for generally up to 10 months. Once the introductory offer has finished, the balance transfer interest rate will revert to a higher standard interest rate.


A 0% balance transfer credit card allows you to move a high-interest debt to a new card with a promotional 0% offer on balance transfers. You can request the balance transfer when you're applying for the new card. If you're approved, your new provider will settle the balance on your old card and transfer it to your new account. While the 0% promotional balance transfer offer is in place, you won't accrue any additional interest as you repay your debt.
This means you can clear your balance without collecting more debt for a promotional period of up to 10 months depending on the card. Not only can you clear your debt faster, but you can save hundreds or thousands of dollars on interest charges at the same time.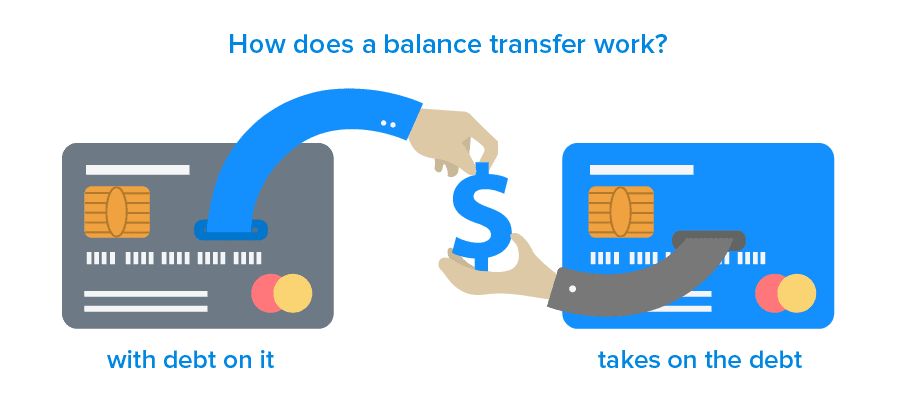 How much interest will I save with a 0% balance transfer credit card?
If you have a credit card debt of $1,000 and you make $100 repayments per month, a balance transfer offer can help you regain control of your finances and save.
| | Normal credit card without balance transfer offer | 0% balance transfer credit card |
| --- | --- | --- |
| Interest rate | 20% APR | 0% APR |
| Months required to repay | 12 months | 10 months |
| Interest paid over this period | $200 | $0 |
As you can see in the example above, not only can you save $200 in interest costs, but you'll also repay your debt faster.
This example assumes that the cardholder cleared the debt before the promotional offer finished. Once the 0% balance transfer period offer finishes, a higher standard interest rate will apply. So if you're unable to pay off your debt before the introductory offer ends, your remaining debt will be charged the standard variable interest rate for balance transfers.
You can calculate how much interest you'll save with your balance transfer credit card using the comparison table above. Simply type in the size of your debt and the current interest rate you're paying and select calculate. Considering the interest saved will help you compare your options and determine which 0% balance transfer credit card is right for you.
Your current stage in choosing a balance transfer offer:
How to compare 0% balance transfers credit cards
Here are the most important factors you should keep in mind to find a 0% balance transfer card to consolidate your debt:
Length of the balance transfer introductory offer. The 0% interest period on a balance transfer card generally ranges from 6–10 months, but will vary between cards and available offers. The more debt you have, the longer you want the introductory period to be so you have more time to pay it off.
How much you are allowed to transfer. Depending on the bank, you can usually transfer between 50% to 100% of the approved credit limit. If you had an approved credit limit of $10,000 and a maximum balance transfer of 80% of the limit, you could transfer up to $8,000. Refer to our guide on each bank's balance transfer limit and how much they will allow you to balance transfer.
Make sure you can transfer to the new bank. You can't transfer your balance to a new card under the same bank. This means that you also can't transfer balances between banks that are owned by the same provider.
Balance transfer revert rate. At the end of the balance transfer promotion, the 0% interest rate will revert to a higher standard variable rate (usually the cash advance or purchase rate). This means any balance that remains after this time will be charged interest, so you should aim to repay your debt before the promotional offer ends to avoid interest charges.
Rewards. Credit card rewards are earned based on how much you spend on the card, so they are not usually a priority when you want to pay off debt. Plus, it's important to remember that balance transfers don't earn points. But if you want to earn rewards in the future, considering this feature when you apply for a 0% balance transfer could save you adding another card to your wallet later on.
Complimentary extras. Many credit cards come with perks such as complimentary international travel insurance, extended warranties and purchase protection insurance. These benefits can add value to a card but are usually less important when compared to features such as the balance transfer offer and ongoing fees.
The purchase rate. If you plan to make new purchases on the card before or after you've cleared your debt, check the purchase rate. Note that this rate will be applied from the day of the transaction when you carry a balance. If you want to make purchases whilst repaying a balance transfer, some cards offer both 0% on balance transfers and purchases. If you're paying down a debt, avoid using your card for purchases until you've repaid the entire balance.
Back to top
What are the hidden costs of a 0% balance transfer credit card?
While you don't pay interest on the debt you move to a 0% balance transfer card, there are a number of other fees you should be aware of before you apply. Some of the most common costs include:
Balance transfer fee. Banks may charge a 1-3% fee for your balance transfer, which is based on the total balance transfer amount. You can check if the card you're applying for charges a balance transfer fee by using our balance transfer credit card reviews or by reading the fine print.
The annual fee. While some 0% balance transfer credit cards have a $0 annual fee, others can range between $29 to $400 or more. Make sure that the annual fee won't exceed your interest savings before you apply.
Minimum repayments. Even though the card charges 0% interest, you will still have to pay at least the minimum amount required for each statement period. Paying the minimum repayment might not be enough to clear your balance before the end of promotional period, so make an effort to pay as much as you can each month. Ideally, you should divide your balance by the number of months in the promotional period and pay that amount each month to clear the balance in full before the promotion ends.
Interest charges for new purchases. When you make a purchase on a 0% balance transfer card, the purchase rate will be applied to it from the day the transaction is made. Your repayments will also go towards the debt that attracts the highest interest rate first. In this case, that is your purchases instead of your balance transfer.
Late payment fee. Some credit card issuers may charge a late payment fee if payments are made after the due date on your statement.
Depending on the 0% balance transfer card you choose, other fees and charges may also apply in some circumstances. Make sure you check the standard terms and conditions for individual cards before you apply.
Back to top
How to apply for a 0% balance transfer offer
These simple steps will help you find and apply for a 0% balance transfer offer that fits your budget and your needs.
Check your total amount of debt owed

Consider how much debt you want to transfer, and how long you think it will take you to pay it off so that you know what kind of offers will help you achieve your goal.

Compare 0% balance transfer offers

Look at all the different features and types of balance transfer offers, comparing them based on the length of the 0% balance transfer offer, the amount you have to repay and the fees and features that come with the card. You should also make sure you meet the eligibility requirements before you apply. Use the comparison table to review your options side by side.

Apply online

Once you've compared your options and decided on a card, hit the 'Go to site' button and you will be redirected to the credit card's secure application page.

Fill out the application form

You will need to provide personal details including your full name, date of birth, street address, driver's licence number and/or passport number. Keep these documents handy and submit copies as requested by the credit card issuer.

Include details of the balance transfer request

There is a section of the credit card application that asks for details of any balance transfer requests. You will need to fill this out with information including the current credit card company, the account number and the total amount of debt you want to transfer to the new card.

Submit the application

You should get a response within 60 seconds of applying. You may be required to provide supporting documentation as part of this process. When you receive your card and activate it, your new provider will process the balance transfer from your old card to the new one. If you'd like to cancel your old credit card, contact your old bank directly to request for the account to be closed.

Back to top
Your current stage in choosing a balance transfer offer:
Applying for a 0% balance transfer can be a daunting task. We have answered the most popular questions from our users about applying and using a 0% balance transfer credit card here. If you still have a question please leave a comment in the "Ask a Question" box below and one of our friendly staff will respond to your query.
Frequently asked questions about 0% balance transfer credit cards
Back to top
More guides on Finder