Finder is committed to editorial independence. While we receive compensation when you click links to partners, they do not influence our content.
Compare the best bank accounts*
Get more value from your bank by finding the best account for you.
Compare banking accounts
What makes a bank account right for you?
Since each person has different banking needs, there's no such thing as a single, best bank account for everyone. The best account for you will depend on what the purpose of the account is, how much you plan to use it and what features you rely on the most.
First, you'll need to think about what you want out of a bank account. Is it flexibility, or are you happy to trade that flexibility for zero monthly fees? Decide which of the points below are a high priority for you, and consider any other features you might want to have.
Flexible options for moving your money
To make managing your money easier, you may want to consider doing all of your banking with the same institution, thus letting you move money between accounts easily. If not, make sure you understand what options are available to let you move money between accounts at different institutions.
Such options could include Interac e-Transfers, email money transfers, wire transfers, online bill payments, pre-authorized payments and transferring through dedicated money transfer services.

Accounts that pay interest
All savings accounts pay interest, though some require a minimum balance first. You might come across a chequing account that pays interest too, though this is much less common. While you'll generally earn more interest with a savings account, some chequing accounts pay a comparable APY.
Zero monthly fees
Ideally, you can find a bank account that doesn't charge any monthly fees or at least makes it easy to avoid them. Bear in mind that sometimes paid accounts come with surcharge-free premium features like safety deposit boxes, unlimited money orders, special credit card offers and waived fees on additional banks accounts.
With a free account, you likely won't get any of these without paying extra. A monthly fee could therefore be worth if you can save a lot on features you'll use on a regular basis.
Free withdrawals
Chequing accounts are designed to provide access to your money, so you shouldn't be required to pay when you need to make a withdrawal. On the other hand, most savings accounts encourage you to set aside money by limiting the number of free withdrawals you can make each month.
Also, banks have different definitions of what counts as a withdrawal. Check to see how debits, ATMs withdrawals, transfers between accounts, cheque withdrawals, pre-authorized payments and other types of transactions impact your monthly usage, and make sure you get an account with limit that's realistic for you.
Online and mobile banking
Most banks and credit unions offer online and mobile banking options, allowing you to move money, pay bills, check your account balances and more using the web or your smartphone. If flexible banking options and the ability to manage your money on your phone is important to you, make sure your bank has well-developed, user-friendly apps.
Reliable customer service
Look to see if the institution is strictly online or if you have the option of calling or visiting a local branch to speak with someone in person. If you prefer face-to-face interactions, you may want to consider a financial institution that has brick-and-mortar branches.
If you travel a lot and are frequently in different time zones or want quick access to help right when you need it, you may want to look for banks that offer 24/7 customer support and live chat online.
Access to a large number of ATMs
Most commercial financial institutions are part of an ATM network like Interac, Cirrus, Global ATM Alliance or THE EXCHANGE. Customers of banks and credit unions can enjoy surcharge-free access to ATMs offered by any financial institution in the same network, both across Canada and internationally.
But not all ATM networks are equal – some offer greater access than others. Online banks vary in the ATM access offered to customers. Some, like EQ Bank, do not offer ATM access at all, while others, such as Tangerine, give customers free access to ATMs at partner banks (in this case, Scotiabank).
What are you using the bank account for?
Besides identifying the features you want the most, identifying the purpose of your account can really help narrow down your options. Some accounts are for general use, while others are geared specifically towards youth, students, couples, travelers and so on.
Virtual banking
There are benefits to online banking — for example, online financial institutions tend to have less overhead costs, which can result in lower fees and higher interest rates on interest-paying accounts. Virtual banks tend to offer flexible banking options and may sometimes partner with brick-and-mortar banks to offer services (like ATM access) that would otherwise be difficult to provide.
And, like traditional banks, many online banks like EQ Bank, Tangerine and Simplii Financial are CDIC insured for up to $100,000 per person, so your savings are protected in the unlikely event of a bank failure (check to see if any bank you're interested in is CDIC insured).
If you need to keep costs down and prefer to have banking functionality at your fingertips, then an online institution may be right for you.
Teens and students
If you're about to start your first job and want to save up some extra cash, there are plenty of banks that offer youth savings accounts and chequing accounts. Remember that if you're under the age of majority in the province or territory in which you live (either 18 or 19 years old), you'll probably need to ask your parent or guardian present when you open an account.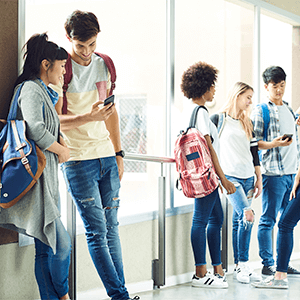 Travelers
Using your debit card overseas usually incurs the following charges:
International transaction fees
Currency exchange
Overseas ATM fee (charged by your bank)
Local operator ATM fee (charged by the ATM owner)
While exchange rates and operator ATM fees can't be controlled, you can control the international transaction and overseas ATM fees. Look for bank accounts that offer competitive rates on foreign transactions to save money when you travel.
Businesses
Businesses generally conduct far more transactions than consumers and often deal in larger amounts, so it's important to find an account that is designed specifically for business use. These types of accounts make it easier to manage cash flow and keep track of your spending for tax and accounting purposes.
Couples
Joint chequing accounts are an effective way for couples to manage their money. These accounts allow more than one person to be listed as the account holder, thereby letting more than one person access the account to manage its funds. These accounts also issue each account holder a debit card, so they won't have to share one. If you're looking for an account for more than 2 people, check out this guide for tips on how to compare your options.
Infants & kids
It's never to early to start saving – as long as your child has a Social Insurance Number (SIN), you can open an account for him or her. Kids bank accounts can help young ones learn how to manage their money and usually have minimal fees. Plus, they often allow parents to control spending and monitor account activity.
Seniors
If you're over a certain age, you can enjoy the benefits of senior banking. Along with all the usual features on a bank account, you can look forward to reduced or waived fees. Typically, these account options are available to people ages 60 and over.
Back to top
What kind of fees can I avoid with a good bank account?
ATM withdrawals. Banks often limit the number of ATM transactions, charging a fee for going over. They can also charge for using ATMs that are out of their network. While the big banks tend to have a larger ATM network, small players can still join these networks and may surprise you with the options that are available.
Branch assistance. Many banks charge fees for transactions made at physical locations, encouraging customers to use the internet or phone banking options instead.
Excess transactions. You may be charged fees for exceeding the number of free transactions available with your account.
Overdraft protection. Get peace of mind by having a small margin of funds available in case you forget to pay a bill or a payment comes out earlier than expected. Such a margin is called "overdraft protection" and is available with most chequing accounts for a fee. You may be able to choose between paying a fee every time you go into the overdraft or paying a single, monthly fee for unlimited overdraft usage.
Insufficient funds. If a payment is supposed to come out of your account but you don't have enough money in your account, you may be charged an NSF (insufficient funds) fee that could range from $20 to as high as $50. Having overdraft protection is one way to avoid have to pay this fee.
How to choose the best bank account for you
How do the best banks protect my security online?
Banks invest in safety. Banks spend millions of dollars to protect your money, mainly because they are required to refund money to those who have been defrauded.
Banks use Secure Socket Layer (SSL) encryption. This gives an added layer of protection from hackers.
There's always password security. You'll often find that your password needs to be a certain length and contain certain characters.
Your personal information is encrypted. This means that the lock symbol is displayed in your browser, and the information coming in and out is scrambled.
You're locked out of your account if there has been too many attempts. In addition, you're logged out of the account if there hasn't been any activity after a few minutes. There are also firewalls in place so only authorized people can log in.
You'll need to use SMS codes. To ensure you say who you are, banks will also send codes to your phone to authorize new transactions.
Questions about bank accounts
Back to top
Choosing the right bank account can help you avoid fees, get rewards and reach your financial goals faster. But with so many accounts to choose from, how do you figure out which one is right for you? In this guide, we'll explore the features of some of Canada's most popular chequing and savings accounts and show you how to narrow down your options.
More guides on Finder
Ask an Expert
You must be logged in to post a comment.