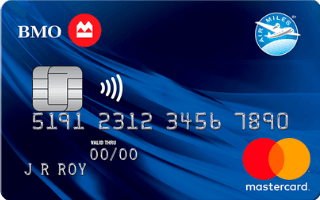 BMO AIR MILES Mastercard
19.99 % APR
Purchase interest rate
Eligibility criteria, terms and conditions, fees and charges apply
BMO AIR MILES Mastercard
Apply today and earn up to 800 AIR MILES bonus miles with minimum spend of $1,000 in the first three months. Ends March 3, 2020.
Purchase interest rate: 19.99%
Cash advance rate: 22.99%
Intro balance transfer rate: 1.99% for the first 9 months
Standard balance transfer rate: 22.99%
Annual fee: $0
Credit rating: Good
Minimum income: $15,000
Minimum age: Age of majority in the province/territory of residence.