Finder is committed to editorial independence. While we receive compensation when you click links to partners, they do not influence our content.
Unsecured personal loans for bad credit
Get an instant decision from one of these lenders offering unsecured personal loans for bad credit.
If you have bad credit and need to borrow money fast, you can take out an unsecured personal loan specifically designed for bad credit. Many direct lenders that offer these have systems in place to rapidly evaluate your application, so you can often get an instant decision. Then you can complete the rest of the application and get your money on the same day or the next day.
Compare unsecured personal loans for bad credit with an instant decision
Quick summary of unsecured personal loans for bad credit
Get approved for $500 to $10,000.
Repay in 6 - 60 months.
Pay 18% to 46.96% APR.
No collateral required.
How instant decision works on an unsecured bad credit personal loan
When you submit an application, online direct lenders use AI technology to quickly scan your details and let you know within minutes whether you are pre-approved or denied.
Pre-approval simply means the lender wants to proceed with your application and can even provide you with a quote. You can use pre-approval to compare quotes from different lenders and choose the best one for you.
Quotes do not guarantee you'll get the loan because lenders will still need to look at your finances in more detail.
Next step: Approval
In this step, lenders do a deeper dive on your finances. The most common method is a hard credit check and instant bank verification.
With instant bank verification, you log in to a secure portal to give your lender access to view-only copies of your bank statements. Your lender never has access to your username or password. This method allows your lender to quickly verify your identity and income and speed up the approval.
The fastest online lenders of unsecured bad credit personal loans can give approval in as little as one hour, but this is not guaranteed, depending on the volume of applications they're dealing with and any extra information they may need from you.
Snapshot of an instant bank verification portal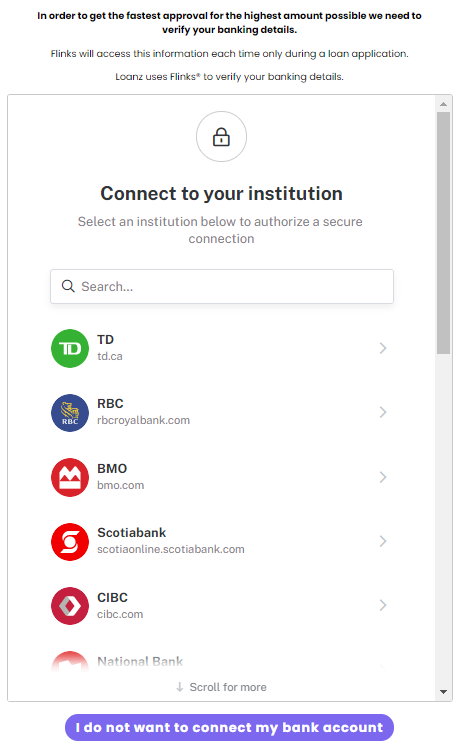 Am I eligible for unsecured personal loans with bad credit?
While the requirements will vary depending on the lender, basic eligibility includes the following:
Be the age of majority in your province (18 or 19).
Be a Canadian resident.
Meet the minimum monthly income (typically $1,200-$1,800).
Meet the minimum credit score (typically 500-560).
Have a bank account.
Required documents
If you decide not to go through instant bank verification, you can do a traditional manual review with some lenders. This is a slower process and you'll need to send documents such as:
Two government-issued IDs
Bank statements (last 30 to 90 days)
Recent pay stubs
Tips to get an unsecured bad credit personal loan with instant decision in Canada
Seek out lenders that provide instant pre-approval. These lenders usually do a soft credit check to let you know whether you're pre-approved or denied. Not all lenders offer an instant decision on personal loan applications.
Don't skip steps on the application. Some applications give you the option to skip steps. If you're looking to get the fastest decision, provide all your personal and financial information from the start. Give details about your employer, gross monthly income and monthly debts. Agree to instant bank verification.
Review your application before you submit. Errors on your application can result in a delay or rejection. To avoid this, make sure your information is correct before submitting.
Prepare your documents in advance. In some cases, a lender may mark your application as pending because it needs more documents to evaluate your information. Plan ahead and have your personal loan documents on hand to avoid any unnecessary delays.
Can you get guaranteed approval on a unsecured bad credit personal loan?
No. No trustworthy lender can guarantee approval on a personal loan, especially if you have bad credit in Canada. Legitimate lenders evaluate a borrower's financial situation before approving. Guaranteed approval is one of the warning signs of a scam, so avoid lenders that advertise this.
Is there such a thing as instant approval?
Instant approval is more common among payday lenders. Payday loans are small, extremely expensive loans of up to $1,500 that you repay by your next payday. They have more lenient requirements and faster turnaround times than personal loans, but you pay for the ease and convenience with annual percentage rates (APRs) in the triple digits.
Unsecured personal loan for bad credit vs payday loan
Payday loans are faster. Payday lenders can fund your loan application faster than lenders offering unsecured personal loans, even with an instant decision. That's because unsecured bad credit personal loans have stricter eligibility requirements.
Payday loans have shorter terms. Payday loans get their name because you're typically required to repay your loan by your next payday.
Payday loans are more expensive. Payday loans come with much higher APRs than unsecured personal loans. For comparison's sake, the APR charged on personal loans is as high as 46.96% for bad credit borrowers while payday loans command APRs between a whopping 390% and 780%.
Payday loans have smaller loan amounts. You can only borrow up to $1,500 for a payday loan. On the flipside, unsecured bad credit personal loans range from as small as $500 to as large as $10,000.
Bottom line
Many Canadian lenders of unsecured bad credit personal loans offer instant decisions. Use this perk to compare multiple loan offers and find the best loan for you. To get the fastest approval, you'll need to agree to instant bank verification.
Frequently asked questions