How to send money to India
Compare fees and exchange rates to get the best deal on your next money transfer from Canada to India.
If you need to send money to India, all you have to do is follow a few simple steps:
Compare some services that can change your dollars to rupees in our table below.
Choose one that meets your needs and sign up for an account.
Provide the details of your transfer, including the amount and who you want to send to.
Confirm and pay. The money will be transferred to your recipient in India.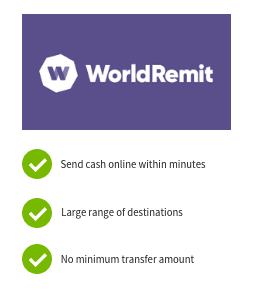 Send money to India with WorldRemit

WorldRemit can help you get your money where it needs to go in minutes, with upfront exchange rates and low fees.
Use promo code FINDERCA on your first transfer and pay zero fees. T&Cs apply.
Transfers to 150+ countries
Send to bank account, cash pickup, mobile money, airtime top up
Pay with card, Interac or Apple/Android Pay
Compare services that send money to India from Canada
Disclaimer: Exchange rates change often. Confirm the total cost with the provider before transferring money.
What to know when transferring money to India
Exchange rates. Nearly all providers skew exchange rates for a profit. Compare the rate you're offered to the mid-market rate (the rate banks and transfer services use when they trade among themselves) and look for the smallest margin between them.
Transfer fees. Find out whether the provider charges a flat fee or a percentage of your transfer. If you're sending a large amount, ask whether you qualify for a fee-free transfer.
Bank partners. Many providers list their Indian bank partners online. See if your recipient's bank is affiliated with your provider before initiating a transfer.
Transfer speed. If your money needs to be there fast, companies like Western Union and MoneyGram allow for quick cash pickups, often in minutes.
Transfer limits. For large transfers, compare and find the best exchange rate, especially since providers encourage large transfers by offering low fees. For smaller amounts, consider the fees you'll pay on top of the exchange rate.
Payment scheduling. Ask whether you can schedule payments ahead of time or protect your transfer against market fluctuations with a limit order or forward contract.
Customer service. Most companies offer customer service by Internet chat, phone, in person or by email. Make sure help will be available if you need it.
Foreign exchange rates explained
An exchange rate determines how much one country's currency is worth in another currency. When a currency is strong, it yields more money when exchanging it for a weaker currency. India's exchange rate is flexible, which means it can change from moment to moment due to factors such as interest rates, economic stability and inflation.
Today's exchange rate CAD to INR
CAD to INR: Historical rate chart
1
0
Updated: 03 Apr 2020 21:29:41 UTC
Back to top
What are all the ways I can send money to India?
There are lots of options for sending money to India beyond a normal bank transfer. What's best for you will depend on how you want the transfer delivered, how fast you need it to arrive and the fees you're willing to pay. A few of the most common transfer methods include:
Bank transfers. Many major Canadian banks allow you to transfer money to banks in India. However, this option generally doesn't offer the best exchange rates or lowest fees.
Money transfer services. These providers often have competitive exchange rates closer to the mid-market rate and can transfer money to bank accounts or mobile.
Providers with cash pickup. This can often be the fastest method of transferring money to India, where there are locations in New Delhi, Mumbai and Bangalore. While good for emergency transfers, you may sacrifice a better exchange rate.
Send an international cheque. This involves sending a cheque in a foreign currency like euros or US dollars and is one of the slowest ways to send money. You'll need to make sure that the cheque is in a recognized international currency and you'll also be required to provide proof to your bank of why you're sending money to India (such as a legal document demanding you send money to India).
PayPal. You'll need to link a bank account or credit card to your PayPal account to pay for your transfer, while the fee that applies is calculated as a percentage of your transaction amount. The fee also varies depending on where you send money and whether or not you use a credit card to fund your transaction, so review all charges before deciding whether to choose this option to send funds between Canada and India.
Banks vs money transfer companies
Many major Canadian banks offer the option to send funds to India, but they typically charge high transfer fees and offer exchange rates that are significantly lower than the mid-market rate.
A reputable money transfer specialist can often offer better exchange rates and also charge lower fees, saving you money and putting more rupees into your recipient's pocket.
Aryan sends money to India
Aryan lives and works in Canada and wants to send $1,000 of his salary to his parents in Mumbai. He approaches his bank for an international transfer but is shocked when he sees their weak exchange rate and high fees. He compares his bank's services with those of an independent money transfer specialist to see who offers the better deal.
| | Major Canadian bank | Money transfer specialist |
| --- | --- | --- |
| Transfer amount | CAD$1,000 | CAD$1,000 |
| Exchange rate | CAD$1 = INR 48.747 | CAD$1 = INR 50.773 |
| Transfer fee | $18 per transaction | $0 per transaction |
| Amount received (in Indian rupees) | INR 47,870 | INR 50,773 |
| Transfer time | 1-2 business days | 1 business day |
| Difference of | | +INR 2,903 |
Aryan discovers that his family could receive almost 3,000 more Indian rupees if he sends his money through a money transfer specialist. And, he'll save himself $18 in transfer fees.
Regulations on sending large amounts of money to India
While you won't have to do anything extra to send a large amount of money out of Canada, your receiver may have to. If your recipient is a "blood relative" (including spouses, children, grandchildren, siblings and in-laws), they won't have to pay tax on any transfer, no matter the size. Money transfers that are part of a wedding gift or inheritance are also exempt from regulation.
All other large money transfers come under the umbrella of the gift tax, regulated by the Indian Income Tax Act. This means any amount over 50,000 rupees (about CAD$950, depending on the exchange rate) is taxable and should be declared by the recipient as income.
You may also need to provide extra documentation if you're sending a large amount, depending on the money transfer service.
What do I need to know about taxes?
Non-Resident Indians (NRIs) sending money to India are required to pay a 12.36% government service tax on any commission or fee paid to an agent to facilitate the exchange. Some banks and providers conveniently factor this service tax into your totals, but ask if you don't see it listed.
Tips for sending money to India
Same-day cash transfers in India
You might need to send an emergency cash transfer to India, for example, if a friend travelling through the country loses their wallet. When a fund transfer is urgent, the fastest option will often be the most expensive one. Be sure to carefully review the exchange rate and transfer fee against your needs so that you understand exactly how much it will cost you.
Some options for emergency cash transfers between Canada and India include:
Cash transfer companies. MoneyGram and Western Union offer international transfers between Canada and India within minutes. Your recipient can then pick up the cash you send from their nearest MoneyGram or Western Union location with their photo ID and a transaction reference number.
Travel insurance. If your trip is covered by travel insurance, many comprehensive policies can provide an emergency cash allowance if you lose your wallet or it is stolen while you're overseas. Check the fine print for more information.
Credit card provider. If you lose your credit card or it's stolen while you're overseas, you may be able to contact your card provider to be sent a replacement card and also access emergency cash.
Tips for picking up cash in India
Global Affairs Canada recommends that Canadians exercise a high degree of caution when visiting India.
If you need to go to an agent to pick up cash, make sure you don't travel alone and that you ride with a reputable cab company. Don't display the cash in public and deposit it somewhere safe as soon as possible.
If you're collecting a cash transfer in India or Canada, remember these few simple tips:
Identification. You'll need to provide a form of photo ID, for example a driver's licence or passport, when picking up the money.
Reference number. Ask the person transferring funds to you to send you the transaction ID or reference number, as you'll need to quote this number when you go to collect the funds.
Phone ahead. When collecting money overseas and in unfamiliar surroundings, it may be worth phoning ahead to confirm an agent's address and opening hours.
Large transfers. If you're collecting a large sum of cash, you may need to call ahead to check whether the agent has sufficient funds to complete the transaction.
Your complete guide to international money transfers.
Cash pickup locations in India
Back to top
Which 10 countries are sending the most money to India?
India receives more money transfers than any other country, according to World Bank data, with an estimated $69 billion in remittances in 2017. There are one million Indians and persons of Indian descent living in Canada, so let's see how Canada stacks up against other countries when it comes to sending money to India.
| Rank | Country | Remittances in 2017 |
| --- | --- | --- |
| 1 | United Arab Emirates | $13,822,589,675 |
| 2 | United States | $11,714,633,011 |
| 3 | Saudi Arabia | $11,238,826,124 |
| 4 | Kuwait | $4,587,413,216 |
| 5 | Qatar | $4,143,368,052 |
| 6 | United Kingdom | $3,940,789,728 |
| 7 | Oman | $3,250,046,834 |
| 8 | Nepal | $3,015,913,314 |
| 9 | Canada | $2,876,744,463 |
| 10 | Australia | $1,943,847,714 |
Canada and India
Canada and India's bilateral trade totalled 4.3 billion in 2017. Given the scope of India's economic growth and the size of its population, the Trudeau government has indicated that India is a priority market.
According to a report from the Government of Canada, migrants from India are the second largest source of permanent immigration into the country, with most settling in Ontario and British Columbia. This article is designed to help Canadians and immigrants identify a secure and cost-effective way to transfer money to India.
Frequently asked questions
Read more on this topic
Ask an Expert
You must be logged in to post a comment.