What you need to know about debt
Learn how the right type of loan can help you get ahead - and how to catch up if you lose your financial footing.
Whether it's cars, houses, student loans, shopping, travel, supporting a family or starting a business, most of us end up spending more than we have at some point in our lives. We do this by going into debt, which can be a good thing but can also be a prison if we don't stay on top on our finances.
With Canadians owing on average 3/4 more than they actually make, it's more important than ever to learn how to go into debt for the right reasons and get out of it without being burned.
Let's walk through types of debt and how to get out of the red – even if you're struggling.
What is debt and is it bad?
Debt is anything you owe to someone else. Financially speaking, debt is acquired by borrowing money from a lender – like a bank, credit card provider or private lender – to make a purchase. To repay the debt, you give back the amount you originally borrowed (the principle amount) plus an extra charge that's usually expressed as a percentage of the original loan amount (the interest rate).
For example, if you borrow $1,000 from your bank at 5.9% interest, you would end up paying back $1,000 plus an interest fee of ($1,000 X 0.059) = $59. The bank would receive a total of $1,059.
You may consider the affordability and necessity of what you want to buy when deciding whether to go into debt. Most people can't afford to buy a home or car with cash, so many prefer to finance these big-ticket items with a loan. (Although, if you want to avoid interest charges and don't mind waiting, you may prefer to take out a smaller loan or avoid borrowing altogether by working and saving up your own money.)
While getting into debt can seem scary, there are situations when you might want to take out a loan.
Good debt

If you borrow money for something that will increase in value, it's considered a "good" debt. Good debts tend to come with low to moderate interest rates and will provide you with a return on your money. Examples include:
Bad debt

On the other hand, debt used to purchase something that will hold or decline in value is considered "bad" debt. Bad debts often come with high interest rates and don't increase your net worth. These include:

Whether a debt is "good" or "bad" is based on what the funds will be used for. For instance, a personal loan could be considered "good debt"

if used to finance a business

or "bad debt" if used to buy a new home entertainment system.
What types of debt are there?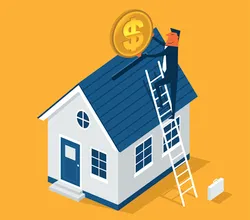 Taking out a mortgage to buy a home can land you with a loan of several hundred thousand dollars or more. This is likely the biggest debt you'll have in life.
Because mortgages are so large, interest charges end up costing a lot over the life of the loan. You'll spend many years paying off a mortgage, so financial discipline is a must. Make extra repayments, if allowed, and regularly review your mortgage agreement to see if you can refinance and get a lower interest rate, which can help you pay down your debt faster.
Credit cards make it easy to spend money you don't have and get instant gratification. Unfortunately, once interest charges start to accumulate on your credit card charges, your debt levels can quickly rise.
Credit cards come with some of the highest interest rates around, with many cards carrying rates as high as 19.99%. And if you run up a hefty bill on more than one card, your debt will get even more difficult to manage. Credit cards are also notorious for charging loads of fees for balance transfers, foreign transactions, currency conversions, late payments, annual card maintenance, cash advances and more.
Personal loans give you fast and easy access to money for all types of purposes like renovating your home or even buying a car. These types of loans can be used for just about anything but can be dangerous if you focus more on your immediate need rather than your ability to pay off the loan.
If a personal loan is secured by an asset, for example, a vehicle or valuable artwork, you run the risk of the lender repossessing the asset if you default. There's no such risk with an unsecured personal loan, but the higher interest rates on these loans can cost you more if you don't pay off the loan quickly.
Many car loans are secured by the vehicle you're purchasing, and as such, the lender gets to keep the car if you default on the loan. Auto financing is offered through banks, private lenders and dealerships. Dealerships may offer the quickest financing with greater room to negotiate, but you may get a lower rate elsewhere.
It can be a good idea to get car loan pre-approval from your lender before buying, as this will allow you to approach sellers knowing how much you have to spend. If dealers know you're pre-approved for a certain amount, they may be more willing to work with you, so they can land a sale. Typically, you have 60 days from when you're pre-approved to purchase a vehicle.
Short-term loans offering immediate financing solutions and quick access to cash, can often seem like an attractive solution if you're in urgent need of funds. However, payday loans attract extraordinarily high fees and put you at risk of falling into a cycle of debt as you try to pay off your loan. You should only apply for a short-term loan if you have no alternatives.
The old saying, "you've got to spend money to make money," holds true for many businesses. Buying inventory, improving products and services and expanding into new markets can be expensive. But, if you don't have a carefully developed business plan and fail to keep your costs under control, you can run up a substantial amount of debt.
From business loans and business credit card bills to all the other overheads involved when starting and running an enterprise, it's possible to get in way over your head — especially if the market slows down or the economy takes a turn for the worse.
If business debt gets too much for you to cope with, it's important to take action sooner rather than later. Prioritize your payments, consider debt consolidation loan options for your business, and seek professional financial advice to help you get back in the black.

Tax time may bring some nasty surprises, leaving you with a hefty bill. A tax debt loan may offer financial support and help keep you out of trouble with the CRA.
But, if you can't afford to pay the bill right away, you can apply to go on a payment plan. To do so, you'll have to provide the CRA with detailed information about your income, expenses, assets and liabilities as well as proof that you've tried to pay the debt through other means (like applying for a loan).
What are the different ways of dealing with debt?
Debt repayment plan
While harder in terms of the self discipline and focus required to make it work, following a debt repayment plan to pay off your loans may be cheaper and more rewarding than getting a debt consolidation loan or refinancing. It also keeps you clear of more drastic debt management options that have a long-term negative impact on your credit, like submitting a consumer proposal or declaring bankruptcy.
The Government of Canada website is a great place to start if you're looking for nonprofit organizations that offer credit counseling and financial management services.
If you're paying interest on multiple debts and you're struggling to make repayments, it might be time to consider a debt consolidation loan. Designed to help you take control of debt, these loans allow you to roll multiple debts into one loan. This means you only have one monthly repayment rather than several, and you even may be able to lower your overall interest fees.
Use our debt consolidation calculator to see how much you could save with a consolidation loan. If you decide this option is right for you, carefully compare offers and only borrow from a reputable lender.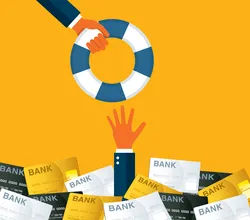 Balance transfer credit cards allow you to transfer your existing credit card debt over to a new card. You'll typically get to enjoy a low promotional APR for a limited time period (usually 6-10 months). This means you can avoid high interest charges and consolidate your credit card debt, providing significant savings as you pay off the money you owe.
However, a balance transfer fee and annual fee may apply. Keep in mind that once the introductory period ends, the interest rate will revert to a higher rate.
Refinancing your mortgage can potentially lower the interest rate and provide enough extra money to consolidate other debts like credit cards, personal loans and car loans. This could provide your with one, easy monthly payment instead of multiple, separate payments.
You'll need to closely consider the interest rates and fees associated with refinancing, making sure to compare loans from a variety of lenders. You should also be aware that consolidating short-term debt into a mortgage with a 30-year term may not be the most cost-effective option.

A consumer proposal is a legally binding repayment agreement between you and your creditors as negotiated by a Licensed Insolvency Trustee who acts on your behalf. If you enter into such an agreement, your creditors agree to forfeit their right to full payment in favour of accepting whatever you can repay over a specified time period. Once you've paid this money, there is no way for your creditors to recoup the rest of your unpaid debt.
Consumer proposals should only be considered after you've explored all other options. This option for debt relief will stay on your credit report for 3 years and can seriously hurt your ability to access more credit. Speak to a debt counselor near you for more information.
Bankruptcy
If you're completely unable to pay off your debt, you have the option of applying for bankruptcy. This step is a last resort and should only be taken after you've explored all other debt consolidation options and sought professional financial and legal advice.
Bankruptcy is when you legally declare that you're unable to repay your debts. Applying for bankruptcy will release you from unsecured debts such as unsecured personal loans, credit cards debts and overdue bills. Furthermore, creditors will not be allowed to pressure you to repay, and your wages will not be garnished (though you may have to make payments if your income is above a certain threshold).
But, bankruptcy stays on your credit report for 6 years (14 years the second time) and can seriously prevent you from accessing credit in the future.
Debt repayment assistance for Canadian military members
Emergency funds are available to veterans, reserve forces, regular forces and their families through Support Our Troops, the official charity of the Canadian Armed Forces. Visit supportourtroops.ca to learn more about available funding and to apply through a local SISIP Financial Counsellor. You may also want to take a look at income support services offered by Veterans Affairs Canada.
If you or a family member lacks the basic necessities of life or you're unable to pay a personal debt due to sickness, accident, death or some other misfortune, you could qualify for a low-interest loan of up to $25,000 or a grant of up to $5,000.
You could get a loan of up to $5,000 for emergencies, urgent home repairs, prevention of financial distress, health and safety issues and education (if you've been denied a BMO CDCB Student Line of Credit).
If you're in financial distress, you could get up to $2,000 in immediate financial support (for crises occurring within 24-72 hours). Eligible situations could include being transported to a medical facility for emergency procedures, preventing eviction or foreclosure, preventing utilities such as heat or hydro from being disconnected and covering uninsured medical or dental emergencies.
Families with special needs dependents can receive up to $1,000 for uninsured assessment and reassessment costs and up to $1,000 to help cover uninsured assistive devices, prescriptions, therapy, medical travel and respite care.
Banking products for members of the Canadian Armed Forces (CAF)
Must read: Should I use my savings to pay off my debt?
It might be tempting to use your savings to pay off your debts, given how accessible the money is and that you won't have to go into debt. Before you dip into your savings, ask yourself these questions:
Do I have enough emergency funds? Many experts advocate saving around 3-6 months' worth of your living expenses in case you lose your job or can't work for some reason. If you don't have this in place, it could be risky to use whatever you do have to pay off debt.
Am I gaining or losing money by keeping my investment savings? If the interest rate earned on your investments is lower than the interest rate applied to your debts, then you're losing faster than you're gaining. It could be worth it to shift funds from investments to pay off your debt, however, this will slow down your long-term savings. Speak to a financial advisor to find out if this is right for you.
Will I have to pay any penalty fees or taxes? Many retirement accounts come with early withdrawal fees or a penalty tax that could eliminate any benefit in making a withdrawal. For example, early withdrawals from an RRSP are subject to a 10% tax for amounts at or under $5,000, 20% for amounts above $5,000 up to $15,000 and 30% for amounts beyond that. So, if you have $15,000 in credit card debt and want to take $15,000 out of your RRSP to pay it off, you'd only have $12,000 left from the withdrawal after taxes.
Compare debt consolidation loans
*The products compared on this page are chosen from a range of offers available to us and are not representative of all the products available in the market. There is no perfect order or perfect ranking system for the products we list on our Site, so we provide you with the functionality to self-select, re-order and compare products. The initial display order is influenced by a range of factors including conversion rates, product costs and commercial arrangements, so please don't interpret the listing order as an endorsement or recommendation from us. We're happy to provide you with the tools you need to make better decisions, but we'd like you to make your own decisions and compare and assess products based on your own preferences, circumstances and needs.
Frequently asked questions
Ask an Expert
You must be logged in to post a comment.