Finder is committed to editorial independence. While we receive compensation when you click links to partners, they do not influence our content.
How to consolidate your debt
Combine your debt into one simple monthly payment with debt consolidation.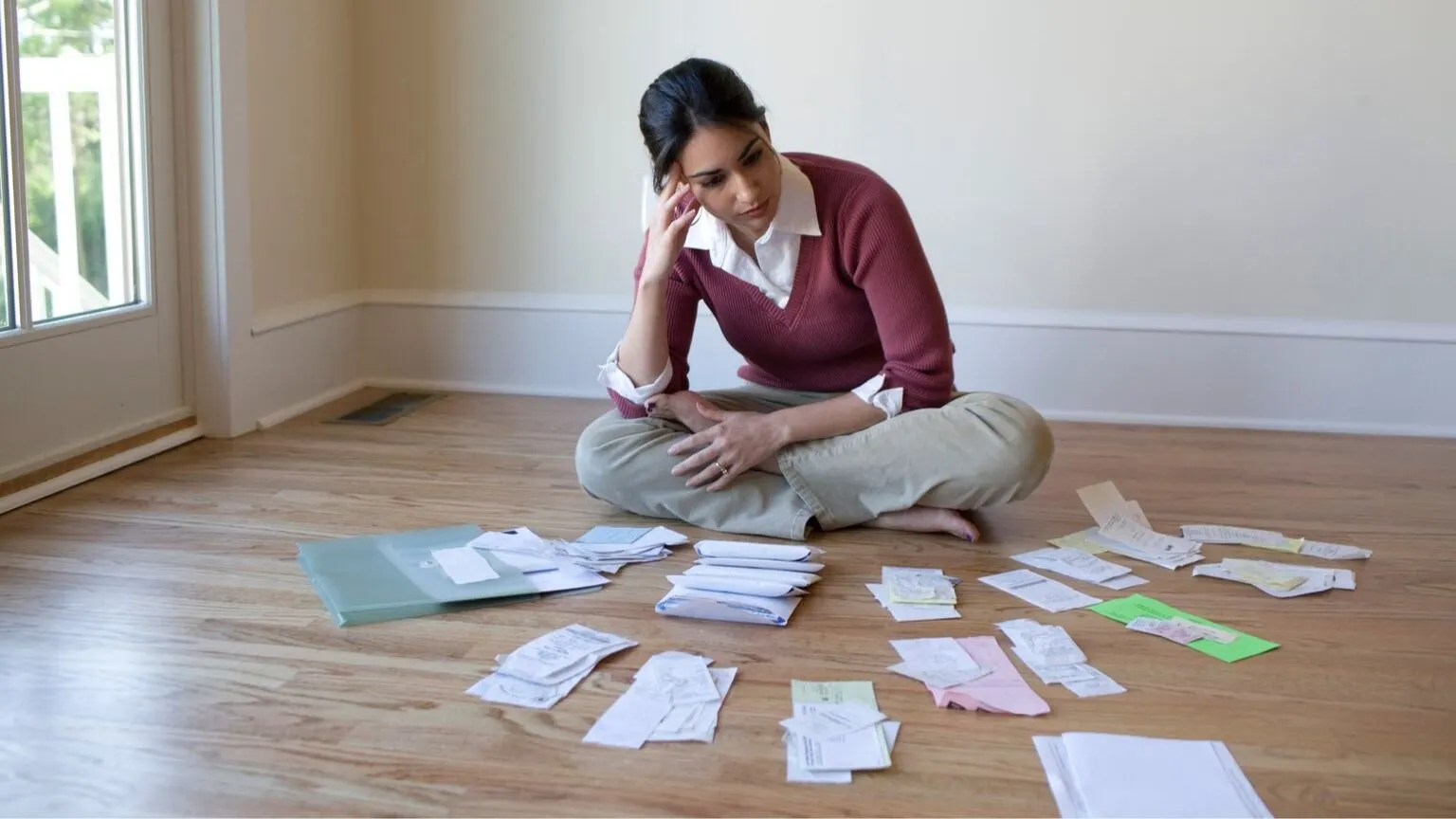 Save money on interest. Get out of debt faster.
Trying to pay off different credit cards and loans each month? Consolidating your debt could make your life a lot easier by putting your debt all in one place. Our guide covers how debt consolidation can simplify your monthly budget, what types of debt you can consolidate and what your other options are for getting out of debt.
More debt consolidation loan options to compare
What do you want to learn about first?
Jump to…
What is debt consolidation?
Debt consolidation is a way to combine multiple debts into one single debt, often at lower rates. You can focus on making one monthly repayment to one company.
So, how does this work?
It depends on what kind of debt you're consolidating and what method you choose. One common way to combine your debt is to take out a debt consolidation loan.
With this method, you can take out a term loan in the amount of your total debt, which you use to pay off your current lenders. You can sometimes get a longer term for lower monthly repayments or a lower interest rate with a debt consolidation loan. You can then focus on paying down the loan only.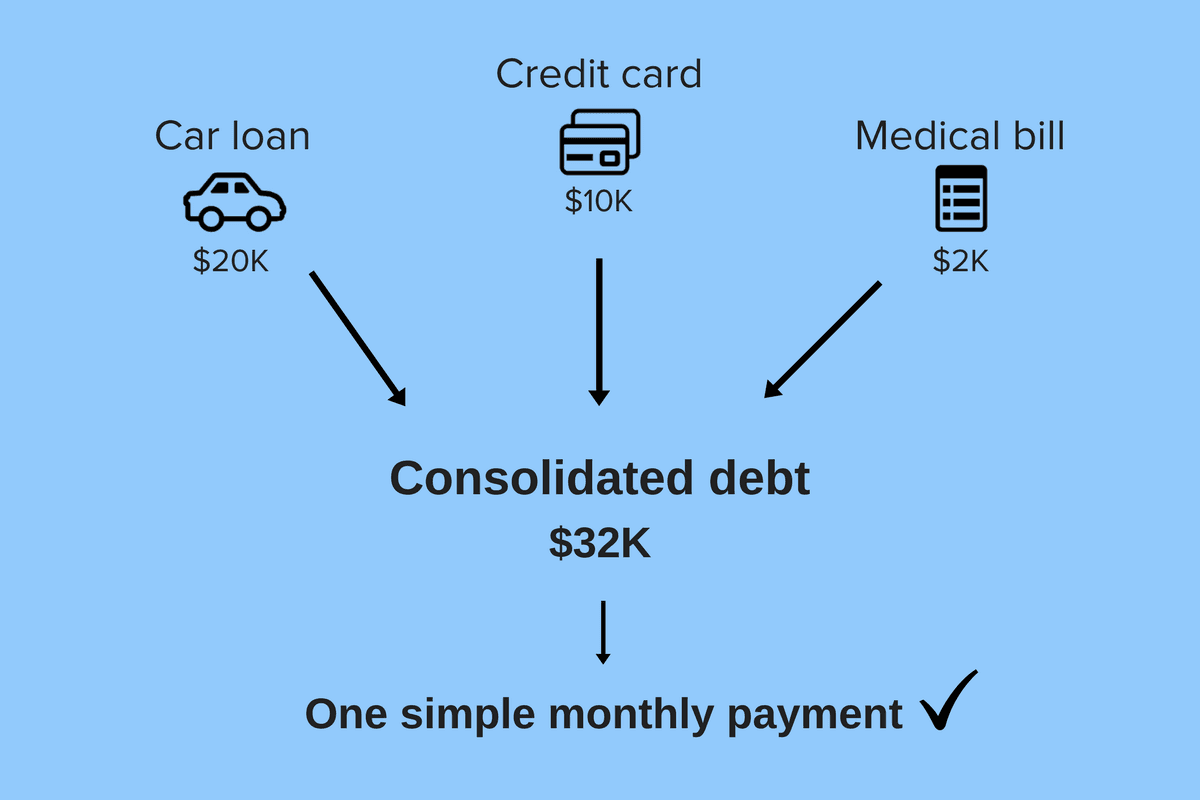 For people with a smaller amount of debt who can manage to pay it off quickly, a balance transfer credit card might be a good option. With this method, you can move balances from multiple credit cards onto one single new card with a low introductory annual percentage rate (APR) that typically lasts anywhere between 6 to 10 months, or sometimes longer.
Balance transfer credit cards aren't just limited to credit card debt – you can use one to pay off nearly any type of debt, including personal loans, car loans and more.
There are lots of other options for consolidating your debt, which we explore in more detail below.
Six ways to consolidate your debt
| Option | Best for… | How it works |
| --- | --- | --- |
| Personal loan | Paying off large amounts of debt over several years at a low interest rate. | You can borrow large sums of money, generally over $35,000, to pay off your credit account balances. Afterwards, you only need to pay one monthly repayment on the new loan. |
| Balance transfer credit card | People with a smaller amount of debt who want to pay it off within a year. | Move all of your debt to one credit card, usually with a low introductory APR for 6 to 10 months. |
| Debt relief | Those who've exhausted all other options. | A licensed debt company negotiates with your creditors to lower your APR and monthly repayments (debt management) or allow you to pay it off in a lump sum less than your original balance (debt settlement). |
| Secured loans | Home or car owners. | Get lower interest rates by borrowing against an asset such as the equity you've built in your home, the value of your car or a certificate of deposit. |
| Home equity line of credit (HELOC) | Home owners. | Take out a low-interest rate line of credit by using your home equity as collateral. |
| Student loan consolidation | People with student loan debt. | Use a lender that specializes in student loans to consolidate your student loans. |
Compare balance transfer credit cards
Should I consolidate my debt?
Debt consolidation loans and balance transfer credit cards are not for everyone. Choosing an option without doing your research and knowing the terms and conditions can hurt you finances more than it can help.
Consider consolidating your debt if…
Your debt is less than half of your income. This is a manageable amount that you can pay off with debt consolidation.
You have good credit. Your credit score is 650 or higher, which means you may qualify for a low-interest loan or balance transfer credit card with a low interest introductory period.
You can afford payments. Your have enough reliable cash flow to cover the cost of a new loan.
You have a plan to curb your spending. Debt consolidation can't fix the underlying problem of spending more than you have if that's the source of your debt.
Look at other options if…
Your debt is more than half of your income. If you're in too deep, another loan or credit card could make things worse. You might want to try a debt settlement company instead.
You're facing financial hardship. Losing your job, going through an expensive divorce or other personal challenges can send you into a debt spiral. In these situations, a consolidation loan is not a safe option as it will often hurt your finances more.
You have poor credit. You'll likely have trouble qualifying for a debt consolidation loan or a balance transfer credit card if you have poor credit. If you do qualify, the rates may not be low enough to make it a smart financial move.
Getting a personal loan to consolidate debt? Compare these factors first
Finding the right loan to consolidate your debt requires you to compare different features of personal loans for debt consolidation. You can consider the following factors:
Eligibility. People with good or excellent credit scores tend to have the easiest time qualifying for personal loans with competitive rates. You usually have to meet other eligibility criteria such as a low debt-to-income ratio, a minimum annual income and minimum length of credit history.
Interest. Lenders charge a percentage of your loan balance, known as interest, in exchange for letting you borrow funds. They commonly advertise interest and fees as APR, which is an expression of your total loan cost. Even a seemingly small difference in percentage can have a significant effect on the total interest you pay, especially if you're borrowing a large sum of money. For this reason, be sure to find a low-interest personal loan.
Fees. Common personal loan fees include origination fees, which are deducted from your balance before you get your funds, late fees and penalties for paying off your loan early.
Loan term. This is the amount of time you have to pay off your loan. How long you take to repay your loan affects how much you pay in interest.
How much will a debt consolidation loan cost me?
Ideally, a debt consolidation loan won't cost you anything you weren't already going to pay in interest. While some debt consolidation loans come with origination fees – usually 1-5% of your total loan that's deducted before you receive the money – it's possible to find a consolidation loan without any upfront fees.
There are two other costs you need to pay attention to when it comes to consolidation loans: Your APR and your monthly repayments. Typically, you need to have excellent credit and a low debt-to-income ratio to qualify for the lowest APRs that are usually between 5% and 10%.
However, maybe you're more concerned about the immediate costs. In that case, you might want to consolidate your debt into a loan with a longer loan term. You'll pay more in the end because your interest has more time to accumulate, however your monthly repayments will be significantly reduced.
Using a loan to consolidate your debt
Read the list below to learn about ways to get a better rate when consolidating your debt with a loan.
Shop around. Don't just look to local banks to help with debt. Online lenders can offer lower rates and faster application processing than the banks, as well as different options like peer-to-peer lending.
Know your credit score and review your credit report. Generally, you need a credit score of 650 or higher to get a good deal on a loan. Check your credit report to make sure there aren't errors that are hurting your credit score and getting in your way of securing a good deal.
Pay down your debt. Try to keep your debt-to-income ratio under 20% to get the best rates and terms.
Get pre-approved. Pre-approval allows you to see how much money you can borrow and approximately how much your interest rate will be before you commit to an offer. It's also a good way to make sure you meet a lender's eligibility requirements.
Apply only for what you need. Asking for more than you need can land you with a higher APR. Only take out a loan for the amount of debt you need to pay off.
What kinds of debt can I consolidate?
Understanding what types of debt you can consolidate is the first step toward deciding which options you might want to consider, if any at all. People generally consolidate these kinds of debts:
Credit card debt. If you have more than one credit card, you will have to keep track of the debts you have on each one and pay off a number of different balances each month, which can be frustrating and overwhelming. Many credit cards also charge noticeably high APRs, meaning you pay unnecessarily high interest on your debt.
Personal loans. If you have multiple personal loans, you can think about bringing them under a single loan. Depending on your existing financial situation and credit score, you may qualify for a more competitive interest rate on a debt consolidation loan.
Student loans. You can consolidate your student loans into one single loan. If you have debt from university or college, you also might want to look into refinancing – it often comes with a consolidation option.
Business loan debt. Some business lenders offer debt consolidation loans as well to help you improve your cash flow by simplifying multiple payments into one.
Retail credit cards. The discounts and rewards can be great from retailer cards, however, if you have too many it can be difficult to keep track of what you owe and which payments to prioritize.
Lines of credit. Reduce the amount you owe on multiple lines of credit by paying them off with a fixed-term loan.
Tax debt. If you owe taxes from previous years or can't afford to pay this year's, you can consider taking out a debt consolidation loan to pay them off instead of taking on an installment agreement. Loans tend to have more flexible terms than installment agreements and if you have good credit, interest could be a lot more affordable.
Should I use my savings to pay off my debt?
It might be tempting to use your savings to pay off your debts. After all, it's money that you can easily access without any immediate financial repercussions. It's not always a good idea though. Ask yourself these questions before you empty out your savings account.
Do I have enough emergency funds? As a general rule of thumb, you should always have enough money to carry you for 3-6 months if misfortune strikes. If you only have at least three months of savings, it could be risky to use those funds to pay off your debt.
How do my investment accounts and debt interest rates compare? If your debt interest rate is higher, it could be worth it to use your savings to pay off your debt, because you're losing more money than you're gaining.
Will I have to pay any penalty fees? Many retirement accounts come with early withdrawal fees — which can range from 10% to 30% depending on how much money you take out — that could make it not worth taking out your savings. Many other types of savings accounts don't have penalty fees, so know the terms and conditions before you withdraw funds from an account.
Balance transfer credit card vs debt consolidation loan
While the low introductory rate on balance transfer credit cards makes them an attractive option for paying off certain types of debt, it might not be your best choice. Here's how balance transfer credit cards compare to debt consolidation loans:
| | | |
| --- | --- | --- |
| | Balance transfer credit card | Debt consolidation loan |
| APR | Low intro APR on transferred debt, usually between 0.99% to 3.99% for 6 to 10 months. Typically 12.99% to 24.99% on new purchases, and once the intro period runs out, the balance transfer will take on the standard APR usually. | As low as 4.5% APR throughout entire loan term. |
| Payoff time | Intro period is typically 6 to 10 months, after which your APR will revert to the purchase rate. | Typically 6 months to 5 years. |
| Fees | Typically 1-3% of the transferred debt balance is charged as a one-time fee. | Usually no upfront fees. However, some lenders may charge a low fee. Inquire with the financial institution of your choice. |
| Impact on credit score | Short-term drop in your credit score because of a hard inquiry. Potential increase in credit score over time, as long as you keep your other credit cards open to maintain a low credit utilization ratio. | Short-term drop in credit score because of hard inquiry. Likely to increase in credit score in the long run, since your balances on other credit accounts will be paid off with the loan. |
Bottom line
A balance transfer credit card is a good way to consolidate your debt if you're certain you will pay it off during your promo APR period. If you need more time, a debt consolidation loan could be a better deal because the interest rate is lower for a longer period of time.
Keep in mind that getting a balance transfer credit card will add another account to your credit utilization ratio, so you'll want to consider the limit you're approved for before deciding its the right choice for you. On the other hand, debt consolidation loans won't be added to your credit utilization ratio.
How can debt consolidation affect my credit score?
In the short-term debt consolidation may lower your credit score, but in the long-term it could actually improve your credit score. Let's look at how this is possible below.
How it can hurt your credit
Creditors do a hard credit check when you take out a new loan or credit card, which temporarily lowers your credit score. Getting a balance transfer credit card can cause your score to dip even more, since you are getting a new credit card. Having a high balance on a single credit card can also hurt your score, since your credit utilization ratio will be higher. Your credit score isn't entirely safe if you use a debt relief company either. Even if the company successfully negotiate a lower balance and better rates, your creditor might report bad debt, which hurts your credit score.
How it can help your credit
Using a debt consolidation loan might a better choice for someone concerned about their credit score, especially if it helps you pay off your debt on time and quickly. This is because ontime repayments are the most important factor in your credit rating. However, no matter which method you choose, remember: Less debt means better credit. If debt consolidation can help you reduce your debt, it will ultimately help your credit score.
Four things to avoid when consolidating debt
Carefree spending
Identify the problem that got you into debt in the first place. If it was simply a lack of control, you should take advantage of a secured credit card that will only allow you to spend what you've deposited on the card. By doing this, you'll learn how to responsibly manage money and live within your means, and you'll improve your credit score with timely payments.
Forgetting origination costs of a personal loan
When you take out a $10,000 loan, you probably think it is going to cover your $10,000 worth of debt, right? Wrong. What you forgot to consider is your origination fee (typically between 1-5%) that comes with your loan. So, when you're applying for a loan to consolidate your debt, keep this in mind so you can fully consolidate your debt.
Consolidating the wrong debts
Don't bother consolidating debts that have low interest rates or low balances just for the sake of having one convenient monthly payment. It might seem appealing to have a 0.99% interest rate during the promotional period, but if you can't pay off the full balance of what you've consolidated, you'll revert to the normal interest rate – which is typically unfavourable, especially if you had a lower rate on some of your other cards.
Costly debt settlement programs
With so many financial tools available to consolidate your debt, debt settlement programs should be your last resort. It may seem like they're helping, but they could destroy your credit. These programs will eventually get to settling your credit, but that is only when the creditors are desperate enough to settle for a large sum. Don't be tricked by the lower payments they offer you in exchange for an uphill battle with your credit score.
Consolidating debt with bad credit
Debt consolidation with bad credit can be tricky to overcome, but not impossible. You might have to go off the beaten path to find a consolidation method that helps your financial situation more than it will hurt it.
Here are just a few of your options:
Peer-to-peer lenders. Although these lending services have credit score cutoffs, they tend to be lower than what you'll find at a bank.
Credit unions. As nonprofit financial institutions, credit unions also have lower credit requirements than for-profit lenders.
Secured loans. Get more favourable terms on your debt consolidation loan by putting up collateral, such as your house or car.
Apply with a co-signer. Having a friend or relative with good credit back your loan makes you less of a risk to lenders and could get you a better deal.
Credit counselling. Some companies are designed to help people get out of debt by offering counselling services. They can even negotiate with lenders, although you might have to pay them a fee.
How to request a lower interest rate
In addition to consolidating multiple debts into one, you could ask for a lower rate with your current lender. You can sometimes get a lower rate if your credit score has improved and you've made your payments on time.
To request a lower rate, call your lender. Move up the chain of command until you're speaking to someone who can actually give you a lower interest rate. That might even be the president of the company. You can generally do this by asking to speak to a supervisor.
Make an argument for yourself: Be sure to point out how much business they would lose if you were to consolidate your loan with another institution. If your call is a success, your lender will review your credit and payment history and come back to you with another interest rate.
What happens after I consolidate my debt?
You could find yourself in two scenarios after getting your debt consolidation loan:
You're entrusted with paying off your debt. Your lender has just deposited your loan into your account and now it's up to you to pay off your debt. You can either pay it off all at once or continue to make payments if there are steep prepayment fees. This is generally only an option for people with a perfect credit rating, however.
You only have to worry about paying your new loan. Your lender has asked for your debt payment information so that they can handle the payments themselves. This situation is far more common. It's easier for you, it's available to a wider range of credit scores and you won't be tempted to spend some of your loan on, say, a vacation.
What can I do if I'm denied?
Getting denied for a debt consolidation loan or balance transfer credit card can happen for a variety of reasons. The first and most important thing is to figure out why you were declined by contacting your lender and asking why, although many will tell you without you prompting. If you have a poor credit score, take steps to improve it. If they tell you that you have a high debt-to-income ratio, try making a budget to help pay off some of your debts faster.
Before you reapply for a consolidation loan, consider getting a cosigner or look for a secured loan to make you a more viable candidate. If neither of those are possibilities for you, or you've taken these steps and are still rejected, you might want to consider debt settlement or even bankruptcy.
Managing debt with debt relief
When your debt becomes unmanageable and a balance transfer credit card or consolidation loan just won't cut it, debt relief could help you get back on the right track. It's primarily designed to help those suffering financial hardship so badly from a divorce, a death, unemployment or extreme overspending that it makes bankruptcy look attractive. The most common types of debt relief are:
Debt settlement. A debt settlement company negotiates with your creditors to lower the amount you owe in exchange for a one-time payment.
Debt management. A credit counselling agency negotiates with your creditors to lower your interest rate and monthly fees. You will continue to pay off your debts through the credit counselling agency with one monthly payment, which is used to pay your creditors.
Credit counselling. In addition to debt management, credit counselling agencies provide services like workshops and other educational resources to help you understand debt and get out of it.
Debt settlement risks

Debt settlement is extremely risky and although it sounds safer, it's not always a better option than filing for bankruptcy. It can sometimes do the same amount of damage to your credit score and isn't guaranteed to work. Only around 10% of people who enroll in debt relief programs actually complete them. If you fail to complete the program, which most people don't, you might have to file for bankruptcy anyway.

On top of this, settled debt is usually considered taxable income. Once you factor in fees and interest that accumulated while you were in the program, you might only end up saving around 10%. If you stop paying off your creditors while you're enrolled in a debt relief program (most people do), you could get sued.

Aren't debt relief companies a scam?

Some are, but not all of them. Do your research and choose a reputable company in order to avoid any trouble. Stay away from any debt settlement company that charges fees before it provides a service, guarantees it can settle your debt, or says it can stop calls from collection agencies.
Negotiating your own debt relief
If you are confident, knowledgable and can handle difficult conversations, you might want to take up negotiating your debt on your own. To do this, call up the people you owe money to, tell them that you cannot pay your balance in the time you have and then ask for better repayment terms or even a reduction on what you owe. It can be a difficult conversation, but stay strong and keep asking until you get them to agree to something you can afford.
If you're unable to renegotiate your debt with or without help, you may have to declare bankruptcy. If you're going to do this, hire a lawyer to help you with the process, and know that your credit and ability to borrow will be affected for many years.
How to pay off debt: Methods depending on your credit score
It's easy to get into a situation where you've accumulated more debt than you can easily pay off. The key to paying off debt is finding a way to lower your monthly payments or extend the time you have to pay it off. You'll also need to adjust your spending habits so that new payments don't push you further into debt.
For people with good or excellent credit
If you have a good or excellent credit score of 650 or higher, consider a balance transfer credit card. These credit cards allow you to move the debt you owe on one credit card to another one with a lower APR for a set period of time. A balance transfer credit card can help you pay off your debt faster and with less interest.
Still, even if you're approved for balance transfer card offering a 0.99% APR promo, you'll likely pay a fee for transferring your balance – often 1-3% or more of the balance you transfer.
If your debts total more than $10,000, you may want to apply for a debt consolidation loan. These loans are generally available to people with good or excellent credit and can help you consolidate credit card balances, loans and more into one monthly payment, ideally at a lower overall APR than you're paying across each bill.
For people with bad or fair credit
If you have bad credit or even fair credit, which is anything under 650, you may not be approved for a loan to consolidate debt. It might be that a lender thinks your debt-to-income ratio is too high and they're worried that at least half of your income will go to paying off your debt, which may not be possible. Lenders often don't lend to people in these situations. However, you can still find strategies to pay off your debt if you have bad or fair credit.
avalanche method vs snowball method: Which is best?
Among debt-related forums, you'll see many strategies for paying down your debt. The most widely discussed are the avalanche method and the snowball method. These methods are designed to help you direct your available budget strategically depending on what you value most: saving time and money overall or simplifying your finances over quick wins.
Say you have owe $500 on a payday loan with a 300% interest rate, $200 on a credit card with a 25% interest rate and $10,000 in student loans at a 7% interest rate. How you would tackle this debt depends on the method you choose.
The avalanche method
With the avalanche method, also called the debt-stacking method, you pay off your highest interest debts first. In general, if you don't know what your highest-interest rate debt is, it's usually the one whose full balance is due soonest.
Many people would start with clearing a payday loan. Once you've satisfied that debt, you'd move to your credit card debt and finally to your student debts. Since they're due in two weeks' time, payday loans carry the highest interest rates, while student loans get stretched over years, making them a better option to hold on to.
The snowball method
With the snowball method, you'd pay off your smallest loan amounts first.
So if it's the smallest debt, you'd pay off your credit card first, then your payday loan and then your student debt.
So, which strategy is best?
There's no "best" strategy, especially when it comes to climbing out from under debt. You'll first want to figure out what might motivate you more: seeing quick wins as you pay off accounts with the snowball method or calculating how much you've saved on unnecessary interest with the avalanche method.
In the end, your best strategy might be a combination of the two strategies. Many of us are motivated by seeing results, saving money and feeling good about it. There's no reason you can't pick and choose to find a happy medium that works best for you and your unique financial situation.
You have two other ways to pay off your debt: building your credit by climbing the credit ladder, or renegotiating your debt, either on your own or through an agency.
To try building your credit to the point where you'll qualify for a debt consolidation loan or a balance transfer card, consider starting with a secured credit card. With these cards, you put down a security deposit, which then becomes your credit limit. If you focus on secured cards that report to the two credit bureaus, your responsible spending and on-time payments add positive information to your credit history. You also just might build your credit to the point where you'll qualify for an unsecured card or a solid personal loan.
Staying out of debt
Getting rid of your debt is only part of getting on the path to a debt-free life. Identify what it was that got you into debt in the first place, whether it was overspending or paying unexpected expenses and not having sufficient savings.
Whatever it was, take steps to address this issue so it doesn't happen again. Making a budget is a great way to keep track of your spending. You also might want to consider setting aside some money each month to put into a high-interest savings account or creating an online investment portfolio.
Frequently asked questions about debt consolidation
More guides on Finder