Finder makes money from featured partners, but editorial opinions are our own.
Car safety ratings guide
Learn how to interpret car safety ratings in Canada so you can find the best vehicle to protect you and your family.
Car safety ratings are one of the most important factors to consider when comparing different makes and models. Learn how car safety ratings in Canada are determined, and how you can use them to find a car that keeps you and your family as safe as possible in a collision.
What are car safety ratings in Canada?
A car's safety rating is determined by a series of crash tests and its safety features. Car safety ratings in Canada are vehicle safety scores that are used to determine how well a vehicle will protect you in a crash or help you avoid a crash. These scores are determined by several main institutions based on a series of crash tests.
You can use Canadian car safety ratings to determine how safe the car you want to buy is overall. You can also use these ratings to see how the car performs in certain situations – for example, if you get into a rollover or are involved in a head-on collision.
How to check your car's safety ratings
There are 3 main institutions that set car safety ratings in Canada. Each institution has a different rating system to show vehicle safety.
1. The National Highway Traffic Safety Administration (NHTSA)
The NHTSA is a US-based institution that rates vehicle performance based on a 5-star safety rating program. 5 stars is the highest rating a vehicle can get, while 1 star is the lowest. These ratings provide an overall score, as well as separate scores for different crash categories. They are posted online and on window stickers for new vehicles.
2. The Insurance Institute for Highway Safety (IIHS)
The IIHS is a not for profit based out of the US that uses a classification system to rate vehicles from poor to good, or from basic to superior. Results are represented visually on a colour-coded scale (as shown in the image below).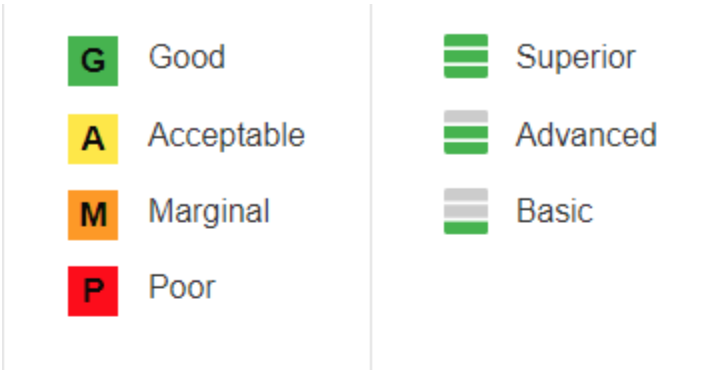 3. Motor Vehicle Safety Regulations (MVSR)
Vehicle manufacturers and importers must adhere to the standards set by the Motor Vehicle Safety Regulations (MVSR) in Canada. Drivers can look for the national safety mark on vehicles and child car seats as an indicator of reliability.
Why does a car safety rating matter?
Canadian car safety ratings can be a critical factor when it comes to saving your life in a collision. According to the IIHS, the driver of a vehicle rated as "good" is 70% less likely to die in a left-side collision than the driver in a vehicle rated as "poor". When you're selecting your next car, check its safety ratings from both the NHTSA and IIHS to ensure that you're making a solid decision based on more than just getting a good price at the dealership.
What types of crash tests are Canadian car safety ratings based on?
Crash tests may be different based on which regulatory body you're looking to for the best car safety ratings in Canada. You can expect some of the following crash tests to be performed:
| Test | Scenario |
| --- | --- |
| Frontal crash tests | Sends vehicle into a head-on crash at 35 mph and evaluates crash test dummies for injuries. |
| Side barrier tests | Crashes a heavy barrier into a standing vehicle at 38.5 mph and evaluates crash test dummies for injuries. |
| Side pole tests | Pulls the side of a vehicle into a pole on the driver's side at 20mph and evaluates crash test dummies for injuries. |
| Rollover and roof strength tests | Tests how likely a vehicle is to flip over during a sharp turn or similar and assesses how strong the roof is. |
| Accessories tests | Examines the efficiency of headlights, mirrors, backup cameras and anchors for car seats, among other things. |
What car safety features are considered necessary?
The specific safety features required by vehicles in Canada vary depending on the class of vehicle. Nearly all types of vehicles are required to have basic safety systems in place such as:
Adaptive headlights
Anti-lock brakes
Mirrors
Airbags
Traction control
Laminated glass
Stability control
What are the safest vehicles in Canada?
There are a number of vehicles that are classified as the safest cars in Canada for 2021, based on having the best car safety ratings according to the IIHS. These include the following:
Type of car
Safest makes and models
Small cars

Honda Civic
Honda Insight
Hyundai Elantra
Kia Forte
Kia Soul
Mazda 3
Nissan Sentra
Subaru Impreza
Toyota Corolla

Midsize cars

Honda Accord
Hyundai Sonata
Kia K5
Nissan Altima
Subaru Outback
Subaru Legacy
Toyota Camry

SUVs

Chevy Equinox
Honda CR-V
Hyundai Kona
Hyundai Tucson
Kia Sportage
Lexus UX
Mazda CX-3 and CX-5
Nissan Rogue
Subaru Forester
Toyota RAV4

Minivans

Honda Odyssey
Kia Carnival
Toyota Sienna
Ready to buy? Compare car loan providers
How to maintain the safety of your vehicle
There are a few ways that you can keep your vehicle safe beyond getting a car with special safety features or a high car safety rating:
Get regular inspections. Get your car inspected every year to make sure it's in good working order.
Perform routine maintenance. Book in for regular oil changes and keep an eye on filters, lights, wipers and other parts that might need replacing.
Obey traffic laws. Wear your seatbelt, avoid speeding or driving under the influence and obey other traffic laws to protect yourself when you're on the road.
Take a driving course. Enrol in a defensive or safe driving course to learn good habits and driving skills.
Bottom line
Canadian car safety ratings are defined by crash tests carried out by car safety rating institutions. Each institution has a different grading system to show what car safety rating your vehicle received. Find out which car safety rating systems you should keep an eye on to get the safest vehicle for your personal situation.
Frequently asked questions
More guides on Finder
Ask an Expert
You must be logged in to post a comment.