Interest Rate

Varies

Loan Amount

$7,500 - $50,000

Loan Term

84 months

Min. Credit Score

N/A
All information about TD Car Loan has been collected independently by Finder. Finder is not connected with TD Bank products, and this page is not sponsored, endorsed or administered by, or associated with, TD Bank. All product names, logos, and brands have been used for identification purposes only and are property of their respective owners.
Our verdict
Offering fixed and variable rates as well as flexibility on loan terms, TD car loans can help you get your next set of wheels sooner.
TD auto loans provide flexible financing to help you buy a new or used vehicle. You can choose a fixed or variable rate, pick a repayment schedule that suits your needs, and get financing at your dealership or for when you buy a vehicle privately. Special rates are also available when you buy a vehicle from selected manufacturers, but you'll need good credit or better to qualify.
Pros
Competitive rates

Flexible payment schedule

Special rates on some brands
Cons
You may not be able to apply online

Rates not listed online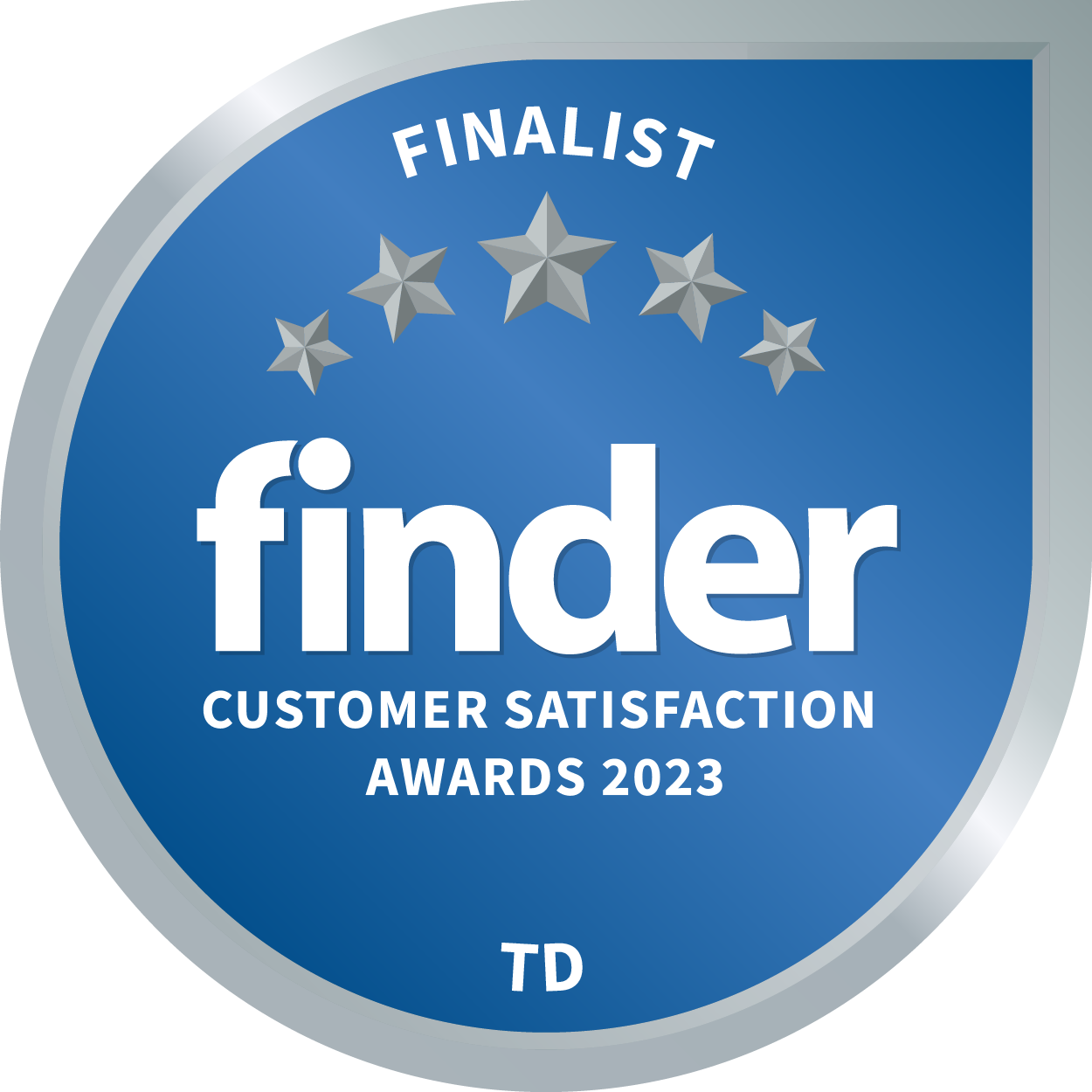 Finalist — Traditional Car Loan Lender category
TD Car Loans received the Finalist award for the Traditional Lender category in the Finder: Car Loans Customer Satisfaction Awards 2023 with an overall customer satisfaction score of 87.94%. Customers appreciate the bank's solid reputation, flexible payment terms and competitive car loan options. No surprise, TD Car Loans also made it to both the Top 15 Most Recommended and Top 15 Best-Rated car loan provider lists in 2023.
What is TD?
TD, or Toronto-Dominion Bank, is one of Canada's "Big Six" banks. It offers all the financial products and services you'd expect from a major bank, including credit cards, mortgages, chequing and savings accounts, loans and a range of business banking solutions.
Its range of lending products includes personal loans, lines of credit and auto loans. TD Auto Finance is a subsidiary of the bank and offers car financing at a network of dealerships around Canada.
Is TD Bank legit?
TD Bank is one of the largest banks in North America. It was established in 1955 following the merger of the Bank of Toronto with The Dominion Bank, and it has roots going as far back as 1855. In Canada, Toronto-Dominion Bank provides banking products through its subsidiary, TD Canada Trust.
TD has over 27 million customers globally and is traded on the Toronto and New York Stock Exchanges. And in the J.D. Power 2023 Canada Dealer Financing Satisfaction Study, TD Auto Finance was named the highest-ranked car financing provider in the non-captive non-prime lending segment for the sixth year in a row, and also finished second in the non-captive prime segment.
Features of TD car loans
Feature
Details
Loan amount
Dealership Vehicle Loan: No maximum loan amount
Private Sale Vehicle Loan: Up to $50,000
Loan term
Up to 96 months
APR
Varies
Serviced provinces
All provinces
Eligibility requirements
Must meet credit score and income requirements
What are the interest rates of TD car loans?
We couldn't find any TD car loan interest rates listed on the bank's website. However, the rate you get will vary depending on factors such as:
Your credit score
Your income
The type of vehicle you buy
Your down payment amount and how much you borrow
Your loan term
TD also says it is able to offer customers special car loan rates when you apply for dealership financing on the following vehicle brands:
Chevrolet
Buick
GMC
Cadillac
Alfa Romeo
Chrysler
Dodge
Fiat
RAM
Jeep
What we like about TD auto loans
Lengthy terms. This allows you to pay back your loan over a period of up to 96 months if you're buying a car, SUV, minivan or truck.
Flexible payment plans. You can choose to pay off your loan in weekly, bi-weekly or monthly installments.
Financing is available virtually anywhere. TD works with a nationwide network of dealerships across Canada to provide easy access to financing, while you can also get a car loan to buy a vehicle privately.
No down payment. It's possible to get a loan without paying any money out of pocket to secure your vehicle, provided you meet credit score and income requirements.
Fixed or variable. You can choose either a fixed or variable interest rate depending on your financial needs.
Not just cars. TD Auto Finance also offers loans you can use to purchase motorcycles, RVs, ATVs, personal watercraft and snowmobiles.
Lower credit scores are okay. You may qualify for a TD auto loan even if your credit score isn't good or excellent.
What to watch out for
You may not be able to apply online. Some TD car loans are only available through a dealership, while some Private Sale Vehicle Loans (such as for a car less than five years old) are only available when you phone TD or visit a branch.
Interest rates not listed online. TD doesn't list its car loan interest rates online, which makes it difficult to compare loan costs between lenders.
Unclear fees. Despite TD having an auto loan calculator, it's not clear how much you'll have to pay in terms of service or administration fees. You may encounter additional fees and extra costs as you go through the loans process with your lender, depending on which dealer you go with.
Alternatives to TD car financing
What do TD reviews have to say?
TD Bank reviews are fairly negative. Customers who left less than flattering reviews about the bank commonly mentioned poor customer service as a key issue.
However, review scores and ratings vary between TD branches, while its mobile banking app has also picked up reasonable user ratings.
Summary of TD reviews
Feature
Details
BBB accredited
No
BBB rating
F (TD Bank Financial Group)
A- (TD Auto Finance)
Google reviews
Varies from branch to branch
Trustpilot reviews
1.7 out of 5 stars, based on 97 TD reviews (TD Canada Trust)
1.3 out of 5 stars, based on 1,947 TD reviews (TD Bank)
Facebook reviews
No TD reviews available
Customer reviews verified as of
21 August 2023
What are the vehicle loans offered by TD?
There are two main types of TD auto loans: Dealership Vehicle Loans and Private Sale Vehicle Loans.
Dealership Vehicle Loans
These loans are provided by TD Auto Finance and allow you to apply for financing when purchasing a vehicle at a dealership. Available at a network of dealerships across Canada, these loans offer the choice of a fixed or variable rate and a repayment period of up to 96 months.
Special financing rates are available from selected manufacturers, and you can make repayments on a monthly, bi-weekly or weekly basis.
TD Auto Finance also offers vehicle loans to fund the purchase of an RV, boat or powersports vehicle, with fixed interest rates available. You can access special rates from brands like Textron/Arctic Cat, Kawasaki, Polaris, Triumph, KTM, Suzuki, Campion Boats and Legend Boats.
Private Sale Vehicle Loans
If you want to buy a new or used vehicle from a private seller, this option provides loans of up to $50,000. You can choose between a fixed or variable interest rate, and the repayment plan can be tailored to suit your income and budget with monthly, weekly or bi-weekly repayments.
How does borrowing from TD work?
If you want to apply for a car loan through TD Auto Finance, simply let the car dealership know you want TD auto financing when purchasing your vehicle. You can also start the car shopping process online with the TD Wheels app, which allows you to compare vehicles, find dealerships and get pre-qualified for financing.
The process is a little different for Private Sale Vehicle Loans. You can apply online if you want a loan to buy a car, SUV, truck or van that's more than five years old. But if you're buying a vehicle that's five years old or less, you'll need to phone TD Bank or visit your nearest branch.
What are the eligibility requirements of TD car loans?
To be eligible, you'll need to meet the following criteria:
Be a Canadian resident with a valid Canadian address.
Have a valid driver's licence and be the age of majority in the province you live in.
Must be looking to finance a new or used vehicle at the dealership or through a private sale.
Have a valid Canadian bank account to make payments on time.
Loan eligibility criteria, such as credit score and minimum annual income, aren't disclosed online. These can be obtained by speaking to TD Bank directly.
How to apply for a TD auto loan
If you want to apply for a Dealership Vehicle Loan, here's what you need to do.
Compare and test drive a range of vehicle makes and models.
When you find the vehicle you want to buy, tell the dealer you'd like to apply for TD car financing.
The dealership will help you submit an application with your personal information, contact details, desired loan amount, income details and employment information.
You'll also need to provide government-issued photo ID, proof of income (such as a paystub), a void cheque or a pre-authorized payment form and proof of insurance (if buying a new car). If you're trading in your current vehicle, you'll need to provide items such as ownership papers and the details of any outstanding finance owing on the car.
If you're applying for a Private Sale Vehicle Loan that's more than five years old, and if you're already a TD customer, you can apply online by logging into online banking. If you're a new customer, you'll need to book an appointment with a TD advisor.
Finally, if you need a Private Sale Vehicle Loan to buy a car that's five years old or newer, you'll need to call TD Bank or visit a branch to apply for a loan.
Bottom line
TD Bank auto loans are widely available, offer flexible repayment schedules and come with competitive rates if you have good to excellent credit. If you're applying through a dealership, make sure you already know what sort of APRs you can qualify for from other lenders so you can be sure of getting a good deal.
Frequently asked questions